printer friendly version
Baton Rouge upgrades to IP CCTV
March 2009
CCTV, Surveillance & Remote Monitoring

This article describes the upgrade of the analogue CCTV surveillance system at the Port of Greater Baton Rouge, one of the top 10 ports in the United States in terms of total volume of cargo handling and shipping tonnage.
Large coastal and inland ports have facilities covering thousands of square metres of waterfront, terminal buildings and open cargo handling areas. Significant challenges arise with respect to the installation and operation of safety and security systems at ports. These include access control and CCTV surveillance that require major cost and time investment.
The Port of Greater Baton Rouge in Louisiana, USA, is situated on the almost 2000 km-long Mississippi River, 370 km from its outlet on the Gulf of Mexico. It is one of the largest port systems in the world. Its port jurisdiction covers numerous facilities along 140 km of the river and includes the parishes of Ascension, East Baton Rouge, Iberville and West Baton Rouge. Bulk cargo and container facilities include handling of agricultural products, grain, coffee, metal, petrochemicals, foodstuffs and many other categories. These goods are transported by motor vessels and barges of all sizes on both the river and on canals. Truck and rail transport also handle a huge volume of land-based cargo.
The port is situated at Port Allen on the opposite side of the river from the city of Baton Rouge and comprises two terminals. The Deepwater River Terminal covers an area of 1,6 km² and includes more than 48 m² of transit sheds, with a rail complex of more than 27 km of track. The Inland Rivers Marine Terminal (IRMT) covers 240 000 m² and is situated on the US Gulf Intracoastal Waterway (Port Allen Canal) leading off the river. The Mississippi River inland waterway system provides access to the heartland of the United States via more than 24 000 km of water transportation. It is also the waterway to the Gulf of Mexico and ocean trade lanes to and from Latin America and the rest of the world.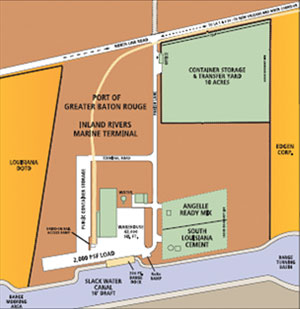 The Inland Rivers Marine Terminal (IRMT) covers 240 000 m²
The IP-based solution
The primary security requirement at the port was to upgrade the existing analogue CCTV surveillance system. The system that was no longer extensive enough to cover the large area comprising multiple locations in two major terminals some distance apart. In addition, it had limitations with respect to quality and flexibility of video data and its recording and playback functionality. Baton Rouge-based system integrator Vanguard Technologies was asked to find a solution that would address the logistics issues of locations in both terminals. Because of the distance between locations, including linking the two terminals, Vanguard Technologies recommended a hybrid wireless-based IP communication and fibre-optic cable-based system from Bosch Security Systems.
Jerry Jones, Vanguard Technologies' president explained, "We were working within some very specific constraints, namely to provide a cost-effective system that would allow key personnel access to security data from a number of locations. By using video over IP-enabled equipment from Bosch, we were able to provide a reliable, cost-effective video surveillance system. The solution features live video over an IP network, data access to all field devices, and remote power management tools. This provides effective remote device management for port executives, facility security officers and remote device management from the internal network or secured Internet access."
The installation now comprises more than 50 fixed and PTZ cameras, with Bosch VideoJet MPEG-4 encoders strategically placed at each location. Connectivity from the cameras to the Bosch encoders is provided via an IP network. This includes both point-to-point and point-to-multipoint wireless devices, as well as about 1,6 km of multimode fibre-optic cable. The MPEG-4 solution enables the port to manage bandwidth across a large IP network.
Control of the entire network is provided by Bosch's VIDOS Video Management System. VIDOS is a video surveillance and alarm management software package for IP-based CCTV networks. Based on the intuitive concept of sitemaps, VIDOS allows an operator to remain in full control of the system with an overview of the status of all components and situations. It integrates with existing components such as cameras and monitors and is extendible with VIDOS network video recorders (NVRs) for long-term recording.
The new CCTV system uses video data packet transfer to address distance, terrain and logistics without compromising data integrity or security. It also provides the capability to archive video data for retrieval in the future. Another important feature is the ability to continuously monitor security devices and network links via powerful network monitoring tools to ensure 24/7 uptime as well as fast problem resolution. The result is that each authorised operator has instant access to live video from all cameras, as well as any new camera that may be added to the system. The archived video is stored centrally on four NVRs utilising several terabytes of fault-tolerant RAID 5 storage. Because of the widespread use of wireless transmission, protection against intermittent network connectivity was also built into the system with the use of encoders with 2 GB of storage. If network connectivity is lost, so-called 'recording-at-the-edge' continues. Once connectivity is restored, the central NVR tracks any gaps in the recording and automatically replenishes the missing data with the stored video.

Video content analysis
Cameras trained on the Mississippi River feature video content analysis (VCA) technology that uses realtime and recorded images and compares them with a database. The feature primarily helps to draw operators' attention to significant events such as behaviour recognition, vehicle traffic volume and observation of suspicious static objects. This also helps reduce the amount of video traffic sent across the network. In the case of the Port of Greater Baton Rouge, using VCA 'on-the-edge' means that only alarm video is transmitted. This could be caused by a vessel moving erratically up the shipping channel or an unauthorised ship present in the river. Once the analysis determines if the ship is a potential threat, an alarm notifies port security officers. Then, one of the PTZ cameras will automatically track that vessel as it makes its way upriver to port facilities. This technology reduces the amount of bandwidth required but enables all camera channels to be monitored effectively through intelligent video analysis.

Optimal integrated security
Using state-of-the-art video surveillance and content analysis, as well as access control, in conjunction with other security measures – such as those available from Bosch Security Systems – ensures optimal safety and security of the Port of Greater Baton Rouge. Now, security personnel not only have increased security measures, but also a complete picture of the port's facilities, data sharing and access capabilities.
For more information contact Natashya Naidu, Bosch Security Systems, +27 (0)11 651 9828, www.boschsecurity.co.za
Credit(s)
Further reading:
Camera Selection Guide 2019
September 2019 , CCTV, Surveillance & Remote Monitoring
The Camera Selection Guide 2019 includes a range of IP, analogue, thermal and speciality cameras aimed at a broad range of surveillance functions.
Read more...
---
Intelligent analytics and the brains to match
September 2019, Bosch Building Technologies , CCTV, Surveillance & Remote Monitoring, Integrated Solutions
What if the brains behind our security cameras could be trained to improve their cognitive ability to pay attention, learn, and problem-solve according to specific rules and situations?
Read more...
---
AI-powered autonomous Drone-in-a-Box
September 2019 , CCTV, Surveillance & Remote Monitoring, Integrated Solutions
Organisations in the mining, energy and industrial, oil and gas, ports and terminals sectors can optimise security and business operations, whilst reducing risks and operational costs
Read more...
---
Cybersecurity for video surveillance systems
September 2019 , Cyber Security, CCTV, Surveillance & Remote Monitoring
Video surveillance systems are increasingly accessible over any IP network, which has led to the rise of potential cyberattack.
Read more...
---
A platform approach to innovation and value
September 2019, Technews Publishing , Editor's Choice, CCTV, Surveillance & Remote Monitoring, Integrated Solutions, IT infrastructure
Moving to the platform model of doing business holds tremendous advantages for end users and smaller developers, but also for the whole technology supply chain.
Read more...
---
Back to manufacturer uniformity?
September 2019, Dallmeier Electronic Southern Africa , CCTV, Surveillance & Remote Monitoring
Decision makers often have to choose between an all-inclusive, complete solution from one manufacturer and the products and services of several different providers.
Read more...
---
Open does not always mean easy integration
September 2019, VERACITECH, Technews Publishing , Editor's Choice, CCTV, Surveillance & Remote Monitoring, Integrated Solutions
Customers who opt for best-of-breed solutions will have to rely on their integrators to develop customised integrated solutions for them.
Read more...
---
The impact of AI on the surveillance industry
September 2019, G4S South Africa, Hikvision South Africa, Myertal Tactical Security, Technews Publishing , Editor's Choice, CCTV, Surveillance & Remote Monitoring
What the impact of AI will be on companies, the services and solutions they supply, as well as on the jobs people do.
Read more...
---
Video analytics and AI
September 2019, Axis Communications SA, Dallmeier Electronic Southern Africa , Hikvision South Africa, Technews Publishing, Dahua Technology South Africa , Editor's Choice, CCTV, Surveillance & Remote Monitoring, Integrated Solutions
Artificial intelligence has the potential to deliver real benefits in the world of video analytics and many companies are already delivering customer benefits.
Read more...
---
Cloudy with a chance of AI
September 2019 , Editor's Choice, CCTV, Surveillance & Remote Monitoring, Integrated Solutions
One local company has developed an AI solution that can be added to existing surveillance installations, offering 24-hour intelligence.
Read more...
---