printer friendly version
The cream of site security
March 2009
CCTV, Surveillance & Remote Monitoring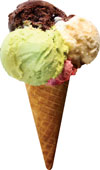 One would think an ice cream manufacturing plant would be immune to South Africa's criminal element. One of the world's leading nutrition and wellness companies found otherwise.
An international producer of food and beverages has run a plant manufacturing frozen confectionary near a formal settlement for years. The company had what it considered an adequate security infrastructure in place, including guards and CCTV cameras covering long fenced-off areas on the property that were hooked into a manned control room.
Even though the site's perimeter was long and penetrable, the company accepted some risks as the product produced, ice cream, was difficult to move and even more difficult to sell on the black market, making it a low-risk target. Armed criminal gangs carrying heavy automatic weapons attacked the company twice within a month; the target on each occasion was not ice cream, but the company's IT infrastructure and the workers.
While the company's workers were not trained to handle an armed robbery, both instances went off without any serious physical injuries. People were restrained and locked away in a safe area while the IT infrastructure was stolen – as was the CCTV recording system.
The criminals were very professional and knew what they were doing. So much so that the company's guards were instructed to call the armed response company and the police, the criminals were quite clear in that they wanted the call-out to proceed as they wanted the weapons of the armed response guards as well as the police.
Intelligent assistance
The company then decided it would rethink its security strategy from scratch, paying more attention to the human aspect and the preservation of life. Complete Security Services was called in to assess the situation and recommend a solution.
Given the scope of the perimeter, it was clear to Complete Security Services that covering the area with only human operators in a control room would never keep the site secure. It was decided that human CCTV coverage would be assisted with intelligent video analytics. The supplier selected was Honeywell, which supplemented its IP cameras with its Active Alert intelligent video analytics suite.
With Active Alert the company would be able to lock down large areas of the site without wasting human resources on watching a blank screen or patrolling an isolated area. The software would monitor the situation and only react when an anomaly was detected. The benefit of this approach was that the software could learn and can be taught to distinguish between human intruders, plant or animal life (see sidebar below: Intelligent video analytics).
An audio system was also installed in tandem with the video analytics. According to the company, it is proving itself very effective as operators are able to ask loiterers or potential attackers to move on, identifying them by colour of vehicle, shirt or activity.
The optimal solution for the site's security problem was a multilayered solution consisting of people, technology and intelligent analysis software. It has been over a year and no new attacks have taken place, although many potential situations have been pre-empted and resolved. The most important aspect of the solution for Complete Security Services was the careful selection of products to meet the requirements of the customer's new security policy. Using the Honeywell solution, the cost of the new system was about two-thirds the cost of the traditional system, while offering substantially more security.
Not only does the company now have an onsite risk management system, it also exports any incidents from the site to a remote monitoring centre, which gets the same information that the on-site bunkered control room operators receive. Regardless of whether the onsite facilities and people are intact or incapacitated, that information is already offsite and the appropriate responses can be formulated.
Intelligent video analytics
Honeywell's Active Alert video analytics suite of products enables enhanced security and surveillance solutions by automatically monitoring video for specific people, vehicles, objects, and their associated behaviour within a camera view.
Active Alert can provide realtime alarms based on user defined rules to detect abnormal or suspicious behaviour without the need for human supervision. This capability enhances both manned and unmanned operations by working 24/7, reducing the amount of video data operators must review, and enabling a high level of monitoring for any size of video system.
Honeywell Active Alert software is accurate and high performing and is capable of monitoring and analysing the behaviour of up to 20 objects per camera view, both indoors and outdoors.
The Active Alert Base package includes basic people and vehicle movement behaviour detections. The Active Alert Standard package builds on the Base package by adding the ability to discern more advanced behaviours such as a person jumping a fence line or loitering and vehicles parked or pulled off the road. The Active Alert Premium package builds on the Standard package by adding the ability to detect abandoned or removed objects and possible theft incidents.
Features:
* Realtime scene analysis and alarms based on user definable rules.
* Rich set of detectable events and behaviours to suit a broad set of system requirements.
* Accurate indoor and outdoor applications with patented technology to reduce false alarms.
* High performance software that minimises the need for excessive PC hardware.
* Powerful onsite or remote configuration capabilities.
* Powerful search tools for instantaneous retrieval of incidents.
* Ability to provide voice, visual, relay closure, e-mail, or cellphone alarm.
Credit(s)
Further reading:
Securing Savannah Hills Estate
August 2019, Rhyco Risk Projects , CCTV, Surveillance & Remote Monitoring, Perimeter Security, Alarms & Intruder Detection
Savannah Hills Estate in Midrand planned a security upgrade which was awarded to Rhyco Risk Projects. The project started in March 2019 and was completed in May 2019.
Read more...
---
10 things to consider when shopping for a VMS
August 2019, Genetec , CCTV, Surveillance & Remote Monitoring, Integrated Solutions
Today's video management systems (VMS) provide a wide range of tools and capabilities that help make security personnel more efficient by allowing them to focus on what really matters.
Read more...
---
How far are we really at with artificial intelligence?
August 2019, Axis Communications SA , Editor's Choice, CCTV, Surveillance & Remote Monitoring, IT infrastructure, Residential Estate (Industry)
Justin Ludik unpacks exactly how far AI has come and what it potentially can do for society and more importantly, surveillance.
Read more...
---
Enhancing security with AI
August 2019, Hikvision South Africa , CCTV, Surveillance & Remote Monitoring
Hikvision explains how residential estates can revolutionise their security strategies and outcomes with artificial intelligence.
Read more...
---
More than simply a camera
August 2019, Forbatt SA, Secutel Technologies , CCTV, Surveillance & Remote Monitoring, Residential Estate (Industry)
With the human element being the weakest link in all security solutions, Hi-Tech Security Solutions looks at the pros and cons of using body-worn cameras in estates.
Read more...
---
The importance of effective perimeter security
August 2019, Elf Rentals - Electronic Security Solutions, Stafix , Editor's Choice, CCTV, Surveillance & Remote Monitoring, Residential Estate (Industry)
Protecting the perimeter is critical for any residential estate; how does one go about making sure your perimeter is as secure as possible?
Read more...
---
Security playing speedcop
August 2019, Axis Communications SA, Hikvision South Africa , CCTV, Surveillance & Remote Monitoring, Residential Estate (Industry)
Estates now have a legal precedent to manage their traffic and fine people in the estate for violations of the rules; all they need do is find solutions that will support them.
Read more...
---
CathexisVision video management software
August 2019, Cathexis Technologies , Products, CCTV, Surveillance & Remote Monitoring
The CathexisVision IP video management software (VMS) helps clients get the most out of their surveillance investment and reap rewards for their companies.
Read more...
---
Capture every detail with Smart PIR kits
August 2019, Longse Distribution , Home Security, CCTV, Surveillance & Remote Monitoring, Residential Estate (Industry)
Longse Technology offers DIY smart security kits that are easy to install and offer a Wi-Fi range that can reach up to 300 metres.
Read more...
---
Future-facing cameras
August 2019, Bosch Building Technologies , Products, CCTV, Surveillance & Remote Monitoring
All FLEXIDOME IP starlight 8000i cameras feature built-in Intelligent Video Analytics, making them intuitive, and elevates their importance far beyond security alone.
Read more...
---