printer friendly version
The cream of site security
CCTV Handbook 2009
CCTV, Surveillance & Remote Monitoring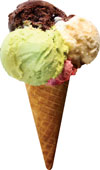 One would think an ice cream manufacturing plant would be immune to South Africa's criminal element. One of the world's leading nutrition and wellness companies found otherwise.
An international producer of food and beverages has run a plant manufacturing frozen confectionary near a formal settlement for years. The company had what it considered an adequate security infrastructure in place, including guards and CCTV cameras covering long fenced-off areas on the property that were hooked into a manned control room.
Even though the site's perimeter was long and penetrable, the company accepted some risks as the product produced, ice cream, was difficult to move and even more difficult to sell on the black market, making it a low-risk target. Armed criminal gangs carrying heavy automatic weapons attacked the company twice within a month; the target on each occasion was not ice cream, but the company's IT infrastructure and the workers.
While the company's workers were not trained to handle an armed robbery, both instances went off without any serious physical injuries. People were restrained and locked away in a safe area while the IT infrastructure was stolen – as was the CCTV recording system.
The criminals were very professional and knew what they were doing. So much so that the company's guards were instructed to call the armed response company and the police, the criminals were quite clear in that they wanted the call-out to proceed as they wanted the weapons of the armed response guards as well as the police.
Intelligent assistance
The company then decided it would rethink its security strategy from scratch, paying more attention to the human aspect and the preservation of life. Complete Security Services was called in to assess the situation and recommend a solution.
Given the scope of the perimeter, it was clear to Complete Security Services that covering the area with only human operators in a control room would never keep the site secure. It was decided that human CCTV coverage would be assisted with intelligent video analytics. The supplier selected was Honeywell, which supplemented its IP cameras with its Active Alert intelligent video analytics suite.
With Active Alert the company would be able to lock down large areas of the site without wasting human resources on watching a blank screen or patrolling an isolated area. The software would monitor the situation and only react when an anomaly was detected. The benefit of this approach was that the software could learn and can be taught to distinguish between human intruders, plant or animal life (see sidebar below: Intelligent video analytics).
An audio system was also installed in tandem with the video analytics. According to the company, it is proving itself very effective as operators are able to ask loiterers or potential attackers to move on, identifying them by colour of vehicle, shirt or activity.
The optimal solution for the site's security problem was a multilayered solution consisting of people, technology and intelligent analysis software. It has been over a year and no new attacks have taken place, although many potential situations have been pre-empted and resolved. The most important aspect of the solution for Complete Security Services was the careful selection of products to meet the requirements of the customer's new security policy. Using the Honeywell solution, the cost of the new system was about two-thirds the cost of the traditional system, while offering substantially more security.
Not only does the company now have an onsite risk management system, it also exports any incidents from the site to a remote monitoring centre, which gets the same information that the on-site bunkered control room operators receive. Regardless of whether the onsite facilities and people are intact or incapacitated, that information is already offsite and the appropriate responses can be formulated.
Intelligent video analytics
Honeywell's Active Alert video analytics suite of products enables enhanced security and surveillance solutions by automatically monitoring video for specific people, vehicles, objects, and their associated behaviour within a camera view.
Active Alert can provide realtime alarms based on user defined rules to detect abnormal or suspicious behaviour without the need for human supervision. This capability enhances both manned and unmanned operations by working 24/7, reducing the amount of video data operators must review, and enabling a high level of monitoring for any size of video system.
Honeywell Active Alert software is accurate and high performing and is capable of monitoring and analysing the behaviour of up to 20 objects per camera view, both indoors and outdoors.
The Active Alert Base package includes basic people and vehicle movement behaviour detections. The Active Alert Standard package builds on the Base package by adding the ability to discern more advanced behaviours such as a person jumping a fence line or loitering and vehicles parked or pulled off the road. The Active Alert Premium package builds on the Standard package by adding the ability to detect abandoned or removed objects and possible theft incidents.
Features:
* Realtime scene analysis and alarms based on user definable rules.
* Rich set of detectable events and behaviours to suit a broad set of system requirements.
* Accurate indoor and outdoor applications with patented technology to reduce false alarms.
* High performance software that minimises the need for excessive PC hardware.
* Powerful onsite or remote configuration capabilities.
* Powerful search tools for instantaneous retrieval of incidents.
* Ability to provide voice, visual, relay closure, e-mail, or cellphone alarm.
Credit(s)
Further reading:
Drones and cybersecurity?
October 2019 , CCTV, Surveillance & Remote Monitoring
Hacker drones can eavesdrop electronically on conversations, can perform network attacks, or can create fake wireless access points.
Read more...
---
Body-worn cameras transforming security
October 2019 , CCTV, Surveillance & Remote Monitoring, Security Services & Risk Management
Police Service Northern Ireland now has over 7 000 officers using 2 500 cameras covering approximately 173 000 incidents each year.
Read more...
---
Camera Selection Guide 2019
CCTV Handbook 2019 , CCTV, Surveillance & Remote Monitoring
The Camera Selection Guide 2019 includes a range of IP, analogue, thermal and speciality cameras aimed at a broad range of surveillance functions.
Read more...
---
Intelligent analytics and the brains to match
September 2019, Bosch Building Technologies , CCTV, Surveillance & Remote Monitoring, Integrated Solutions
What if the brains behind our security cameras could be trained to improve their cognitive ability to pay attention, learn, and problem-solve according to specific rules and situations?
Read more...
---
AI-powered autonomous Drone-in-a-Box
September 2019 , CCTV, Surveillance & Remote Monitoring, Integrated Solutions
Organisations in the mining, energy and industrial, oil and gas, ports and terminals sectors can optimise security and business operations, whilst reducing risks and operational costs
Read more...
---
Cybersecurity for video surveillance systems
September 2019, Mobotix , Cyber Security, CCTV, Surveillance & Remote Monitoring
Video surveillance systems are increasingly accessible over any IP network, which has led to the rise of potential cyberattack.
Read more...
---
What are the cybersecurity issues in video surveillance?
November 2019, Axis Communications SA , Editor's Choice, CCTV, Surveillance & Remote Monitoring, Cyber Security
he importance of the data captured by surveillance cameras – and what can be done with it – has led to a new breed of cybercriminals, looking for insights to steal and sell.
Read more...
---
The safe city and its need for interoperability
November 2019 , Integrated Solutions, CCTV, Surveillance & Remote Monitoring
Interoperability continues to present one of the greatest challenges, particularly with video management systems, video recording devices and cameras.
Read more...
---
A platform approach to safer and smarter cities
November 2019, Milestone Systems , CCTV, Surveillance & Remote Monitoring
Selecting the right platform to manage the vast data collected from smart and safe cities is critical to the ultimate success of the project.
Read more...
---
Creating safe cities with smart technology
November 2019, Secutel Technologies , CCTV, Surveillance & Remote Monitoring
In a digital age, where resilience and responsiveness are paramount to fighting crime and creating a safer world, CCTV systems are becoming part of every city's infrastructure.
Read more...
---