printer friendly version
Emerging ubiquity
March 2009
News
Remember when we were all worried about how surveillance technologies were going to invade our privacy and usher in the end of the world? Then webcams and YouTube arrived and privacy was something of the past. Spying on others is fun, after all.
How times have changed. I was in a fast food joint the other day and immediately noticed the place did not have any cameras, not even covering the tills. It is so unusual not to see cameras that I noticed the lack immediately and was wondering if I should call an integrator and tell them to approach the franchise.
I did not pass the tip on to anyone, but the experience just shows how accustomed we are to being watched. South Africa may not be in the same league as the UK when it comes to surveillance – for one thing we hope most of the footage taken here is usable – but we are certainly not lacking in the roll out of surveillance technologies.
This year's CCTV Handbook offers readers a glimpse at the technologies and trends that define the surveillance market. From the latest in IP cameras, through to effective video analysis and automated response capabilities, and even cameras that see in the dark or in dusty conditions with zero visibility.
And that is not even touching on high-definition video. If you thought IP video was able to capture good resolution, wait until HD goes mainstream.
The interesting aspect of all this is that the surveillance industry is much like South Africa, still a developing or an emerging market. While CCTV surveillance has been with us for years, we are seeing innovation soaring as IP and other technology is integrated into traditional surveillance. Cameras and related technologies are today making solutions and services we only expected to see in James Bond movies a few years ago a daily occurrence.
Of course, opting for the latest and greatest in technology is not always the most cost-effective solution for a business. That is why the ability to integrate old and new technology is a crucial component of CCTV implementations. Customers locking themselves into a single technology or vendor could end up with yesterday's technology at tomorrow's prices.
Fortunately the CCTV Handbook is here to assist in making good CCTV decisions all year round. In this year's issue you will find a combination of trends, opinions, case studies and technologies to help you make effective decisions in a tough economy.
As always, comments and criticisms are welcome. Feel free to e-mail me at andrew@technews.co.za.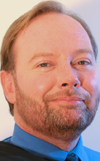 Andrew Seldon
Editor
Credit(s)
Further reading:
TAPA: The role of an effective treasury function in business risk management
June 2019, Technews Publishing , News
Neil Le Roux, the Founder of Diligent Advisors will speak at the TAPA SA (Transported Asset Protection Association) annual conference on 26 July 2019.
Read more...
---
iLegal 2019: Enhancing and empowering your control rooms
July 2019, Technews Publishing , News, Conferences & Events
iLegal 2019 will be held on 12 September 2019 at The Rosebank Crowne Plaza in Johannesburg. iLegal is the surveillance industry's premier one-day conference hosted jointly by Hi-Tech Security Solutions and Dr Craig Donald.
Read more...
---
Residential Estate Security Conference 2019: Managing for efficiency
July 2019, Technews Publishing , News, Conferences & Events
The Residential Estate Security Conference 2019 will be held on 20 August 2019, once again at the Indaba Hotel in Fourways, Johannesburg.
Read more...
---
Spending to save
August 2019, Technews Publishing , News
As residential estates and complexes grow like weeds across South Africa, often promoting themselves as more secure than a stand-alone house, many are finding that close proximity to a neighbour or a ...
Read more...
---
Risk assessment or product placement?
August 2019, Technews Publishing, Alwinco, SMC - Security Management Consultants , Editor's Choice, Security Services & Risk Management, Residential Estate (Industry)
Hi-tech security solutions asked a couple of experts to provide estate managers and security managers with some insights into what a 'real' risk assessment includes.
Read more...
---
Renewable energy for estates and homes
August 2019, Drensky Technologies, Technews Publishing, Specialised Battery Systems , Security Services & Risk Management
While individual homeowners might choose to install solar photovoltaic (PV) systems for when there's load shedding or a power failure, for an entire estate to harness its energy requirements from solar, and particularly their crucial security systems, would require that a large area of the property be dedicated to solar panels.
Read more...
---
From the editor's desk: The difference between potential and skills
August 2019, Technews Publishing , News
This issue of Hi-Tech Security Solutions includes our annual Local Manufacturing feature and it's great to know that local security manufacturers are still going strong, even if the general manufacturing ...
Read more...
---
A customised solution for backup power
August 2019, Specialised Battery Systems , News, Integrated Solutions
Specialised Battery Systems designed and implemented a bespoke solution for Stallion Security Electronics to deploy at almost any site.
Read more...
---
Addressing risks in the healthcare sector
August 2019, Secnovate, Technews Publishing, ZKTeco , Healthcare (Industry), Security Services & Risk Management
The healthcare sector poses unique challenges and risks. Hospitals, for example, need to have a more-or-less 'open door' policy when it comes to people entering the premises and the main reception area.
Read more...
---
Patient critical – healthcare's cybersecurity pulse
August 2019, Wolfpack Information Risk , News, Cyber Security, Healthcare (Industry)
The healthcare industry has become one of the leading cybersecurity attack vectors worldwide for several reasons.
Read more...
---