printer friendly version
Emerging ubiquity
CCTV Handbook 2009
News
Remember when we were all worried about how surveillance technologies were going to invade our privacy and usher in the end of the world? Then webcams and YouTube arrived and privacy was something of the past. Spying on others is fun, after all.
How times have changed. I was in a fast food joint the other day and immediately noticed the place did not have any cameras, not even covering the tills. It is so unusual not to see cameras that I noticed the lack immediately and was wondering if I should call an integrator and tell them to approach the franchise.
I did not pass the tip on to anyone, but the experience just shows how accustomed we are to being watched. South Africa may not be in the same league as the UK when it comes to surveillance – for one thing we hope most of the footage taken here is usable – but we are certainly not lacking in the roll out of surveillance technologies.
This year's CCTV Handbook offers readers a glimpse at the technologies and trends that define the surveillance market. From the latest in IP cameras, through to effective video analysis and automated response capabilities, and even cameras that see in the dark or in dusty conditions with zero visibility.
And that is not even touching on high-definition video. If you thought IP video was able to capture good resolution, wait until HD goes mainstream.
The interesting aspect of all this is that the surveillance industry is much like South Africa, still a developing or an emerging market. While CCTV surveillance has been with us for years, we are seeing innovation soaring as IP and other technology is integrated into traditional surveillance. Cameras and related technologies are today making solutions and services we only expected to see in James Bond movies a few years ago a daily occurrence.
Of course, opting for the latest and greatest in technology is not always the most cost-effective solution for a business. That is why the ability to integrate old and new technology is a crucial component of CCTV implementations. Customers locking themselves into a single technology or vendor could end up with yesterday's technology at tomorrow's prices.
Fortunately the CCTV Handbook is here to assist in making good CCTV decisions all year round. In this year's issue you will find a combination of trends, opinions, case studies and technologies to help you make effective decisions in a tough economy.
As always, comments and criticisms are welcome. Feel free to e-mail me at [email protected].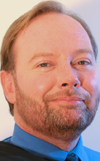 Andrew Seldon
Editor
Credit(s)
Further reading:
Unrecoverable encrypted data
News Cyber Security
Cybersecurity research indicates that 76% of organisations admit to paying ransomware criminals, however, one-third are still unable to recover data.
Read more...
---
Kaspersky invests in development of neuromorphic processors
News IT infrastructure
Neuromorphic processors' field of application is acceleration of the hardware used in the latest generation of artificial intelligence systems, which are based on spiking neural networks (SNN) training, which is more akin to biological interactions.
Read more...
---
Security BIS named AxxonSoft's Distributor of the Year 2021
News CCTV, Surveillance & Remote Monitoring
With its focus on AxxonSoft solutions and technical support, Security BIS secured the title of AxxonSoft Distributor of the Year again for 2021.
Read more...
---
Infinidat enhances channel support
News IT infrastructure
Infinidat drives go-to-market strategy with new global partner portal and expands channel sales with Storage-as-a-Service in ArrowSphere.
Read more...
---
Are you your insider threat?
Technews Publishing Editor's Choice Security Services & Risk Management Commercial (Industry)
Insider threats are a critical aspect of risk management today, but what happens when it is the owner of the company acting fraudulently and making sure none of his staff can catch him?
Read more...
---
The Handbook of Security's third edition has been published
News
The third edition of the Handbook of Security, edited by Perpetuity Research director Martin Gill, has been published, containing 45 contributions from leading global scholars.
Read more...
---
GJD announces new SMT Machine
News Perimeter Security, Alarms & Intruder Detection
GJD will now be able to complete the manufacture of its products in-house, and thereby significantly decrease the business' carbon footprint while increasing employment opportunities.
Read more...
---
Passion, drive and hard work
Technews Publishing Editor's Choice CCTV, Surveillance & Remote Monitoring Security Services & Risk Management
Colleen Glaeser is a leader in the security market, having made her mark in the male-dominated security industry through determination and hard work, along with a vision of making the world a safer place.
Read more...
---
Smart home devices market growing across META
Smart Home Automation News
The Middle East, Turkey, and Africa (META) smart home devices market continues to register significant gains on the back of increasing awareness and improving end user experiences, according to the latest insights from International Data Corporation.
Read more...
---
How to react in an armed robbery or home invasion
Fidelity Services Group Security Services & Risk Management News
How you react when faced with a nervous, gun-toting criminal can save your life, or cost you your life; all family members need to know what to do in such circumstances.
Read more...
---