printer friendly version
CCTV's vital role in securing city centres
January 2009
CCTV, Surveillance & Remote Monitoring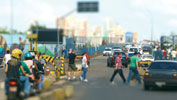 When applied correctly, alongside measures such as effective lighting, town centre CCTV schemes time and again have demonstrated their ability to enable police, town centre managers and retailers to co-ordinate their efforts, identifying problems at the earliest possible opportunity. By covertly keeping a watch on offenders involved in for example anti-social behaviour and conducting virtual patrols of town centres, informed decisions can be made about the most appropriate course of action so maximising the effectiveness of available resources. The evidential value of images collected can also aid the prosecution of persistent offenders.
The heart of crime control
Dedicated Micros has strong credentials when it comes to town centre CCTV surveillance solutions. Since its introduction, variants of its industry leading, high-end, BX2 multiplex digital video recorder, with impressive storage capacity have been consistently specified to sit at the very heart of the action in town centre control rooms. The very latest model the BX2 CA comes with the industry-leading innovation, hot-swappable mirrored drives supporting uninterrupted recording, an invaluable characteristic in this evidentially intensive environment.
Dealing with domes
Through its sister company Dennard, it is also able to offer the very latest aesthetically pleasing PTZ domes, characteristics which mean that they can more readily blend into a town centre environment, than more traditional CCTV cameras – particularly important in conservation areas. These advanced dome cameras are also capable of delivering pretty much unlimited tracking possibilities, vital for control room operators in pursuit of a suspicious character in a town centre. The most advanced domes even incorporate an auto flip facility so that the camera module is automatically rotated through 180° as the dome tracks objects passing directly underneath.
Security continues to be a key concern for all educational establishments from schools and colleges to the largest universities. It is therefore not surprising that sophisticated CCTV technology is being adopted to tackle senseless vandalism, including damaging arson attacks, and criminals' intent on stealing property out of hours. CCTV systems are also being applied to address the very real threat faced by staff and students of physical assault when buildings are actually in use, particularly from intruders, and also as a powerful management tool to assist educators in the smooth running of what can often be extensive sites.
Flexibility built-in
The capabilities of the latest generation of digital video recorders and servers including video over IP solutions – such as Dedicated Micros DV-IP – have opened up a wealth of possibilities. These advanced systems, linked to internal and external CCTV cameras, can make use of a site's existing IT infrastructure so dramatically reducing disruption and, vitally, up front capital investment costs. For a university with buildings distributed across a wide geographical area, from halls of residence to lecture theatres, there is happily no longer the need for additional, large-scale, coaxial cabling to facilitate monitoring at a central control room or to allow authorised staff to view live and recorded images. The way that IP enabled systems work also means that they are fully scalable to satisfy future requirements. In practice it is simply a question of dropping a video server in at a convenient point on the network to support additional cameras. There is even the potential to integrate these flexible solutions with other elements such as fire systems – important where arson is concerned – and student access control measures.
Management tool
When it comes to assisting in school management, networked digital CCTV solutions can prove invaluable during the daytime when teaching is actually in progress. It is now perfectly possible for key members of staff to actively deal with issues as they happen, such as property damage by students, truancy and bullying. Conveniently incidents can be called up on any networked PC, with teachers then able to go to the location of an incident to stop a pupil leaving or to break-up a fight. This contrasts with older more cumbersome analogue solutions where, more often than not, it is a case of having to physically search through a mountain of tapes to review incidents which may have happened hours or even days earlier.
Learning lessons
Dedicated Micros has extensive experience of the education sector, underlined by the broad range of solutions which have been successfully applied based around its BX2 multiplexers on larger sites and Digital Sprite 2 digital video recorders for smaller installations. Looking ahead it expects demand to grow not only for these systems but also, increasingly, for its fourth generation, DV-IP systems which it believes are more than capable of delivering industry-leading networked solutions for educational establishments whatever their size or budget.
For more information contact ADI International, 0860 22 55 23.
Further reading:
Qognify VMS adds support for Pelco IP camera series
CCTV, Surveillance & Remote Monitoring Products
The latest IP camera series from Pelco can now be used with Qognify's advanced video solution for corporate and enterprise projects, increasing the overall number of camera models and third-party devices supported in Qognify VMS to more than 6 500.
Read more...
---
VIVOTEK launches VAST Security Station
CCTV, Surveillance & Remote Monitoring Products
VIVOTEK officially launched its AI security system, VAST Security Station (VSS), in March, available to users in three flexible tiers: VSS Lite, VSS Standard, and VSS Professional.
Read more...
---
Keeping students, staff and communities safe
Vumacam News CCTV, Surveillance & Remote Monitoring Security Services & Risk Management
South African schools are facing increasing security challenges, making effective surveillance systems more important than ever. To address this issue, Vumacam is offering advanced security solutions with security partners, aimed at keeping students, staff, and the community safe.
Read more...
---
Helping to care for zoo animals
Hikvision South Africa CCTV, Surveillance & Remote Monitoring
Zoo keeps an eye on the safety of animals and visitors through the installation of Hikvision 4 MP turret, 12 MP Fisheye cameras, as well as PTZs, NVRs and central management system.
Read more...
---
Boosting digital-intelligent transformation and AI applications
Dahua Technology South Africa CCTV, Surveillance & Remote Monitoring Products
2022 has been a year full of development and innovation for Dahua. The company has launched various upgrades to its existing product portfolio as well as an artillery of new products and solutions that address specific needs/problems in society.
Read more...
---
Arcules and IMMIX announce integration
News CCTV, Surveillance & Remote Monitoring Products
Arcules has announced that its integration with Immix Central Station and Guard Force is available. The integration provides Central Station and Guard Force users a way to manage, verify, and respond to security events, while using Arcules-managed video feeds.
Read more...
---
Developing an effective CCTV control room culture
Leaderware Editor's Choice CCTV, Surveillance & Remote Monitoring Training & Education
Organisational culture in organisations can be seen as the set of values, practices, focus, standards and behaviours, and ways of interacting with others that are accepted and subscribed to by the people who work there.
Read more...
---
Eagle Eye Networks releases 2023 Video Surveillance Trends Report
Eagle Eye Networks News CCTV, Surveillance & Remote Monitoring
Eagle Eye Networks has released the 2023 Trends in Video Surveillance ebook, identifying five trends that will have the largest impact on businesses around the globe in 2023.
Read more...
---
Stainless steel 8 MP dome
Axis Communications SA Products CCTV, Surveillance & Remote Monitoring
Enclosed in marine-grade stainless steel (SS 316L) and DNV-certified, the AXIS Q3538-SLVE can withstand the corrosive effects of seawater and cleaning chemicals.
Read more...
---
Enhanced image clarity and enriched AI functions
Dahua Technology South Africa CCTV, Surveillance & Remote Monitoring Products
The IPC WizMind S series is equipped with multiple intelligent functions, offers adaptability, and comes in plastic-free packaging, enabling better image performance, promoting environmental sustainability, and providing global clients with smarter vision with a stronger surveillance shield.
Read more...
---