printer friendly version
Black empowered security specialist
September 2008
News
Technisec Security Specialists was established in 1994 and quickly made its mark and became one of the industry leading integrators in the South African security market providing expert advice and quality installation and maintenance work to its growing customer base.
Led by Kevin Monk, the company has always set its own pace and through innovative security solutions and the technical ability of its staff was able to provide customers with turnkey solutions. By employing skilled and dedicated staff, all Technisec's design, installation, inspection, maintenance and repair work is conducted in-house.
With a staff complement of some 30 people, the company conducts both external and in-house training. It maintains a high skill level to ensure that the capabilities of each of its technical staff are above the normal industry standards.
Technisec is also registered with all the important security bodies in the country, exceeding the standards they set and becoming a keen contributor to the local industry. And it was its success, reputation and continued service ethic that attracted the attention of Nkunzi Investment Holdings, a black owned and controlled investment holding company.
Nkunzi Investment Holdings focuses on leveraged management buy-out and buy-in transactions. It does not simply take stakes in any company, but looks for stable, profitable businesses with experienced and professional management teams. It also looks for companies where a significant proportion of the management team will remain with the company after the buy-in to ensure its success is ongoing. Nkunzi Investment Holdings turns over in excess of R400 million per annum on a consolidated basis.
With this in mind, Nkunzi bought (into) Technisec, creating a black empowered security specialist company, called Nkunzi Technisec.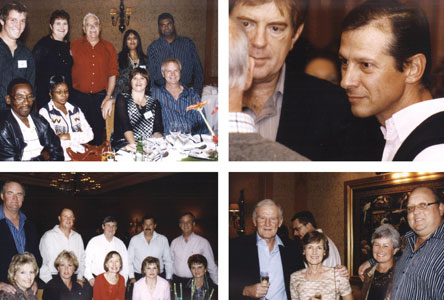 The birth of Nkunzi Technisec
Nkunzi Technisec is now 55% owned by Nkunzi Electronic Security Group, a subsidiary of Nkunzi Investment Holdings, and 45% owned by staff, including the previous directors. Kevin Monk remains MD, with Dirk Erasmus and Patrick September directors, and Robin Beek non-executive chairman.
The deal, which sees Technisec gain sterling BEE credentials and a more experienced board, will not change the new Nkunzi Technisec's focus on delivering quality security solutions to customers, nor its commitment to the continual training and skills enhancement for its staff. As far as its customers are concerned it is business as usual, only better.
The services on offer from Nkunzi Technisec span a broad range of today's security requirements. These services include:
* CCTV systems.
* IP network video systems.
* Digital remote transmission systems.
* Remote offsite monitoring.
* Access/egress control systems.
* Time and attendance systems.
* Intruder detection/response systems.
* Fire detection systems.
* Perimeter detection systems.
* Fibre-optics.
* Building management systems.
* Access cubicles with metal detection.
* Lightning protection.
* Turnkey projects.
* System integration and networking.
* Maintenance.
Of course this list is never complete. As a security innovator, Nkunzi Technisec is always in the process of finding new and better ways to offer its clients a quality security solution they can rely on for the long term. The idea is that Nkunzi Technisec clients can forget about their security, safe in the knowledge their systems are installed and maintained by the premier specialists in South Africa.
In more recent news, Investec Private Bank has purchased a minority shareholding in Nkunzi Investment Holdings, with an option to increase its stake in the future. Nkunzi is obviously good at choosing the right businesses with a bright future.
Further reading:
Johnny Aucamp joins iPulse exco
News
Johnny Aucamp has joined iPulse Systems as its chief sales officer (CSO), adding a massive boost to the executive team.
Read more...
---
From the editor's desk: Security and resilience
Technews Publishing News
It's often said that South Africans are a resilient bunch, and history has proven this correct. When it comes to security, both cyber and physical, resilience is key to an effective defensive plan. ...
Read more...
---
Hikvision aims for solutions
Technews Publishing Hikvision South Africa Editor's Choice CCTV, Surveillance & Remote Monitoring News Integrated Solutions Conferences & Events
Hikvision recently held a roadshow titled Industry X, where the company highlighted its latest products and solutions, supported by partners and distributors.
Read more...
---
Olarm launches PRO 4G communicator
Olarm News Perimeter Security, Alarms & Intruder Detection Products
Olarm has announced an additional 4G/LTE version of its Olarm PRO smart communicator. It is aimed at areas suffering from poor connectivity by providing support for 4G, 2G and Wi-Fi networks.
Read more...
---
ADI Expo returns to South Africa
Technews Publishing ADI Global Distribution News
September saw the return of the ADI Expo to South Africa. The Johannesburg event was held at the Focus Rooms and the Durban event, two days later, at the Southern Sun Elangeni & Maharani.
Read more...
---
Technoswitch Awards dinner for 2022
Technews Publishing News Fire & Safety
Technoswitch hosted its fifth awards dinner at Montecasino in September, where customers and suppliers celebrated a year of success.
Read more...
---
Suprema joins FiRa Consortium
Suprema News Access Control & Identity Management
Suprema recently became a member of the FiRa Consortium, a consultative body that establishes standards for ultra-wideband (UWB) technology, the next generation of wireless communication.
Read more...
---
Reliable, low-maintenance video appliances
Technews Publishing Editor's Choice CCTV, Surveillance & Remote Monitoring News IT infrastructure Products
Symetrix, part of the Agera Group, has added the AES range of video recording servers, storage appliances and workstations to its portfolio.
Read more...
---
ZYTEQ Fire Engineering Summit 2022
ZYTEQ Fire Fire & Safety News
Cape Town-based ZYTEQ Fire hosted its inaugural Engineering Summit at the Commodore Hotel in Cape Town and the Leonardo Hotel in Sandton, Johannesburg.
Read more...
---
Nomad launches early adopter programme
Editor's Choice News Integrated Solutions Smart Home Automation
Participants in Nomad's Early Adopter Programme will receive 10% of their volume order to facilitate testing before the commercial launch later this year.
Read more...
---