printer friendly version
Black empowered security specialist
September 2008
News
Technisec Security Specialists was established in 1994 and quickly made its mark and became one of the industry leading integrators in the South African security market providing expert advice and quality installation and maintenance work to its growing customer base.
Led by Kevin Monk, the company has always set its own pace and through innovative security solutions and the technical ability of its staff was able to provide customers with turnkey solutions. By employing skilled and dedicated staff, all Technisec's design, installation, inspection, maintenance and repair work is conducted in-house.
With a staff complement of some 30 people, the company conducts both external and in-house training. It maintains a high skill level to ensure that the capabilities of each of its technical staff are above the normal industry standards.
Technisec is also registered with all the important security bodies in the country, exceeding the standards they set and becoming a keen contributor to the local industry. And it was its success, reputation and continued service ethic that attracted the attention of Nkunzi Investment Holdings, a black owned and controlled investment holding company.
Nkunzi Investment Holdings focuses on leveraged management buy-out and buy-in transactions. It does not simply take stakes in any company, but looks for stable, profitable businesses with experienced and professional management teams. It also looks for companies where a significant proportion of the management team will remain with the company after the buy-in to ensure its success is ongoing. Nkunzi Investment Holdings turns over in excess of R400 million per annum on a consolidated basis.
With this in mind, Nkunzi bought (into) Technisec, creating a black empowered security specialist company, called Nkunzi Technisec.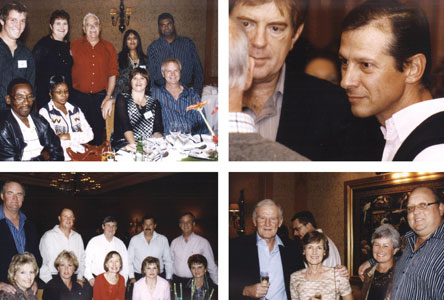 The birth of Nkunzi Technisec
Nkunzi Technisec is now 55% owned by Nkunzi Electronic Security Group, a subsidiary of Nkunzi Investment Holdings, and 45% owned by staff, including the previous directors. Kevin Monk remains MD, with Dirk Erasmus and Patrick September directors, and Robin Beek non-executive chairman.
The deal, which sees Technisec gain sterling BEE credentials and a more experienced board, will not change the new Nkunzi Technisec's focus on delivering quality security solutions to customers, nor its commitment to the continual training and skills enhancement for its staff. As far as its customers are concerned it is business as usual, only better.
The services on offer from Nkunzi Technisec span a broad range of today's security requirements. These services include:
* CCTV systems.
* IP network video systems.
* Digital remote transmission systems.
* Remote offsite monitoring.
* Access/egress control systems.
* Time and attendance systems.
* Intruder detection/response systems.
* Fire detection systems.
* Perimeter detection systems.
* Fibre-optics.
* Building management systems.
* Access cubicles with metal detection.
* Lightning protection.
* Turnkey projects.
* System integration and networking.
* Maintenance.
Of course this list is never complete. As a security innovator, Nkunzi Technisec is always in the process of finding new and better ways to offer its clients a quality security solution they can rely on for the long term. The idea is that Nkunzi Technisec clients can forget about their security, safe in the knowledge their systems are installed and maintained by the premier specialists in South Africa.
In more recent news, Investec Private Bank has purchased a minority shareholding in Nkunzi Investment Holdings, with an option to increase its stake in the future. Nkunzi is obviously good at choosing the right businesses with a bright future.
Further reading:
TAPA: The role of an effective treasury function in business risk management
June 2019, Technews Publishing , News
Neil Le Roux, the Founder of Diligent Advisors will speak at the TAPA SA (Transported Asset Protection Association) annual conference on 26 July 2019.
Read more...
---
Platforms are us
September 2019, Technews Publishing , News
A conversation I had at the recent Residential Estate Security Conference Hi-Tech Security Solutions hosted in August (which will be reviewed in the October issue) got me to thinking about the security ...
Read more...
---
TAPA conference 2019 explores layered approach to security
September 2019, Technews Publishing, TAPA (Transported Asset Protection Association) , News, Transport (Industry)
The Transported Asset Protection Association (TAPA) held its annual South African conference at Emperors Palace in Johannesburg on 26 July 2019.
Read more...
---
Hennie Lategan joins Centurion as head of exports
September 2019, Centurion Systems , News, Access Control & Identity Management
Centurion Systems has announced the appointment of Hennie Lategan as the head of the company's exports department.
Read more...
---
New Africa sales manager for Axis Communications
September 2019, Axis Communications SA , News, CCTV, Surveillance & Remote Monitoring
Axis Communications has appointed Brendon Hall, previously the founder and MD of Pentagon, as its new sales manager, Africa.
Read more...
---
Check Point appoints new regional director for Africa
September 2019 , News, Cyber Security
Check Point Software Technologies has appointed Pankaj Bhula as regional director for Africa.
Read more...
---
ISO standard for protecting personal data
September 2019 , News, Cyber Security
Tackling privacy information management head on: first ISO standard for protecting personal data has been published.
Read more...
---
Hikvision helps secure African Union Summit
September 2019, Hikvision South Africa , News, CCTV, Surveillance & Remote Monitoring
Hikvision established a complete intelligent video solution to ensure the security of the thirty-third African Union (AU) Summit held on 7 July in Niamey, the capital of Niger.
Read more...
---
The hunt for the Carbanak group
September 2019 , Editor's Choice, Cyber Security, News
Tomorrow Unlocked has released a free four-part documentary that tells the story of the notorious Carbanak APT group and its $1 billion bank heist.
Read more...
---
Rockwell Automation a founding member of ISA Global Cybersecurity Alliance
September 2019 , News, Industrial (Industry)
To better secure today's complex and often vulnerable production operations, the ISA Global Cybersecurity Alliance recently announced Rockwell Automation as a founding member.
Read more...
---