printer friendly version
Black empowered security specialist
September 2008
News
Technisec Security Specialists was established in 1994 and quickly made its mark and became one of the industry leading integrators in the South African security market providing expert advice and quality installation and maintenance work to its growing customer base.
Led by Kevin Monk, the company has always set its own pace and through innovative security solutions and the technical ability of its staff was able to provide customers with turnkey solutions. By employing skilled and dedicated staff, all Technisec's design, installation, inspection, maintenance and repair work is conducted in-house.
With a staff complement of some 30 people, the company conducts both external and in-house training. It maintains a high skill level to ensure that the capabilities of each of its technical staff are above the normal industry standards.
Technisec is also registered with all the important security bodies in the country, exceeding the standards they set and becoming a keen contributor to the local industry. And it was its success, reputation and continued service ethic that attracted the attention of Nkunzi Investment Holdings, a black owned and controlled investment holding company.
Nkunzi Investment Holdings focuses on leveraged management buy-out and buy-in transactions. It does not simply take stakes in any company, but looks for stable, profitable businesses with experienced and professional management teams. It also looks for companies where a significant proportion of the management team will remain with the company after the buy-in to ensure its success is ongoing. Nkunzi Investment Holdings turns over in excess of R400 million per annum on a consolidated basis.
With this in mind, Nkunzi bought (into) Technisec, creating a black empowered security specialist company, called Nkunzi Technisec.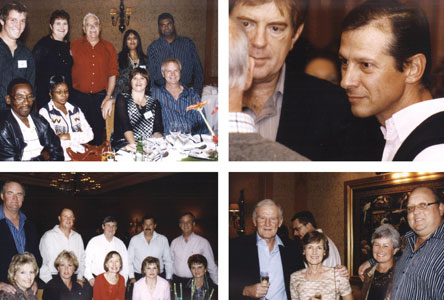 The birth of Nkunzi Technisec
Nkunzi Technisec is now 55% owned by Nkunzi Electronic Security Group, a subsidiary of Nkunzi Investment Holdings, and 45% owned by staff, including the previous directors. Kevin Monk remains MD, with Dirk Erasmus and Patrick September directors, and Robin Beek non-executive chairman.
The deal, which sees Technisec gain sterling BEE credentials and a more experienced board, will not change the new Nkunzi Technisec's focus on delivering quality security solutions to customers, nor its commitment to the continual training and skills enhancement for its staff. As far as its customers are concerned it is business as usual, only better.
The services on offer from Nkunzi Technisec span a broad range of today's security requirements. These services include:
* CCTV systems.
* IP network video systems.
* Digital remote transmission systems.
* Remote offsite monitoring.
* Access/egress control systems.
* Time and attendance systems.
* Intruder detection/response systems.
* Fire detection systems.
* Perimeter detection systems.
* Fibre-optics.
* Building management systems.
* Access cubicles with metal detection.
* Lightning protection.
* Turnkey projects.
* System integration and networking.
* Maintenance.
Of course this list is never complete. As a security innovator, Nkunzi Technisec is always in the process of finding new and better ways to offer its clients a quality security solution they can rely on for the long term. The idea is that Nkunzi Technisec clients can forget about their security, safe in the knowledge their systems are installed and maintained by the premier specialists in South Africa.
In more recent news, Investec Private Bank has purchased a minority shareholding in Nkunzi Investment Holdings, with an option to increase its stake in the future. Nkunzi is obviously good at choosing the right businesses with a bright future.
Further reading:
Prevention-first approach to cybersecurity
News Cyber Security
Check Point CEO, Gil Shwed, highlights the increasing importance of artificial intelligence in defending evolving networks and protecting against cyber threats at annual CPX 360 customer and partner event.
Read more...
---
Three new portable power stations to ease load shedding
News Security Services & Risk Management Products
EcoFlow has launched three portable power stations that provide sufficient power for consumers wherever they are; the DELTA 2 and RIVER 2 Series are feature-filled power solutions to the volatile electricity supply.
Read more...
---
UJ and Schneider Electric launch 4IR Experience Room
News
Schneider Electric and the University of Johannesburg (UJ) Faculty of Engineering and Built Environment (FEBE) have officially unveiled the 4IR Experience Room, a first for UJ and situated at the university's Auckland Park Campus.
Read more...
---
SafeCity Guarding rolls out across 14 suburbs in Johannesburg
News Security Services & Risk Management
In a major drive to provide communities across Johannesburg with additional safety, Vumacam, in partnership with Fidelity ADT and other security providers across the region, rolled out the innovative SafeCity Guarding initiative in 14 suburbs.
Read more...
---
Providing an interactive branding platform
Securex South Africa News Conferences & Events
Now in its 30th year of providing security technology and services providers with a platform for increasing their brand exposure, Securex South Africa will be held at the Gallagher Convention Centre in Midrand, from the 6th to 8th June 2023.
Read more...
---
ALX sponsored learning programmes for 2023
Training & Education News
With a mission to harness Africa's abundant human capital by developing two million ethical and entrepreneurial young leaders from the continent by 2030, ALX has launched four fully sponsored (at no cost) tech programmes for 2023.
Read more...
---
LockBit ransomware gang most apt to leak stolen victim data
News
Trellix has released The Threat Report: February 2023 from its Advanced Research Centre, combining telemetry collected from the world's largest network of endpoint protection installs and its complete XDR product line with data gathered from open- and closed-source intelligence reports.
Read more...
---
Schneider Electric is looking for your bold idea
News
Schneider Electric has launched this year's Schneider Go Green, an annual competition that invites university students from across the globe to share their ideas for innovations that can help make the world cleaner, more inclusive, and more sustainable.
Read more...
---
Keeping students, staff and communities safe
Vumacam News CCTV, Surveillance & Remote Monitoring Security Services & Risk Management
South African schools are facing increasing security challenges, making effective surveillance systems more important than ever. To address this issue, Vumacam is offering advanced security solutions with security partners, aimed at keeping students, staff, and the community safe.
Read more...
---
Arcules and IMMIX announce integration
News CCTV, Surveillance & Remote Monitoring Products
Arcules has announced that its integration with Immix Central Station and Guard Force is available. The integration provides Central Station and Guard Force users a way to manage, verify, and respond to security events, while using Arcules-managed video feeds.
Read more...
---