printer friendly version
A tribute to Dr. Maurice McDowell
July 2008
News & Events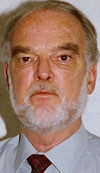 It was with great sadness, that the team at Technews came to hear of the recent passing of Dr. Maurice McDowell, who passed away on Friday 23 May, 2008.
Maurice was involved in writing for Technews titles in one form of another for the better part of 23 years, and became an integral part of the Technews extended family, a loyal and committed professional whose contributions will be sorely missed. Maurice was a talented writer and highly respected technical journalist and consulting editor to several well-known publications, and as his colleague and friend Eric Milburn puts it, "there are many companies today, large and small, that were put on the map by a Maurice McDowell article."
Maurice was born in Belfast, northern Ireland in 1945. After graduating from the Queens University of Belfast, with a BSc (1st class Hons) in 1967, Maurice entered post-graduate research at Queens under famed laser pioneer Professor Dan Bradley, finally obtaining his PhD (Optical Engineering) in 1971.
He joined the CSIR in Pretoria and was responsible for the creation of its world-leading optical design facility. Employed by the NPRL (National Physics Research Laboratory), he became chief research officer in 1976, senior chief research officer in 1979, head of the Optical Sciences Division in 1983, and deputy director and specialist researcher in 1984.
Whilst his own personal area of expertise was optical designs, evaluation and night vision systems, he was also intimately involved in laser and thin film technology as well as holography. During this period he acted as special consultant to Armscor on many occasions, and was affectionately referred to by the late Professor Louis van Biljoen, as Mr. Optics South Africa.
Maurice was appointed to the newly reorganised CSIR management team as director of the Division of Production Technology, his mission at the time to provide the essential R&D and technological back-up for South Africa's manufacturing industry. Following the incorporation of this division into CSIR's Aerotek, Maurice left the CSIR in late 1993, and soon afterwards he joined a local high-tech start-up company Measuring Instruments Technology (MIT) as shareholder and managing director.
He continued his close association with the measurement fraternity, publishing the The National Laboratory of South Africa and 20 years of Accreditation in South Africa.
Whilst engaged in his own business, Maurice continued to write for Technews publications, Dataweek and SA Instrumentation & Control (he has the unbeatable record of having over 200 articles published by Technews since 1985). He also developed the concept, along with Technews founding publisher Ray Beaumont, for Manufacturing Technology Today, which was launched in April 1994, and contributed regularly to Hi-Tech Security Solutions (which was launched in launched in 1995).
The simple truth that there was not a publication within Technews suite of products that was not editorially informed, in some fashion, through Maurice's contributions, stands testament to his strengths as a technical journalist.
Maurice is survived by his wife Lilly, and three children Roisin, Bruce and Maurice Jnr. He was 63.
Further reading:
Helping South African university students and staff to stay safe
News & Events
Buzzer is a free mobile app that allows users to quickly and easily report incidents of crime, violence, or harassment to campus security and other relevant authorities.
Read more...
---
Tech developments lead hologram growth in 2024
News & Events Security Services & Risk Management
Micro-lenses, micro-mirrors and plasmonics are among the rapidly-emerging optical devices that have evolved on the back of holographic and diffractive technologies, and are seen as part of the natural evolution of optical science by R&D teams.
Read more...
---
Trellix detects collaboration by cybercriminals and nation states
News & Events Information Security
Trellix has released The CyberThreat Report: November 2023 from its Advanced Research Centre, highlighting new programming languages in malware development, adoption of malicious GenAI, and acceleration of geopolitical threat activity.
Read more...
---
People are craving connection
News & Events
As 2023 nears its close, global security manufacturer Gallagher Security is sharing key observations from some of the year's biggest industry events, chief among them the rising importance of community building these events facilitate.
Read more...
---
ePSiRA online system
PSiRA (Private Security Ind. Regulatory Authority) News & Events
[Sponsored] As part of the digitisation of the security industry, the Private Security Industry Regulatory Authority (PSiRA) introduced the ePSiRA online system, which allows clients to transact online.
Read more...
---
New generation of cyber-focused controllers
Gallagher News & Events Access Control & Identity Management Products & Solutions
The C7000 gives users an opportunity to leverage their hardware and firmware to build a platform designed to catapult their organisation into the future, with cybersecurity baked in from inception.
Read more...
---
New T&A terminal features revolutionary AI technology
Suprema News & Events Access Control & Identity Management AI & Data Analytics
Suprema has launched BioStation 2a, the world's first deep learning-based fingerprint recognition solution, providing powerful access control features and an improved ability to extract templates from low-quality fingerprints.
Read more...
---
South African Cyber Risk Survey 2023
News & Events
Aon South Africa has released its 2023 Cyber Risk Survey for South Africa, providing insights on current trends in cyber risk governance practices being deployed by South African companies in various market segments.
Read more...
---
Africa Online Safety Fund announces grant winners
News & Events Information Security
The Africa Online Safety Fund (AOSF) has announced the winners of this year's grants; among them are five organisations operating in South Africa to educate people about online risks.
Read more...
---
From the editor's desk: Convergence is real
Technews Publishing News & Events
      SMART Security Solutions has been talking about convergence for a long time; in other words, the intersection and even integration between the physical and information security worlds. Before writing ...
Read more...
---