printer friendly version
Mons/Bergen Stadium scores a goal with Axis network cameras
July 2008
Surveillance
The Mons/Bergen football club marks its arrival in the premier division with an upgrade to its stadium.
Mission
The Mons/Bergen football club is a dependable name in the world of Belgian football. In 2000, while it was playing in the second division, security for the Mons/Bergen Stadium consisted of four analogue cameras.
When the club entered the premier division in 2002, it had to bring its stadium into line with the new security legislation. Aware of the limitations of the old analogue system, officials sought to implement an alternative solution to ensure better image quality and easy access to video by authorised personnel.
Solution
In an effort to reduce costs, it was decided to install a network video system using Axis network cameras and including, via Axis video servers, a series of analogue cameras that could still provide satisfactory performance.
In addition to requirements in terms of image quality, ease of use was also an important factor in selecting a new security solution. After comparing various systems, the decision was made to select Axis network cameras, and to engage Digital, an Axis partner in Belgium, to install the entire new video surveillance system.
Result
Surveillance of the stadium is now under control and in line with Belgian legal requirements. All interior and exterior areas, including the immediate surroundings and the parking lot, are under video monitoring, to the great satisfaction of both the operators and the local police.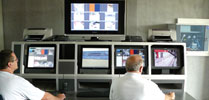 Strict security measures
After a series of serious incidents, the Belgian government decided to impose a number of standards on football clubs playing in the premier and second divisions, to improve the safety of the clubs' employees, as well as visitors and players. "Security in and around our stadium, which will soon have a capacity of 13 000 visitors, has always been a topic of major importance for us. When our football club entered the premier division, we did all the necessary changes to quickly meet the legal requirements," says Mr Taulet, infrastructure and security supervisor of Mons/Bergen Stadium.
A series of strict rules was implemented: mandatory training for users, maintenance contract, installation of a panel to report on the current state of the cameras, and any malfunctions that arise have to be dealt with consistently after each match and prior to the start of the next match. A total of four operators, two of whom are stadium employees, and two from the Mons/Bergen Police, are trained and authorised to use the cameras in the Mons/Bergen Stadium. Taulet explains, "When violence or vandalism occurs, we have to provide conclusive evidence to the courts. This means images that can actually show the guilt or innocence of a supporter. This is where there was a problem - the quality of the images from the analog cameras we were using was not sufficient to correctly identify individuals."
Another hindrance was that the operator did not have an overview of the situation on the football ground and around it. That was due to the fact that there was only access to a limited number of viewing angles coming from one analog camera at a time. "Quite often, we were not able to detect undesirable behaviour until after the match, when the recorded images were analysed. And, to make matters worse, the analogue cameras were difficult to use."
From analogue to network video
Surveillance of the stadium is now provided by nine cameras, four of which are analogue and five digital. Three Axis 214 PTZ network cameras provide video surveillance of the parking lot, street and access points to the stadium through remote monitoring functions.
Surveillance of the stands is provided by two motorised Axis 232D+ network dome cameras and four analogue cameras, and the bar is under the watchful eye of an Axis 225FD fixed dome network camera. In the control room, a large screen offers an overview of what is happening inside the stadium and its immediate surroundings. Four smaller screens provide the possibility of zooming into specific shots. The network cameras are controlled by two operators in radio contact with the Mons/Bergen Police, which facilitates speedy intervention.
"The Axis network cameras completely meet the security requirements imposed on us by Belgian legislation," Taulet concludes.
Future expansion
A new stand, which was built in August 2007, will be equipped with two Axis 233D network dome cameras.
Video surveillance of the bar next to the new stand will be provided by an Axis 225D fixed dome network camera.
Credit(s)
Further reading:
Safer roads to a sustainable future
Dahua Technology South Africa Surveillance
With the ever-increasing number of vehicles on the road, it is imperative to constantly improve the quality of transportation monitoring and traffic management in urban and rural areas.
Read more...
---
From damage management to false alarm prevention
Dallmeier Electronic Southern Africa Transport (Industry) Surveillance Logistics (Industry)
Video surveillance is undergoing an exciting evolution; today's IP-based solutions can be fully integrated into digital systems. With the increasing integration of artificial intelligence (AI); logistics, in particular, can make processes more transparent and exploit previously untapped potential.
Read more...
---
Marshall Security partners with Blacklight to introduce Reconeyez to KZN
News & Events Surveillance Power Management
Marshal Security has joined forces with Blacklight Group to launch Reconeyez, a cutting-edge battery-powered surveillance platform with mesh network capability, in the KwaZulu-Natal market.
Read more...
---
Professional mobile video management in your pocket
Dallmeier Electronic Southern Africa Surveillance
With the SeMSy Mobile Client for its Domera and Panomera cameras, Dallmeier is now launching a solution that combines the functional and security requirements of professional organisations with the user-friendliness and simplicity of consumer apps.
Read more...
---
Leveraging AI to boost security in SA
AI & Data Analytics Surveillance
By shifting data analysis and processing to the edge of a company's network, decision-makers can ensure their remote offices can access real-time computing across multiple locations, supporting informed business decisions.
Read more...
---
Safeguard surveillance devices from cyberattacks
Axis Communications SA Surveillance Information Security
Cybersecurity concerns extend through the organisation and out among its stakeholders and supply chains. It also covers video surveillance, which is critical to any organisation's physical security and asset protection strategy.
Read more...
---
Ring announces second generation indoor camera
Smart Home Automation Surveillance Residential Estate (Industry)
Introducing a removable manual privacy cover, Ring's latest indoor camera provides customers with increased privacy, control and peace of mind when it comes to home security.
Read more...
---
Body-worn evidence
Technews Publishing Forbatt SA Betatrac Telematic Solutions Secutel Technologies Surveillance Residential Estate (Industry) Products & Solutions
Body-worn cameras are no longer just a good idea or a luxury item; in fact, they are gaining popularity and finding use in various situations, one of these being in residential estates.
Read more...
---
Stop cheating with gaming analytics
Dallmeier Electronic Southern Africa Surveillance Entertainment and Hospitality (Industry)
The CAT gaming analysis solution from Dallmeier offers a range of analysis options with which casino operators can increase the 'game pace', combat fraud and gain valuable insights into the gaming action through real time data collection.
Read more...
---
Integrated, intelligent, informed and improved living
Guardian Eye Surveillance
Guardian Eye's range of solutions allow for monitoring and safeguarding your home through discreet, easy-to-maintain devices and solutions, watching your premises and alerting you in the event of unwanted happenings.
Read more...
---