printer friendly version
Special DVR for Special Olympics
CCTV Handbook 2008
CCTV, Surveillance & Remote Monitoring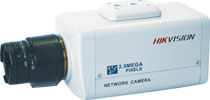 The Special Olympics is an international competition dedicated to individuals with intellectual disabilities.
The latest Summer Special Olympics was successfully held from 2 to 11 October, 2007, in Shanghai, China, which was the first time that the event was held in Asia and in a developing country.
The challenge
Thousands of Special Olympic athletes, coaches, celebrities, delegation officials and family members of athletes, as well as volunteers from more than 170 countries and regions converged on Shanghai. A grand event such as this could be a focus for terrorist attacks, so security became a very important issue and the support of reliable technologies was needed. Authorities in Shanghai were under great pressure to provide a safe and secure environment for visitors both before and during the event.
The solution
As a core partner of Shanghai Municipal Public Security Bureau, Hikvision was approached to give security assistance for the Special Olympics. Both sales and technical personnel in Hikvision's Shanghai branch were mobilised to coordinate with Municipal and District Public Security Bureau, as well as Stadium Defense for the renovation and expansion of security systems. The project started at the 80 000-capacity Shanghai Stadium where the opening ceremony was held.
Following a discussion with the installer Yonghui Electronics, Hikvision decided to supply DS-8016HFI-S Network DVR switched to more than 140 cameras with 4CIF video resolution, replacing DVR with CIF resolution which was originally used. Hikvision took care of the supply and installation of a surveillance system to monitor the stadium and partnered with Yonghui to advise the customers on the best possible technological solution for their specific requirements.
As an important part of a comprehensive electronic security system for 2007 Special Olympics World Summer Games, Hikvision provided technical support in the audio and video category, enabling viewing of the Games via its high-definition DVRs, which were installed in four main stadia, including the Shanghai Stadium for the opening ceremony and Shanghai Jiangwan Stadium for the closing ceremony, as well as Shanghai Changning Stadium and Shanghai Jing'an Stadium for most of the athletic events.
Benefits delivered
Featured with Real Time OS and Embedded MCU, the third generation of Hikvision Network DVR - DS-8000HFI-S Series is a digital surveillance product with an integration of digital video recorder (DVR) and digital video server (DVS). Highlights of this network DVR include: each video input can max support 4CIF resolution realtime, using the state-of-the-art H.264 video compression algorithm, and support network voice talk as well as local and remote control of PTZ, all of which fully met the requirements demanded by high-profile events such as the Special Olympics.
The DS-8016HFI-S was simple to operate and ensured absolute security throughout the stadia. At the security control centre where stadium security staff monitored activities in all the venues, Hikvision DS-8016HFI-S Network DVR was relied upon for capturing and recording, given that high quality realtime images were transmitted. Whenever there was a suspect, the system mostly made up by Hikvision Net DVRs would alert so that security cameras would follow the suspect until he or she was brought under control. Additionally, Hikvision DS-8016HFI-S was technologically reliable in the long term and could be easily upgraded with added functionalities and specifications.
"Hikvision's reputation and ability to offer end-to-end solutions including all the necessary services such as technical consulting, installation, tuning and training, made it the obvious choice as a business partner of us. They worked with us until everything was suitable. The DVR is easy to use and works the way it was intended," said the project manager of Yonghui Electronics.
Justin Xie, from the Shanghai branch of Hikvision, added, "The project benefited from very close co-operation between all the partners: Shanghai Municipal Public Security Bureau, installers like Yonghui Electronics, Hikvision headquarters and Hikvision Shanghai branch who provided the technical expertise and finally delivered user training on site to meet the customer requirements."
Hikvision products are available locally from Regal Security.
Credit(s)
Further reading:
Reinventing network camera security
Issue 1 2020, Axis Communications SA , CCTV, Surveillance & Remote Monitoring
Now in its seventh generation and celebrating its 20th anniversary, the Axis ARTPEC chip was launched in 1999 designed to optimise network video.
Read more...
---
Cloud-based fleet and driver management
Issue 1 2020, Graphic Image Technologies , CCTV, Surveillance & Remote Monitoring
Graphic Image Technologies (GIT) has announced the availability of a cloud-based dashcam designed to improve on-the-road behaviour and assist in improving fleet management.
Read more...
---
Cathexis specialises in integration
Issue 1 2020, Cathexis Technologies , CCTV, Surveillance & Remote Monitoring
The integration of multiple systems is intrinsic and essential to the goal of creating an effective and efficient operational environment.
Read more...
---
Do wireless networks meet modern surveillance demands?
Issue 1 2020, Duxbury Networking, RADWIN , CCTV, Surveillance & Remote Monitoring
It is predicted that video will account for 15,1 zettabytes (1 zettabyte = 1 trillion gigabytes) of data annually, which is more than any other IoT application.
Read more...
---
Traffic doesn't have to be this way
Issue 1 2020, Dahua Technology South Africa, Axis Communications SA , CCTV, Surveillance & Remote Monitoring
More effective traffic management is something that would save us all a lot of frustration and wasted time, and it's one of the areas where AI and big data can have a significant impact.
Read more...
---
Dahua launches Hunter Series
Issue 1 2020, Dahua Technology South Africa , CCTV, Surveillance & Remote Monitoring
Dahua launches a new dual-PTZ camera that enables flexible and multi-scene panoramic monitoring.
Read more...
---
8 MP fisheye camera
Issue 1 2020, Dallmeier Electronic Southern Africa , CCTV, Surveillance & Remote Monitoring
Dallmeier's new 8 MP fisheye camera combines AI-supported object classification and H.265 in a compact design.
Read more...
---
Using ANPR to enhance security
Issue 1 2020, Duxbury Networking , CCTV, Surveillance & Remote Monitoring
Deep learning and AI-based algorithms enable ANPR cameras and their associated software to detect and recognise number plates with an extremely high level of accuracy.
Read more...
---
AI supercharges surveillance
Issue 1 2020 , CCTV, Surveillance & Remote Monitoring
The ability to analyse live video through AI techniques means that untapped footage from existing, passive cameras can be used to identify patterns, trends and anomalies.
Read more...
---
IDIS launches new cameras with on-board analytics
Issue 1 2020 , CCTV, Surveillance & Remote Monitoring
IDIS has launched a lineup of Edge VA bullet and dome cameras, featuring on-board analytics that will transform the efficiency of security operations.
Read more...
---