printer friendly version
Special DVR for Special Olympics
May 2008
CCTV, Surveillance & Remote Monitoring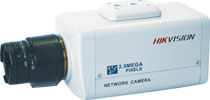 The Special Olympics is an international competition dedicated to individuals with intellectual disabilities.
The latest Summer Special Olympics was successfully held from 2 to 11 October, 2007, in Shanghai, China, which was the first time that the event was held in Asia and in a developing country.
The challenge
Thousands of Special Olympic athletes, coaches, celebrities, delegation officials and family members of athletes, as well as volunteers from more than 170 countries and regions converged on Shanghai. A grand event such as this could be a focus for terrorist attacks, so security became a very important issue and the support of reliable technologies was needed. Authorities in Shanghai were under great pressure to provide a safe and secure environment for visitors both before and during the event.
The solution
As a core partner of Shanghai Municipal Public Security Bureau, Hikvision was approached to give security assistance for the Special Olympics. Both sales and technical personnel in Hikvision's Shanghai branch were mobilised to coordinate with Municipal and District Public Security Bureau, as well as Stadium Defense for the renovation and expansion of security systems. The project started at the 80 000-capacity Shanghai Stadium where the opening ceremony was held.
Following a discussion with the installer Yonghui Electronics, Hikvision decided to supply DS-8016HFI-S Network DVR switched to more than 140 cameras with 4CIF video resolution, replacing DVR with CIF resolution which was originally used. Hikvision took care of the supply and installation of a surveillance system to monitor the stadium and partnered with Yonghui to advise the customers on the best possible technological solution for their specific requirements.
As an important part of a comprehensive electronic security system for 2007 Special Olympics World Summer Games, Hikvision provided technical support in the audio and video category, enabling viewing of the Games via its high-definition DVRs, which were installed in four main stadia, including the Shanghai Stadium for the opening ceremony and Shanghai Jiangwan Stadium for the closing ceremony, as well as Shanghai Changning Stadium and Shanghai Jing'an Stadium for most of the athletic events.
Benefits delivered
Featured with Real Time OS and Embedded MCU, the third generation of Hikvision Network DVR - DS-8000HFI-S Series is a digital surveillance product with an integration of digital video recorder (DVR) and digital video server (DVS). Highlights of this network DVR include: each video input can max support 4CIF resolution realtime, using the state-of-the-art H.264 video compression algorithm, and support network voice talk as well as local and remote control of PTZ, all of which fully met the requirements demanded by high-profile events such as the Special Olympics.
The DS-8016HFI-S was simple to operate and ensured absolute security throughout the stadia. At the security control centre where stadium security staff monitored activities in all the venues, Hikvision DS-8016HFI-S Network DVR was relied upon for capturing and recording, given that high quality realtime images were transmitted. Whenever there was a suspect, the system mostly made up by Hikvision Net DVRs would alert so that security cameras would follow the suspect until he or she was brought under control. Additionally, Hikvision DS-8016HFI-S was technologically reliable in the long term and could be easily upgraded with added functionalities and specifications.
"Hikvision's reputation and ability to offer end-to-end solutions including all the necessary services such as technical consulting, installation, tuning and training, made it the obvious choice as a business partner of us. They worked with us until everything was suitable. The DVR is easy to use and works the way it was intended," said the project manager of Yonghui Electronics.
Justin Xie, from the Shanghai branch of Hikvision, added, "The project benefited from very close co-operation between all the partners: Shanghai Municipal Public Security Bureau, installers like Yonghui Electronics, Hikvision headquarters and Hikvision Shanghai branch who provided the technical expertise and finally delivered user training on site to meet the customer requirements."
Hikvision products are available locally from Regal Security.
Credit(s)
Further reading:
Camera Selection Guide 2019
September 2019 , CCTV, Surveillance & Remote Monitoring
Read more...
---
The era of smart surveillance
September 2019, Forbatt SA , CCTV, Surveillance & Remote Monitoring, Products
Professionals in the surveillance industry know CCTV is not what it used to be. Smart functions on cameras are no longer nice to haves, they have become a necessity.
Read more...
---
Improved security for Diamond Trust Bank in Tanzania
September 2019, Hikvision South Africa , CCTV, Surveillance & Remote Monitoring, Financial (Industry)
Diamond Trust Bank in Tanzania installed over 1000 Hikvision EasyIP 3.0 cameras in a project to replace its analogue infrastructure and centralise its surveillance security.
Read more...
---
Intelligent analytics and the brains to match
September 2019, Bosch Building Technologies , CCTV, Surveillance & Remote Monitoring, Integrated Solutions
What if the brains behind our security cameras could be trained to improve their cognitive ability to pay attention, learn, and problem-solve according to specific rules and situations?
Read more...
---
AI-powered autonomous Drone-in-a-Box
September 2019 , CCTV, Surveillance & Remote Monitoring, Integrated Solutions
Organisations in the mining, energy and industrial, oil and gas, ports and terminals sectors can optimise security and business operations, whilst reducing risks and operational costs
Read more...
---
Distributed architecture lowers TCO, increases scalability
September 2019, Technews Publishing , CCTV, Surveillance & Remote Monitoring, Transport (Industry)
Faced with a number of security challenges and planned future expansion, a major airport decided it was time to implement a scalable security surveillance solution.
Read more...
---
Cybersecurity for video surveillance systems
September 2019 , Cyber Security, CCTV, Surveillance & Remote Monitoring
Video surveillance systems are increasingly accessible over any IP network, which has led to the rise of potential cyberattack.
Read more...
---
A platform approach to innovation and value
September 2019, Technews Publishing , Editor's Choice, CCTV, Surveillance & Remote Monitoring, Integrated Solutions, IT infrastructure
Moving to the platform model of doing business holds tremendous advantages for end users and smaller developers, but also for the whole technology supply chain.
Read more...
---
Back to manufacturer uniformity?
September 2019, Dallmeier Electronic Southern Africa , CCTV, Surveillance & Remote Monitoring
Decision makers often have to choose between an all-inclusive, complete solution from one manufacturer and the products and services of several different providers.
Read more...
---
Open does not always mean easy integration
September 2019, VERACITECH, Technews Publishing , Editor's Choice, CCTV, Surveillance & Remote Monitoring, Integrated Solutions
Customers who opt for best-of-breed solutions will have to rely on their integrators to develop customised integrated solutions for them.
Read more...
---