printer friendly version
Eastern Cape schools benefit from CCTV solutions
CCTV Handbook 2008
CCTV, Surveillance & Remote Monitoring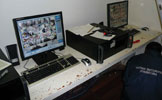 The challenges facing education institutions today are daunting. Perhaps the most disturbing and difficult to address are issues of discipline.
This is no is no longer a simple matter of 'six of the best' and it is not just about physical violence - although the incidence of knives and even guns at schools is alarming - drugs, bullying and verbal abuse have also become an issue.
Theft has also become a bigger challenge with many more valuable items on site, such as cellphones and branded clothing, not to mention cash and credit cards. Schools also possess many more valuable items today, such as computers and sporting gear. And hard evidence is required to support allegations and to institute successful disciplinary hearings.
Ian Roux and Trevor Pomfret, co-owners of Ultech International, an East London-based importer and wholesale distributor of CCTV solutions, decided to do something about it. As Pomfret comments, "As CCTV experts, we could see a cost-effective way to address many of the problems we were hearing about.
"In addition to the obvious issues, schools are also now under pressure to provide levels of access control that were not dreamt of even 10 years ago. Unwanted intruders are a much bigger issue these days and the motivations are more complex - abduction and kidnapping are not unknown. Schools also have new obligations to provide safe and secure environments for pupils and staff."
Rewards
Pomfret and Roux, in conjunction with their installation and maintenance partners Boss CCTV, opened discussions with Sean Udal, director of electronic systems and head of ICT at Hudson Park High School and other interested parties to discuss the problems that Hudson Park and other schools in the area were experiencing.
Pomfret comments, "These discussions were invaluable when it came to designing a CCTV solution for schools. The main requirement was to provide a safe and secure environment for staff and pupils. Another important feature is the audio element that allows classroom content to be recorded. 'Watermarking' was also required to detect any attempts to alter footage."
Implementation
Hudson Park High was the first school to implement the system in January 2007. An 88-channel system was installed. Camera and microphones were installed throughout all classrooms, computer training rooms, halls and the library. Passage and ground cameras have the ability to swivel and zoom for great distances with excellent quality.
Camera and microphone data is recorded onto three hard drives and the operator able to view several months' recordings with the click of a mouse. Audio data is digitally cleaned before storage. Pomfret explains, "This enables monitors to hear everything said during lessons." Ultech's own RT Series CCTV compression card is setting new standards in the CCTV industry by providing realtime and play-back at 25 frames per second.
The system is highly flexible, allowing schools to focus on specific elements that will create the maximum benefits for individual schools. "Tailoring our solutions to meet individual needs is a key focus of excellence for Ultech," comments Pomfret.
Review
Udal comments, "The system has proved to be of great benefit to the learners, teachers and parents." The initial success of the system at Hudson Park High has raised high levels of interest in other schools in the region.
East London schools that have already implemented the system include: Beaconhurst - 48 cameras; Port Rex - 160 cameras; Stutterheim High - 88 cameras; and Grens High - 72 cameras. Port Elizabeth schools are beginning to follow suit with Grey High (hostels), Morningside and Collegiates High Schools and Durban and Cape Town will soon follow.
Port Rex High, a technical learning institution, is also benefiting from the system in an innovative way. "Because we can zoom in to focus on detail and record an activity, the school is using this capability to produce DVDs of workshop programmes to provide a valuable learning aid for students and career direction for potential students. The feedback has been positive and we are refining this process through regular meetings with Port Rex," comments Pomfret.
Udal noted an immediate improvement in pupils' behaviour at Hudson Park High: "Certain pupils would sometimes be disruptive and annoy fellow learners and staff. The inclusion of the audio facility has helped prevent this. The theft problem, particularly cellphones, has all but stopped since the installation of the system."
The school's head of pupil management, Mandy Croney, is also enthusiastic as the system cuts down time spent investigating cases of unacceptable behaviour that had been difficult to monitor in the past. She comments, "The system immediately proves whether the learner was in the wrong or not."
Comment from parents and the public in general has been completely positive and even the learners are pleased with one (who wanted to remain anonymous!) stating that: "We are very happy about the system. Our safety - and the school's safety - is very important."
Pomfret concludes, "This system goes to show how much can be achieved when there is a determination to change. Ultech is proud of its contribution to creating a safer and more secure environment for learners and staff."
Fact file:
Company: Ultech International
Contact person: Trevor Pomfret, +27 (0)83 656 5995, trevor@ultimation.co.za, www.ultimation.co.za
Further reading:
Drones and cybersecurity?
October 2019 , CCTV, Surveillance & Remote Monitoring
Hacker drones can eavesdrop electronically on conversations, can perform network attacks, or can create fake wireless access points.
Read more...
---
Body-worn cameras transforming security
October 2019 , CCTV, Surveillance & Remote Monitoring, Security Services & Risk Management
Police Service Northern Ireland now has over 7 000 officers using 2 500 cameras covering approximately 173 000 incidents each year.
Read more...
---
Camera Selection Guide 2019
CCTV Handbook 2019 , CCTV, Surveillance & Remote Monitoring
The Camera Selection Guide 2019 includes a range of IP, analogue, thermal and speciality cameras aimed at a broad range of surveillance functions.
Read more...
---
Intelligent analytics and the brains to match
September 2019, Bosch Building Technologies , CCTV, Surveillance & Remote Monitoring, Integrated Solutions
What if the brains behind our security cameras could be trained to improve their cognitive ability to pay attention, learn, and problem-solve according to specific rules and situations?
Read more...
---
AI-powered autonomous Drone-in-a-Box
September 2019 , CCTV, Surveillance & Remote Monitoring, Integrated Solutions
Organisations in the mining, energy and industrial, oil and gas, ports and terminals sectors can optimise security and business operations, whilst reducing risks and operational costs
Read more...
---
Cybersecurity for video surveillance systems
September 2019, Mobotix , Cyber Security, CCTV, Surveillance & Remote Monitoring
Video surveillance systems are increasingly accessible over any IP network, which has led to the rise of potential cyberattack.
Read more...
---
What are the cybersecurity issues in video surveillance?
November 2019, Axis Communications SA , Editor's Choice, CCTV, Surveillance & Remote Monitoring, Cyber Security
he importance of the data captured by surveillance cameras – and what can be done with it – has led to a new breed of cybercriminals, looking for insights to steal and sell.
Read more...
---
The safe city and its need for interoperability
November 2019 , Integrated Solutions, CCTV, Surveillance & Remote Monitoring
Interoperability continues to present one of the greatest challenges, particularly with video management systems, video recording devices and cameras.
Read more...
---
A platform approach to safer and smarter cities
November 2019, Milestone Systems , CCTV, Surveillance & Remote Monitoring
Selecting the right platform to manage the vast data collected from smart and safe cities is critical to the ultimate success of the project.
Read more...
---
Creating safe cities with smart technology
November 2019, Secutel Technologies , CCTV, Surveillance & Remote Monitoring
In a digital age, where resilience and responsiveness are paramount to fighting crime and creating a safer world, CCTV systems are becoming part of every city's infrastructure.
Read more...
---