printer friendly version
Eastern Cape schools benefit from CCTV solutions
CCTV Handbook 2008
Surveillance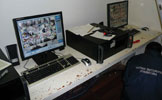 The challenges facing education institutions today are daunting. Perhaps the most disturbing and difficult to address are issues of discipline.
This is no is no longer a simple matter of 'six of the best' and it is not just about physical violence - although the incidence of knives and even guns at schools is alarming - drugs, bullying and verbal abuse have also become an issue.
Theft has also become a bigger challenge with many more valuable items on site, such as cellphones and branded clothing, not to mention cash and credit cards. Schools also possess many more valuable items today, such as computers and sporting gear. And hard evidence is required to support allegations and to institute successful disciplinary hearings.
Ian Roux and Trevor Pomfret, co-owners of Ultech International, an East London-based importer and wholesale distributor of CCTV solutions, decided to do something about it. As Pomfret comments, "As CCTV experts, we could see a cost-effective way to address many of the problems we were hearing about.
"In addition to the obvious issues, schools are also now under pressure to provide levels of access control that were not dreamt of even 10 years ago. Unwanted intruders are a much bigger issue these days and the motivations are more complex - abduction and kidnapping are not unknown. Schools also have new obligations to provide safe and secure environments for pupils and staff."
Rewards
Pomfret and Roux, in conjunction with their installation and maintenance partners Boss CCTV, opened discussions with Sean Udal, director of electronic systems and head of ICT at Hudson Park High School and other interested parties to discuss the problems that Hudson Park and other schools in the area were experiencing.
Pomfret comments, "These discussions were invaluable when it came to designing a CCTV solution for schools. The main requirement was to provide a safe and secure environment for staff and pupils. Another important feature is the audio element that allows classroom content to be recorded. 'Watermarking' was also required to detect any attempts to alter footage."
Implementation
Hudson Park High was the first school to implement the system in January 2007. An 88-channel system was installed. Camera and microphones were installed throughout all classrooms, computer training rooms, halls and the library. Passage and ground cameras have the ability to swivel and zoom for great distances with excellent quality.
Camera and microphone data is recorded onto three hard drives and the operator able to view several months' recordings with the click of a mouse. Audio data is digitally cleaned before storage. Pomfret explains, "This enables monitors to hear everything said during lessons." Ultech's own RT Series CCTV compression card is setting new standards in the CCTV industry by providing realtime and play-back at 25 frames per second.
The system is highly flexible, allowing schools to focus on specific elements that will create the maximum benefits for individual schools. "Tailoring our solutions to meet individual needs is a key focus of excellence for Ultech," comments Pomfret.
Review
Udal comments, "The system has proved to be of great benefit to the learners, teachers and parents." The initial success of the system at Hudson Park High has raised high levels of interest in other schools in the region.
East London schools that have already implemented the system include: Beaconhurst - 48 cameras; Port Rex - 160 cameras; Stutterheim High - 88 cameras; and Grens High - 72 cameras. Port Elizabeth schools are beginning to follow suit with Grey High (hostels), Morningside and Collegiates High Schools and Durban and Cape Town will soon follow.
Port Rex High, a technical learning institution, is also benefiting from the system in an innovative way. "Because we can zoom in to focus on detail and record an activity, the school is using this capability to produce DVDs of workshop programmes to provide a valuable learning aid for students and career direction for potential students. The feedback has been positive and we are refining this process through regular meetings with Port Rex," comments Pomfret.
Udal noted an immediate improvement in pupils' behaviour at Hudson Park High: "Certain pupils would sometimes be disruptive and annoy fellow learners and staff. The inclusion of the audio facility has helped prevent this. The theft problem, particularly cellphones, has all but stopped since the installation of the system."
The school's head of pupil management, Mandy Croney, is also enthusiastic as the system cuts down time spent investigating cases of unacceptable behaviour that had been difficult to monitor in the past. She comments, "The system immediately proves whether the learner was in the wrong or not."
Comment from parents and the public in general has been completely positive and even the learners are pleased with one (who wanted to remain anonymous!) stating that: "We are very happy about the system. Our safety - and the school's safety - is very important."
Pomfret concludes, "This system goes to show how much can be achieved when there is a determination to change. Ultech is proud of its contribution to creating a safer and more secure environment for learners and staff."
Fact file:
Company: Ultech International
Contact person: Trevor Pomfret, +27 (0)83 656 5995, trevor@ultimation.co.za, www.ultimation.co.za
Further reading:
Pentagon appointed as Milestone distributor
Elvey Security Technologies News & Events Surveillance
Milestone Systems appointed Pentagon Distribution (an Elvey Group company within the Hudaco Group of Companies) as a distributor. XProtect's open architecture means no lock-in and the ability to customise the connected video solution that will accomplish the job.
Read more...
---
Embracing next-generation surveillance for safer cities
Surveillance Integrated Solutions AI & Data Analytics
With the South African government highlighting the importance of building smart cities by integrating advanced technologies to make them more resilient and liveable, the role of next-generation network video and surveillance technologies cannot be ignored.
Read more...
---
Hik-Connect for Teams released
Hikvision South Africa Products & Solutions Surveillance
Hikvision has released an update for its security management platform; Hik-Connect for Teams not only meets the specific needs of individual users, but also caters to various medium-sized businesses (SMBs) and multi-site management scenarios.
Read more...
---
The human factor side of video management systems
Leaderware Editor's Choice Surveillance Risk Management & Resilience
A video management system (VMS) is central to, and the most vital element to any control room operation using CCTV as part of its service delivery, however, all too often, it is seen as a technical solution rather than an operational solution.
Read more...
---
A simple system for complex protection
Surveillance AI & Data Analytics IoT & Automation
Reconeyez is a company that provides autonomous wireless visual verification systems with built-in artificial intelligence. Running on batteries, each device includes communication capabilities, creating a mesh network between the various devices, linking them to the control room.
Read more...
---
Revolutionise your security with integrated solutions
Secutel Technologies Products & Solutions Surveillance
By merging the capabilities of SecuVue and Secutraq, Secutel has forged a robust system empowering users to fine-tune analytics and harness facial recognition, pose detection, and XFS, among other features.
Read more...
---
Safer roads to a sustainable future
Dahua Technology South Africa Surveillance
With the ever-increasing number of vehicles on the road, it is imperative to constantly improve the quality of transportation monitoring and traffic management in urban and rural areas.
Read more...
---
From damage management to false alarm prevention
Dallmeier Electronic Southern Africa Transport (Industry) Surveillance Logistics (Industry)
Video surveillance is undergoing an exciting evolution; today's IP-based solutions can be fully integrated into digital systems. With the increasing integration of artificial intelligence (AI); logistics, in particular, can make processes more transparent and exploit previously untapped potential.
Read more...
---
Marshall Security partners with Blacklight to introduce Reconeyez to KZN
News & Events Surveillance Power Management
Marshal Security has joined forces with Blacklight Group to launch Reconeyez, a cutting-edge battery-powered surveillance platform with mesh network capability, in the KwaZulu-Natal market.
Read more...
---
Professional mobile video management in your pocket
Dallmeier Electronic Southern Africa Surveillance
With the SeMSy Mobile Client for its Domera and Panomera cameras, Dallmeier is now launching a solution that combines the functional and security requirements of professional organisations with the user-friendliness and simplicity of consumer apps.
Read more...
---