printer friendly version
The human camera
CCTV Handbook 2008
Surveillance

By getting to know your camera better you will be surprised how much talent lies hidden behind that iron-clad body that is just waiting to serve you.
It is necessary in the ever changing and developing realm of electronic surveillance technology to stop and take stock - to think out of the box and to actually see what we are looking at.
Every day around the country security experts, salesmen and technicians are designing, selling and installing CCTV solutions.
These are often held up to be the ultimate solution to crime in the office, factory, shopping centre and CBD.
But do all these solutions work? Not all of them, some systems fall far short of the promised results and end up being white elephants, underutilised, under-performing expensive systems and still the problem remains unsolved.
Many senior and middle management in this country came into contact with the military and the way that they do things. One aspect of the military that has to stand out in your memory is the fact that the military spends hours and hours doing planning, planning and more planning. We are going to embrace this principle and apply it to our CCTV design.
The second military principle that we are going to embrace is the virtually unlimited supply of manpower, yes, men that can be formed up, organised and deployed to perform a task. They can reconnoitre, observe, gather information, produce intelligence, identify, record, attack, liberate, detain and follow-up, take prisoners, give evidence and secure a conviction.
Interlink these two military principles and apply them. What is the result?
A number of men (identified and trained) who can do what they are expected to (achieve the objective) in the right place at the right time and, best of all, make a success (produce the desired result) of the operation.
The camera needs to be tested against the above principles and deployed as if it is a soldier required to do a job and produce a result.
Ask yourself the questions; who am I going to send, what is his man profile, where is he to be deployed, when is he going to operate, how is he going to operate, and what thereafter is the desired result?
The starting point is to treat the camera as a person that has certain skills, deployed to the best position and task for the camera skill. Therefore a camera without a job description has no place in your plan/design. The camera and the operator must be treated as one.
The ultimate solution to a CCTV deployment problem requires a multifaceted approach that will become clearer as we progress through the process and find a workable solution.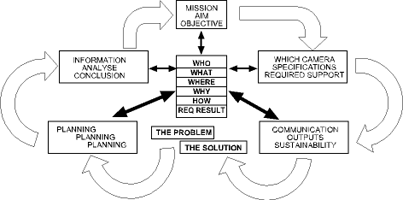 Achieving a successful CCTV solution
* The CCTV camera is one of a number of different security elements that work together to ensure the desired result. The cameras and other elements are linked in one way or another and communicate with each other.
* What the camera does is observed, interpreted and acted upon by other security elements. The camera is your eyes and ears, and it can work in places and environments not assessable to 'men' and as a bonus it is more productive than these 'men'.
* They are cost effective; they do not take leave, sick days off or get involved in disputes with management or colleagues.
* The down side is that these 'men' require effective management and control and maintenance on a priority basis.
We can now progress to the next step in our journey, which will enable us to select the camera according to our man profile and then train it to enable us to identify the correct camera 'man' for the job.
There are numerous types of cameras and each type has a different specification. There are PTZs, high speed domes, high resolution cameras, day or night cameras, colour or black and white cameras, high sensitivity cameras, motion detection cameras, those that work best close to or far from the subject or a combination of all of these.
The battle plan
* The mission - what do we need to achieve?
* The aim - how are we going to achieve it?
* The objectives - what are we going to do, where and when?
* Who is going to do it - the camera?
* What support does it need - manpower, other electronics, physical infrastructure or a combination of all?
* The communication - observation, interpretation and reaction.
* The outcomes - recording, interpretation and presentation.
* The sustainability - quality, maintenance and repair.
The correct tasking of the camera will determine the next aspects of the solution by applying an objective analysis of the problem and task at hand by using the key planning words.
What must be done?
* See what is happening.
* Record what is happening.
* Work on a 24/7 basis.
* Provide quality product.
* Permit pro-active response.
* Assist with follow-up (tracking).
Where is it going to be done?
* Identified high activity places or areas (information).
* Identified high crime places or areas (statistics).
* Places of high influence (public opinion).
* Where it is difficult to deploy manpower (terrain).
* Where maximum effect is possible.
* Overlap camera foot prints ('A' must see 'B' and 'D' must see 'C' etc.)
Why is it necessary?
* To achieve the aim.
* To be of service to the community.
* To create safe and secure places or areas.
* To provide information.
* To deter would-be criminals.
* To respond effectively.
* To provide evident and convict criminals.
* To assist with emergency response.
How is it to be done?
* He (the camera) works 24/7.
* Sees 24/7.
* Records 24/7.
* Provides information 24/7.
* Requires priority maintenance to be effective.
* Kept up to date in technology.
What is the desired result?
* To predict and prevent criminal activity.
* To record all activities.
* To produce acceptable court evidence.
* To support response services.
* To control and co-ordinate emergency response.
* To assist with follow-up operations.
* To assist with recovery operations.
* To produce information 24/7.
* To create a usable database of intelligence.
You have been introduced to the new human camera and we have come full circle, having progressed through all the steps to find the correct solution and to obtain the desired result.
The correct CCTV camera, installed in the right place, connected to ensure effective communication, it is tasked on a daily basis, its product is recorded effectively, it is monitored by a specialist trained operator, it is supported by an effective response team, it is maintained on a 24/7 basis, it is managed by a dedicated manager, and the information provided is analysed and interpreted and recorded.
Further reading:
Pentagon appointed as Milestone distributor
Elvey Security Technologies News & Events Surveillance
Milestone Systems appointed Pentagon Distribution (an Elvey Group company within the Hudaco Group of Companies) as a distributor. XProtect's open architecture means no lock-in and the ability to customise the connected video solution that will accomplish the job.
Read more...
---
Embracing next-generation surveillance for safer cities
Surveillance Integrated Solutions AI & Data Analytics
With the South African government highlighting the importance of building smart cities by integrating advanced technologies to make them more resilient and liveable, the role of next-generation network video and surveillance technologies cannot be ignored.
Read more...
---
Hik-Connect for Teams released
Hikvision South Africa Products & Solutions Surveillance
Hikvision has released an update for its security management platform; Hik-Connect for Teams not only meets the specific needs of individual users, but also caters to various medium-sized businesses (SMBs) and multi-site management scenarios.
Read more...
---
The human factor side of video management systems
Leaderware Editor's Choice Surveillance Risk Management & Resilience
A video management system (VMS) is central to, and the most vital element to any control room operation using CCTV as part of its service delivery, however, all too often, it is seen as a technical solution rather than an operational solution.
Read more...
---
A simple system for complex protection
Surveillance AI & Data Analytics IoT & Automation
Reconeyez is a company that provides autonomous wireless visual verification systems with built-in artificial intelligence. Running on batteries, each device includes communication capabilities, creating a mesh network between the various devices, linking them to the control room.
Read more...
---
Revolutionise your security with integrated solutions
Secutel Technologies Products & Solutions Surveillance
By merging the capabilities of SecuVue and Secutraq, Secutel has forged a robust system empowering users to fine-tune analytics and harness facial recognition, pose detection, and XFS, among other features.
Read more...
---
Safer roads to a sustainable future
Dahua Technology South Africa Surveillance
With the ever-increasing number of vehicles on the road, it is imperative to constantly improve the quality of transportation monitoring and traffic management in urban and rural areas.
Read more...
---
From damage management to false alarm prevention
Dallmeier Electronic Southern Africa Transport (Industry) Surveillance Logistics (Industry)
Video surveillance is undergoing an exciting evolution; today's IP-based solutions can be fully integrated into digital systems. With the increasing integration of artificial intelligence (AI); logistics, in particular, can make processes more transparent and exploit previously untapped potential.
Read more...
---
Marshall Security partners with Blacklight to introduce Reconeyez to KZN
News & Events Surveillance Power Management
Marshal Security has joined forces with Blacklight Group to launch Reconeyez, a cutting-edge battery-powered surveillance platform with mesh network capability, in the KwaZulu-Natal market.
Read more...
---
Professional mobile video management in your pocket
Dallmeier Electronic Southern Africa Surveillance
With the SeMSy Mobile Client for its Domera and Panomera cameras, Dallmeier is now launching a solution that combines the functional and security requirements of professional organisations with the user-friendliness and simplicity of consumer apps.
Read more...
---