printer friendly version
Bandwidth issues: choose the right compression algorithm
CCTV Handbook 2008
Surveillance
It is claimed that IP cameras take up bandwidth and utilise large amounts of a network, in fact IP cameras can be successfully used on simple 3G networks.
The algorithm used and the size of the data being sent will determine the frame rate achieved on the remote site against the quality of image.
The choice is that of the user, according to key requirements that should be considered before deciding on a particular choice of system. The days of using an analogue camera feeding over a single cable to a recording point are moving on and the quality, reliability and flexibility of the newer digital cameras exceeding the standards set by legacy analogue systems.
Ideally, data should rather be streamed from the camera to the recording device without any compression whatsoever to permit the best quality of image to be captured. The use of the now well-known compression algorithms such as MPEG 2, MPEG 4 or Wavelet is common place and has become the more preferred route for the storage of data to provide backup for weeks or even months. However, the quality of the image captured has often been overlooked and resulted in key footage presented before a court being rejected.
The increasing use of Megapixel cameras and their effectiveness for a wide range of applications was discussed in the January issue of Hi-Tech Security Solutions. We highlighted some of the key performance indicators to assist with the selection of the right camera and lens. Using this technology we can achieve the example of the frames below comparing a 14 bit CCD chip 16 MP (Megapixel) camera with an 8-bit CCD chip analogue camera - note the enhanced colour differentiation between light and dark that is often lost when compression algorithms average image colours - this averaging provides the smaller file size which when enlarged results in the image below.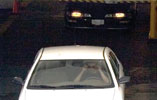 Avigilon 16 MP camera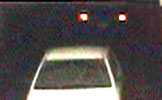 Analogue 1/3 inch camera
One can clearly see the difference; there should be no doubt in anyone's mind as to which image one would prefer to use. The technically-minded reader will now be saying "but what is the data size of the image below compared to the image above?" obviously it is far smaller and will stream at a faster frame rate over any network. Here there is a key consideration to be made - what are you trying to achieve? In most cases you want the best quality of picture at a reasonable frame rate so that you can see what is happening while being able to identify the who, why, what, where and when. Using the correct algorithm will allow this to be done.
We use a JPEG 2000 lossless compression algorithm. Yes, we want high bandwidth between the camera and the server and need to ensure there is sufficiently large storage, noting that data storage is becoming a lot cheaper. Using JPEG 2000 we are able to offer a higher quality of image at a lower bandwidth. JPEG 2000 has been predominantly used in the broadcast and medical imaging markets for such a reason. If you imagine that every JPEG 2000 image is a pyramid made up of slices of progressively lower resolution so the top slice is a thumbnail image and the bottom a raw complete image. JPEG 2000 will automatically send the relevant slice from the server to the off-site remote monitoring point dependent on the bandwidth available on the network; so smaller slices for wireless and smaller again for 3G. If the operator pauses the image then the system will keep sending slices until the image has built up into the full megapixel image again (much like when you zoom right in on Google Earth and have to wait for it to have full resolution). The other advantage of JPEG 2000 is that the system will only send the part of the image you are viewing so the smaller the file size the smaller the burden on the network. Basically the whole system is optimised to work on existing networks.
The value added dimension to an IP network is that as more servers are added across the network they become a giant network DVR. Imagine a town centre where a system has been installed at the police station, one in the football stadium, one at the railway station and one at the school. If all these systems are on the same network then any client (given privilege of access) can view any camera live or playback from anywhere with no latency. For example the central control monitoring station can easily have access to all cameras live and in playback. Likewise the police control room can have all of their relevant cameras, the same for the football stadium and railway station thus allowing for economies of scale on the same backbone and access to a complete range of cameras live and in playback.
In recent tests, two servers were run with multiple megapixel cameras with a standard duplex wireless 20 Mb link and both servers were viewing all cameras as if they were directly connected. A lack of knowledge is making the end user wary of using IP cameras. The main advantage can be clearly seen in the images above; add to this ability to provide multiple live views or playbacks across a series of networked servers and you have a system that can be grown according to your budget.
For more information contact Vision Catcher, +27 (0)11 463 9797, niall@visioncatcher.co.za, www.visioncatcher.co.za
Credit(s)
Further reading:
Pentagon appointed as Milestone distributor
Elvey Security Technologies News & Events Surveillance
Milestone Systems appointed Pentagon Distribution (an Elvey Group company within the Hudaco Group of Companies) as a distributor. XProtect's open architecture means no lock-in and the ability to customise the connected video solution that will accomplish the job.
Read more...
---
Embracing next-generation surveillance for safer cities
Surveillance Integrated Solutions AI & Data Analytics
With the South African government highlighting the importance of building smart cities by integrating advanced technologies to make them more resilient and liveable, the role of next-generation network video and surveillance technologies cannot be ignored.
Read more...
---
Hik-Connect for Teams released
Hikvision South Africa Products & Solutions Surveillance
Hikvision has released an update for its security management platform; Hik-Connect for Teams not only meets the specific needs of individual users, but also caters to various medium-sized businesses (SMBs) and multi-site management scenarios.
Read more...
---
The human factor side of video management systems
Leaderware Editor's Choice Surveillance Risk Management & Resilience
A video management system (VMS) is central to, and the most vital element to any control room operation using CCTV as part of its service delivery, however, all too often, it is seen as a technical solution rather than an operational solution.
Read more...
---
A simple system for complex protection
Surveillance AI & Data Analytics IoT & Automation
Reconeyez is a company that provides autonomous wireless visual verification systems with built-in artificial intelligence. Running on batteries, each device includes communication capabilities, creating a mesh network between the various devices, linking them to the control room.
Read more...
---
Revolutionise your security with integrated solutions
Secutel Technologies Products & Solutions Surveillance
By merging the capabilities of SecuVue and Secutraq, Secutel has forged a robust system empowering users to fine-tune analytics and harness facial recognition, pose detection, and XFS, among other features.
Read more...
---
Safer roads to a sustainable future
Dahua Technology South Africa Surveillance
With the ever-increasing number of vehicles on the road, it is imperative to constantly improve the quality of transportation monitoring and traffic management in urban and rural areas.
Read more...
---
From damage management to false alarm prevention
Dallmeier Electronic Southern Africa Transport (Industry) Surveillance Logistics (Industry)
Video surveillance is undergoing an exciting evolution; today's IP-based solutions can be fully integrated into digital systems. With the increasing integration of artificial intelligence (AI); logistics, in particular, can make processes more transparent and exploit previously untapped potential.
Read more...
---
Marshall Security partners with Blacklight to introduce Reconeyez to KZN
News & Events Surveillance Power Management
Marshal Security has joined forces with Blacklight Group to launch Reconeyez, a cutting-edge battery-powered surveillance platform with mesh network capability, in the KwaZulu-Natal market.
Read more...
---
Professional mobile video management in your pocket
Dallmeier Electronic Southern Africa Surveillance
With the SeMSy Mobile Client for its Domera and Panomera cameras, Dallmeier is now launching a solution that combines the functional and security requirements of professional organisations with the user-friendliness and simplicity of consumer apps.
Read more...
---