printer friendly version
Off-site monitoring
May 2008
CCTV, Surveillance & Remote Monitoring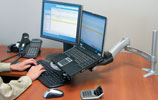 Approximately 15 years ago the concept of off-site monitoring entered the global security industry and the idea of remotely monitoring video was introduced into South Africa almost 12 years ago.
The products manufactured to produce video transmission over networks and telecoms infrastructure had to develop specific algorithms that would provide usable video over low bandwidths, especially due to the network infrastructure that was available way back then.
Worldwide, there have been dramatic improvements of broader bandwidths that enable the increase of products being manufactured to transmit video and hence in today's world there are numerous products that offer remote connectivity to video digital recorders to view 'so called' live footage.
However, there are only a handful of product specifically designed and manufactured for remote video transmission purposes only, and with proven capability and longevity in the marketplace to lay claim that their products are proven to work over any type of transmission medium, including in emerging markets where bandwidth is limited and costly.
South Africa is currently benefiting with the advent of both broadband terrestrial and aerial networks, however cost of bandwidth still remains a limiting factor, hence a security solution to transmit video as and when required should not be bandwidth-hungry and ultimately become too expensive as a viable solution. The products manufactured many years ago to work over low bandwidths have proven algorithms to work on a variety of networks giving usable video to central monitoring stations at manageable costs without compromising on quality and security.
The right solution
Just about any digital video recorder claims on its specification to have remote access capability via LAN/WAN, ADSL, ISDN, GSM and PSTN. However, when considering remotely monitored sites that are purely monitored by an off-site control room, using products like these more often than not do not meet the requirements to do the job adequately and ultimately to protect sites and, more importantly, are not reliable enough to actually work when required to do so.
The purpose of having a remote central monitoring station monitoring a secure site is initially there to either support onsite manpower (security officers) or to displace unnecessary manpower. The purpose of central stations is to monitor as many sites as possible, this being necessary to offset start up-cost and maintaining effective personnel and infrastructure. It then stands to reason that the likelihood that when the non-purpose built digital video recorders are being used for video transmission will not augment the operations in the central monitoring station and the potential exists that both sites and central monitoring station will ultimately become a 'white elephant' ie, the equipment not correctly specified and the software in the control room not built-for-purpose for off-site monitoring.
One cannot expect an officer in a control room to remotely dial in and conduct routine patrols as a solution for loss prevention, or, that when an alarm occurs, that only then the operator connects to site to visually inspect the scene after the event.
All purpose-built remote transmission products are designed to transmit information (video) as an event-based scenario, as an example: all alarm systems transmit data to a control room and the operator interprets whether there is a security breach or not and then dispatched response officers. With realtime video, the event is presented to a live body who can distinguish by the critical information presented to him whether a genuine breach of security is taking place or not, and it is imperative to say that the operator should be able to warn the intruder/s off by sounding an audio warning, as if he was on site witnessing the security breach.
Video transmission products should have multiple inputs and outputs that can facilitate the event-driven video switch to trigger alarms, video feed to the central station and to automatically, or operator driven, activate lights and/or gates etc.
In addition, most of the high-end remote transmission products have additional features on board to enhance effective security controls on site, such as onboard video analytics by creating smarter detection and decision making via the video source, including the on site integration to intrusion and access control systems.
In the offering
Various companies offer electronic security solutions, many have extensive experience in providing CCTV and integrated solutions, there are, however, only a few who can offer the complete package of product, system design, installation and monitoring facility in off-site monitoring. The service provider should be accredited and trained by the product manufacturer or authorised representative and distributor, and the system installation should be correctly designed to meet off-site monitoring standards and requirements.
Although there are no standards set for off-site monitoring in South Africa there are a few we can borrow from international standards that aptly fit our environment. It is mainly in the design and application of off-site monitoring facilities that sets it apart from normal on-site monitored applications. Sometimes both solutions need to be provided to provide effective electronic security surveillance, where certain realtime video monitoring is done by local operators and video alarm verification is done remotely, providing the third tier in the security chain. As a simple example when it comes to off-site monitoring; the remote control room operator may not necessarily wish to identify the intruder but rather identify that there is an intruder on-site. There are two different designs for both these applications.
The way forward
South Africa is becoming increasingly aware that off-site monitoring is part of the security industry's way forward, there are already many sites being protected by off-site central monitoring stations, however the industry is only scraping the surface when we realise how many sites are still being protected by traditional security methods.
As crime increases and threats become real the concept of an additional layer of security is no longer unreachable. This is the niche where off-site video alarm verification fits in, giving realtime support in situations of duress and loss prevention via fit-for-purpose early detection and warning and providing peace-of-mind by allowing owners and managers of site to view and retrieve evidence remotely. Gone are the days where key holders are called out to site so that premises can be inspected in the middle of the night.
For more information contact Honeywell Security, +27 (0)11 695 8016, www.honeywellsecurity.com
Credit(s)
Further reading:
Camera Selection Guide 2019
September 2019 , CCTV, Surveillance & Remote Monitoring
Read more...
---
The era of smart surveillance
September 2019, Forbatt SA , CCTV, Surveillance & Remote Monitoring, Products
Professionals in the surveillance industry know CCTV is not what it used to be. Smart functions on cameras are no longer nice to haves, they have become a necessity.
Read more...
---
Improved security for Diamond Trust Bank in Tanzania
September 2019, Hikvision South Africa , CCTV, Surveillance & Remote Monitoring, Financial (Industry)
Diamond Trust Bank in Tanzania installed over 1000 Hikvision EasyIP 3.0 cameras in a project to replace its analogue infrastructure and centralise its surveillance security.
Read more...
---
Intelligent analytics and the brains to match
September 2019, Bosch Building Technologies , CCTV, Surveillance & Remote Monitoring, Integrated Solutions
What if the brains behind our security cameras could be trained to improve their cognitive ability to pay attention, learn, and problem-solve according to specific rules and situations?
Read more...
---
AI-powered autonomous Drone-in-a-Box
September 2019 , CCTV, Surveillance & Remote Monitoring, Integrated Solutions
Organisations in the mining, energy and industrial, oil and gas, ports and terminals sectors can optimise security and business operations, whilst reducing risks and operational costs
Read more...
---
Distributed architecture lowers TCO, increases scalability
September 2019, Technews Publishing , CCTV, Surveillance & Remote Monitoring, Transport (Industry)
Faced with a number of security challenges and planned future expansion, a major airport decided it was time to implement a scalable security surveillance solution.
Read more...
---
Cybersecurity for video surveillance systems
September 2019 , Cyber Security, CCTV, Surveillance & Remote Monitoring
Video surveillance systems are increasingly accessible over any IP network, which has led to the rise of potential cyberattack.
Read more...
---
A platform approach to innovation and value
September 2019, Technews Publishing , Editor's Choice, CCTV, Surveillance & Remote Monitoring, Integrated Solutions, IT infrastructure
Moving to the platform model of doing business holds tremendous advantages for end users and smaller developers, but also for the whole technology supply chain.
Read more...
---
Back to manufacturer uniformity?
September 2019, Dallmeier Electronic Southern Africa , CCTV, Surveillance & Remote Monitoring
Decision makers often have to choose between an all-inclusive, complete solution from one manufacturer and the products and services of several different providers.
Read more...
---
Open does not always mean easy integration
September 2019, VERACITECH, Technews Publishing , Editor's Choice, CCTV, Surveillance & Remote Monitoring, Integrated Solutions
Customers who opt for best-of-breed solutions will have to rely on their integrators to develop customised integrated solutions for them.
Read more...
---