printer friendly version
CCTV terminology
CCTV Handbook 2008
CCTV, Surveillance & Remote Monitoring
Understanding the terms and features of CCTV equipment is essential in getting the optimal results from equipment for different applications...
2D peaking
2D peaking filters enhance video image sharpness, which in turn results in outstanding image quality.

Before 2D peaking

After 2D peaking
Response time of 8 ms
A response time of 8 ms eliminates dragging and after-images on screen.

Conventional

8 ms response time
High brightness (300 cd/m²)
Brightness of 300 candelas per square metre (cd/m²) will ensure a clearer image.

Conventional
High brightness
Dynamic CCD defect correction function
There are two types of defect correction methods, namely static correction and dynamic correction. The static correction method rectifies defects with the lens iris fully closed. This is adjusted only once at the factory, prior to shipment. The dynamic correction method detects and rectifies defects each time they occur, regardless of the opening of the lens iris.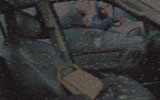 Normal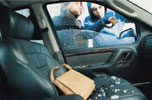 Dynamic CCD
Colour transient improvement (CTI)
Colour transient improvement (CTI) smoothes out the edges of the colour images so that they are more distinct and colours are more precisely reproduced.

Before CTI

After CTI. CTI eliminates jagged edges and ensures smooth colour transitions.
WDR (wide dynamic range)
WDR is a sophisticated version of BLC (back light compensation). It is able to show two files in one complex image by utilising high shutter speed in bright areas and low shutter speed in dark areas. When the camera detects an obvious difference in luminance, rather than showing the whole viewing area at one luminance level, it increases the range of the luminance so that there is no noticeable difference.

Normal

WDR
Day and night
The day and night function employs intelligent technology that allows for automatic switching to colour mode during the day and to black and white mode at night. It is ideally suited for 24/7 surveillance depending on the level of illumination on site.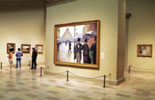 Day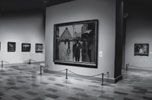 Night
DNR (digital noise reduction)
The digital noise reduction (DNR) function removes 'noise' that commonly occurs in video signals, particularly when automatic gain control (AGC) is used in low-light conditions. It is generally performed using camera memory, which means that when an object moves, the image can be blurred. However, the DNR function in Elvey's cameras uses a special Samsung computer code, which renders it impervious to the motion of an object and allows for the provision of clear images.

Normal

DNR
Motion detection
When movement is detected in a specified monitoring area, the camera will trigger an alarm. External alarm devices attached to the cameras allow users to check screens for alarm alerts. This function is useful when users are tasked with monitoring multiple screens at the same time.

Motion detection OFF

Motion detection ON
Illumination
By converting the speed of the light entering a designated area, an object can be accurately detected even in low illumination. The minimum low illumination of the 0,00009 Lux allows for more vivid image capture with far greater performance than traditional cameras.

General screen

Low-illumination screen
Low minimum illumination of 0,0002 Lux
By converting the speed of light entering into each area, an object can be accurately detected even in low illumination. The minimum low illumination of 0,0002 Lux allows capturing of much more vivid images with performance far greater than typical cameras.

General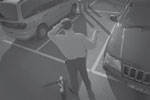 Minimum illumination
3D noise reduction (NR)
3D noise reduction removes noise from analogue video signals and eliminates image flicker, thereby producing a far clearer image.

The noise manifests itself as tiny coloured specs scattered all over the picture area

The new image employs significantly enhanced and optimised noise reduction
DCDi (directional correlational deinterlacing)
DCDi can send interlaced video signals corresponding to the conventional analogue broadcasting method and can save them in the form of a file. DCDi provides sharp noiseless images for video with high movement by compressing the moving images and converting them into progressive video after digitally processing the noise generated by the time difference between fields.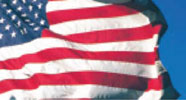 Normal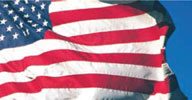 DCDi
DIS (digital image stabiliser)
Image-shake caused by an unstable camera can be corrected using this technology, thereby producing crisper images.

DIS off

DIS on
Zooming
Up to 320x magnification means far easier object identification. This is performed through a combination of a 32x optical zoom and 10x digital zoom.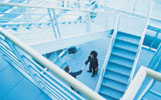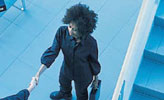 Further reading:
Drones and cybersecurity?
October 2019 , CCTV, Surveillance & Remote Monitoring
Hacker drones can eavesdrop electronically on conversations, can perform network attacks, or can create fake wireless access points.
Read more...
---
Body-worn cameras transforming security
October 2019 , CCTV, Surveillance & Remote Monitoring, Security Services & Risk Management
Police Service Northern Ireland now has over 7 000 officers using 2 500 cameras covering approximately 173 000 incidents each year.
Read more...
---
Camera Selection Guide 2019
CCTV Handbook 2019 , CCTV, Surveillance & Remote Monitoring
The Camera Selection Guide 2019 includes a range of IP, analogue, thermal and speciality cameras aimed at a broad range of surveillance functions.
Read more...
---
Intelligent analytics and the brains to match
September 2019, Bosch Building Technologies , CCTV, Surveillance & Remote Monitoring, Integrated Solutions
What if the brains behind our security cameras could be trained to improve their cognitive ability to pay attention, learn, and problem-solve according to specific rules and situations?
Read more...
---
AI-powered autonomous Drone-in-a-Box
September 2019 , CCTV, Surveillance & Remote Monitoring, Integrated Solutions
Organisations in the mining, energy and industrial, oil and gas, ports and terminals sectors can optimise security and business operations, whilst reducing risks and operational costs
Read more...
---
Cybersecurity for video surveillance systems
September 2019, Mobotix , Cyber Security, CCTV, Surveillance & Remote Monitoring
Video surveillance systems are increasingly accessible over any IP network, which has led to the rise of potential cyberattack.
Read more...
---
What are the cybersecurity issues in video surveillance?
November 2019, Axis Communications SA , Editor's Choice, CCTV, Surveillance & Remote Monitoring, Cyber Security
he importance of the data captured by surveillance cameras – and what can be done with it – has led to a new breed of cybercriminals, looking for insights to steal and sell.
Read more...
---
The safe city and its need for interoperability
November 2019 , Integrated Solutions, CCTV, Surveillance & Remote Monitoring
Interoperability continues to present one of the greatest challenges, particularly with video management systems, video recording devices and cameras.
Read more...
---
A platform approach to safer and smarter cities
November 2019, Milestone Systems , CCTV, Surveillance & Remote Monitoring
Selecting the right platform to manage the vast data collected from smart and safe cities is critical to the ultimate success of the project.
Read more...
---
Creating safe cities with smart technology
November 2019, Secutel Technologies , CCTV, Surveillance & Remote Monitoring
In a digital age, where resilience and responsiveness are paramount to fighting crime and creating a safer world, CCTV systems are becoming part of every city's infrastructure.
Read more...
---