printer friendly version
Major changes coming in the video surveillance industry
CCTV Handbook 2008
Surveillance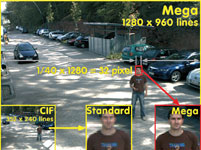 Changes in the core technology of an industry always offer new opportunities for the financial community. A major evolution, triggered by the need for higher recording image quality, is taking place in the video surveillance industry.
The financial market has already reacted to it, and the stock value of some newcomers has greatly increased in the last three years. This article is an attempt to explain the reasons and consequences of the current technology change in the closed circuit television (CCTV) market. In contrast to digital still cameras that are already between 5 and 7 megapixels, most CCTV cameras in the US record only in a resolution of 0,1 megapixel. Nevertheless, the change will not only affect the core camera industry, but it will also influence the other CCTV market players. Developers of video surveillance software are confronted with the challenge on how to handle high-resolution images of dozens of cameras with limited PC performance. It is like asking how one PC can run 20 HDTV streams or multiple video games at the same time.
The analogue situation: compatible and low resolution
How nice the world of video surveillance used to be. If you wanted to use the features of a new camera, all you had to do was to unplug the old model and plug in the new one. The TV standard from 60 years ago, based on coaxial cable and BNC connectors, made this possible. All cameras were compatible at the connector, but at best offered only resolutions of 0,35 megapixels (720 x 480 visible TV lines). Because of this, analogue video will never be able to achieve the megapixel resolution of modern digital cameras. This signal compatibility provided an easy way for low-cost camera manufacturers to penetrate and conquer the video market. They did not need to adhere to any kind of software compatibility or image compression, so video technology remained as it was, simple and compatible.
It was also easy to receive video signals on the computer. Video digitiser hardware delivered the required images to a computer-based video management program for displaying, processing and archiving purposes, without using a lot of computer resources. To digitise and store the images of many cameras, the image format was typically reduced to CIF (352 x 240 TV lines) with only 0,1 megapixel. This is the reason why today a cellphone with an integrated megapixel camera takes 30 times more detail than most of the security cameras in the world. The French government brought out a new video law in October 2006, which requires a minimum of 576 TV lines and 12 frames per second for recording. This is still only half the megapixel image, but certainly a first step. However, if this law were in the US, most security cameras would not be in compliance, even six years after 9/11.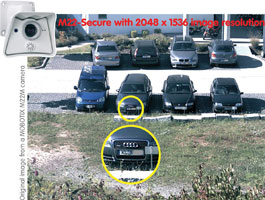 Network changed the video paradigm
The arrival of network cameras changed everything. The image format was finally freed from the transmission method, since the same network connection allows transferring both small images and high-resolution megapixel images, just like on the Internet. The key benefit brought by network cameras was the possibility to easily transmit images within the company or globally via the Internet. But since an analogue camera was mostly used for image generation within the network cameras, resolution in the beginning remained as poor as it had always been. There was a downside to using network cameras, however, as it was impossible to transfer raw images due to bandwidth constraints. Instead, the images had to be compressed prior to being transmitted over the network. The camera's video compression chip solved that problem; but the receiving end, at the computer, was where the problems emerged. All of a sudden, video management programs had a new workload: decoding the compressed images.
Insufficient computing power
This is where the dilemma started, since the decoding process required a lot of computing power. While this was still feasible for a single camera, managing a dozen cameras created a real problem, which was solved by sending only small images with low frame rates to computer monitors. In a casino, for example, where full frame (30 Hz) and full TV (480 lines) recording is mandatory, typically two to four cameras can be managed and recorded by a single PC. For that reason this type of video is expensive and needs large, expensive server farms. MPEG-4 also requires enormous computing power, thus restricting the use of high-resolution cameras.
MPEG-4 video streams are stored on the hard disk as they arrive from the camera. Despite high compression ratios, this approach uses a lot of storage, since there is simply no time for reducing the frame rate. Integrating image analysis is also cumbersome, as the MPEG-4 stream has to be converted back to raw images. This is not only a dead-end approach, but it also restricts the use of network technology for high-resolution video systems.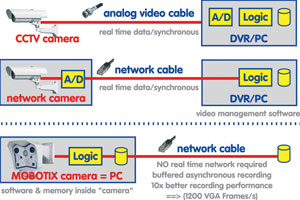 Incompatibility slows down propagation
The problem when communicating with cameras from different manufacturers does not rest in the video standards (JPEG, MPEG) used, but in different protocols. This means that you cannot simply interchange network cameras as with analogue units. Existing camera manufacturers can produce as many cameras as they want; however, the cameras will only be sold once they have been integrated into video management software. Pushing this integration remains an exhausting task, as there are many small software firms providing video management systems, rather than a few large ones.
Decentralised and high-resolution into the future
To solve these problems, manufacturers need to use a decentralised approach for sharing the workload between cameras and video management software. By putting more intelligence, like video processing, motion detection or storage organisation into the camera, the demand for resources from the primary PC is reduced. In such systems, 10 times as many digital cameras can be recorded on the PC than analogue cameras, even in high resolution. In addition, buffering video data in the camera means that it can accommodate bandwidth fluctuations and network failures. Additionally, new megapixel systems are more cost efficient, because one single camera can overview a wider field with more details than an old analogue camera. This new decentralised system design, accompanied by high image resolution, will help camera manufacturers that develop both the intelligent software in cameras and the video management software on computers. This is good news for software-based camera manufacturers, but bad news for the copycats; unplugging the old camera and plugging in the new device will no longer work.
For more information contact Industrial Automation & Control, +27 (0)12 657 3600, burg@iacontrol.co.za, www.iacontrol.co.za
Credit(s)
Further reading:
Pentagon appointed as Milestone distributor
Elvey Security Technologies News & Events Surveillance
Milestone Systems appointed Pentagon Distribution (an Elvey Group company within the Hudaco Group of Companies) as a distributor. XProtect's open architecture means no lock-in and the ability to customise the connected video solution that will accomplish the job.
Read more...
---
Embracing next-generation surveillance for safer cities
Surveillance Integrated Solutions AI & Data Analytics
With the South African government highlighting the importance of building smart cities by integrating advanced technologies to make them more resilient and liveable, the role of next-generation network video and surveillance technologies cannot be ignored.
Read more...
---
Hik-Connect for Teams released
Hikvision South Africa Products & Solutions Surveillance
Hikvision has released an update for its security management platform; Hik-Connect for Teams not only meets the specific needs of individual users, but also caters to various medium-sized businesses (SMBs) and multi-site management scenarios.
Read more...
---
The human factor side of video management systems
Leaderware Editor's Choice Surveillance Risk Management & Resilience
A video management system (VMS) is central to, and the most vital element to any control room operation using CCTV as part of its service delivery, however, all too often, it is seen as a technical solution rather than an operational solution.
Read more...
---
A simple system for complex protection
Surveillance AI & Data Analytics IoT & Automation
Reconeyez is a company that provides autonomous wireless visual verification systems with built-in artificial intelligence. Running on batteries, each device includes communication capabilities, creating a mesh network between the various devices, linking them to the control room.
Read more...
---
Revolutionise your security with integrated solutions
Secutel Technologies Products & Solutions Surveillance
By merging the capabilities of SecuVue and Secutraq, Secutel has forged a robust system empowering users to fine-tune analytics and harness facial recognition, pose detection, and XFS, among other features.
Read more...
---
Safer roads to a sustainable future
Dahua Technology South Africa Surveillance
With the ever-increasing number of vehicles on the road, it is imperative to constantly improve the quality of transportation monitoring and traffic management in urban and rural areas.
Read more...
---
From damage management to false alarm prevention
Dallmeier Electronic Southern Africa Transport (Industry) Surveillance Logistics (Industry)
Video surveillance is undergoing an exciting evolution; today's IP-based solutions can be fully integrated into digital systems. With the increasing integration of artificial intelligence (AI); logistics, in particular, can make processes more transparent and exploit previously untapped potential.
Read more...
---
Marshall Security partners with Blacklight to introduce Reconeyez to KZN
News & Events Surveillance Power Management
Marshal Security has joined forces with Blacklight Group to launch Reconeyez, a cutting-edge battery-powered surveillance platform with mesh network capability, in the KwaZulu-Natal market.
Read more...
---
Professional mobile video management in your pocket
Dallmeier Electronic Southern Africa Surveillance
With the SeMSy Mobile Client for its Domera and Panomera cameras, Dallmeier is now launching a solution that combines the functional and security requirements of professional organisations with the user-friendliness and simplicity of consumer apps.
Read more...
---