printer friendly version
H.264 explained
CCTV Handbook 2008
Surveillance

New possibilities within video surveillance as H.264 replaces other compression standards.
The latest video compression standard, H.264, is expected to become the video standard of choice in the coming years. It has already been successfully introduced in electronic gadgets such as mobile phones and digital video players. For the video surveillance industry, H.264 offers new possibilities to reduce storage costs and to increase the overall efficiency.
H.264 (sometimes referred to as MPEG-4 Part 10/AVC) is an open, licensed standard that supports the most efficient video compression techniques available today. Without compromising image quality, an H.264 encoder can reduce the size of a digital video file by more than 80% compared with the Motion JPEG format and as much as 50% more than with the traditional MPEG-4 Part 2 standard. It is the magnitude of these numbers that makes H.264 highly relevant for video surveillance applications.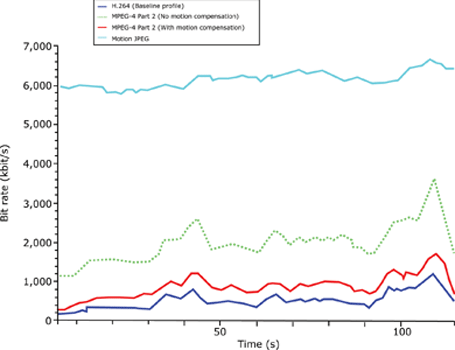 Bit rate comparison for a 115 seconds video stream, given the same level of image quality, among different video standards. The H.264 encoder was at least three times more efficient than an MPEG-4 encoder with no motion compensation and at least six times more efficient than Motion JPEG
Reduced storage and bandwidth costs
One immediate benefit of the drastically reduced file sizes is the impact on storage and bandwidth requirements.
For the same amount of video data, with the same image quality, a video surveillance system supporting H.264 compression will basically reduce the storage cost and bandwidth occupancy by at least 50% compared to when using conventional compression technologies. As the systems grow larger, and the requirements for high-resolution images in combination with high frame rates increase, H.264 will be a key differentiator between various system solutions.
Higher resolution and frame rate
Depending on application needs, there are various ways to benefit from the impressive compression rate of H.264. Today, it is common to choose a limited frame rate or lower resolution in order to stay within the specified storage limitations of an application. This has a negative impact on the video images, which become either blurry or less detailed. Introducing video surveillance equipment that support H.264 compression in such an application will enable several combinations of increased frame rate and image resolution, thus providing higher image quality.
Accelerating use of megapixel cameras
H.264 is expected to accelerate the adoption of megapixel cameras within the surveillance industry. One of the current trade-offs of megapixel cameras is the large size of the recorded video data. As mentioned above, H.264 reduces the large file sizes without compromising image quality. It is likely that the highly efficient compression technology find the quickest traction in applications where there are demands for both high resolution and high frame rates, such as in the surveillance of airports, retail stores, banks and casinos.
Looking ahead
H.264 presents a huge step forward in video compression technology. With support from many industries and applications for consumer and professional needs - eg, QuickTime, Flash, YouTube, iPod and Play- Station 3 - H.264 is expected to replace other compression standards and methods in use today. As the format becomes more broadly available in video surveillance equipment, system designers and integrators will need to make sure that the products and vendors they choose support this new open standard.
Origin of H.264
H.264 is the result of a joint project between the International Telecommunications Union's Video Coding Experts Group (VCEG) and the ISO/IEC Moving Picture Experts Group (MPEG). ISO stands for International Organization for Standardization and IEC is an organisation that oversees electronic and electrical standards. H.264 is the name used by ITU-T, while ISO/IEC has named it MPEG-4 Part 10/AVC since it is presented as a new part in its MPEG-4 suite.
Jointly defined by standardisation organisations in the telecommunications and IT industries, H.264 is expected to be more widely adopted than previous standards.
Credit(s)
Further reading:
Pentagon appointed as Milestone distributor
Elvey Security Technologies News & Events Surveillance
Milestone Systems appointed Pentagon Distribution (an Elvey Group company within the Hudaco Group of Companies) as a distributor. XProtect's open architecture means no lock-in and the ability to customise the connected video solution that will accomplish the job.
Read more...
---
Embracing next-generation surveillance for safer cities
Surveillance Integrated Solutions AI & Data Analytics
With the South African government highlighting the importance of building smart cities by integrating advanced technologies to make them more resilient and liveable, the role of next-generation network video and surveillance technologies cannot be ignored.
Read more...
---
Hik-Connect for Teams released
Hikvision South Africa Products & Solutions Surveillance
Hikvision has released an update for its security management platform; Hik-Connect for Teams not only meets the specific needs of individual users, but also caters to various medium-sized businesses (SMBs) and multi-site management scenarios.
Read more...
---
The human factor side of video management systems
Leaderware Editor's Choice Surveillance Risk Management & Resilience
A video management system (VMS) is central to, and the most vital element to any control room operation using CCTV as part of its service delivery, however, all too often, it is seen as a technical solution rather than an operational solution.
Read more...
---
A simple system for complex protection
Surveillance AI & Data Analytics IoT & Automation
Reconeyez is a company that provides autonomous wireless visual verification systems with built-in artificial intelligence. Running on batteries, each device includes communication capabilities, creating a mesh network between the various devices, linking them to the control room.
Read more...
---
Revolutionise your security with integrated solutions
Secutel Technologies Products & Solutions Surveillance
By merging the capabilities of SecuVue and Secutraq, Secutel has forged a robust system empowering users to fine-tune analytics and harness facial recognition, pose detection, and XFS, among other features.
Read more...
---
Edge could help transform South Africa's healthcare
Axis Communications SA Infrastructure
Edge computing has emerged as a game-changing technology for many industries, and the healthcare sector is no exception. In particular, South Africa's healthcare industry could significantly benefit from the potential of this technology.
Read more...
---
Safer roads to a sustainable future
Dahua Technology South Africa Surveillance
With the ever-increasing number of vehicles on the road, it is imperative to constantly improve the quality of transportation monitoring and traffic management in urban and rural areas.
Read more...
---
From damage management to false alarm prevention
Dallmeier Electronic Southern Africa Transport (Industry) Surveillance Logistics (Industry)
Video surveillance is undergoing an exciting evolution; today's IP-based solutions can be fully integrated into digital systems. With the increasing integration of artificial intelligence (AI); logistics, in particular, can make processes more transparent and exploit previously untapped potential.
Read more...
---
Marshall Security partners with Blacklight to introduce Reconeyez to KZN
News & Events Surveillance Power Management
Marshal Security has joined forces with Blacklight Group to launch Reconeyez, a cutting-edge battery-powered surveillance platform with mesh network capability, in the KwaZulu-Natal market.
Read more...
---