printer friendly version
H.264 explained
May 2008
CCTV, Surveillance & Remote Monitoring

New possibilities within video surveillance as H.264 replaces other compression standards.
The latest video compression standard, H.264, is expected to become the video standard of choice in the coming years. It has already been successfully introduced in electronic gadgets such as mobile phones and digital video players. For the video surveillance industry, H.264 offers new possibilities to reduce storage costs and to increase the overall efficiency.
H.264 (sometimes referred to as MPEG-4 Part 10/AVC) is an open, licensed standard that supports the most efficient video compression techniques available today. Without compromising image quality, an H.264 encoder can reduce the size of a digital video file by more than 80% compared with the Motion JPEG format and as much as 50% more than with the traditional MPEG-4 Part 2 standard. It is the magnitude of these numbers that makes H.264 highly relevant for video surveillance applications.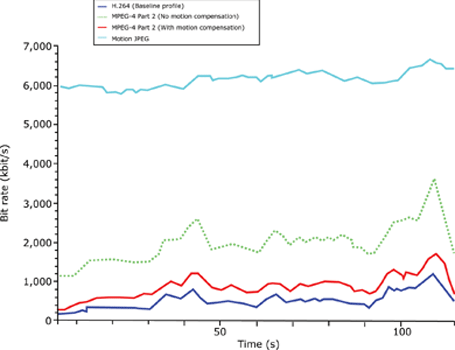 Bit rate comparison for a 115 seconds video stream, given the same level of image quality, among different video standards. The H.264 encoder was at least three times more efficient than an MPEG-4 encoder with no motion compensation and at least six times more efficient than Motion JPEG
Reduced storage and bandwidth costs
One immediate benefit of the drastically reduced file sizes is the impact on storage and bandwidth requirements.
For the same amount of video data, with the same image quality, a video surveillance system supporting H.264 compression will basically reduce the storage cost and bandwidth occupancy by at least 50% compared to when using conventional compression technologies. As the systems grow larger, and the requirements for high-resolution images in combination with high frame rates increase, H.264 will be a key differentiator between various system solutions.
Higher resolution and frame rate
Depending on application needs, there are various ways to benefit from the impressive compression rate of H.264. Today, it is common to choose a limited frame rate or lower resolution in order to stay within the specified storage limitations of an application. This has a negative impact on the video images, which become either blurry or less detailed. Introducing video surveillance equipment that support H.264 compression in such an application will enable several combinations of increased frame rate and image resolution, thus providing higher image quality.
Accelerating use of megapixel cameras
H.264 is expected to accelerate the adoption of megapixel cameras within the surveillance industry. One of the current trade-offs of megapixel cameras is the large size of the recorded video data. As mentioned above, H.264 reduces the large file sizes without compromising image quality. It is likely that the highly efficient compression technology find the quickest traction in applications where there are demands for both high resolution and high frame rates, such as in the surveillance of airports, retail stores, banks and casinos.
Looking ahead
H.264 presents a huge step forward in video compression technology. With support from many industries and applications for consumer and professional needs - eg, QuickTime, Flash, YouTube, iPod and Play- Station 3 - H.264 is expected to replace other compression standards and methods in use today. As the format becomes more broadly available in video surveillance equipment, system designers and integrators will need to make sure that the products and vendors they choose support this new open standard.
Origin of H.264
H.264 is the result of a joint project between the International Telecommunications Union's Video Coding Experts Group (VCEG) and the ISO/IEC Moving Picture Experts Group (MPEG). ISO stands for International Organization for Standardization and IEC is an organisation that oversees electronic and electrical standards. H.264 is the name used by ITU-T, while ISO/IEC has named it MPEG-4 Part 10/AVC since it is presented as a new part in its MPEG-4 suite.
Jointly defined by standardisation organisations in the telecommunications and IT industries, H.264 is expected to be more widely adopted than previous standards.
Credit(s)
Further reading:
Milestone partners prove their skills
August 2019, Milestone Systems , News, CCTV, Surveillance & Remote Monitoring, Training & Education
Within the span of one week in mid-May, the Milestone Learning & Performance group celebrated important benchmarks: 200 000 course registrations and tutorial views, and 10 000 certifications.
Read more...
---
ONVIF Hosts 20th Developers' Plugfest
August 2019 , News, CCTV, Surveillance & Remote Monitoring
ONVIF, the global standardisation initiative for IP-based physical security products, hosted its twentieth ONVIF Developers' Plugfest in early June in Tokyo.
Read more...
---
Licence plate recognition camera
August 2019 , Products, CCTV, Surveillance & Remote Monitoring
VIVOTEK has introduced a new licence plate recognition camera featuring built-in licence plate recognition software and edge-computing capability.
Read more...
---
Securing Savannah Hills Estate
August 2019, Rhyco Risk Projects , CCTV, Surveillance & Remote Monitoring, Perimeter Security, Alarms & Intruder Detection
Savannah Hills Estate in Midrand planned a security upgrade which was awarded to Rhyco Risk Projects. The project started in March 2019 and was completed in May 2019.
Read more...
---
10 things to consider when shopping for a VMS
August 2019, Genetec , CCTV, Surveillance & Remote Monitoring, Integrated Solutions
Today's video management systems (VMS) provide a wide range of tools and capabilities that help make security personnel more efficient by allowing them to focus on what really matters.
Read more...
---
How far are we really at with artificial intelligence?
August 2019, Axis Communications SA , Editor's Choice, CCTV, Surveillance & Remote Monitoring, IT infrastructure, Residential Estate (Industry)
Justin Ludik unpacks exactly how far AI has come and what it potentially can do for society and more importantly, surveillance.
Read more...
---
Enhancing security with AI
August 2019, Hikvision South Africa , CCTV, Surveillance & Remote Monitoring
Hikvision explains how residential estates can revolutionise their security strategies and outcomes with artificial intelligence.
Read more...
---
More than simply a camera
August 2019, Forbatt SA, Secutel Technologies , CCTV, Surveillance & Remote Monitoring, Residential Estate (Industry)
With the human element being the weakest link in all security solutions, Hi-Tech Security Solutions looks at the pros and cons of using body-worn cameras in estates.
Read more...
---
The importance of effective perimeter security
August 2019, Elf Rentals - Electronic Security Solutions, Stafix , Editor's Choice, CCTV, Surveillance & Remote Monitoring, Residential Estate (Industry)
Protecting the perimeter is critical for any residential estate; how does one go about making sure your perimeter is as secure as possible?
Read more...
---
Multiple methods for motion detection
August 2019, Axis Communications SA , Perimeter Security, Alarms & Intruder Detection
There are strengths and weaknesses with all motion detection solutions, and their effectiveness will be dictated by the environment and the components they are being used with.
Read more...
---