printer friendly version
Getting the house in order
November 2007
Access Control & Identity Management

Motivation
Trafalgar Property Management operates on a national basis with offices across major metropolitan areas in South Africa, including Johannesburg, Pretoria, Durban, Cape Town, Port Elizabeth and East London. Trafalgar has been managing residential properties since the first sectional title registers were opened. Being a developer in its own capacity, Trafalgar understands the scope and nature of property management required to enhance properties and their asset values. Property management and property financial services are Trafalgar's core businesses and primary strategic focus areas.
Trafalgar was facing major over-crowding issues at one of its large residential properties in Hillbrow, Johannesburg. Helderberg, which has 268 units, was suffering from over-crowding and ongoing services interruptions as a result of the excessive strain placed on the ageing infrastructure. Warren Laird, project manager at Trafalgar, comments, "All buildings are assets and we needed to rectify the situation at Helderberg to ensure a long-term return."
The overcrowding situation was producing a number of undesirable effects apart from the obvious questions regarding who was entitled to enter the complex. Building maintenance and municipal services costs were spiralling out of control and the health and safety measures were being compromised due to more people using the facilities than the building had been designed to handle.
"The existing security system had no real impact as there were weak spots in the access to the building that were being exploited. No control over sub-tenants and illegal residents was possible. A project plan was prepared to address all aspects that were of concern," says Laird. Trafalgar worked closely with Dex to prepare a solution that would ensure the success of the project.
Reward
Victor van Heerden, marketing and sales executive at Dex explains, "In this instance, Trafalgar's requirement was pretty clear: effective access control would resolve the other issues."
"Controlling expenditure at Helderberg was very important to Trafalgar - after all, this is one of the major tasks that we undertake to do for our clients, the owners of the buildings that we manage," adds Laird.
Trafalgar worked with Dex to design the solution to meet the objective, specify the equipment needed and develop an implementation plan. Trafalgar assembled a project team to drive the project, this team included Trafalgar senior manager, Andrew Schaefer; financial manager, Linda Beaumont; portfolio manager, Warren Laird and a range of support staff. Each team member was assigned specific roles and responsibilities.
"We were very clear about our objectives: a secure and safe building, tight control of overcrowding with clean hygienic surroundings," says Laird.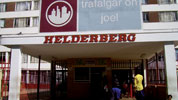 Implementation
Dex had developed a solid relationship with Trafalgar over the past two years, so the company did not feel the need to go though the tender process. All the involved parties played an integral part in the planning and creation of the system. The backup maintenance facility offered by Dex ensures that the system runs at its full potential.
Trafalgar installed two Turnstar full-height turnstiles at the street entrance, plus a Boomgate turnstile in the parking basement to regulate access control. Dex Biometrics fingerprint readers were attached to the turnstiles.
Progress was easy to measure as well: as soon as the system was installed, there was an immediate exodus of unauthorised residents and visible improvement in the conditions at Helderberg due to the decreased overcrowding.
"There were a few hiccups in the installation process but Trafalgar's effective project team provided prompt feedback and we moved forward," Van Heerden adds.
Preparation was key to the switchover to the new system. One month before going live, Trafalgar began work on the registration process as over 1200 tenants had to be registered on the system. The switchover to the new system was smooth, with only a few tenants that had not registered needing to be sorted out, which was accomplished without any problems.

Review
"This was Trafalgar's second large residential project and the team has proved highly competent so everything went pretty much to plan and it is clear that the source of the majority of Helderberg's problems - over-crowding - has been resolved. The system is still fairly new so there may be one or two adjustments that might have to be made, but we are confident we can deal with any issues that arise," comments Van Heerden.
Laird concludes, "The Dex system ensures that it is difficult to gain access to the Helderberg unless you are a legal tenant. Trafalgar is satisfied that the building has been secured so we have achieved our objective of decreased overcrowding, improved service delivery, security and cleaning."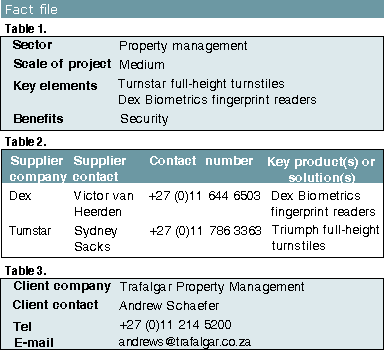 Credit(s)
Further reading:
HID addresses identification challenges at ID4Africa
August 2019 , News, Access Control & Identity Management, Government and Parastatal (Industry)
Being able to verify people's identities is critical for a nation's growth and prosperity and yet HID says nearly half of all African citizens can't prove who they are to vote, travel freely and receive government benefits and services.
Read more...
---
Came acquires Turkish company Özak
August 2019, CAME BPT South Africa , News, Access Control & Identity Management
Came broadens its market horizons and signals growth and consolidation in the Middle East.
Read more...
---
The benefits of electronic visitor management
August 2019, Powell Tronics , Access Control & Identity Management, Residential Estate (Industry)
Access control is a critical aspect of estate security as it represents the controls put in place to restrict entry (and possibly exit) along the outer boundary of the location.
Read more...
---
Addressing risks by means of access control layout and design
August 2019 , Access Control & Identity Management, Security Services & Risk Management
In order to develop a suitable, practical and appropriate security system for any organisation, it is essential to first develop a master security and life safety plan strategy.
Read more...
---
Secure hands-free access
August 2019, Suprema , Access Control & Identity Management, Residential Estate (Industry)
Suprema's facial biometric terminals bring no-touch access into secure residential estates, high-rise apartments and luxury homes providing fast, easy and intuitive user authentication with the added benefit of hygiene.
Read more...
---
MorphoAccess Sigma Extreme
August 2019, IDEMIA , Products, Access Control & Identity Management
MorphoAccess Sigma Extreme from IDEMIA is a touchscreen device with multiple recognition device interfaces (NFC chip reader, PIN and BioPIN codes, contactless card readers).
Read more...
---
Outdoor access terminals
August 2019, Suprema , Access Control & Identity Management, Residential Estate (Industry), Products
Rugged, dust- and weather-proof access control solutions that provide exceptional durability in extreme conditions is a strong requirement for many residential estates.
Read more...
---
MorphoWave Compact
August 2019, IDEMIA , Products, Access Control & Identity Management
The MorphoWave Compact captures and matches four fingerprints on either the right or left hand in any direction. It is robust to environmental factors such as extreme light or dust.
Read more...
---
MorphoAccess Sigma Lite
August 2019, IDEMIA , Products, Access Control & Identity Management
IDEMIA's MorphoAccess Sigma Lite and Lite + are fingerprint access control terminals, offering time and attendance in and out function keys.
Read more...
---
Eliminating forced gate opening scenarios
August 2019, ET Nice , Home Security, Access Control & Identity Management
When activated by the gate forced open alarm feature, the transmitter transmits a wireless alarm signal up to 750 metres in any direction.
Read more...
---