printer friendly version
Growth drives development
November 2007
Access Control & Identity Management
Motivation
Toyota South Africa has a history dating back to 1961. Its growth - having just achieved its fourth consecutive award as the favourite private consumer car brand and also having toppled BMW to take second spot in the B2B category - remains a driving force in the company's development. Even difficult trading conditions do not dent Toyota's sales - August 2007 saw the company set a new all time single month sales record. So the need to stay ahead of the expanding demand curve throughout the manufacturing process is relentless.
Alistair McPhail, business development manager, KZN, at Impro Technologies, adds, "In 1995, when the first combined access control and time management (unique T&A) system was installed by Business Connexion, a division of Q Data DynamiQue, at Toyota's plant in Prospecton, Durban, we all believed that the (then) cutting-edge Impro Access Control solution, catering for a maximum of 8000 card-holders and 16 controllers off one system, would be sufficient to meet Toyota's long-term growth plans."
Rewards
Toyota's phenomenal growth meant that it was rapidly running out of capacity on the card-based system and needed to invest in more advanced technology.
Ever-increasing pressure from competitors requires Toyota to constantly evaluate the situation and take action to maintain its leadership. It was recognised that more stringent control of vehicular and pedestrian traffic in and out of the plant was a necessity.
Another major requirement for Toyota was to eliminate duplicate data capture - and in so doing ensuring data integrity - by integrating the Toyota SAPHR master database with the time and attendance, access control and Toyota SPOSS canteen management system.
So the change process was imposed (limited old systems capacity), proposed (need to upgrade the software functionality, reporting, speed of transaction data and user friendliness) and strategically planned (need to integrate with other company software solutions ie SAPHR and the SPOSS Canteen software).
Toyota has an established methodology in place to control new development and the company firmly believes that design, specification and implementation need to be considered together to ensure successful solutions.
A Toyota project team was established from various interested departments, namely IT, security, human resources, internal audit, general purchasing, and manufacturing engineering. The team then developed Technical and User Defined Specification documents.
Ian Bender, senior manager ERP projects at Toyota, comments, "The main objective was to implement a fully-integrated ERP solution encompassing, together with the access control, SAPHR, T&A, and SPOSS systems. Integration would provide a single point of administration (SAP) for all Toyota employees and sub-contractors.
"Toyota required major enhancements and benefits from the T&A system. Line managers had to be able to produce their own interrogative reports of employee clocking transactions. The security department would also benefit from enhanced access control to be able to track personnel entry and exit transactions to all or selected areas."
Some of the added benefits of the new installation are:
* All plants are online and reports can be drawn across the entire company using Impro's web-based reporting facility.
* The system has the capability to grow to meet the immediate and future needs of Toyota.
* Specialised reporting tools are available to assist management with decision-making.
* Departments, depending on their permissions, have the capability to view their exceptions online, to make adjustments, and to authorise overtime online without having to print reports.
Implementation
After much deliberation on the options available to Toyota, the organisation decided to go out to tender. The requirements were set out in technical and user-defined documents.
One of the key requirements for companies participating in the tendering process was to clearly state what could not be achieved regarding Toyota's requirements. Many other parameters were thrown in to a rated/weighted matrix and all personnel on the Toyota project team discussed, argued and finally agreed on the appropriate scores for all vendors who tendered.
After an in depth investigation Toyota decided that Business Connexion's end-to-end time and access system would meet its requirements. Business Connexion would also project manage and implement the entire solution. The project kicked off in December 2005 at Toyota's main production facility with the following steps as a precursor to this challenging yet exciting project:
* The UniQue time and attendance system was replaced with the Word Class Lavie TimeTech SQL Timekeeper solution, which is fully integrated with the Improx IXP 400 ImporNet SQL system.
* Impro's original Linkscan hardware was replaced with fully-integrated ImproX IXP400 hardware over a period of six months. This included 66 T&A points and 160 access control points.
* The ImproX IXP400 controllers cater for up to 160 000 card-holders and can buffer up to 500 000 transactions per controller. A key feature of these controllers is that they were able to connect to each other using the existing Toyota Ethernet network infrastructure, thus eliminating additional cabling. "Impro's latest controllers can handle up to 3000 doors and 300 000 cardholders and up to a million buffered transactions per site," adds McPhail.
* All turnstiles, booms and access doors were equipped with the automated random search feature that is standard on Impro Technologies' ImproNet Software Suite.
* Toyota's Ethernet WAN was used to connect the Toyota stamping division in Mobeni (43 kilometres from the Prospecton plant) to the centralised database.
Business Connexion, together with the Toyota SAP team defined the integration workflows and developed a seamless integration between the three different systems (Timekeeper, SAPHR, and the SPOSS canteen management system). Timekeeper is a fully-fledged time management solution used by Toyota to calculate the hours worked by employees by applying all the applicable T&A rules. The hours to be paid are then exported to the SAP Payroll system for payment.
To ensure success, regular project review meetings were held and progress was measured against a master project plan:
* Microsoft BizTalk, the business process management (BPM) server, enabled Toyota to automate and optimise the business processes between Timekeeper and SAPHR.
* All employee master data is captured on the SAPHR system, and then downloaded to Timekeeper, where the Tag data is captured and automatically updated via Impro's access control system and the SPOSS system.
Linda Glieman, senior sales executive at Business Connexion, comments, "The implementation itself was painless to the employees working in the Toyota Plant. The new equipment was installed alongside the existing Linkscan equipment and the entire plant went live over one weekend. At the end of the first week all the employees were paid from the new installation."
Challenges
Bender comments, "There were major challenges in implementing the desired solution with all the integration requirements, but a strong, dedicated and technically-sound project team proved more than capable in overcoming all the snags that cropped up.
Although the project planning was thorough, server sizing was initially underestimated but this was easily resolved. A rapidly growing Toyota environment generated many new change requests that had to incorporate unknown areas that were in the process of being implemented or changed.
Glieman explains, "A properly-constituted project team, involving all concerned parties, is an absolute prerequisite for success in such a complex system and operating environment. Clearly-defined design, specification and implementation plans are also absolutely vital."
Review
Despite all the attention to detail in the tendering process and the strong focus of the entire project team, there were still a few learning areas that Bender feels could have been better handled, "Commitment from all parties was key to ensuring a smooth and successful implementation. Any project of this magnitude would struggle to meet deadlines if there was any 'dead wood' on the team."
The following items were key to the observations made during design and implementation:
* User training prior to going live with the new system.
* Tracking progress of invoices and payments.
* Detailed reporting regarding budget vs actual costs.
* Service Level Agreements need to be carefully evaluated.
* Post-implementation documentation is a valuable resource for identifying items still requiring attention, getting agreement on an action plan for sustainable systems operations, and capturing longer-term enhancements and levels of vendor support required.
Glieman adds, "From Business Connexion's point of view, on a project of this scale, you need to have definitive discussions with all the relevant internal parties and departments that will be affected, in order to accurately establish the user requirements.
"Project timing is another very important aspect that needs to be laid out in as much detail as possible, with a specific focus on milestones and key action dates, if delays are to be avoided. All parties need to understand their roles and responsibilities."
Bender concludes, "All things considered, the project was a huge success. Few deadlines were missed and there was minimal disruption to Toyota's day-to-day operations during the implementation process."
The project at the Durban sites of Toyota delivered all that was expected and more. Future plans include linking the Toyota marketing division in Johannesburg in a decentralised mode with the central database server in Durban.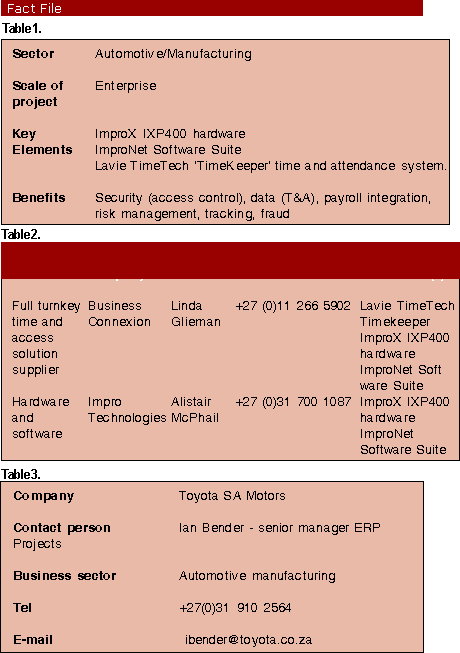 Credit(s)
Further reading:
HID addresses identification challenges at ID4Africa
August 2019 , News, Access Control & Identity Management, Government and Parastatal (Industry)
Being able to verify people's identities is critical for a nation's growth and prosperity and yet HID says nearly half of all African citizens can't prove who they are to vote, travel freely and receive government benefits and services.
Read more...
---
Came acquires Turkish company Özak
August 2019, CAME BPT South Africa , News, Access Control & Identity Management
Came broadens its market horizons and signals growth and consolidation in the Middle East.
Read more...
---
The benefits of electronic visitor management
August 2019, Powell Tronics , Access Control & Identity Management, Residential Estate (Industry)
Access control is a critical aspect of estate security as it represents the controls put in place to restrict entry (and possibly exit) along the outer boundary of the location.
Read more...
---
Addressing risks by means of access control layout and design
August 2019 , Access Control & Identity Management, Security Services & Risk Management
In order to develop a suitable, practical and appropriate security system for any organisation, it is essential to first develop a master security and life safety plan strategy.
Read more...
---
Secure hands-free access
August 2019, Suprema , Access Control & Identity Management, Residential Estate (Industry)
Suprema's facial biometric terminals bring no-touch access into secure residential estates, high-rise apartments and luxury homes providing fast, easy and intuitive user authentication with the added benefit of hygiene.
Read more...
---
MorphoAccess Sigma Extreme
August 2019, IDEMIA , Products, Access Control & Identity Management
MorphoAccess Sigma Extreme from IDEMIA is a touchscreen device with multiple recognition device interfaces (NFC chip reader, PIN and BioPIN codes, contactless card readers).
Read more...
---
Outdoor access terminals
August 2019, Suprema , Access Control & Identity Management, Residential Estate (Industry), Products
Rugged, dust- and weather-proof access control solutions that provide exceptional durability in extreme conditions is a strong requirement for many residential estates.
Read more...
---
MorphoWave Compact
August 2019, IDEMIA , Products, Access Control & Identity Management
The MorphoWave Compact captures and matches four fingerprints on either the right or left hand in any direction. It is robust to environmental factors such as extreme light or dust.
Read more...
---
MorphoAccess Sigma Lite
August 2019, IDEMIA , Products, Access Control & Identity Management
IDEMIA's MorphoAccess Sigma Lite and Lite + are fingerprint access control terminals, offering time and attendance in and out function keys.
Read more...
---
Eliminating forced gate opening scenarios
August 2019, ET Nice , Home Security, Access Control & Identity Management
When activated by the gate forced open alarm feature, the transmitter transmits a wireless alarm signal up to 750 metres in any direction.
Read more...
---