printer friendly version
More control over access and T&A
Access & Identity Management Handbook 2007
Access Control & Identity Management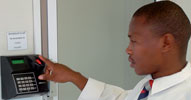 Motivation
Glass and aluminium manufacturer AGI had already reached the conclusion that it wanted to implement a fingerprint biometric solution for both access control and time and attendance (T&A) functions within the company. Charles Schwarz, HR manager at AGI, comments, "Employees were claiming time when they were not, in fact, at work. Some of our sites were using card-based clocking systems but the company found that 'buddy clocking' was an issue. The company also wanted to control employees' access to specific areas".
AGI were looking for a reliable biometric solution that would be easy to implement into their existing networking and site layout. Schwarz comments, "The company proposed the change because we saw and experienced the flaws in our existing system on site."
Hi Tech Laboratory proposed a solution to AGI utilising an Identix biometric solution together with Access 2000's T&A software. AGI accepted the proposal because the proposed solution met all of the company's requirements.
Rewards
AGI's requirements were simple: access to specific areas should be restricted. The differing access requirements of visitors, employees, factory workers and drivers had to be met by the system; and the access control system must be linked to T&A software. The data from the T&A software must seamlessly integrate into AGI's VIP payroll package.
Richard Mansour, managing director of Hi Tech Laboratory, comments, "Hi Tech separated design, specification and implementation. We drew up a technical specification for the solution in conjunction with input from AGI. We split the site up into different areas that were then allocated to different installation teams. The software was then installed onto AGI's central network server. Then it was simply a matter of installing the Identix biometric readers and connecting them to the network."
Hi Tech had an external project leader, Kai Weinzheimer from Abavikeli, for the proposal stage and Mansour served as internal project leader for the implementation process.
Implementation
"Because the Identix Biometric Readers are well-known and have a reputation for reliability in the industry, AGI came straight to us without going to tender," says Mansour. Hi Tech has now completed the entire rollout throughout all of AGI's sites in South Africa.
Hi Tech has internal professional site surveyors, specifiers and consultants, and system integrators in order to achieve smooth and successful implementations. Site surveyors analysed the site layout; the specifiers stated where the readers and software should be implemented for optimum productivity; the consultants provided the crucial communication link between AGI and Hi Tech; and lastly, the implementation team installed all the items and commissioned the site.
Challenges
Installing solutions on a site that is still being built will create some issues to resolve. When Hi Tech Laboratory wanted to mount the booms and turnstiles, they had to wait for the cement to dry. "This wasted a lot of crucial time," says Mansour. "Another obstacle was running the TCPIP cables because the roof was too high we had to hire a crane in order to work at roof height. But other than those two obstacles the installation went smoothly and successfully and the switchover was straightforward."
Hi Tech had to customise the turnstiles to meet AGI's T&A requirements. T&A applications need to know whether a person is entering or exiting to accurately record the hours worked.
Hi Tech first solved this problem by installing 'in' and 'out' buttons on the biometric readers but employees were not making regular use of them. Mansour explains, "We then adapted the turnstile so when an employee enters the turnstile from a specific side it registers from the clock or anti-clockwise rotations if you are entering or exiting. The turnstile sends this message to the reader so it can automatically register the 'in' or 'out' data."
Review
Mansour comments, "Because Hi Tech employs specialist, professional staff, there was nothing we would have done differently. AGI was impressed with Hi Tech's professionalism and expertise".
Hi Tech's policy of adapting its systems to meet all the client's requirements contributes to the success of the project. Mansour explains: "We learnt a lot about reprogramming and rewiring the turnstiles to meet AGI's needs."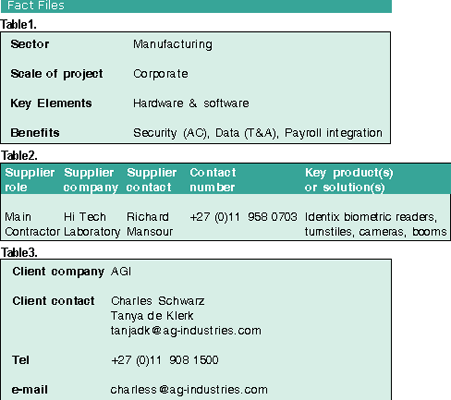 Further reading:
Biometrics: the game changer in access control
November 2019, IDEMIA , Access Control & Identity Management
For security managers, the question is no longer, should I use biometrics, but rather, which biometrics should I use.
Read more...
---
ViRDI UBio Tab 5
November 2019 , Access Control & Identity Management
ViRDI Distribution SA (ViRDI Africa) has announced the release of its long-awaited UBio Tablet to the South African market.
Read more...
---
Cloud-based access control
November 2019, Elvey Security Technologies , Access Control & Identity Management
Hattrix is a flexible and scalable security platform that marks a shift toward outsourcing security, similar to other services such as IT, HR, and legal services.
Read more...
---
Transforming secure access for SMEs
November 2019, dormakaba South Africa , Access Control & Identity Management
The dormakaba Matrix One access solution is an off-the-shelf access offering that is easy to use, completely secure and browser-based, making it accessible from anywhere in the world.
Read more...
---
Manage remote transmitters via GSM
November 2019, ET Nice , Access Control & Identity Management
ET Nice has released a new solution to set up and manage remote transmitters online and monitor access equipment via GSM.
Read more...
---
Secure hands-free access
November 2019, Suprema , Access Control & Identity Management
Suprema's facial biometric terminals bring no-touch access into secure residential estates, high-rise apartments and luxury homes providing fast, easy and intuitive user authentication with the added benefit of hygiene.
Read more...
---
There's an app for gate configuration
November 2019, CAME BPT South Africa , Access Control & Identity Management
CAME KEY is a new generation of working tool for gate automation, allowing setup and configuration from a mobile app.
Read more...
---
Enhanced biometric technology for mines
September 2019, ZKTeco , Mining (Industry), Access Control & Identity Management
Biometric identification and authentication are currently used at various mines in South Africa and in the SADC region.
Read more...
---
Improving access in mines
October 2019, Astra Fasteners , Mining (Industry), Access Control & Identity Management, Products
The VP1 controller provides full access control and remote monitoring of intelligent locks without having to wire into a network or install, manage and maintain software.
Read more...
---
Invixium and Pyro-Tech partner in South Africa
October 2019 , News, Access Control & Identity Management
Invixium, a manufacturer of IP-based biometric solutions and Pyro-Tech Security Suppliers have announced a new distribution partnership.
Read more...
---