printer friendly version
Industrial-strength crime fighting
Access & Identity Management Handbook 2007
CCTV, Surveillance & Remote Monitoring

Motivation
The City Improvement District (CID) initiative, where ratepayers pay an additional levy that is returned to the CID to fund improvement projects in the area, is paying dividends in Paarden Eiland, one of Cape Town's oldest-established industrial areas.
The main goals of the Paarden Eiland City Improvement District (Pecid) are to secure the area or provide adequate security to contain crime levels, ensure adequate safety and cleanliness, and implement a marketing strategy to stimulate further investment.
Patricia Tullip, CID manager of Pecid comments, "The Pecid board decided to address security as a priority. It was felt that the other goals would be more easily achieved when the extremely high crime levels had been addressed.
"SAPS and armed response presence will always be important in deterring and combating crime but it is not possible to effectively cover the entire district on a 24x7 basis using manpower alone.
"As Paarden Eiland is not a residential area, we could not rely on community members to report suspicious behaviour outside of business hours and the concentration of valuable stock and business equipment in the area made Pecid a target for criminal activities."
John Powell, regional manager at Blick SA adds, "The challenge was to create a range of partnerships within the Pecid that would play a pro-active role in reducing crime, preventing illegal dumping, and improving fire and other risk management issues for the business community."
Community is a concept that Powell is passionate about. Powell, recently elected to the board of the Pecid, adds, "There was no technical system in place to assist the SAPS and other law enforcement agencies so it was clear that Blick, as a leading security solutions provider - and have had premises in Paarden Eiland for many years - could make a valuable contribution to achieving Pecid's goals." Pecid met regularly to develop strategy and prepare an action plan.
Rewards
It was decided that Blick would implement a practical, proactive and interactive system that would pre-alert the SAPS and armed response companies to potential criminal activity in the area. The solution also had to prevent illegal dumping; control displaced people, loitering and littering; and assist with reviewing traffic management.
A project team was formed including Powell and Jeff Greeff (representing Blick) and Tullip (representing Pecid), the SAPS and armed response companies. Blick designed a proposed solution that, on acceptance of the design by the project team, led to the development of a technical specification and an implementation plan that specified 24x7 monitoring of the Pecid, controlled from a central control room.
Implementation
Blick's presence in and Powell's commitment to Pecid made the company an obvious choice to implement the solution. System integrators played an important role in designing a 'best fit' solution to meet requirements and budget. Weekly progress meetings were held to measure progress towards the solution.
Blick volunteered to accommodate a modern, fully-equipped control room at its premises and provide specially-trained operational personnel to monitor the cameras on a 24x7 basis.
Eight dome cameras were installed in two phases over a 10-month period to monitor hotspots inside the Pecid. An additional four dome cameras with static cameras are situated to record all traffic entering or exiting the Pecid.
Pecid funded the purchase of two patrol vehicles and the manpower to operate the vehicles on a 24x7 basis. Direct radio contact is used to call patrol officers in the Pecid vehicles to investigate any suspicious movement.
Challenges
According to Tullip, the biggest challenge was to "Persuade property owners and tenants to participate, as all the land is privately-owned."
Other challenges included obtaining council co-operation, and numerous geographical and technical hurdles that had to be overcome due to public roads, large buildings, and severe weather conditions.
Powell adds, "New challenges arose every day. Finding a technical solution that could operate in extremely harsh environmental conditions took some time."
A lot of effort was also required to develop effective workflow and operating procedures for the control room and to implement a comprehensive training programme for the SAPS and armed response companies.
Customisation was required to deliver on Pecid's requirements and the technical challenges.
Review
Powell comments, "Implementing CID solutions is not as simple as it appears at first glance. There has been an ongoing learning curve the whole way through the process. Blick has also put in serious effort to hone performance of the solution as, without this, it would be hard to see the actual benefits derived from all the hard work."
Powell would like to thank the dedicated staff involved in making this project an ongoing success. The dedication and commitment of Patricia Tullip has been outstanding. The support of the Pecid Board also added to the success of the project.
"CID solutions have to be extremely specific but Blick SA is now confident that it can tackle other CID applications in any environment."
From Pecid's point of view, the project is delivering the desired results. Tullip comments, "It is early days but we see a definite downward trend across a range of crimes that were increasing prior to the installation of the cameras."
The crime statistics released by the Pecid for the last five months (20 November 2006 to 20 March 2007), compared to the previous five months (20 June-20 November 2006), are highly impressive and demonstrate a significant drop in crime since the system has been in operation:
Armed robbery (down from 12 to five)
* Three cases of armed robbery took place in December and one each in January and March.
* Value of goods taken R236 500,00
* In most cases, robbers follow victims from banks after withdrawing cash.
Burglaries: business (down from 37 to 14)
* This is the most marked improvement with an average of less than three break-ins per month, the lowest in years.
* Current predominant commodities sought by thieves are computers, copper and tools.
* Burglars love working in the dark. 99,9% of break-ins occur at night, mostly over weekends. Properties without lighting are soft targets. Pecid urges you to light up your buildings.
* More often than not, access is gained through roofs.
* Have your alarm company install outside sensor beams.
Theft of motor vehicles (down from 23 to 14)
* White vehicles are more prone to being stolen than any other colour, maybe because there are more of them and they are less likely to be 'spotted in the crowd'.
* Although panel vans and pick-ups are the most popular, car thieves are not fussy and will take anything from a Mazda to a Mercedes.
* Unless targeted for use in hijacks or armed robberies, older models are more popular.
Theft from and out of motor vehicles (up from 10 to 17)
* The only statistic on the increase and it is not surprising! A snap survey conducted by SAPS down Section Street found 45 unattended vehicles left unlocked or with windows open and two vehicles were found with the keys in the ignition and no driver in sight.
* The survey was repeated in several locations within the station area and in one instance a driver, when questioned on his return, simply shrugged his shoulders and said he did not care as 'it was a company vehicle'. This is totally unacceptable. If we do not change our attitude, we cannot expect statistics to improve.
"So as you can see, the cameras are highly effective as a deterrent to criminal activity," comments Tullip - although she adds, "If only the people in the Pecid were as smart as the system! We aim to change this situation through giving regular feedback to the community to raise awareness and change attitudes."
Tullip explains that dome cameras, because they do not move when being focused by the operator, have an added impact as there is no way criminals can work out where the camera is focused.
Having demonstrated their effectiveness, a further 30 cameras will now be installed to ensure there is no place in the Pecid for criminals to hide.
"The vigilance of Blick personnel manning the control room and the dedication of our patrol car staff in their swift response to alerts from the control room, have also been major contributors to the remarkable drop in crime in the Pecid.
Several arrests have been made and stolen property has been recovered due to the vigilance of the monitoring staff. "Cameras alone will not produce the desired results - there has to be someone responding to suspicious activity on the monitors. Pecid would like to thank all law enforcement agencies for their help in bringing the crime rate down, particularly members of the Maitland SAPS," adds Tullip.
Illegal dumping has also been drastically reduced. "The deterrent effect of the cameras on so-called 'petty' crime is remarkable. People quickly desist from anti-social behaviour if they think they might be caught red-handed," says Tullip.
Preventing illegal dumping has produced a spin-off effect in a 'vast improvement' in street cleanliness. Studies have shown that people think twice about dropping their rubbish in a clean environment but have no qualms at all about adding to existing piles of refuse.
The previously-fraught situation regarding loitering vagrants, illegally-built shacks in wetlands areas and an army of trolley vendors has also been brought under control.
Risk management has also improved. In March 2007, control room personnel spotted smoke issuing from the wetlands area. Although one warehouse was damaged, the prompt arrival of Fire Services stopped the fire spreading to other buildings in the area.
If further proof is needed to demonstrate the project's success, it can be found in the booming property market in the Pecid. "Prices have soared and large-scale renovations are happening everywhere since the project went live. Tullip adds, "The change in Paarden Eiland is just incredible. It used to look dilapidated, dirty and dangerous. Today, it is a pleasure to work here. The 183 new trees planted by Pecid in the last two years have made an impact. It has now become difficult to find property for sale or to rent because property owners and tenants want to stay invested in Paarden Eiland.
"Pecid is very grateful to Blick SA for implementing a great solution and to John Powell for his tremendous commitment to the project. The solution is enabling Pecid to rapidly achieve its goals and deliver a superior return on investment to property and business owners in the area. Paarden Eiland is now a safer, cleaner, greener area," concludes Tullip.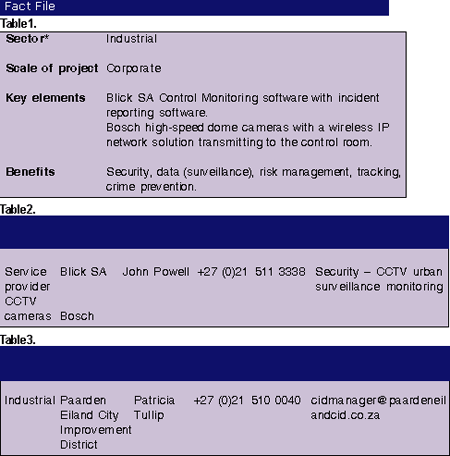 Credit(s)
Further reading:
Mitigating the human risk
Issue 5 2020, Managed Integrity Evaluation, Technews Publishing, iFacts , CCTV, Surveillance & Remote Monitoring
Hi-Tech Security Solutions asked Jennifer Barkhuizen and Jenny Reid for some information around background screening and vetting of potential new hires.
Read more...
---
Teaching old cameras new tricks
Residential Estate Security Handbook 2020, Deep Data , CCTV, Surveillance & Remote Monitoring
Dr Jasper Horrell and Mark Smuts from DeepAlert reveal how estates can upgrade their existing surveillance infrastructure to include the latest AI-enhanced analytics, without buying new hardware.
Read more...
---
Thermal continues to evolve
Residential Estate Security Handbook 2020, Technews Publishing, Axis Communications SA, Bosch Building Technologies, Dahua Technology South Africa , CCTV, Surveillance & Remote Monitoring
Thermal cameras have made an enormous impact to perimeter security, with more to come as artificial intelligence enhances analytics.
Read more...
---
Automated estate protection
Residential Estate Security Handbook 2020, Axis Communications SA , CCTV, Surveillance & Remote Monitoring
Marlenique Estate makes use of an end-to-end Axis Communications solution, installed by Energize Technology Africa for automated security. Automated estate protection.
Read more...
---
Integrated security management system
Residential Estate Security Handbook 2020, Protoclea Advanced Image Engineering , Products, CCTV, Surveillance & Remote Monitoring, Integrated Solutions
Phorcas is a security information system developed by Protoclea designed to integrate multiple sub-systems into a powerful crime fighting solution.
Read more...
---
Serverless ANPR solution
Residential Estate Security Handbook 2020, XtraVision , CCTV, Surveillance & Remote Monitoring, Products
Serverless ANPR automatically controls the movement of up to 1000 listed cars through barriers and provides carpark management information.
Read more...
---
Bosch launches a fully open camera platform
Residential Estate Security Handbook 2020, Bosch Building Technologies , Products, CCTV, Surveillance & Remote Monitoring
Bosch has announced the launch of INTEOX, a new camera platform designed to modernise the security and safety industry.
Read more...
---
IP 3000i cameras with built-in analytics
Residential Estate Security Handbook 2020, Bosch Building Technologies , Products, CCTV, Surveillance & Remote Monitoring
Bosch IP 3000i cameras extend smart video surveillance to general security applications.
Read more...
---
Arteco Video Event Management Software
Residential Estate Security Handbook 2020, XtraVision , Products, CCTV, Surveillance & Remote Monitoring
Arteco views video analytics as an enhancement to the video security experience and not as a costly addition or complication to standard video management.
Read more...
---
Vehicle and driver identification
Residential Estate Security Handbook 2020, Protoclea Advanced Image Engineering , Products, CCTV, Surveillance & Remote Monitoring, Perimeter Security, Alarms & Intruder Detection
Detecta features vehicle identification (make and model), automated number plate recognition (ANPR), vehicle colour recognition, driver identification, high speed and free flow detection.
Read more...
---