printer friendly version
Securing the beautiful game
Access & Identity Management Handbook 2007
Access Control & Identity Management

Motivation
Ghana was awarded the bi-annual CAF African Cup of Nations football tournament, which is to be held in January 2008. The Ghanaian president, John Kufuor, is currently the chairperson of the African Union and the tournament is regarded as an opportunity for Ghana to show Africa and the rest of the world that it is a nation capable of handling large-scale tournaments and high profile events.
Ghana has put in place a programme of refurbishments for the stadia to be used in the contest to ensure that all the games will be played in venues that meet officials, players and visitors needs.
Rewards
Ghana's requirements were for full height, heavy-duty turnstiles that would be able to operate with any type of access or ticketing system. Minimal or no maintenance was also a necessity, something which is an integral, standard feature on all Turnstar turnstiles.
Sidney Sacks, managing director of Turnstar Systems says that Dryad Ghana, a leading Ghanaian manufacturer and installer of balustrades, handrails, fencing and security barriers, found Turnstar on the Internet. "They saw that we have an excellent reputation in supplying stadia turnstiles and were impressed by the performance of our turnstiles during the Cricket World Cup."
Initially Dryad had looked for turnstiles from European and American manufacturers. In fact, an Italian manufacturer had already had its drawings approved. "But Turnstar is African and knows what the African market needs," comments Sacks. Turnstar won the contract to supply all 132 turnstiles for the event. Craig Sacks negotiated the deal with Dryad.
Sacks is delighted with their choice, "Our turnstiles are 100% South African and have been designed by South African professional engineers. We were up against respected European and American manufacturers and we've shown that South African companies can compete against the world's best."
Implementation
At R2,5 million, the value of the Cup of Nations turnstile order is even bigger than the Cricket World Cup. Sacks comments, "In 2003, our 142 waist-height turnstiles handled some 700 000 ticketed cricket spectators with zero-failure.
"For Ghana, we will be supplying full-height turnstiles and we know that they will deliver the same faultless performance during the Cup of Nations and for many years afterwards. Long-term reliability and durability are Turnstar hallmarks, backed by our five-year guarantee."
All 132 turnstiles will be Turnstar's Triumph 4 model, the biggest-selling turnstile in Africa. The flagship Accra stadium will get 44 turnstiles with the remaining 88 units being installed at the Kumasi, Sekondi and Tamale stadia.
Some of the turnstiles are finished in hot-dip galvanised and some in exterior-grade powder coat. The first units have already been shipped and installation will be complete by the end of October, well ahead of the first Cup matches in mid-January 2008.
Challenges
In the past, Ghana's stadia have not been free from the type of crowd disturbances that have occurred throughout the world in recent years. In a 2001 tragedy, 130 spectators died in a stampede at a football match in Accra. Internationally, events like this have raised awareness that effective management of the entry and exit of spectators is vitally important.
Turnstar worked in conjunction with the building contractors to ensure that construction of the new ticketing offices matched the specifications of the turnstiles. With over 700 turnstiles installed at stadia across southern Africa, Turnstar was able to offer specialist expert advice in this regard.
Two members of staff from Dryad Ghana were trained at Turnstar's Johannesburg factory and members of Turnstar will be in Ghana during November 2007 for final commissioning as well as during the tournament itself.
Review
Security and safety are important issues at any stadium and emphasis was placed in Ghana on appointing a turnstile supplier with a proven track record for units that are exceptionally durable and reliable.
"Our turnstiles are tough, secure and safe so we are confident that this African Cup of Nations will be an event that Ghana will be proud of," concludes Sacks.
Will supplying the Cup of Nations influence the choice of turnstiles for the Soccer World Cup in 2010? Sacks certainly hopes so, "Turnstar has over 700 turnstiles installed at all the major stadia in SA as well as at top grounds in Namibia, Mauritius and the West Indies. Given the long-standing success of our products in stadia environments, I would like to think we are the front-runner for 2010. Not only do we produce turnstiles that deliver proven reliability, we are also accustomed to handling large projects on budget and on time.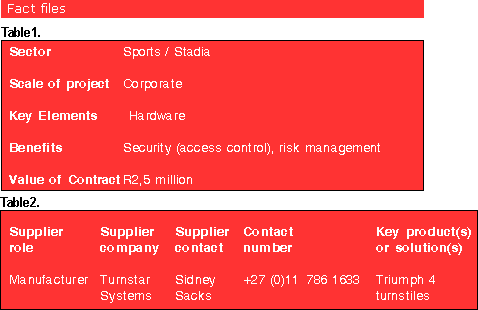 Credit(s)
Further reading:
Choosing the right biometric technology in the new normal
Issue 9 2020, IDEMIA , Access Control & Identity Management
Selecting the right biometric data that delivers according to your requirements is crucial to ongoing success. So, how do we select the appropriate biometrics to meet our needs?
Read more...
---
Containerised temporary physical security solutions
Issue 9 2020, Turnstar Systems , Products
Turnstar Systems has developed a temporary physical access security solution that provides an affordable mobile solution for controlling access.
Read more...
---
Keeping COVID in check
Issue 8 2020, Suprema , Access Control & Identity Management, Healthcare (Industry)
Suprema thermal camera solution helps prevent the spread of COVID-19 in South Korea in a focused healthcare approach from government.
Read more...
---
Scorpion Spike Barriers for St Helena Bay
Issue 8 2020, BoomGate Systems , Access Control & Identity Management
The Port of St Helena Bay, along the west coast of South Africa, gets a security upgrade in the form of the Scorpion High Security Spike Barrier.
Read more...
---
Gallagher unveils new T30 access reader
Issue 8 2020, Gallagher , Access Control & Identity Management
Gallagher has launched the new T30 card and PIN reader with two-factor authentication, designed to offer an extra layer of security without the display screen.
Read more...
---
Speeding into the office
Issue 8 2020, Turnstar Systems , Access Control & Identity Management
The Firs commercial property is situated in the heart of Rosebank – Johannesburg's second largest business centre – surrounded by new commercial, residential and retail property developments. Rosebank ...
Read more...
---
Paxton introduces Checkpoint Control
Issue 8 2020, Paxton , Access Control & Identity Management
Paxton's new Checkpoint Control feature supports COVID-secure sites and helps Net2 users protect employees and visitors by monitoring and approving people as they enter buildings.
Read more...
---
Turnstar secures MTN
Issue 8 2020, Turnstar Systems , Access Control & Identity Management
Turnstar Velocity barriers and Velocity Raptor spike vehicle barriers form part of the physical access solutions that secure the MTN head office in Johannesburg.
Read more...
---
Net2 integrates with additional thermal scanners
Issue 8 2020, Paxton , News, Access Control & Identity Management
Paxton has updated Net2 to include six new thermal temperature scanning integrations to assist in managing the pandemic.
Read more...
---
Touchless access control conference
Issue 8 2020, Hikvision South Africa, IDEMIA , Suprema, Technews Publishing , Access Control & Identity Management, Conferences & Events, Training & Education
Hi-Tech Security Solutions hosted an online conference in mid-August to highlight the new trend towards touchless access control. The conference hosted speakers with experience in the access control, ...
Read more...
---