printer friendly version
Campus control
November 2007
Access Control & Identity Management

Motivation
The University of Johannesburg is one of the largest universities in South Africa with campuses in Auckland Park, Doornfontein, Daveyton and Soweto. In total, all five campuses currently accommodate a total of up to 39 000 students and 2500 staff members, all of whom need to be access controlled into the campuses and various areas within the university at various times.
Alastair McPhail, business development manager, KZN, at Impro Technologies, explains, "UJ was faced with the challenge of integrating the individual access control databases of the people registered at each campus into a single, centrally-organised and managed database. This was essential if UJ was to accommodate the many transactions from all these people efficiently.
"This was an especially important goal since many people with access to one campus now had a right to access to facilities on the other campuses," explains Wimpie Genis, system coordinator at UJ.

Rewards
A system was therefore required that would consolidate the flow of student and staff data into a single, central, database; and allow local configuration of student details on each of the five sites.
McPhail says, "This would entail implementing an infrastructure that would allow changes to be made to data on any site and then automatically uploaded and stored in the central database - without requiring any further interaction from administrators."
Implementation
Securelink was elected as a certified Impro installer to handle the project.
"The ImproX IXP400 system with ImproNet Software was already installed at two of the five campuses, and was found to be a robust and scalable application that could handle the registration of an almost infinite number of people and their daily transactions and so the university decided to standardise on the product," adds McPhail.
Securelink was awarded a contract to install Impro's IXP 400 system on the balance of the three campuses. All five sites had to be connected via a wide-area network (WAN) to a single ImproNet database running on SQL server, hosted at one of the five university campuses.
"The decision was made to go with SQL Server as it would permit the database to grow to a large but manageable size and it was a robust system that would easily handle the thousands of daily access control transactions from all the campuses," explains Genis.
Impro installed ImproNet Engine software on a separate PC on each campus. The software polls all the on-campus hardware, such as terminals and readers, allowing local administrators to configure the access control on each campus. Each campus connects to the central server via UJ's WAN and data is synchronised between the server and the engines on a regular basis.
Genis comments: "ImproNet's graphics runtime module was implemented to make it easier for UJ to control access and security issues."
Impro has now installed 29 controllers and five local PC engines on the campuses, all of which are connected to the central SQL Server database via the university's WAN.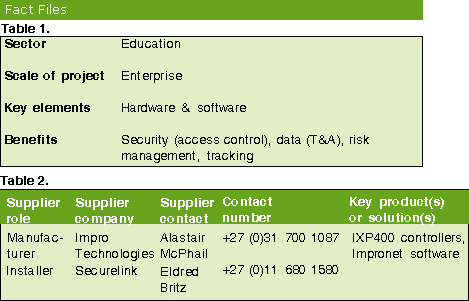 Credit(s)
Further reading:
How to specify the right turnstile finish
September 2019, Turnstar Systems , Access Control & Identity Management
Purchasing a turnstile gives you a large amount of flexibility when it comes to choosing the right finish.
Read more...
---
Enhanced biometric technology for mines
September 2019, ZKTeco , Mining (Industry), Access Control & Identity Management
Biometric identification and authentication are currently used at various mines in South Africa and in the SADC region.
Read more...
---
Improving access in mines
October 2019, Astra Fasteners , Mining (Industry), Access Control & Identity Management, Products
The VP1 controller provides full access control and remote monitoring of intelligent locks without having to wire into a network or install, manage and maintain software.
Read more...
---
Invixium and Pyro-Tech partner in South Africa
October 2019 , News, Access Control & Identity Management
Invixium, a manufacturer of IP-based biometric solutions and Pyro-Tech Security Suppliers have announced a new distribution partnership.
Read more...
---
Suprema receives FBI PIV/FAP30 certification
October 2019, Suprema , News, Access Control & Identity Management
Suprema has announced that the company's BioMini Slim 3 has received FBI PIV (Personal Identity Verification) and Mobile ID FAP30 certification.
Read more...
---
Frictionless access with a wave
October 2019, IDEMIA , Access Control & Identity Management, Residential Estate (Industry)
IDEMIA was the Platinum Sponsor for the Residential Estate Security Conference 2019 and set up its MorphoWave Compact frictionless fingerprint biometric scanner at the entrance to the conference.
Read more...
---
Streamlined access and reporting
October 2019, Comb Communications , Access Control & Identity Management, Residential Estate (Industry)
The main focus of the Comb stand was its practical demonstration of the MK II Lite intercom system with third-party integrated products.
Read more...
---
Customised and integrated solutions
October 2019, Suprema , Access Control & Identity Management, Residential Estate (Industry)
iVisit offers both high-end and low-end residential complexes a cost-effective visitor management solution that is fully integrated into Suprema's offerings.
Read more...
---
Access solutions for every estate
October 2019, Impro Technologies , Access Control & Identity Management, Residential Estate (Industry)
Impro's flagship Access Portal solution comprises one of the most user-friendly software solutions on the market.
Read more...
---
Managing staff effectively
September 2019, dormakaba South Africa, iPulse Systems , Integrated Solutions, Access Control & Identity Management
Workforce management solutions allow organisations to track the relationship between productivity and the cost of employment, incorporating issues such as health and safety, T&A, rostering and more.
Read more...
---