printer friendly version
Campus control
Access & Identity Management Handbook 2007
Access Control & Identity Management

Motivation
The University of Johannesburg is one of the largest universities in South Africa with campuses in Auckland Park, Doornfontein, Daveyton and Soweto. In total, all five campuses currently accommodate a total of up to 39 000 students and 2500 staff members, all of whom need to be access controlled into the campuses and various areas within the university at various times.
Alastair McPhail, business development manager, KZN, at Impro Technologies, explains, "UJ was faced with the challenge of integrating the individual access control databases of the people registered at each campus into a single, centrally-organised and managed database. This was essential if UJ was to accommodate the many transactions from all these people efficiently.
"This was an especially important goal since many people with access to one campus now had a right to access to facilities on the other campuses," explains Wimpie Genis, system coordinator at UJ.

Rewards
A system was therefore required that would consolidate the flow of student and staff data into a single, central, database; and allow local configuration of student details on each of the five sites.
McPhail says, "This would entail implementing an infrastructure that would allow changes to be made to data on any site and then automatically uploaded and stored in the central database - without requiring any further interaction from administrators."
Implementation
Securelink was elected as a certified Impro installer to handle the project.
"The ImproX IXP400 system with ImproNet Software was already installed at two of the five campuses, and was found to be a robust and scalable application that could handle the registration of an almost infinite number of people and their daily transactions and so the university decided to standardise on the product," adds McPhail.
Securelink was awarded a contract to install Impro's IXP 400 system on the balance of the three campuses. All five sites had to be connected via a wide-area network (WAN) to a single ImproNet database running on SQL server, hosted at one of the five university campuses.
"The decision was made to go with SQL Server as it would permit the database to grow to a large but manageable size and it was a robust system that would easily handle the thousands of daily access control transactions from all the campuses," explains Genis.
Impro installed ImproNet Engine software on a separate PC on each campus. The software polls all the on-campus hardware, such as terminals and readers, allowing local administrators to configure the access control on each campus. Each campus connects to the central server via UJ's WAN and data is synchronised between the server and the engines on a regular basis.
Genis comments: "ImproNet's graphics runtime module was implemented to make it easier for UJ to control access and security issues."
Impro has now installed 29 controllers and five local PC engines on the campuses, all of which are connected to the central SQL Server database via the university's WAN.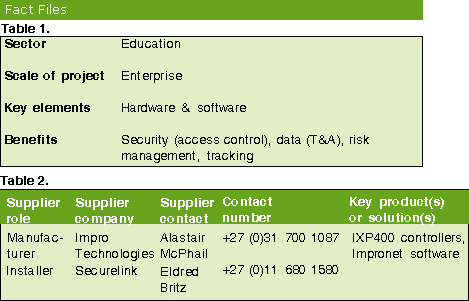 Credit(s)
Further reading:
Facial access control for ministry
Issue 1 2020, ZKTeco , Access Control & Identity Management
The Ministry of Culture in Saudi Arabia has adopted ZKTeco's facial recognition technology and fingerprint biometrics to manage access control into its building.
Read more...
---
New Door Pilot app from dormakaba
Issue 1 2020, dormakaba South Africa , Access Control & Identity Management
With new dormakaba Door Pilot, automated doors can also now be operated on the basis of remote control technologies. The system, comprising the Door Pilot app for smartphones and a Wi-Fi interface for ...
Read more...
---
Giles Calenborne takes the helm at Impro Technologies
Issue 1 2020, Impro Technologies , News
Impro Technologies has welcomed a new managing director, Giles Calenborne, to the fold with the goal of unlocking the existing networks and building new opportunities.
Read more...
---
Identity lifestyle
Issue 1 2020, Suprema , Access Control & Identity Management
Once the technology of the future, biometrics has quietly snuck into our daily lives through smartphones and access controls into our places of work.
Read more...
---
Securing BP's new head office
Issue 1 2020, ISF SFP , Access Control & Identity Management
ISF SFP was awarded the contract to secure the first development phase for Oxford Parks, the new head office for BP South Africa.
Read more...
---
Combining aesthetics and access control
Issue 1 2020, Turnstar Systems , Access Control & Identity Management
Prestigious law firm Bowman Gilfillan recently upgraded its physical security with the addition of four Turnstar Speedgate Express access control lanes.
Read more...
---
Video doorbells from Ring
Issue 1 2020 , Access Control & Identity Management
Ring has a number of video doorbells available in South Africa that run off batteries or power and enable users to answer their doors from anywhere.
Read more...
---
Centurion to unveil new product
Issue 1 2020, Centurion Systems , Access Control & Identity Management
Centurion Systems will be hosting its third Access Automation Expo this year, with dates confirmed for Durban, Johannesburg and Cape Town.
Read more...
---
Looking ahead with mobile access technologies
Access & Identity Management Handbook 2020, Technews Publishing, HID Global, dormakaba South Africa, Salto Systems Africa, Suprema, Gallagher , Access Control & Identity Management, Integrated Solutions
Given the broad use of smartphones around the world and the numerous technologies packed into these devices, it was only a matter of time before the access control industry developed technology that would ...
Read more...
---
Mobile access is more secure than card systems
Access & Identity Management Handbook 2020 , Access Control & Identity Management
The ability to use mobile phones as access credentials is one of the biggest trends in a market that historically has been slow in adopting new technology.
Read more...
---