printer friendly version
Strut your stuff - the cameras are rolling
November 2007
CCTV, Surveillance & Remote Monitoring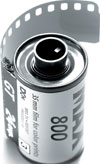 Motivation
Cape Town's newest lifestyle centre, Sable Square Outlet Shopping Village (situated near Canal Walk), is the 'in' place to shop for designer labels without melting the credit card. Outlet stores are where the big brands can discount certain stock without holding sales in their main street or mall stores. Outlet stores do not sell rejects or factory seconds, only full quality stock that the brands want to remove from their inventory.
Sable Square has over 35 outlet stores and a variety of trendy restaurants and cafés where fashionistas can show off the results of their shopping sprees. One of the key benefits that Sable Square offers its customers is a safe and secure environment so, as Morné van der Helde, sales manager at Blick SA, explains, "Security measures were already an important consideration when Sable Square was still on the drawing board."
Daryl Sher, project manager at Madison Property, who manages the Sable Square complex, agrees, "Safety is a major consideration in retail today - we want our customers to park their cars with confidence, feel relaxed in our restaurants, have a ball shopping, and go home promising themselves to return to Sable Square. Parents also enjoy being able to let their teenagers 'off the leash' in a secure environment."
Rewards
As Sable Square was a brand-new development, security measures were integrated into the project from the planning phase. Consulting engineers, Wolhuter and Associates, compiled the design of the IP network and camera infrastructure under the direction of DSV Consultants.
Sable Square wanted to have total CCTV coverage of the entire development including the parking, shopping and restaurant areas.
The specification stated that the solution provider must be able to handle the supply, delivery, installation, commissioning and guarantee of an IP-based CCTV surveillance system and control room infrastructure. This infrastructure had to deliver effective monitoring of services and CCTV surveillance cameras. Providing a central point for monitoring for access and safety-related issues was essential.
Instead of a conventional analogue system, the use of IP cameras on a fibre backbone was utilised making for ease of cable installation and faster camera response times.
Implementation
The central control room at Sable Square has a Vidos Video Management System installed with two 6 terrabyte network video recorders to record from the 77 Bosch IP dome and fixed cameras. These cameras operate throughout the centre at 12,5 frames per second at 2Cif with a recording span of 31 days.
Eight 30-inch LCD monitors are in place to facilitate viewing footage from the cameras via individual VCS single channel VIP-X decoders. A Bosch Intuikey keyboard is used to control the dome cameras. A review station is also connected to the VMS for incident viewing.
The Vidos VMS is connected to a Hewlett-Packard (HP) Core Switch that is in turn connected via 12-core fibre cable to a HP Access Switch located in an equipment room in each of the six buildings, parking and basement areas that make up Sable Square. The Equipment Room in each block has a HP Access Switch and 7 A power supply with a 3 kVA UPS installed on a 19 inch rackmount to ensure that surveillance is uninterrupted even if the power fails. Each switch, UTP cable and power cable, is connected to the various cameras that are installed around and inside the environs of that specific building block.
Wolhuter and Associates who, in addition to their role as consulting engineers, took on the project management for the project, went to tender and produced a shortlist of companies that could handle this type of installation before making the decision to award the contract to Blick. Van der Helde adds, "After the award we all sat down together and discussed possible issues and resolutions. There were strict timelines and a detailed project programme with which we had to comply."
Challenges
Van der Helde comments, "The actual installation was relatively straight-forward as the infrastructure and cabling requirements already formed part of the Sable Square design although determining the exact locations of the cameras was a time- and labour-consuming exercise involving installing and then relocating them for optimum coverage. The actual solution did not require any customisation."
"There can be no doubt that it is easier - particularly from a cabling point of view - to implement CCTV surveillance into a new building. There is not much point in installing a CCTV surveillance system and leaving the cabling exposed so implementing this type of solution in an existing building is a fairly messy and time-consuming process."
Review
Sher comments, "The CCTV surveillance system has delivered the level of security we wanted to have at Sable Square. We insisted on using top-quality professionals for every aspect of this project and, although this standard might have cost the company a little more on initial outlay than was strictly necessary, we believe this investment will be repaid easily because we did everything right first time. Cutting corners - especially on complex systems such as this - is a big mistake.
"The total coverage of the system definitely acts as an effective deterrent to criminals or trouble-makers in general. Because we are able to monitor Sable Square so effectively, we are in a position to take action when we spot an incident developing which also helps to create a safe and fun environment for our customers.
From a technical perspective, Van der Helde points out, "Specifying the correct switches, with sufficient capacity to meet the operational routing requirements, is as crucial as it is in the IT network environment. Lack of capacity means slow data speeds which, in this type of application, might mean the difference between catching a criminal or losing them in the crowd."
To date, the system seems to be delivering on its crime-deterrent potential as there has only been one incident where armed robbers attacked a shop. Although the culprits have not yet been apprehended, pictures of the robbers' faces and escape vehicle have been handed over to the police to assist them with their investigations.
"Sable Square management is confident that we have provided the kind of protection and security that we believe our customers deserve. We are pleased with the excellent work that has been done and will be using Blick's services for a second phase of this project," concludes Sher.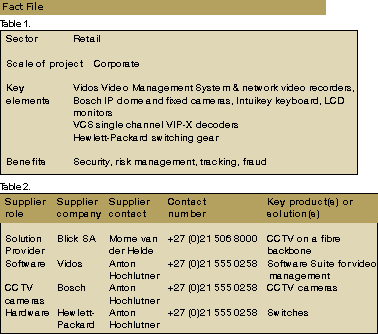 Credit(s)
Further reading:
Milestone partners prove their skills
August 2019, Milestone Systems , News, CCTV, Surveillance & Remote Monitoring, Training & Education
Within the span of one week in mid-May, the Milestone Learning & Performance group celebrated important benchmarks: 200 000 course registrations and tutorial views, and 10 000 certifications.
Read more...
---
ONVIF Hosts 20th Developers' Plugfest
August 2019 , News, CCTV, Surveillance & Remote Monitoring
ONVIF, the global standardisation initiative for IP-based physical security products, hosted its twentieth ONVIF Developers' Plugfest in early June in Tokyo.
Read more...
---
Bosch to acquire the building automation specialist GFR
August 2019, Bosch Building Technologies , News
Bosch to buy GFR with its complete building automation solutions as well as related services and a comprehensive hardware and software product portfolio.
Read more...
---
Licence plate recognition camera
August 2019 , Products, CCTV, Surveillance & Remote Monitoring
VIVOTEK has introduced a new licence plate recognition camera featuring built-in licence plate recognition software and edge-computing capability.
Read more...
---
Securing Savannah Hills Estate
August 2019, Rhyco Risk Projects , CCTV, Surveillance & Remote Monitoring, Perimeter Security, Alarms & Intruder Detection
Savannah Hills Estate in Midrand planned a security upgrade which was awarded to Rhyco Risk Projects. The project started in March 2019 and was completed in May 2019.
Read more...
---
10 things to consider when shopping for a VMS
August 2019, Genetec , CCTV, Surveillance & Remote Monitoring, Integrated Solutions
Today's video management systems (VMS) provide a wide range of tools and capabilities that help make security personnel more efficient by allowing them to focus on what really matters.
Read more...
---
How far are we really at with artificial intelligence?
August 2019, Axis Communications SA , Editor's Choice, CCTV, Surveillance & Remote Monitoring, IT infrastructure, Residential Estate (Industry)
Justin Ludik unpacks exactly how far AI has come and what it potentially can do for society and more importantly, surveillance.
Read more...
---
Enhancing security with AI
August 2019, Hikvision South Africa , CCTV, Surveillance & Remote Monitoring
Hikvision explains how residential estates can revolutionise their security strategies and outcomes with artificial intelligence.
Read more...
---
More than simply a camera
August 2019, Forbatt SA, Secutel Technologies , CCTV, Surveillance & Remote Monitoring, Residential Estate (Industry)
With the human element being the weakest link in all security solutions, Hi-Tech Security Solutions looks at the pros and cons of using body-worn cameras in estates.
Read more...
---
The importance of effective perimeter security
August 2019, Elf Rentals - Electronic Security Solutions, Stafix , Editor's Choice, CCTV, Surveillance & Remote Monitoring, Residential Estate (Industry)
Protecting the perimeter is critical for any residential estate; how does one go about making sure your perimeter is as secure as possible?
Read more...
---