printer friendly version
Lightning protection for mines - a vital necessity
May 2000
Products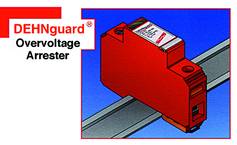 Mines, like most other industries, are dependent on computers and associated electronics for all aspects of production, processing and administration. It is conclusive, that if a single lightning strike is allowed to enter this computerised network, the hardware costs incurred can be astronomical, while consequential downtime can add up to millions of rands in lost revenue.
According to various surveys undertaken by Surge Technology, many mine engineers countrywide still believe that lightning is an 'act of God' that cannot be safeguarded against. "This attitude needs to be nipped in the bud", emphasises Surge Technology's Paul van As. Even today, some mines still utilise antiquated devices that do not meet SABS specifications. The SABS requirements state that all three phases plus neutral earth must be protected. It is interesting to note that certain devices do not protect neutral.
Explains van As, "Surgetek's DEHNventil can withstand direct lightning strikes, while the DEHNguard range protects against indirect lightning strikes."
Workable lightning protection
Says van As, "We estimate that lightning protection costs 40% of the average loss in hardware caused by a single lightning bolt."
"Of course, protection itself must be an integrated network covering both data lines and power supplies to be fully effective. Apart from computers and related electronics, all instrumentation such as flowmeters, temperature sensors, PLCs, time and attendance systems and weighbridges are susceptible to lightning damage."
Adds van As, "Time-keeping systems are one of the most problematic when affected by lightning. If these malfunction, workers can be denied access into certain areas, resulting in loss of production and inaccurate reports on the time worked by mining staff."
"As each project is unique with different obstacles, Surge Technology offers consultations on the correct products to use, as well as an earthing and installation service," he concludes.
For details contact Paul van As
Surge Technology
tel: (011) 792 1303/4/5
fax: (011) 793 6928
e-mail: info@surgetek.co.za
www.surgetek.co.za.
Further reading:
Dallmeier integrates facial recognition
July 2019, Dallmeier Electronic Southern Africa , CCTV, Surveillance & Remote Monitoring, Products
German manufacturer Dallmeier has announced a development partnership to integrate AnyVision's facial recognition technology into Dallmeier's Hemisphere platform.
Read more...
---
Versatile electronic lock cylinders
July 2019, Salto Systems Africa , Products, Access Control & Identity Management
Fully integrated with the SALTO System's Space and SALTO KS platforms, the new Geo range of electronic cylinders are compact in size, making them a suitable solution for almost any type of door.
Read more...
---
Unlocking the potential of smart locks
July 2019, Secutel Technologies , Access Control & Identity Management, Products
Matrix COSEC has an access solution that has been successfully rolled out with one of the major gyms in South Africa – granting access to both the gym and locker facilities to its members.
Read more...
---
Small business solutions with ­Access in a Box
July 2019, Impro Technologies , Editor's Choice, Access Control & Identity Management, Products, Commercial (Industry)
Access in a Box is specifically designed for small businesses, or businesses with only a few entry points such as gyms, medical practices or retail stores.
Read more...
---
Taking docking to the next level
July 2019 , Access Control & Identity Management, Industrial (Industry), Products
Maxiflex recently launched its locally designed, MaxiDock AP, an air powered dock leveller that connects the building with the vehicle and allows for quick and efficient loading and unloading.
Read more...
---
Intelligent and reliable fire detection
July 2019, Siemens Digital Industries , Fire & Safety, Industrial (Industry), Products
Due to advanced signal analysis and up to nine selectable parameter sets, ASA detectors ensure fast, highly reliable detection in demanding environments.
Read more...
---
Aspirating smoke detectors from Securiton
July 2019 , Fire & Safety, Products
SecuriRAS aspirating smoke detectors from Securiton are reliable and robust. Thanks to their detection technology, they can detect incipient fires immediately.
Read more...
---
Manage exceptions only
July 2019, Secutel Technologies , Perimeter Security, Alarms & Intruder Detection, Products
Secutel Technologies brings intelligence to all cameras with its locally designed, manufactured and marketed SecuVue Cloud Video Recorder (CVR), turning cameras into intelligent sources of information.
Read more...
---
Thermal monocular for public safety
July 2019, TeleEye (South Africa) , Products, CCTV, Surveillance & Remote Monitoring
LIR launches Scion Thermal Monocular for public safety professionals, including connectivity with the FLIR TruWITNESS platform.
Read more...
---
H.265 fisheye cameras
July 2019 , Products, CCTV, Surveillance & Remote Monitoring
VIVOTEK débuts new H.265 fisheye cameras with smart 360 VCA deep learning technology.
Read more...
---