printer friendly version
Smart homes
May 2007
Residential Estate (Industry)

ADI is a well-established and successful distributor in North America with over 100 branch locations. As a 'one-stop' strategic distribution business, ADI offers a comprehensive, awarding-winning product portfolio that addresses CCTV, intrusion, access control, fire detection, sound and communication, home automation, voice and data, hardware and HVAC systems. ADI International supplies all products into the market through an extensive network of business partners across South Africa with the backing of high-level pre- and post-sales services.
ADI International South Africa will be distributing and supporting the home automation range C-Bus Control and Management System from Clipsal. Official launch dates will be released in May. Certified training will be offered by ADI on the C-Bus range including the new wireless range. Clipsal is a well established international brand with a wide range of products of the highest quality and standards. Home automation not only provides the 'Smart Home' concept of comfort and integration of devices such audio, CCTV, controlling of electrical devices and web access but also provides energy management, which brings great savings on electricity. Once the cost saving is realised, home automation becomes a long-term investment.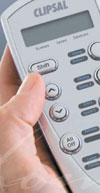 What is a 'smart home'?
We live in a world of convenience. Motorised garage doors, keyless entry and electric windows on our cars, remote control TVs, DVD players and airconditioners, even microwave ovens and dishwashers. Not a day goes by when 'smart' technology is not relied on to make life easier.
So what about the rest of the house? How often does one turn off a bedside lamp only to realise a light has been left on somewhere else in the house, or pressed 'play' on the DVD remote only to get up again and dim the lights? Or worse still... arrived at work and wonder "did I turn the iron off?" With Clipsal C-Bus Wireless - a home can be turned into a smart home, automating the whole home or individual rooms. The automation can be added to as needs change and the best news is it is very affordable! With C-Bus Wireless, a user can start with just one room and add to it piece by piece. An electrician simply replaces the normal light switches with C-Bus Wireless light switches so the smart home can grow as the user's lifestyle changes.
Building an outdoor entertaining area? Add a C-Bus Wireless light switch to the patio light, plug adaptors for garden lights, spa pumps and water features and the whole lot can be controlled at the press of one button and even operate it by remote control.
All of the switches and plug adaptors 'talk' to each other the same way as a garage door opener. This means the push of one button can enable several lights and lamps to turn on at various levels.
Two-way and three-way switching can also be set up, so any light can be turned on or off from any switch, anywhere in the house. For instance, a kitchen light can now be turned on and off from lounge room light switch, as well as the family room light switch. And the best part is that the set-up can be changed at any time.
For more information contact ADI International, +27 (0)11 574 2525, peter.dalgety@adi-intl.com
Further reading:
Visitor management for estates
Access & Identity Management Handbook 2020, Powell Tronics , Residential Estate (Industry), Access Control & Identity Management
Residential estates and business parks around South Africa have installed access control systems that aim to streamline access for both pedestrians and vehicular traffic.
Read more...
---
Residential Estate Security Conference 2019
October 2019, Technews Publishing , Editor's Choice, Residential Estate (Industry), Conferences & Events
Hi-Tech Security Solutions hosted the Residential Estate Security Conference in August, focusing on the people, technology and processes involved in an effective security solution for estates.
Read more...
---
Frictionless access with a wave
October 2019, IDEMIA , Access Control & Identity Management, Residential Estate (Industry)
IDEMIA was the Platinum Sponsor for the Residential Estate Security Conference 2019 and set up its MorphoWave Compact frictionless fingerprint biometric scanner at the entrance to the conference.
Read more...
---
Streamlined access and reporting
October 2019, Comb Communications , Access Control & Identity Management, Residential Estate (Industry)
The main focus of the Comb stand was its practical demonstration of the MK II Lite intercom system with third-party integrated products.
Read more...
---
A committed service provider
October 2019, Elf Rentals - Electronic Security Solutions , Perimeter Security, Alarms & Intruder Detection, Residential Estate (Industry)
The theme Elf promoted through its sponsorship was that it offers clients its own financial commitment and willingness to accept the risk of equipment failure.
Read more...
---
Thermal cameras with artificial intelligence
October 2019, Dahua Technology South Africa , Perimeter Security, Alarms & Intruder Detection, CCTV, Surveillance & Remote Monitoring, Residential Estate (Industry)
Dahua Technology showcased solutions that are important to residential estates, namely perimeter protection.
Read more...
---
Customised and integrated solutions
October 2019, Suprema , Access Control & Identity Management, Residential Estate (Industry)
iVisit offers both high-end and low-end residential complexes a cost-effective visitor management solution that is fully integrated into Suprema's offerings.
Read more...
---
Securing estate perimeters
October 2019, Nemtek Electric Fencing Products , Perimeter Security, Alarms & Intruder Detection, Residential Estate (Industry)
Nemtek has a range of products designed to secure the perimeters of estates, however its display at the conference focused on its Network Energizer and its Dual-Action Tension Sensor.
Read more...
---
Access solutions for every estate
October 2019, Impro Technologies , Access Control & Identity Management, Residential Estate (Industry)
Impro's flagship Access Portal solution comprises one of the most user-friendly software solutions on the market.
Read more...
---
A balanced, fair industry
October 2019, PSIRA (Private Security Ind. Regulatory Authority) , Residential Estate (Industry), Security Services & Risk Management, Associations
PSiRA is focused on supporting the effective promotion and regulation of the private security industry.
Read more...
---