printer friendly version
Safe and secure in Munich - Europe's event capital
CCTV Handbook 2007
CCTV, Surveillance & Remote Monitoring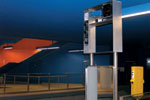 Munich attracts millions of visitors from all over the world every year, hosts some of the world's largest events and is a thriving international business centre.
Most recently, the spotlight has been on Munich as one of the 12 cities in Germany to host the 2006 FIFA World Cup football tournament. The month-long event is estimated to have attracted up to eight million visitors to the city. Regular highlights in Munich's annual events calendar include the Oktoberfest - the biggest public festival in the world, attracting around six million visitors annually - and the Christmas Market, which covers 20 000 square metres. With such large numbers of visitors to the city, maintaining a high level of security is crucial to retain the safe and friendly reputation that it has cultivated.
To help the city host such large-scale events, advanced security solutions incorporating the latest innovations and cutting-edge technology have been put in place. Quality, state-of-the-art equipment and exceptional services provided by Bosch Security Systems play a key role in meeting the demanding security needs of such a popular destination.
Looking back at football's greatest event
Organisers of the 2006 FIFA World Cup selected Munich as the venue for the official opening ceremony, five matches, including one of the semi-finals and its international media headquarters, because of its excellent facilities. These include a comprehensive public transport system. Within this, Munich's metro, the U-Bahn, is one of the most extensive underground railway networks in the world compared to the city's population.

Taking a peek beneath the surface
The Munich U-Bahn network has 86 km of active lines and 91 stations. High levels of security are maintained through a video surveillance system, with remarkable flexibility and scalability provided by state-of-the-art technology from Bosch Security Systems. This system has been upgraded systematically in response to increased demands concurrent with the phenomenal success of the city as a popular visitor destination and urban growth.
Video surveillance has been in use in the U-Bahn since 1979. An original system, comprising of black-and-white cameras, was connected through two-wire cabling to a number of control points, and from there to the main control room.
Twenty years later, this system was replaced to meet ever-increasing demands being placed on the metro. A digital CCTV network was installed. This offered the flexibility to add extra cameras when the system needed to be expanded, and allowed communication with a more advanced, dedicated surveillance control centre.
Bosch Security Systems installed the Gigabit Ethernet network in phases, according to Metroline requirements. The network comprises six rings for the labyrinth of underground lines, and a single ring for cameras located above ground and externally.
Currently, 620 cameras are installed in the 91 U-Bahn stations and 200 at train check points. The cameras transmit images at 25 frames per second at a bandwidth of six MB with MPEG-2 compression quality and employ VJ 1000 and VIP 100 encoders.
Images from the cameras are displayed on eight flat-panel monitors in each of six surveillance locations to show train traffic at the appropriate stations. Due to its direct VGA output, the new VIP-XD decoder is ideal for decoding variations in digital video signals. The VIP-XD also offers advanced MPEG-4 decoding, essential if networked MPEG-4 cameras, with their improved quality, are employed in the future.
Viewing and recording are enabled through 12 network video recorder (NVR) servers that together provide a total memory capacity of 80 Terabytes.

One of the most famous of Munich's world-class events
The Munich Oktoberfest - the largest public festival in the world attracted around six million visitors to the 64-acre site during the two-week festival, which took place between 16 September and 3 October. Beer plays a central role in the fair. Festival-goers drink more than five million litres of beer and consume nearly half a million pork sausages - mostly in the 'beer tents' put up by the Munich breweries. The festivities include a programme of traditional events such as a special opening ceremony and a concert of many brass bands. The huge Oktoberfest grounds also provide carousels, roller coasters and other funfair attractions.
Bosch Security Systems has provided the event with high security CCTV installation for many years. This year was no exception.
Visitors were monitored not only as they travelled to the event through the city's U-Bahn, but also at the event venue. Twelve high-resolution AutoDome cameras, operated automatically, which can pan and tilt in all directions, and are provided with powerful zoom lenses to cover any field. Bosch's DiBos Digital Video Recorder and Transmission System was installed for the event. The DiBos provides superior images and makes optimal use of any available bandwidth and storage capacity, thus allowing a very high number of images to be simultaneously transmitted over the network. Its MPEG-4 technology enables at least five times more images than JPEG or Wavelet techniques for the same resolution and quality. The most recent DiBos version features a newly designed user interface and an improved configuration process - which make operation even easier and further simplifies set-up. DiBos is designed for fast and convenient installation with 'plug-and-play' set-up - simply unpack the system from its box, connect the cameras and switch on.
Looking forward to Christmas
Based on the success of Bosch's system at the Munich Oktoberfest, the city's police adopted a Bosch video surveillance system for the Munich Christmas Market (Münchner Christkindlmarkt).
Visitors to the 20 000 square metre market can enjoy the pre-Christmas magic as they explore more than 150 market stalls, which sell a host of different products and culinary delicacies, with greater security and protection against, for example, pickpockets. The system is a valuable aid for the police, particularly for controlling their patrols, recording evidence and tracing criminals.
Based on nine AutoDome cameras, images are transmitted to the police's monitoring centre underneath Marienplatz, the main square in the City. From there the cameras are controlled by joystick. A DiBos Digital Video Recorder and Transmission System from Bosch will also be employed for the entire duration of the Munich Christmas Market.
A good view of the future
Bosch is contributing widely to keeping Munich safe, with innovative, high-performance surveillance systems - not only effective now, but well into the future thanks to the fact that they are designed to keep pace with technological developments, as well as people.
For more information contact Elaine O'Gorman, Bosch Security Systems, +27 (0)11 651 7811, elaine.o'gorman@za.bosch.com, www.boschsecurity.com
Credit(s)
Further reading:
Drones and cybersecurity?
October 2019 , CCTV, Surveillance & Remote Monitoring
Hacker drones can eavesdrop electronically on conversations, can perform network attacks, or can create fake wireless access points.
Read more...
---
Body-worn cameras transforming security
October 2019 , CCTV, Surveillance & Remote Monitoring, Security Services & Risk Management
Police Service Northern Ireland now has over 7 000 officers using 2 500 cameras covering approximately 173 000 incidents each year.
Read more...
---
Camera Selection Guide 2019
CCTV Handbook 2019 , CCTV, Surveillance & Remote Monitoring
The Camera Selection Guide 2019 includes a range of IP, analogue, thermal and speciality cameras aimed at a broad range of surveillance functions.
Read more...
---
Intelligent analytics and the brains to match
September 2019, Bosch Building Technologies , CCTV, Surveillance & Remote Monitoring, Integrated Solutions
What if the brains behind our security cameras could be trained to improve their cognitive ability to pay attention, learn, and problem-solve according to specific rules and situations?
Read more...
---
AI-powered autonomous Drone-in-a-Box
September 2019 , CCTV, Surveillance & Remote Monitoring, Integrated Solutions
Organisations in the mining, energy and industrial, oil and gas, ports and terminals sectors can optimise security and business operations, whilst reducing risks and operational costs
Read more...
---
Cybersecurity for video surveillance systems
September 2019, Mobotix , Cyber Security, CCTV, Surveillance & Remote Monitoring
Video surveillance systems are increasingly accessible over any IP network, which has led to the rise of potential cyberattack.
Read more...
---
What are the cybersecurity issues in video surveillance?
November 2019, Axis Communications SA , Editor's Choice, CCTV, Surveillance & Remote Monitoring, Cyber Security
he importance of the data captured by surveillance cameras – and what can be done with it – has led to a new breed of cybercriminals, looking for insights to steal and sell.
Read more...
---
The safe city and its need for interoperability
November 2019 , Integrated Solutions, CCTV, Surveillance & Remote Monitoring
Interoperability continues to present one of the greatest challenges, particularly with video management systems, video recording devices and cameras.
Read more...
---
A platform approach to safer and smarter cities
November 2019, Milestone Systems , CCTV, Surveillance & Remote Monitoring
Selecting the right platform to manage the vast data collected from smart and safe cities is critical to the ultimate success of the project.
Read more...
---
Creating safe cities with smart technology
November 2019, Secutel Technologies , CCTV, Surveillance & Remote Monitoring
In a digital age, where resilience and responsiveness are paramount to fighting crime and creating a safer world, CCTV systems are becoming part of every city's infrastructure.
Read more...
---