printer friendly version
Electronic surveillance: site sureys and selling CCTV
April 2007
CCTV, Surveillance & Remote Monitoring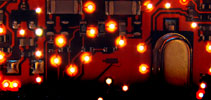 Any successful CCTV/electronic surveillance installation starts with a decent site survey and a means to understand not only the existing end user requirement but also possible future requirements.
Although this topic has been covered before and forms part of any installer or integration company's daily activities, I thought it a good idea to revise some of the basics that need to be applied.
Keep in mind the following initial questions that need to be addressed by the end user in conjunction with the installer:
* Why does the end-user want a CCTV system and what are the objectives?
* Precisely what problems will be addressed by the system?
* How does the system merge with other controls and processes that the client might have in place or will perhaps have to put in place?
* Does the system fit into the culture of the organisation where it is going to be utilised?
Most end-users would be thinking of using the system as a deterrent against crime or perhaps a mechanism to facilitate auditing of specific events after they occur. In many instances the system will be used for monitoring of productivity and will therefore allow for additional controls and processes to be put in place by the organisation.
Whatever the application or requirement initially, the first golden rule with any site survey is that the capability of the system being proposed is expandable. Although the current requirement might be met with a 16CH DVR, you have to consider that this DVR should be capable of expanding either the amount of channels per DVR, be able to add more DVRs and control and monitor them from a central point or make the user aware of IP-based systems which are more easily expandable.
The rest of the site survey should consider the following points:
Environment
Is the environment metro, rural, residential, urban, suburban, marine, industrial etc...?
Are you close to the sea or any other natural or unnatural environment or conditions that require special equipment?
Is there an existing infrastructure to support cable installations or does it have to be created?
Cameras
Amount of cameras to be mounted now and possibly into the future?
Where will the cameras be mounted, for example hallways, parking lots, perimeter?
Are any extreme light conditions present, for example door entrance areas or backlight from a large window etc.?
Is day- and night-time recording and viewing a requirement?
Are lights present, and if so, do they use neon gas, halogen, etc?
Will cameras be colour or monochrome?
What are the angles of view required per camera?
Will camera housings need to be temperature controlled, vandal proof, or what type of material will it be made from?
Will cameras be indoor or outdoor?
Will cameras be wired or wireless?
If wireless, one should consider the following:
Line of sight.
Maximum distance from point to point.
Are any cell towers, wireless networks, power lines OR other structures present?
How many PTZ cameras will be present on the site?
If a PTZ is present ask the following:
Will it be wired or wireless?
What is the data protocol to be used?
What is the manufacturer's protocol to be used?
What control device will be used for the PTZ?
Power
Is electrical power available? If so, what type of power, ie, 110, 220, 24 V a.c. or 12 V d.c?
Are any of the following available or required?
Surge suppression.
Voltage regulator.
Lightning suppressor.
Cable
What is the maximum cable run distance?
Will you use conventional RG-type cable or perhaps CAT5 data type?
Should additional shielded cable be used for some runs?
Base equipment
Will a DVR, NVR or hybrid recording system be used?
How long does the user want footage to be kept on the recording system?
Does a need exist for archiving of footage for future retrieval?
Will any form of matrix be used?
Is there a need for special video transmission equipment?
Is there a need for multiplexers?
Will users require remote logon capability?
Will any form of text overlay be required?
The trick is then to match the client requirement to the client budget and ensure when commissioning of the system is complete that a transfer of knowledge in the form of physical training on the system is performed. This ensures that the hidden overhead associated with callbacks due to incompetence is reduced.
Happy surveying and selling!
Bernard Senekal is a director of SentronicsSD.
For more information contact Bernard Senekal, SentronicsSD, +27 (0)21 957 4505, bernard@sentronics.co.za, www.sentronics.co.za
Further reading:
Camera Selection Guide 2019
September 2019 , CCTV, Surveillance & Remote Monitoring
Read more...
---
The era of smart surveillance
September 2019, Forbatt SA , CCTV, Surveillance & Remote Monitoring, Products
Professionals in the surveillance industry know CCTV is not what it used to be. Smart functions on cameras are no longer nice to haves, they have become a necessity.
Read more...
---
Improved security for Diamond Trust Bank in Tanzania
September 2019, Hikvision South Africa , CCTV, Surveillance & Remote Monitoring, Financial (Industry)
Diamond Trust Bank in Tanzania installed over 1000 Hikvision EasyIP 3.0 cameras in a project to replace its analogue infrastructure and centralise its surveillance security.
Read more...
---
Intelligent analytics and the brains to match
September 2019, Bosch Building Technologies , CCTV, Surveillance & Remote Monitoring, Integrated Solutions
What if the brains behind our security cameras could be trained to improve their cognitive ability to pay attention, learn, and problem-solve according to specific rules and situations?
Read more...
---
AI-powered autonomous Drone-in-a-Box
September 2019 , CCTV, Surveillance & Remote Monitoring, Integrated Solutions
Organisations in the mining, energy and industrial, oil and gas, ports and terminals sectors can optimise security and business operations, whilst reducing risks and operational costs
Read more...
---
Distributed architecture lowers TCO, increases scalability
September 2019, Technews Publishing , CCTV, Surveillance & Remote Monitoring, Transport (Industry)
Faced with a number of security challenges and planned future expansion, a major airport decided it was time to implement a scalable security surveillance solution.
Read more...
---
Cybersecurity for video surveillance systems
September 2019 , Cyber Security, CCTV, Surveillance & Remote Monitoring
Video surveillance systems are increasingly accessible over any IP network, which has led to the rise of potential cyberattack.
Read more...
---
A platform approach to innovation and value
September 2019, Technews Publishing , Editor's Choice, CCTV, Surveillance & Remote Monitoring, Integrated Solutions, IT infrastructure
Moving to the platform model of doing business holds tremendous advantages for end users and smaller developers, but also for the whole technology supply chain.
Read more...
---
Back to manufacturer uniformity?
September 2019, Dallmeier Electronic Southern Africa , CCTV, Surveillance & Remote Monitoring
Decision makers often have to choose between an all-inclusive, complete solution from one manufacturer and the products and services of several different providers.
Read more...
---
Open does not always mean easy integration
September 2019, VERACITECH, Technews Publishing , Editor's Choice, CCTV, Surveillance & Remote Monitoring, Integrated Solutions
Customers who opt for best-of-breed solutions will have to rely on their integrators to develop customised integrated solutions for them.
Read more...
---