printer friendly version
Power over Ethernet: another good reason for migration to IP surveillance
CCTV Handbook 2007
IT infrastructure

Traditionally, installation of cabling for security systems has been an expensive process. External coaxial cabling for a CCTV system costs nearly R3 per metre and a further R450 per metre on average to install. Costs multiply if further cabling is needed for access control and fire detection.
Then you have to provide for power distribution: analog CCTV cameras and other devices such as multiplexers and DVRs all need individual power supplies, which require cabling, AC outlets and wall warts, which in turn means involving electricians in the installation. Uninterruptible power supplies (UPSs) will be required at each device for mission critical systems, or a separate UPS reticulation system must be provided, in case of power failure.
Power over Ethernet (PoE), sometimes referred to as Power over LAN, allows IP-based surveillance systems to realise savings of up to 80% on traditional analog installations. PoE is a revolutionary technology that integrates data, voice and power over standard LAN infrastructure. It works across standard Ethernet network cabling (ie, CAT-5) to supply power directly from the data ports that the networked devices are connected to. Standard CAT-5 Ethernet cables have four twisted pairs, but only two of these are used for 10Base-T and 100Base-T data. The other two pairs can be used to deliver power to networked devices: with one pair delivering positive current and the other negative, a versatile power supply can be provided through use of DC/DC converters. Over two million PoE ports are already installed, and PoE came of age with the introduction of the IEEE standard 802.3af in June 2003.
802.3af enables the safe transmission of electrical power to networked devices without any degradation of network performance. It defines how to deploy PoE across multiple networked devices including network IP cameras, and vendors of laptops, Voice over IP terminals, mobile phones, IP surveillance systems as well as integrated building management systems are already looking to pre-install it.
Understandably, those that watch this technology predict massive growth in its use. This article will look at the benefits of PoE for surveillance systems: unlike traditional CCTV, IP surveillance can take full advantage of PoE to reduce installation and management costs dramatically.
Cost reductions
The immediate and most obvious cost saving is in the physical cabling and its installation. Ethernet cable is cheaper and easier to install and is often either already present or going to be installed for other network purposes anyway. Multiple cameras can share cabling, so the number of individual cable runs is reduced, and peripheral functions such as voice and control signals can also be carried on the same cables; and of course, power cabling is eliminated, further reducing cable run count and cost. There are, however, still further benefits to be had.
More benefits
First, PoE has evolved to the point where it is a more intelligent power source than traditional ones are, out of the box. The power sourcing equipment (PSE) within PoE is capable of providing a high level of system management using existing system management protocols such as Simple Network Management Protocol (SNMP). This makes it possible to monitor, report on, and even shut down power centrally through the network for maintenance, for example.
Second, PoE makes it easier and more cost effective to make the power supply to IP surveillance systems highly robust. Most computer networks of more than a few PCs already have a central UPS: the centralisation of power through PoE hubs (often called Mid-spans) means that PoE-based systems piggyback on the central UPS without additional cabling or special reticulation. This ensures that any power outages, which we are told will be more likely in the future, will not affect the integrity of the IP surveillance system.
Third, PoE hubs or mid-spans let security managers shut down or reset devices remotely. Malfunctioning networked devices can be identified and reset at the touch of a button. Devices being replaced can simply be isolated from power, a new device installed and then re-powered up.
Fourth, centralisation of power supply control eliminates the security vulnerability so often created by the 'vacuum cleaner effect', where someone carrying out a service such as cleaning or building work carelessly unplugs a power point used by a camera. It is not uncommon for vulnerable organisation such as hospitals to lose surveillance capability at specific times of day while cleaning is in operation. Any regular events like this, which can be spotted by a criminal, could easily be exploited over time.
PoE also means that it can be made much more difficult to cut or vandalise cabling: network cabling is generally attached to trays in roof voids or behind plastic ducts which are difficult to get at. Tampering with such cables will be immediately obvious to those passing by and of course to computer users who will find themselves unable to get on with their work. There is no faster way to get employees up from their desk and asking: 'Whatb is happening?' than shutting the network down – a great deterrent to criminals armed with balk cutters.
Fifth, PoE makes for a much more flexible installation, making it easier to choose optimal sites for cameras to maximise coverage. Network cabling is typically routed around even the most inaccessible parts of modern buildings today. Cameras need to be sited high up on ceilings or walls (where the network cabling is generally already placed). Installers of network IP cameras will no longer be limited by the location of existing power points – all too often sited down on the skirting boards, as far away from the optimal camera locations as they could possibly be. It is not unusual for cameras to be badly placed just because the company commissioning the installation did not want to pay electricians additionally to move power supplies to connect to new cameras. The same considerations apply to the placing or relocation of other networked devices such as hubs or DVRs.
If PoE sounds interesting but you are wondering about the complexities of installation, there are a few tips. One development is Power over Ethernet Mid-spans, which sit between any existing Ethernet switch and the PoE devices and are often referred to as 'power hubs'. Mid-spans connect to standard CAT-5 network cabling infrastructure and are patch panel-like devices that receive data lines from the switch and insert power over the spare pairs, providing data and power out to the dowered device (see Figure).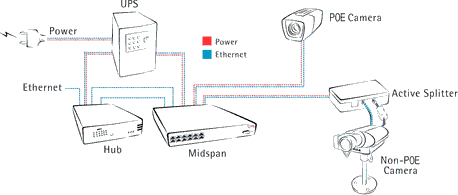 Mid-span vendors now provide a full range of units with from one to 24 ports. Good practice is to buy with at least two unused ports for device expansion. It is also important to consider the necessary power supply for each device. It may be advisable to keep heavy users of power such as network printers outside the PoE system.
Almost all systems with more than nine cameras will already be controlled centrally, normally from a security office. This security office may need to be located close to the server room, which will be the logical location for mid-spans. The mid-span can be checked for any malfunction by the security manager through his laptop or PC, provided he is networked and has appropriate information security clearance.
End-spans offer an alternative configuration approach, providing PoE-enabled Ethernet switches in which power is supplied directly from the data ports.
The business benefits and drivers for implementation of PoE to power surveillance systems are already very clear for those using CAT-5 cabling infrastructure. The many advantages that flow from PoE should spur those considering migration to IP surveillance from analog CCTV. The savings for larger sites such as hospitals and schools can run into the hundreds of thousands of Rand, both immediate and longer term, and it results in a better, more robust and more manageable system.
For more information contact Roy Alves, Axis Communications SA, +27 (0)11 548 6780, roya@axis.com, www.axis.com
Credit(s)
Further reading:
Reinventing network camera security
Issue 1 2020, Axis Communications SA , CCTV, Surveillance & Remote Monitoring
Now in its seventh generation and celebrating its 20th anniversary, the Axis ARTPEC chip was launched in 1999 designed to optimise network video.
Read more...
---
Video surveillance multicast networks made easy
Issue 1 2020, Duxbury Networking , IT infrastructure
Many businesses are struggling to realise the full potential of modern video surveillance technology due to limitations of the underlying network.
Read more...
---
Three data protection predictions for 2020
Issue 1 2020 , IT infrastructure
Byron Horn-Botha from Arcserve Southern Africa relates the company's top three data predictions to be on the alert for in 2020.
Read more...
---
Axis gives a brighter future to children
Issue 1 2020, Axis Communications SA , Editor's Choice
Fully networked camera solution provides visibility and accountability, letting orphanage focus on what's important – its children.
Read more...
---
An open foundation for 2020
Issue 1 2020 , IT infrastructure
The migration to open hybrid cloud technologies will be the way to go as we head into the new decade.
Read more...
---
Will 5G be the answer to all prayers?
Issue 1 2020 , IT infrastructure
There is a lot of understandable confusion about the role Wi-Fi will play once 5G arrives, and how they might work together.
Read more...
---
So what is 5G?
Issue 1 2020 , IT infrastructure
With all the noise about 5G, Hi-Tech Security Solutions asked Deon Geyser, head of the Southern Africa sub region at Nokia for some insights.
Read more...
---
Traffic doesn't have to be this way
Issue 1 2020, Dahua Technology South Africa, Axis Communications SA , CCTV, Surveillance & Remote Monitoring
More effective traffic management is something that would save us all a lot of frustration and wasted time, and it's one of the areas where AI and big data can have a significant impact.
Read more...
---
Securing perimeters of secure locations
November 2019, Axis Communications SA, Modular Communications, Hikvision South Africa, Nemtek Electric Fencing Products, Technews Publishing, Stafix , Government and Parastatal (Industry), Perimeter Security, Alarms & Intruder Detection, Integrated Solutions
Hi-Tech Security Solutions asked a number of companies offering perimeter security solutions for their insights into protecting the boundaries of national key points.
Read more...
---
What are the cybersecurity issues in video surveillance?
November 2019, Axis Communications SA , Editor's Choice, CCTV, Surveillance & Remote Monitoring, Cyber Security
he importance of the data captured by surveillance cameras – and what can be done with it – has led to a new breed of cybercriminals, looking for insights to steal and sell.
Read more...
---