printer friendly version
Sentronics embedded with Avermedia
February 2007
News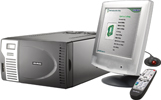 Being a ′new kid on the block′ in the security industry is never easy, especially if your business model is not just the stereotypical 'new CCTV distributor' that we see entering the industry so often.
SentronicsSD has certainly placed itself well over the last two years, as shown in its overall vision, innovative marketing, day-to-day service levels and interaction with its clients. Even more so, it has been made possible by the successful global DVR/NVR brand, Avermedia.

Sentronics' initial target market of the PC-based type DVR is a continuing success. In its marketing strategy and planning, the company realised that it was bringing a new brand to the industry while others have been around for much longer and have established business that should be recurring for them by now.
"So how do we grab a little of yesterday's market share, today's market share and ensure that tomorrow's market share is ours also?" says Bernard Senekal. "It is for this reason that we introduced the card swap promotion which ensured that if a reseller was pulling old product off sites and replacing with Avermedia product, they then had another Avermedia product in hand for the next installation. We also managed to get stock back from distributors that wanted to change or add to the existing brands and could simply not refuse the addition to the bottom line that the promotion brought."
Avermedia has announced the addition of a new range of industry standard embedded DVR/NVR products. The range is unique in that all the products include very powerful remote monitoring and management features free of charge, and they all integrate with conventional analog as well as IP cameras. Hybrid and centralisation are the words of the day for Avermedia products in order to facilitate the switchover from analog to full-blown IP systems. It also means that resellers can play in both markets and those that are unfamiliar with IP-based systems, terminology and cameras can use a conventional DVR system to gear themselves for the switchover to fully IP/digital systems.
Benefits and features of the product range include MPEG4 Advanced as well as H.264 hardware compression, realtime video capture, display and playback. H.264 offers streaming capabilities never possible before. "We have seen 25 fps across a 100 Mb/sec LAN from the H.264 hardware compression model on a single camera," Senekal adds. "Storage is expandable up to 10 terrabyte and the software features for backup and archiving allows direct write to USB, CD or DVD."
Integration with POS systems, alarm panels and access control equipment maximises the capability to offer turnkey solutions of the highest standard. Remote access capability is further enhanced by the CM3000 remote monitoring and management platform that offers not only remote event monitoring of up to 1024, 16 channel DVRs but also offers two-way audio, I/O triggers and full control of the remote DVR/NVR itself.
In addition, IP-PTZ control has been added. Video encryption, full D1 resolution and direct online software updates to the DVR/NVR are also new features. Remote access can also be gained by means of a PDA, web viewer or normal Symbian O/S cellphone and this assists in that it makes more operators monitoring more hours of the day from any location available.
The embedded market has never known such innovative products and what is for sure is that this segment of the market will not turn away from the opportunities presented by this range of Avermedia products and offered by Sentronics.
Further reading:
New hires at iPulse
Issue 7 2020, iPulse Systems , News
iPulse has welcomed two new employees into its ranks. Shai Weil has been appointed as operations director, while Corneli Botha is the new customer sales liaison.
Read more...
---
HID Global acquires Access-IS
Issue 7 2020, HID Global , News
HID Global acquires provider of miniaturised reader devices that combine key technologies for mission-critical markets.
Read more...
---
Securing digital transformation
Issue 7 2020 , News
Schneider Electric partners with Fortinet to strengthen ability to secure operations across the business lifecycle and unlock the advantages of a secure IIoT.
Read more...
---
Suprema integrates with Paxton's Net2 access control
Issue 7 2020, Suprema , News
Suprema has announced it has integrated its devices with Paxton's access control system, Net2.
Read more...
---
Free cybersecurity courses
Issue 7 2020 , News
Check Point Software partners with Harvard and MIT-founded edX to deliver free online courses to help close the cybersecurity skills gap.
Read more...
---
Fidelity partners with Auto & General Insurance
Issue 7 2020, Fidelity Security Group , News
Fidelity Services Group in partnership with Auto & General Insurance has launched Fidelity InSure, a comprehensive vehicle, home, and building insurance offering.
Read more...
---
More apps for open camera OS
Issue 7 2020 , News
The App Challenge will result in 21 new apps running on the Security & Safety Things' camera OS, based on the Android Open Source Project.
Read more...
---
Milestone Systems announces Thomas Jensen as new CEO
Issue 7 2020, Milestone Systems , News
Milestone Systems announced that its board of directors has appointed Thomas Jensen as chief executive officer. Jensen will assume the role on October 1, 2020.
Read more...
---
Suprema announces its first virtual event
Issue 7 2020, Suprema , News
Suprema will be hosting its first virtual event, Suprema Connect 2020, which is scheduled to take place over one month from September 15.
Read more...
---
From the editor's desk: Waiting for PoPI
Issue 7 2020, Technews Publishing , News
A while ago we heard of yet another cyber breach, this time from Experian.
Read more...
---