printer friendly version
Tracking of the containers
Access & Identity Management Handbook 2006
Access Control & Identity Management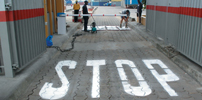 The major challenges facing SETV, a ­division of European-based Bollerey PLC, when it took over the operation of the container terminals from the Ivory Coast Ports authorities, subsequent to the ­privatisation of this facility, was to ­improve efficiency and eradicate the ­common occurrence of the theft of entire containers from the port.
The history
As Charles Harrison, managing director of Secu Exports explains: "There was a combination of factors contributing to the challenges. Abidjan is one of the busiest ports in west Africa, handling over 90 000 containers a year in facilities that operate 24/7, 365 days a year.
"These high volumes of traffic, combined with an entirely manual, paper-based 'control' system combined to produce a chaotic situation that produced unacceptable levels of risk associated with theft and fraud for SETV."
The solution
SETV appointed Group 4 Securicor as its contractor to implement a new solution, who in turn appointed Secu Exports to design, supply and implement the solution. Secu Exports was chosen because of its extensive experience in providing security solutions in the remoter corners of Africa, the Middle East and South America.
Harrison adds: "There were other challenges we faced: the climate is either very dry and hot or very wet and hot, so annual flooding meant we had to elevate all the equipment installed to prevent it disappearing under water when the rains arrived. We also needed a French-language interface into the system, as this is the language used for business in Ivory Coast.
"And installing the entire system in the midst of the every-day chaos of Abidjan port was no mean feat. Over 7000 dock workers - not to mention other staff and visitors - are moving in and out of these terminals every day. We had to complete the work in the midst of all these heaving crowds of people."
The entire project was meticulously planned from the outset with Secu sending a project manager and two technicians to Abidjan for the duration of the contract.
"Managing a project of this complexity from South Africa requires phenomenal attention to detail. You cannot just go out and buy another packet of screws or another drill. Every single item required to execute the implementation had to be ordered in South Africa, properly packed to survive transportation, and air-freighted into Abidjan," comments Harrison.
The solution was required to provide a maximum-security, paperless access control (AC) system that could track each container arriving or exiting the port facilities. Every individual and vehicle associated with every movement of the container had to be electronically recorded at every stage of the process. Another major aspect of the contract was the training of local technicians to understand Standard Operating Procedures and to operate and maintain the system.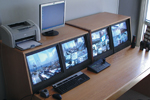 The challenges
Challenges such as power surges and frequent outages had to be addressed by installing voltage regulators and UPS units. The equipment had to be capable of faultless operation in a very dirty environment and extreme climatic conditions.
A fundamental part of the design hinged on the concept of 'man trapping' at each entry and exit point of the facility. There are five pedestrian, one car and 12 truck lanes in total. Each entry and exit point of the facility has two barriers, so that all traffic can be halted between the barriers and the details of each person, vehicle and container recorded for 5 seconds on CCTV and also, where appropriate, on biometric fingerprint readers. Turnstar Systems supplied the maximum-security double and single full-height Titan turnstiles and the vehicle barriers.
Harrison comments: "Sagem is the only company whose fingerprint readers measure up to the challenges of a project like this."
The CCTV equipment, supplied by GE Interlogix, consists of high-speed cameras housed in protective domes and features 360° pan and tilt capabilities. The cameras are interfaced with a large-scale 2 TB RAID disc array, holding up to 12 months of CCTV data from the cameras. Data includes date and time stamps, vehicle number plates, personnel identification details and container tracking numbers.
"Cameras are situated in 'no-go' zones, such as the Dry Stack Areas, where containers are in the process of being unloaded and the contents are at risk. Alarms are triggered by any movement in these areas outside of normal working times."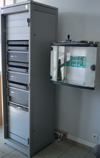 Plain sailing
Because the project was so carefully planned, there were no obstacles to be overcome during implementation, with the sole exception of delays encountered clearing customs into Ivory Coast with the equipment to be installed. "Import tariffs can be as high as 80% so it is vital to understand and apply the correct tariff codes in order to avoid excessive duties," adds Harrison.
The project team were on site for six weeks during the implementation process. The training of local technicians to understand, operate and maintain the system independently was a very important aspect of the entire process. Equipment failures are handled by immediate despatch of new equipment from SA and the faulty gear is sent back to for repair.
Fact file
Secu Exports, Charles Harrison, +27 (0) 11 791 3384
Ideco & Sagem, Gary Jones, +27 (0) 11 745 5600
Turnstar, Sydney Sacks, +27 (0) 11 786 1633
Credit(s)
Further reading:
Facial access control for ministry
Issue 1 2020, ZKTeco , Access Control & Identity Management
The Ministry of Culture in Saudi Arabia has adopted ZKTeco's facial recognition technology and fingerprint biometrics to manage access control into its building.
Read more...
---
New Door Pilot app from dormakaba
Issue 1 2020, dormakaba South Africa , Access Control & Identity Management
With new dormakaba Door Pilot, automated doors can also now be operated on the basis of remote control technologies. The system, comprising the Door Pilot app for smartphones and a Wi-Fi interface for ...
Read more...
---
Identity lifestyle
Issue 1 2020, Suprema , Access Control & Identity Management
Once the technology of the future, biometrics has quietly snuck into our daily lives through smartphones and access controls into our places of work.
Read more...
---
Securing BP's new head office
Issue 1 2020, ISF SFP , Access Control & Identity Management
ISF SFP was awarded the contract to secure the first development phase for Oxford Parks, the new head office for BP South Africa.
Read more...
---
Combining aesthetics and access control
Issue 1 2020, Turnstar Systems , Access Control & Identity Management
Prestigious law firm Bowman Gilfillan recently upgraded its physical security with the addition of four Turnstar Speedgate Express access control lanes.
Read more...
---
Video doorbells from Ring
Issue 1 2020 , Access Control & Identity Management
Ring has a number of video doorbells available in South Africa that run off batteries or power and enable users to answer their doors from anywhere.
Read more...
---
Centurion to unveil new product
Issue 1 2020, Centurion Systems , Access Control & Identity Management
Centurion Systems will be hosting its third Access Automation Expo this year, with dates confirmed for Durban, Johannesburg and Cape Town.
Read more...
---
Looking ahead with mobile access technologies
Access & Identity Management Handbook 2020, Technews Publishing, HID Global, dormakaba South Africa, Salto Systems Africa, Suprema, Gallagher , Access Control & Identity Management, Integrated Solutions
Given the broad use of smartphones around the world and the numerous technologies packed into these devices, it was only a matter of time before the access control industry developed technology that would ...
Read more...
---
Mobile access is more secure than card systems
Access & Identity Management Handbook 2020 , Access Control & Identity Management
The ability to use mobile phones as access credentials is one of the biggest trends in a market that historically has been slow in adopting new technology.
Read more...
---
This is the future. This is what we do.
Access & Identity Management Handbook 2020, ZKTeco , Access Control & Identity Management
ZKTeco has created a unique range of visible light facial recognition products combined with a flexible Android platform.
Read more...
---