printer friendly version
Staying ahead of the curve
November 2006
Access Control & Identity Management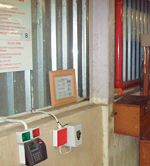 The history
Brits-based furniture manufacturer, Pat Cornick, a division of Steinhoff Africa, wanted to upgrade its card-based access control (AC) and time and attendance (T&A) systems because new technology had arrived in the marketplace.
The company's existing card-based system was reliable and did have low running costs but the technology was outdated and many components were becoming hard to replace.
Ashley Kretzman, financial director at Pat Cornick comments: "Pat Cornick wanted the advantages offered by the new biometric fingerprint-based systems. The company also wanted to integrate AC and T&A systems to improve control and accuracy as well as streamlining some of the processes involved. Reliability was another key requirement."
The solution
The company went directly to Blick SA to provide the new solution. The solution is based on Sagem biometric fingerprint readers, which have replaced the old barcode reader units. System functionality, which manages both the AC and T&A functions, is provided by a combination of BlueLine Professional integrated access and time management solution and Time Genius software solution.
The complete solution was supplied and implemented by Blick. All hardware components are Blick products with the exception of the Sagem fingerprint readers.
The project
Project management and implementation was entirely managed by Blick. Progress during the project was measured during regular meetings between the Blick project team and Pat Cornick staff. Blick has since become the preferred supplier for the entire Steinhoff Group.
"Certain change management processes needed to be implemented in advance, particularly with regard to the training of staff and acceptance by staff and unions," comments Kretzman.
The company, in conjunction with Blick, was able to demonstrate to the staff that the biometric fingerprint-based system was not infringing on their human rights because the system only stores a template derived from the actual fingerprints, not the fingerprints themselves. Workers also benefit from the improved accuracy of time-keeping functionality.
The transition to the new system went smoothly although Glen Baptiste, national account manager at Blick, comments: "You must expect a certain degree of inconvenience and minor glitches when implementing any new system. Due to the nature of the product, the location of the hardware, and a shared software platform, the old and new systems could not really be run in parallel. As a result, we had to switch over to the new system almost at one time, which is obviously a high-risk situation.
"With hindsight, more detailed pedestrian flow analysis would have helped to ensure sufficient fingerprint readers were in place to manage traffic flow. In future, we would increase communications - we could perhaps have avoided some minor delays during the switchover process."
The benefits
In Kretzman's opinion: "Pat Cornick is very satisfied with the operational performance of the new solution. The company has also achieved significant reductions in administration time, effort and cost with the new AC and T&A solutions. We have also saved a lot of administration time and effort through the smooth integration of the T&A data into our payroll software."
Fact file
Blick SA, Glen Baptiste, +27 (0) 11 844 3270, glenb@blick.co.za
Ideco, Gary Jones, +27 (0) 11 745 5600, ggj@ideco.co.za
Pat Cornick, Ashley Kretzman, +27 (0) 12 250 2360, ashleyk@patcornick.co.za
Further reading:
How to specify the right turnstile finish
September 2019, Turnstar Systems , Access Control & Identity Management
Purchasing a turnstile gives you a large amount of flexibility when it comes to choosing the right finish.
Read more...
---
Enhanced biometric technology for mines
September 2019, ZKTeco , Mining (Industry), Access Control & Identity Management
Biometric identification and authentication are currently used at various mines in South Africa and in the SADC region.
Read more...
---
Improving access in mines
October 2019, Astra Fasteners , Mining (Industry), Access Control & Identity Management, Products
The VP1 controller provides full access control and remote monitoring of intelligent locks without having to wire into a network or install, manage and maintain software.
Read more...
---
Invixium and Pyro-Tech partner in South Africa
October 2019 , News, Access Control & Identity Management
Invixium, a manufacturer of IP-based biometric solutions and Pyro-Tech Security Suppliers have announced a new distribution partnership.
Read more...
---
Suprema receives FBI PIV/FAP30 certification
October 2019, Suprema , News, Access Control & Identity Management
Suprema has announced that the company's BioMini Slim 3 has received FBI PIV (Personal Identity Verification) and Mobile ID FAP30 certification.
Read more...
---
Frictionless access with a wave
October 2019, IDEMIA , Access Control & Identity Management, Residential Estate (Industry)
IDEMIA was the Platinum Sponsor for the Residential Estate Security Conference 2019 and set up its MorphoWave Compact frictionless fingerprint biometric scanner at the entrance to the conference.
Read more...
---
Streamlined access and reporting
October 2019, Comb Communications , Access Control & Identity Management, Residential Estate (Industry)
The main focus of the Comb stand was its practical demonstration of the MK II Lite intercom system with third-party integrated products.
Read more...
---
Customised and integrated solutions
October 2019, Suprema , Access Control & Identity Management, Residential Estate (Industry)
iVisit offers both high-end and low-end residential complexes a cost-effective visitor management solution that is fully integrated into Suprema's offerings.
Read more...
---
Access solutions for every estate
October 2019, Impro Technologies , Access Control & Identity Management, Residential Estate (Industry)
Impro's flagship Access Portal solution comprises one of the most user-friendly software solutions on the market.
Read more...
---
Managing staff effectively
September 2019, dormakaba South Africa, iPulse Systems , Integrated Solutions, Access Control & Identity Management
Workforce management solutions allow organisations to track the relationship between productivity and the cost of employment, incorporating issues such as health and safety, T&A, rostering and more.
Read more...
---