printer friendly version
Staying ahead of the curve
Access & Identity Management Handbook 2006
Access Control & Identity Management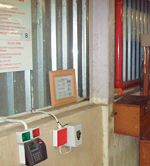 The history
Brits-based furniture manufacturer, Pat Cornick, a division of Steinhoff Africa, wanted to upgrade its card-based access control (AC) and time and attendance (T&A) systems because new technology had arrived in the marketplace.
The company's existing card-based system was reliable and did have low running costs but the technology was outdated and many components were becoming hard to replace.
Ashley Kretzman, financial director at Pat Cornick comments: "Pat Cornick wanted the advantages offered by the new biometric fingerprint-based systems. The company also wanted to integrate AC and T&A systems to improve control and accuracy as well as streamlining some of the processes involved. Reliability was another key requirement."
The solution
The company went directly to Blick SA to provide the new solution. The solution is based on Sagem biometric fingerprint readers, which have replaced the old barcode reader units. System functionality, which manages both the AC and T&A functions, is provided by a combination of BlueLine Professional integrated access and time management solution and Time Genius software solution.
The complete solution was supplied and implemented by Blick. All hardware components are Blick products with the exception of the Sagem fingerprint readers.
The project
Project management and implementation was entirely managed by Blick. Progress during the project was measured during regular meetings between the Blick project team and Pat Cornick staff. Blick has since become the preferred supplier for the entire Steinhoff Group.
"Certain change management processes needed to be implemented in advance, particularly with regard to the training of staff and acceptance by staff and unions," comments Kretzman.
The company, in conjunction with Blick, was able to demonstrate to the staff that the biometric fingerprint-based system was not infringing on their human rights because the system only stores a template derived from the actual fingerprints, not the fingerprints themselves. Workers also benefit from the improved accuracy of time-keeping functionality.
The transition to the new system went smoothly although Glen Baptiste, national account manager at Blick, comments: "You must expect a certain degree of inconvenience and minor glitches when implementing any new system. Due to the nature of the product, the location of the hardware, and a shared software platform, the old and new systems could not really be run in parallel. As a result, we had to switch over to the new system almost at one time, which is obviously a high-risk situation.
"With hindsight, more detailed pedestrian flow analysis would have helped to ensure sufficient fingerprint readers were in place to manage traffic flow. In future, we would increase communications - we could perhaps have avoided some minor delays during the switchover process."
The benefits
In Kretzman's opinion: "Pat Cornick is very satisfied with the operational performance of the new solution. The company has also achieved significant reductions in administration time, effort and cost with the new AC and T&A solutions. We have also saved a lot of administration time and effort through the smooth integration of the T&A data into our payroll software."
Fact file
Blick SA, Glen Baptiste, +27 (0) 11 844 3270, glenb@blick.co.za
Ideco, Gary Jones, +27 (0) 11 745 5600, ggj@ideco.co.za
Pat Cornick, Ashley Kretzman, +27 (0) 12 250 2360, ashleyk@patcornick.co.za
Further reading:
Facial access control for ministry
Issue 1 2020, ZKTeco , Access Control & Identity Management
The Ministry of Culture in Saudi Arabia has adopted ZKTeco's facial recognition technology and fingerprint biometrics to manage access control into its building.
Read more...
---
New Door Pilot app from dormakaba
Issue 1 2020, dormakaba South Africa , Access Control & Identity Management
With new dormakaba Door Pilot, automated doors can also now be operated on the basis of remote control technologies. The system, comprising the Door Pilot app for smartphones and a Wi-Fi interface for ...
Read more...
---
Identity lifestyle
Issue 1 2020, Suprema , Access Control & Identity Management
Once the technology of the future, biometrics has quietly snuck into our daily lives through smartphones and access controls into our places of work.
Read more...
---
Securing BP's new head office
Issue 1 2020, ISF SFP , Access Control & Identity Management
ISF SFP was awarded the contract to secure the first development phase for Oxford Parks, the new head office for BP South Africa.
Read more...
---
Combining aesthetics and access control
Issue 1 2020, Turnstar Systems , Access Control & Identity Management
Prestigious law firm Bowman Gilfillan recently upgraded its physical security with the addition of four Turnstar Speedgate Express access control lanes.
Read more...
---
Video doorbells from Ring
Issue 1 2020 , Access Control & Identity Management
Ring has a number of video doorbells available in South Africa that run off batteries or power and enable users to answer their doors from anywhere.
Read more...
---
Centurion to unveil new product
Issue 1 2020, Centurion Systems , Access Control & Identity Management
Centurion Systems will be hosting its third Access Automation Expo this year, with dates confirmed for Durban, Johannesburg and Cape Town.
Read more...
---
Looking ahead with mobile access technologies
Access & Identity Management Handbook 2020, Technews Publishing, HID Global, dormakaba South Africa, Salto Systems Africa, Suprema, Gallagher , Access Control & Identity Management, Integrated Solutions
Given the broad use of smartphones around the world and the numerous technologies packed into these devices, it was only a matter of time before the access control industry developed technology that would ...
Read more...
---
Mobile access is more secure than card systems
Access & Identity Management Handbook 2020 , Access Control & Identity Management
The ability to use mobile phones as access credentials is one of the biggest trends in a market that historically has been slow in adopting new technology.
Read more...
---
This is the future. This is what we do.
Access & Identity Management Handbook 2020, ZKTeco , Access Control & Identity Management
ZKTeco has created a unique range of visible light facial recognition products combined with a flexible Android platform.
Read more...
---