printer friendly version
T&A and access covered
November 2006
Access Control & Identity Management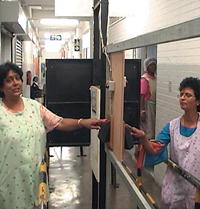 The history
Based in Umgeni Road, Durban, Ninian & Lester, manufacturer of the Jockey brand, has 850 employees. Factory staff were clocking in and out at old manual clocking machines. Calculating these hours was time consuming each week and prone to errors. There was also no access control for the office staff.
Access control was not needed for the factory staff as the security staff would open and close the doors. However, the main admin buildings were a problem as staff would come and go at all times. Whichever system was chosen needed not only to be reliable and accurate, but also aesthetically pleasing to match the company's fashionable image.
Ninian & Lester consulted the 'Access Control Handbook 2004' for a list of possible suppliers. They went with the company who, based upon presentations of the proposed solution, appeared to have the technology as well as the back-up service that was required. Control Concepts was chosen as the provider with ClockWatch Distribution the supplier of software and Sagem readers. Greg Brink analysed the requirements and then put together a system that surpassed all the requirements.
The solution
The proposed solution was based around using the ClockWatch Manage Time and Attendance software. Sagem fingerprint readers were chosen as they are reliable and easy to interface to ClockWatch. They also eliminated the problems of lost cards and 'buddy-clocking'. Impro's IXP200 controller was chosen to manage the access control of the office doors.
Nine Sagem MA200's were installed. The five in the factory are used as time readers only. Random search generators were attached to these readers. The other four readers were interfaced to the Impro IXP200 system to give access control at the admin doors.
A server was purchased to handle all the T&A and access control systems. The server's clock time is automatically set each day via the Internet and all readers and controllers are then synchronised twice a day.
The Impro IXP200 system was installed at the two office doors to facilitate access control. Sagem MA200's were interfaced to the IXP system via their Weigand outputs. Proximity card readers were installed next to the fingerprint readers for use by visitors. On arrival, visitors fill out a register and are then assigned access cards with restricted access.
The IXP200 was also used to control the siren, which helps ensure that the staff are all working together.
For the calculation of time and attendance data, ClockWatch with ClockWatch Manage was chosen. This has all the functionality, reliability and ease-of-use of ClockWatch, with the added advantage of a web interface.
ClockWatch Manage provides an easy web interface for ClockWatch. This allows section managers to access the time-sheets, check who is at work, how many hours they have worked, as well as make any adjustments that may be needed. This is all done on-line via a web browser and the Internet. Managers can also see a list of absenteeism and make the necessary adjustments to their production lines to ensure maximum productivity.
It ran both systems together for four weeks to compare the hours. When the management was happy with the calculations from the new system the old machines were removed and now only ClockWatch is used for the calculation of the hours worked. With a staff of about 800 people the client had to be very confident of the system before they switched over completely.
The challenges
The project went relatively smoothly. The main challenge in getting a system for over 800 employees up and running in one hit was the capturing of the data, especially the capturing of the fingerprints.
The second challenge was during the introductory phase when the two systems were running parallel was to ensure that all employees understood the need for the change and used the readers correctly.
People who work with fabrics are notorious for having poor fingerprints. The quality of the Sagem MA200 has ensured that far less than 0,5% of the people (two out 850 people) have problems clocking. The problem appears worst when the hands have been exposed to rough work and the fingers are 'ragged'. But even these two workers after a few readings, are successfully identified.
The benefits
With such a large staff, Ninian & Lester needed a time and attendance system that was accurate and reliable. Miscalculation of the normal time and over-time hours could be a very costly mistake, either as huge wage bills or as staff dissatisfaction. Control Concepts and ClockWatch have provided a solution that everyone is happy with - the company is no longer paying for hours that are not worked and the staff are not getting short paid for the time they work.
Scope: Number of users 850.
Number of readers: Nine fingerprint and four RFID
Hardware and installation: Control Concepts (an accredited installation partner of Timewatch Systems).
Software: ClockWatch Distribution.
System installed by Greg Brink of Control Concepts.
Software Systems used: Sagem MEMS software, IXP200 Access software, ClockWatch Manage (network version),
ClockWatch Export utility and Time, ­synchronisation programs: VIP payroll program.
Hardware: nine x Sagem MA200s, one Sagem MSO100,IXP200 system with four PT readers and siren output module, five random search generators.
Further reading:
How to specify the right turnstile finish
September 2019, Turnstar Systems , Access Control & Identity Management
Purchasing a turnstile gives you a large amount of flexibility when it comes to choosing the right finish.
Read more...
---
Enhanced biometric technology for mines
September 2019, ZKTeco , Mining (Industry), Access Control & Identity Management
Biometric identification and authentication are currently used at various mines in South Africa and in the SADC region.
Read more...
---
Improving access in mines
October 2019, Astra Fasteners , Mining (Industry), Access Control & Identity Management, Products
The VP1 controller provides full access control and remote monitoring of intelligent locks without having to wire into a network or install, manage and maintain software.
Read more...
---
Invixium and Pyro-Tech partner in South Africa
October 2019 , News, Access Control & Identity Management
Invixium, a manufacturer of IP-based biometric solutions and Pyro-Tech Security Suppliers have announced a new distribution partnership.
Read more...
---
Suprema receives FBI PIV/FAP30 certification
October 2019, Suprema , News, Access Control & Identity Management
Suprema has announced that the company's BioMini Slim 3 has received FBI PIV (Personal Identity Verification) and Mobile ID FAP30 certification.
Read more...
---
Frictionless access with a wave
October 2019, IDEMIA , Access Control & Identity Management, Residential Estate (Industry)
IDEMIA was the Platinum Sponsor for the Residential Estate Security Conference 2019 and set up its MorphoWave Compact frictionless fingerprint biometric scanner at the entrance to the conference.
Read more...
---
Streamlined access and reporting
October 2019, Comb Communications , Access Control & Identity Management, Residential Estate (Industry)
The main focus of the Comb stand was its practical demonstration of the MK II Lite intercom system with third-party integrated products.
Read more...
---
Customised and integrated solutions
October 2019, Suprema , Access Control & Identity Management, Residential Estate (Industry)
iVisit offers both high-end and low-end residential complexes a cost-effective visitor management solution that is fully integrated into Suprema's offerings.
Read more...
---
Access solutions for every estate
October 2019, Impro Technologies , Access Control & Identity Management, Residential Estate (Industry)
Impro's flagship Access Portal solution comprises one of the most user-friendly software solutions on the market.
Read more...
---
Managing staff effectively
September 2019, dormakaba South Africa, iPulse Systems , Integrated Solutions, Access Control & Identity Management
Workforce management solutions allow organisations to track the relationship between productivity and the cost of employment, incorporating issues such as health and safety, T&A, rostering and more.
Read more...
---