printer friendly version
The camera never sleeps
September 2006
CCTV, Surveillance & Remote Monitoring

Many residents' associations have security as their primary concern and are facing the challenges not only of rising crime levels but also of increasingly well-organised criminals who carry out some of their attacks in military style.
In the old days, burglar alarms just made a noise and annoyed the neighbours; then links to armed response became the norm. But as Geoff Schapiro, director of Cingulum Security Services puts it: "Response means the battle has already been lost." The war against crime is necessitating a more proactive approach, with more emphasis on early detection and prevention of crime.
Cingulum was responsible for installing, and now manages, a network of 32 IP video surveillance cameras from Axis Communications in a 900-household area covering the suburbs Illovo, Inanda and Atholl in Sandton.
Schapiro says the Axis cameras were chosen because Axis has large numbers of cameras in the market and 'has done its schoolwork' - years of field experience have gone into the design of the cameras. Roy Alves, country manager for Axis Communications Africa Region, comments: "This project was a showcase for the benefits of IP for video surveillance and we were very proud to be selected as the camera supplier."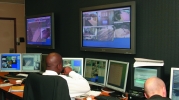 The surveillance system forms the backbone of what Cingulum terms a Tactical Intervention Programme. Schapiro explains: "To move past response to early detection and prevention of crime you need field intelligence, and that is what the cameras give us." The 24x7 control room has three people on duty rotating functions on a 15-minute basis. The operators monitor the screens for untoward activity and react to requests from the guards and patrolmen in the field to track suspicious vehicles and pedestrians. If they see anything that looks untoward they dispatch a patrol car to make enquiries, would-be perpetrators are left in no doubt that they are being watched.
During the day there is constant activity on the cameras, so most of the specific monitoring is triggered by reports from guards in the field, but at night, when activity dies down, automated motion detection highlights activity for the operators. The cameras and the two-way radio links to the security officers bring the control room and the field personnel much closer together, giving support to the field personnel and at the same time keeping them on their toes.

The system covers access points and points of higher security risk. All the important points in the area are monitored by cameras, guards or both. Cameras are deployed in groups to cover an area thoroughly as well as to watch each other's backs and avoid blind spots. The cameras covering public areas transmit VGA images (640x480) using Motion JPEG for best quality. The images generally are good enough to read licence plates: working in close cooperation with SAPS means the control room can perform realtime checks on licence numbers and immediately identify if a suspect vehicle is reported stolen or has false plates.
All the cameras in the system are IP cameras, transmitting their images to the control room over standard IP network elements. Data transmission is over either line-of-sight (LOS) microwave or ADSL, with currently 16 cameras on LOS and 16 on ADSL. The control room is situated in the Sandton City office block with radio antennas on top of the 20-storey building giving an outstanding view of the area and a clear path for the microwave links. The LOS cameras are run at higher frame rates than the ADSL cameras: 4 to 6 frames per second for LOS and 2 to 4 fps for ADSL.
Conventional ADSL has some drawbacks for 24x7 video monitoring. Usually there is a monthly data quota or cap, and fault response times are not as good as Diginet or ATM service. For this application, Cingulum worked in partnership with Telkom to pioneer a new service that met the special needs of an IP surveillance system. The result is a VPN (virtual private network) that runs over the ADSL backbone with no data cap, and is supported by a Platinum SLA (service level agreement) that guarantees a four-hour time to repair.
"Video surveillance has definite advantages over adding manpower," says Schapiro. "Technology does not go on strike, fall asleep on duty, or take lunch and tea breaks." However, there are some problems, especially on the Highveld with lightning strikes damaging equipment, as well as the risks of power failures and, given South African driving habits, the risk of camera mounting poles being knocked down.
The main risks of technology are mitigated by using IP video instead of analog CCTV. Using IP simplifies the system and so reduces the number of points of failure. Transmitting IP data over long distances without loss of quality is easy and uses common and inexpensive technology, and it is easy to route the data to different places as needed. The cameras are robust and come back on line after a power failure with no human intervention needed. One of the most important benefits of IP though is that the video data is directly transmitted to the control room: there are no tapes or spinning disks out in the field, which both increases reliability and ensures that the criminals cannot steal the evidence.
According to Schapiro: "IP cameras cost more for the cameras themselves, but the reliability, ease of transmission and simplification of system design more than make up for that. Unquestionably, IP is the future."
The cameras used in the Atholl/Illovo/Inanda scheme are Axis 221 day/night cameras that can operate in low light conditions, producing colour images down to 0,65 lux and automatically switching to mono down to 0,08 lux. That means in practice that available light from streetlights is usually sufficient for good quality colour images.
For more information contact Roy Alves, Axis South Africa, +27 (0) 11 548 6780, roy@axisafrica.com, www.axis.com
Further reading:
Why rehearsals and drills for crises and evacuation are so important
August 2019, Leaderware , CCTV, Surveillance & Remote Monitoring, Security Services & Risk Management
The rehearsal of concept (ROC) drill has been used extensively in the military, but is just as important when facing risks in organisations and institutions to protect people on the ground.
Read more...
---
Milestone partners prove their skills
August 2019, Milestone Systems , News, CCTV, Surveillance & Remote Monitoring, Training & Education
Within the span of one week in mid-May, the Milestone Learning & Performance group celebrated important benchmarks: 200 000 course registrations and tutorial views, and 10 000 certifications.
Read more...
---
ONVIF Hosts 20th Developers' Plugfest
August 2019 , News, CCTV, Surveillance & Remote Monitoring
ONVIF, the global standardisation initiative for IP-based physical security products, hosted its twentieth ONVIF Developers' Plugfest in early June in Tokyo.
Read more...
---
Licence plate recognition camera
August 2019 , Products, CCTV, Surveillance & Remote Monitoring
VIVOTEK has introduced a new licence plate recognition camera featuring built-in licence plate recognition software and edge-computing capability.
Read more...
---
Securing Savannah Hills Estate
August 2019, Rhyco Risk Projects , CCTV, Surveillance & Remote Monitoring, Perimeter Security, Alarms & Intruder Detection
Savannah Hills Estate in Midrand planned a security upgrade which was awarded to Rhyco Risk Projects. The project started in March 2019 and was completed in May 2019.
Read more...
---
10 things to consider when shopping for a VMS
August 2019, Genetec , CCTV, Surveillance & Remote Monitoring, Integrated Solutions
Today's video management systems (VMS) provide a wide range of tools and capabilities that help make security personnel more efficient by allowing them to focus on what really matters.
Read more...
---
How far are we really at with artificial intelligence?
August 2019, Axis Communications SA , Editor's Choice, CCTV, Surveillance & Remote Monitoring, IT infrastructure, Residential Estate (Industry)
Justin Ludik unpacks exactly how far AI has come and what it potentially can do for society and more importantly, surveillance.
Read more...
---
Enhancing security with AI
August 2019, Hikvision South Africa , CCTV, Surveillance & Remote Monitoring
Hikvision explains how residential estates can revolutionise their security strategies and outcomes with artificial intelligence.
Read more...
---
More than simply a camera
August 2019, Forbatt SA, Secutel Technologies , CCTV, Surveillance & Remote Monitoring, Residential Estate (Industry)
With the human element being the weakest link in all security solutions, Hi-Tech Security Solutions looks at the pros and cons of using body-worn cameras in estates.
Read more...
---
The importance of effective perimeter security
August 2019, Elf Rentals - Electronic Security Solutions, Stafix , Editor's Choice, CCTV, Surveillance & Remote Monitoring, Residential Estate (Industry)
Protecting the perimeter is critical for any residential estate; how does one go about making sure your perimeter is as secure as possible?
Read more...
---