printer friendly version
The Garden Place Hotel
CCTV Handbook 2006
CCTV, Surveillance & Remote Monitoring

Guests at the Garden Place Hotel can feel the welcoming atmosphere as soon as they enter the elegant front lobby, and at the front desk, realise they are in a safe and controlled environment when they see a giant flat screen displaying the hotel's video surveillance with images from cameras from around the property.
The Garden Place Hotel is conveniently located in a suburb of Buffalo close to Niagara Falls, USA. It is a privately-owned family-managed hotel and has 75 employees.
"Our customers comment on the screen all the time. It has become a focal point within the entrance and guests often stop and look at it curiously, then our employees use the HotSpot feature in Milestone to switch between different camera views. This provides additional excitement," reports the general manager, Mark Jerge.

Challenges
The hotel business is seven days a week with a constant flow of both guests and staff that needs monitoring. With a priority focus on customer service, proper security is a critical factor. Cars in the parking areas can be vulnerable to theft, parties in the rooms can disturb other guests, items can be misplaced, hotel procedures must be followed, and most importantly the owners want to ensure that employees treat the customers properly.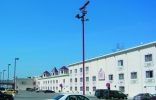 Solution
Digital Surveillance Solutions has installed Milestone XProtect Enterprise IP video surveillance software as the platform for managing 28 IP network cameras, as well as some analog cameras already in the parking lots that are now being converted through an IP video server. The software is the interface for viewing live or recorded images that are archived automatically. The hotel plans to expand the system to its sister property down the road, a huge restaurant where weddings and other big parties are regularly held.
Advantages
The owners, hotel management and staff are able to see the system both realtime from the office and remotely from the restaurant through the software's Remote Client, as well as having easy access to the recordings to double-check any questions and resolve them.
Order in the house
"The Garden Place Hotel has achieved a reputation for the best quality and their aim is to uphold this in every possible way. This new Milestone system is the best tool for us to keep watch and have total management control," says Jerge.
The hotel uses a single security guard on weekend nights, who has been able to eliminate some of his guard tours by using the new system. Using the multiscreen display he is able to stand duty in the lobby while keeping tabs on the entire hotel without having to leave his station.
"With a hotel of our size, there is no way the guard could be everywhere on the property at once," he explains. "We have a great deal of land and more additions are planned in blocks of 30 rooms each. We have expanded seven times so far. The hotel at this time covers the equivalent of two entire football fields including the parking lots."
The hotel has 170 rooms with the latest building expansion of a new wing. Room occupancy is in the region of 4000 'room nights' per month and with some double occupancy the hotel can handle as many as 6000 people monthly.
"During the week it is nice and quiet, we have corporate guests on the property then - you can hear a pin drop at night," says the duty manager. "The weekday corporate base is very strong: business people enjoy the comfort and personal attention. On the weekends the business increases due to special package deals, weddings and other parties at the restaurant. With Milestone, we can monitor improper use of the rooms and prevent any possible disruptions.
"The security focus here is on customer satisfaction and ensuring that our staff service guests to the highest possible degree," asserts the manager. "We ensure consistent service levels at all times. We are able to make customers feel comfortable the minute they walk in - they can see we have full control. We keep the honest people honest. No one gives in to temptation because they know we are watching."
"We realise the importance of a security system in a big hotel like this. We have always had one since opening in 1995. We strive to have the best, the latest and greatest, the most innovative in our property," says the manager.
"It is a personal preference on our part to watch what is happening at the hotel, even when we are at our restaurant which is located remotely. Management also uses the system to make sure employees handle customers properly - or vice versa.
The staff has taken to the system in a big way because it provides a sense of personal security. Using the remote surveillance capability of Milestone they are able to notice a disturbance and deal with it very quickly.
Huge display screens for super overview
"We simultaneously display 25 of the 28 camera images being recorded throughout the entire hotel on two 61-inch JVC flat panel projection screens - one up here in the office and the other at the front desk reception," says Mike Blumenson, president of Digital Surveillance Solutions, the certified milestone partner who has done the system implementation.
"The tool we are using to display so many cameras simultaneously is the monitor inside of Milestone because that application will allow users to scale up to 64 cameras at once. The customer initially was not convinced we could see them all at once in good enough detail, but the Milestone software really lends itself well to this setup. We can take full advantage of the monitor tool to use all of the real estate on screens of that size with the images shown beautifully. We are getting roughly the equivalent of what would be 8- or 9-inch monitor images for each image.
"We doubled our bandwidth to ensure higher performance," adds Jerge. "We are remote monitoring the hotel from the restaurant down the road at night. Being able to see the hotel from the restaurant is really important to us so we can manage both properties optimally at all times."
Blumenson has also set up the administration of the surveillance system in the Milestone software to send an alert to his mobile phone if there is an issue with any of the camera operations.
Ease of use with remote client
"We are using the Milestone system much more regularly than we did our old system. I used to have to call the old vendor to assist us find recordings when there was an issue to resolve," recalls Jerge. "The ease of using the remote client means that I am not intimidated if I need to view recordings. It is extremely user friendly. With Milestone we have been able to really take ownership of our security and operate it to the fullest ourselves."
Approximately twice a month Jerge reports having to review recorded video in response to a customer request. This enables us to establish the facts regarding most instances to the satisfaction of both staff and our guests.
"We have had customers misplace things and have been able to prove with the recordings that no one was in their room to steal them."
The hotel has a 'safe-lock system' so they know which employees go in and out, and when. They are able to double-check this with the video surveillance. They have seen someone leave a locked door open with a shoe, for example, and could catch that on the cameras to ensure that their security procedures are being followed properly.
Another thing management looks for is making sure the right number of guests occupy a room, "We can monitor the traffic flow of guests and make sure things do not get too rowdy. People can try to sneak in to rooms.
"A typical security problem is noise disturbance and wanting to control the hotel atmosphere. When people leave a party after drinking and dancing to music, they are often not aware how loudly they are talking when they get back to the hotel!"
Surveillance as a deterrent
"We do not have internal theft problems, but one of the reasons for this is the system which acts as a deterrent. If anyone felt tempted, they know the cameras are there so it helps them avoid a lapse in judgement," affirms Jerge. "The few individuals who raise concerns about the surveillance are the ones we would have concerns about ourselves! Those who are doing what they are supposed to be doing do not mind."
Upgrading from DVR to pure IP network
Blumenson says: "The system was replaced with a 5x5 bank of black and white monitors that connected to a DVR that in turn daisy-chained back to each camera with individual feeds coming into individual monitors and the customer liked being able to see the entire hotel property at once on that monitor wall presentation and were not ready to give that up. So we were able to replace that using Milestone."
Jerge continues: "When we were looking to upgrade our old DVR analog system, our previous vendor was not able to deliver and we received a mail shot from Digital Surveillance Solutions about IP video. What we liked was they did not come in with a boxed product that was limited to certain hardware connections. They were able to customise exactly what we needed where we need it. The huge flat screen display grew out of several discussions to arrive at the best solution for us."
The deployment started in July 2005 and finished end of August, with tweaking of the performance settings for optimal operation going on for a further month.
Blumenson describes the implementation: "The back end is a white box server with dual Pentium processors with a Gigabyte of memory and a RAID 5 drive array. We do not store all of the video on the server, just the daily logs, and every night we archive the daily logs to a bigger disk that is 1 Terabyte and attached to a USB on the back of the server. That is our main storage device. The Milestone software is scheduled to automatically archive those at 3 am. We save about 10 days of images from 28 cameras, which is sufficient for their needs right now at the hotel. We could probably save about two weeks worth of images if we wanted to."
CAT 5 cabling for the cameras was done by the telecommunications provider for the hotel. There were four wiring closets already dispersed throughout the hotel so they were able to wire back to the patch panels in those closets from the office server setup.
"That saved on cabling costs," explains Blumenson. "About half of the cameras are power-over-Ethernet and from the wiring closets we are powering a combination of IP cameras."
There were some legacy monochrome analog cameras out in the parking area that were replaced with colour models to improve the images. Blumenson utilised the fact that those already connected back to where the capture server is in the office by plugging them into an IP video server to use in the new network system, converting those analog signals to digital.
"That has also worked out really well and saved the customer a lot of money because re-cabling those analog cameras would have been prohibitive," concludes Blumenson.
Future expansion plans
From the front desk to the end of the back wing is over 600 metres and there are three floors, so the hotel covers more than two football fields.
The hotel's design includes wider hallways and wings connected to the high-ceiling courtyard, so although it is a large facility, it feels cosy and peaceful. The high technology infrastructure that affords the IP video surveillance also provides full wireless high-speed Internet access for the guests.
For more information contact Nichola Allen, G2 Security, +27 (0) 11 462 5700, Nichola@g2security.co.za, www.g2security.co.za
Further reading:
A step up in safety
Issue 4 2020 , CCTV, Surveillance & Remote Monitoring
With the COVID-19 pandemic, body-worn cameras (BWC) now play an even more important role in safety and accountability than ever before, ensuring a more significant option in the protection of employees.
Read more...
---
Latest Longse thermal technology
Issue 4 2020, LD Africa , CCTV, Surveillance & Remote Monitoring
Longse thermal IP cameras include remote monitoring, a video server and high-definition camera functions.
Read more...
---
LenelS2 enhances VRx VMS
Issue 4 2020, UTC Fire & Security SSA , CCTV, Surveillance & Remote Monitoring
LenelS2 announces enhancements to VRx video management system, uses deep learning and native NetBox ecosystem integration for a unified security management experience.
Read more...
---
Empowering verticals with AI
Issue 4 2020, Dahua Technology South Africa , CCTV, Surveillance & Remote Monitoring
Dahua Technology has released WizMind, a portfolio of project-oriented products delivering AI solutions to verticals including government, retail, energy, finance and transportation.
Read more...
---
Safety and productivity for retailers
Issue 4 2020, Dahua Technology South Africa , CCTV, Surveillance & Remote Monitoring
Dahua Technology launches retail epidemic safety protection solution to enhance store operation safety under COVID-19.
Read more...
---
Non-contact and visual protection measures
Issue 4 2020 , CCTV, Surveillance & Remote Monitoring
Non-contact and visual protection measures to contain the coronavirus – Geutebrück extends its product portfolio by three DSGVO-compliant video solutions.
Read more...
---
Smart is the new black
Issue 4 2020 , CCTV, Surveillance & Remote Monitoring
The idea of 'smart' is becoming a reality in almost every aspect of our business and personal lives, from home security and lifestyle, through to smart buildings and smart working processes.
Read more...
---
Smarter monitoring with AI
Issue 4 2020 , CCTV, Surveillance & Remote Monitoring
Deep Data's DeepAlert is changing the security monitoring market (remote and on-site) with deep learning and cloud services.
Read more...
---
Upgrade your current security system with SecuVue
Issue 4 2020, Secutel Technologies , CCTV, Surveillance & Remote Monitoring
Cloud-based analytics can be added to existing CCTV solutions to upgrade the efficacy and value the installation adds.
Read more...
---
Accurate temperature detection with thermal cameras
Issue 4 2020, Dahua Technology South Africa , CCTV, Surveillance & Remote Monitoring
Dahua Technology recently launched two thermal cameras specifically for accurate temperature measurement.
Read more...
---