printer friendly version
Generate foam, not problems
April 2006
Fire & Safety
The generation of mechanical foam is simple. A definite quantity of concentrate is added to water forming a solution which is then aerated to produce finished foam. The equipment required to generate foam will include:
* A water supply of adequate pressure. This normally means a pump must be used. Some hydrant installations are capable of supplying the required quantities and pressures however.
* Hose to lead the water and solution to the point of application.
* A device to introduce the concentrate into the water stream - normally an inductor with concentrate percentage control.
* A device to aerate the solution - normally a foam-making branch.
Foam is classified by the type of concentrate or by expansion ratios.
By concentrate
Protein: hydrolysed protein (low expansion)
Fluoroprotein: protein containing fluoro-chemical additives (low expansion).
Fluoro-chemical: solution of synthetic fluoro-chemical surfactants. Also known as aqueous film forming foam. (Low expansion).
Synthetic: solution of synthetic detergents (low, medium or high expansion).
Alcohol-resistant foams: usually protein type with additives to stabilise foams used on water miscible solvents.
By expansion
Low expansion: up to 50 l of finished foam for every litre of solution used.
Usual expansion: ratio is between 5:1 and 15:1.
Medium expansion: ratios from 50:1 to 500:1 but usually between 75:1 and 150:1.
High expansion: ratios from 500:1 to 1500:1, but usually between 750:1 and 1000:1.
Foam equipment
Low and medium expansion foam equipment is most commonly used in industry. This normally includes an inline inductor which induces foam concentrate into the water stream and a foam-making branch which aerates the mixture to produce finished foam.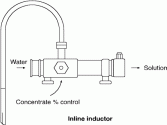 Most inline inductors are fitted with a foam concentrate percentage control.
Successful extinguishments
In addition to applying the foam correctly, successful extinguishment will depend on a definite quantity of foam being applied for a certain period of time. Before purchasing foam equipment those responsible should:
* Carry out a risk evaluation to determine the size of the fire likely to occur.
* Consider the type of fuel, to select the correct concentrate and determine a preferred application rate (this is normally 4 to 6 l/min/m2 of solution for hydrocarbons).
* Calculate the amount of concentrate and equipment required to extinguish the fire in a reasonable time in relation to the manpower that will be available. As a rough guide 30 min can be used for small fires and 60 min for medium size fires.
eg: Risk evaluation revealed that a spillage of petrol could result in a fire over an area of 30 m2. Four fire team members will be available.
Solution required l/min = area of fire x application rate
= 30 x 5
= 150 l/min
Amount of concentrate at 6% induction = 6% of 150
= 9 l/min
Sufficient for 30 min = 9 l x 30 min
= 270 l to be kept in stock
Equipment required = 1 x 200 l/min inductor and branch
Practical considerations
* Adequate foam stocks must be available before foam is brought into operation.
* Foam should be applied to the burning liquid as gently as practicable.
* The performance of foam generating equipment must be monitored carefully so that faults are noticed and rectified promptly.
* Clean and flush equipment thoroughly after use.
Conclusion
Some of the shortfalls noticed by FPA staff when carrying out training sessions at various industrial concerns include:
* Lack of pre-planning prior to purchase of equipment resulting in equipment being either inadequate or unsuitable for the risk.
* Equipment that is incompatible. Foam branch pipes rated at 450 l/min being supplied by inductors only capable of supplying 200 l/min or inductors having a concentrate percentage control of up to 5% while the concentrate stocked must be used at 6%, are typical examples.

* Unsatisfactory maintenance of foam equipment. Nozzles, washers, couplings and flexible connections require regular attention if the equipment is to be reliable in use.
Source: Fire Protection Association of Southern Africa
Further reading:
SafeQuip introduces lithium fire extinguishers
Fire & Safety Products & Solutions
With the use of Lithium batteries increasing in many types of portable devices and battery storage solutions, SafeQuip, in partnership with AVD Lithex, is introducing a fire extinguisher aimed at suppressing and extinguishing, and also preventing re-ignition of lithium fires.
Read more...
---
Modern warehouses come with added fire risk
Fire & Safety Transport (Industry)
Along with increased investments in modern warehousing in Africa, there is also a need to focus on protecting warehouses from crime, however, fire can arguably be a greater danger to business continuity.
Read more...
---
How to prevent solar inverter short-circuits and fires
Fire & Safety
With many South Africans installing inverters as part of solar power systems to mitigate the impact of load shedding in homes and at businesses, users need to be aware of the potential fire risks.
Read more...
---
Fidelity SecureFire steps into critical fire response space
News & Events Fire & Safety
With the majority of fire stations around the country being crippled by a lack of resources to offer effective responses, Fidelity Fire Solutions has launched its own 'first responder' model, Fidelity SecureFire.
Read more...
---
Long-distance connectivity with Simplex ES Net Life Safety
Johnson Controls Global Products Fire & Safety Products & Solutions
ES Net Network Bridge allows fire alarm system data to be transmitted across distant buildings via a customer's existing network infrastructure, improving system-wide monitoring and control in facilities and campuses where life safety networks are often widely dispersed.
Read more...
---
Elvey Group and Technoswitch part ways
Elvey Security Technologies Fire & Safety News & Events
The Elvey Group (a division of the Hudaco Group of Companies) is relinquishing its distributorship of the Technoswitch brand, following Hudaco's acquisition of Brigit Fire.
Read more...
---
From one month to 10 minutes
Dahua Technology South Africa Fire & Safety
Dahua has integrated technology with the inspection mode of the photovoltaic power station in order to create a robust system that can monitor the fire situation in the power plant and its surrounding areas 24/7.
Read more...
---
Protecting poultry processing plant
Technoswitch Fire Detection & Suppression Fire & Safety
Grain Field Chickens, based in Reitz in the Orange Free State Province, features all the typical fire detection challenges one would expect to encounter in a food processing facility.
Read more...
---
Fire prevention for energy systems
Technoswitch Fire Detection & Suppression Fire & Safety
With the significant push towards renewable energy, such as wind and solar, the demand for battery energy storage systems has grown exponentially, as has the need for fire safety solutions for these environments.
Read more...
---
Fire risks in solar panel installations
Technoswitch Fire Detection & Suppression Fire & Safety
Installed global solar capacity doubled in three years from 2018, and the expectation is that in the next three years, it will more than double. In South Africa, the year-on-year growth from 2021 to 2022 was 24,90%.
Read more...
---