printer friendly version
ADT
March 2006
Security Services & Risk Management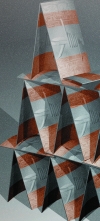 Security company ADT offers manned security guards, access control, burglar alarms and alarm installations, CCTV security cameras and armed response, as well as business and residential fire systems. The company started with a very basic service offering and has grown over time with new sectors and services, including diversification into things like CCTV and fire. Staff dedication has also played a major role in ADT's overall growth.
South Africa is one of the only countries in the world in which such security companies offer armed response to their clients, overseas clients are only monitored and the police are then requested to respond to any alarms/panics.
Additionally, ADT has a dedicated team and each member lives by the big 5 principles, namely: professional, reliable, competent, honourable and pro-active - constantly striving to achieve service excellence.
Every person employed by ADT must be SIRA registered and have a grade C reaction qualification. A month prior to being placed on the road, employees are sent on reaction courses covering Standard Operating Procedures, an induction course - covering the Big 5 principles and company policies as well as a firearm training course, shooting range training and they participate in paintball scenario training, master drive training and basic first aid level 1. ADT then puts them on the road with a fellow reaction officer before being placed individually. Every three months, employees also undertake written scenario exams. All the training centres are SIRA as well as Sasseta accredited.
ADT is active across a broad spectrum of sectors, including residential, commercial, mining, financial and educational. In each of them, the needs of the individual client are assessed carefully in order to supply a comprehensive security solution accordingly.
For more information contact ADT, 086 12 12 400, or visit www.adt.co.za
Further reading:
Why rehearsals and drills for crises and evacuation are so important
August 2019, Leaderware , CCTV, Surveillance & Remote Monitoring, Security Services & Risk Management
The rehearsal of concept (ROC) drill has been used extensively in the military, but is just as important when facing risks in organisations and institutions to protect people on the ground.
Read more...
---
24-hour emergency response for staff
August 2019 , News, Security Services & Risk Management
The FirstRand Group has partnered with PanicGuard to create a 24-hour emergency response programme for staff.
Read more...
---
Keeping our changing environment secure
August 2019 , Editor's Choice, Security Services & Risk Management
For a crime to take place there needs to be a victim and a criminal who sees an opportunity. For a cybercrime to take place we need the same set of circumstances.
Read more...
---
The importance of real security risk assessments
August 2019, Sentinel Risk Management , Editor's Choice, Security Services & Risk Management, Residential Estate (Industry)
Andy Lawler, MD, Sentinel Risk Management, says a security risk assessment is an onerous task, but is not something estates can consider optional or a luxury item anymore.
Read more...
---
Risk assessment or product placement?
August 2019, Technews Publishing, Alwinco, SMC - Security Management Consultants , Editor's Choice, Security Services & Risk Management, Residential Estate (Industry)
Hi-tech security solutions asked a couple of experts to provide estate managers and security managers with some insights into what a 'real' risk assessment includes.
Read more...
---
Residential security – caveat emptor
August 2019, Stafix , Integrated Solutions, Security Services & Risk Management
When it comes to improving your property's security, make sure you take all the options into account as you build a layered approach to keeping people safe and assets secured.
Read more...
---
Ensuring your electric fence is compliant
August 2019, Stafix , Perimeter Security, Alarms & Intruder Detection, Security Services & Risk Management
A challenge facing both existing and potentially new perimeter electric fence installations is how to economically meet the legal requirements required in the SANS 10222-3:2016 standards document.
Read more...
---
Renewable energy for estates and homes
August 2019, Drensky Technologies, Technews Publishing, Specialised Battery Systems , Security Services & Risk Management
While individual homeowners might choose to install solar photovoltaic (PV) systems for when there's load shedding or a power failure, for an entire estate to harness its energy requirements from solar, and particularly their crucial security systems, would require that a large area of the property be dedicated to solar panels.
Read more...
---
Insuring thatched roofs against lightning
August 2019, DEHN Africa , Security Services & Risk Management
Considering South Africa's very high lightning flash density statistics, and the popular trend all over the country to use aesthetically pleasing thatched roofs for residential as well as commercial buildings, a fit-for-purpose offering has been introduced by DEHN Africa.
Read more...
---
Know your enemies (and friends)
August 2019 , Security Services & Risk Management
Hi-Tech Security Solutions spoke to Dave Rampersad to find out about what and how information can be automatically added to number plates to proactively improve the security of an estate.
Read more...
---