printer friendly version
ADT
March 2006
Security Services & Risk Management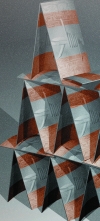 Security company ADT offers manned security guards, access control, burglar alarms and alarm installations, CCTV security cameras and armed response, as well as business and residential fire systems. The company started with a very basic service offering and has grown over time with new sectors and services, including diversification into things like CCTV and fire. Staff dedication has also played a major role in ADT's overall growth.
South Africa is one of the only countries in the world in which such security companies offer armed response to their clients, overseas clients are only monitored and the police are then requested to respond to any alarms/panics.
Additionally, ADT has a dedicated team and each member lives by the big 5 principles, namely: professional, reliable, competent, honourable and pro-active - constantly striving to achieve service excellence.
Every person employed by ADT must be SIRA registered and have a grade C reaction qualification. A month prior to being placed on the road, employees are sent on reaction courses covering Standard Operating Procedures, an induction course - covering the Big 5 principles and company policies as well as a firearm training course, shooting range training and they participate in paintball scenario training, master drive training and basic first aid level 1. ADT then puts them on the road with a fellow reaction officer before being placed individually. Every three months, employees also undertake written scenario exams. All the training centres are SIRA as well as Sasseta accredited.
ADT is active across a broad spectrum of sectors, including residential, commercial, mining, financial and educational. In each of them, the needs of the individual client are assessed carefully in order to supply a comprehensive security solution accordingly.
For more information contact ADT, 086 12 12 400, or visit www.adt.co.za
Further reading:
Tech developments lead hologram growth in 2024
News & Events Security Services & Risk Management
Micro-lenses, micro-mirrors and plasmonics are among the rapidly-emerging optical devices that have evolved on the back of holographic and diffractive technologies, and are seen as part of the natural evolution of optical science by R&D teams.
Read more...
---
Are you leaving money on the table?
Editor's Choice Security Services & Risk Management
How many customers have you helped since starting your business? Where does most of your new business come from? If the answer is not from your database's existing customers, you might have a problem.
Read more...
---
The business value of ChatGPT
Security Services & Risk Management Risk Management & Resilience
Transparency, policy and integrity. It is critical for organisations to have a line of sight into processes and procedures that clearly define employee use cases when it comes to ChatGPT, says Lizaan Lewis, Head of the Legal Department at Altron Systems Integration.
Read more...
---
BMS for smaller businesses
Security Services & Risk Management Products & Solutions Risk Management & Resilience
Small businesses can also benefit from tailored energy management solutions just like large corporations. Effective energy management is essential for more sustainable and efficient operations.
Read more...
---
Kidnapping for ransom
News & Events Security Services & Risk Management Risk Management & Resilience
There has been an 8,6% increase in reported kidnapping cases in South Africa compared to last year, with 3 854 cases reported between April and June this year, leaving ordinary South Africans increasingly vulnerable.
Read more...
---
The difference between a SOP and a SOP
Residential Estate (Industry) Integrated Solutions Security Services & Risk Management Risk Management & Resilience
SOPs are a touchy issue that need careful attention and automation to ensure they deliver the desired security results. Beyond design and automation, implementation is the ultimate road to success.
Read more...
---
Scoping out potential estates
Alwinco Security Services & Risk Management
When an intruder surveys a residential estate of 200 houses, they see at least 200 cars, 400 cell phones, 400 computers, 200 flat screen TVs, 600 bank cards, and various other items of value.
Read more...
---
Your face is the key
Suprema Editor's Choice Access Control & Identity Management Security Services & Risk Management Risk Management & Resilience
FaceStation 2, Suprema's newest facial authentication terminal, is an access control, time and attendance terminal, featuring a better user experience with Android 5.0 Lollipop and Suprema's latest algorithm, hardware, and software.
Read more...
---
Security without the skin
Alwinco Editor's Choice Security Services & Risk Management Residential Estate (Industry) Risk Management & Resilience
We all know about the layers of security required to form a comprehensive solution, but the layers go deeper than most consider. Andre Mundell dissects security in this article to start the journey into what is under the covers.
Read more...
---
Rack-mounted, three-phase online UPS
Security Services & Risk Management Infrastructure Products & Solutions
The new Eaton 93PX 15-20 kVA UPS combines high efficiency with a compact footprint, lower TCO, and improved cybersecurity to provide stable power for critical IT, industrial, manufacturing, and medical applications.
Read more...
---