printer friendly version
Linking access, T&A and payroll
Access & Identity Management Handbook 2005
Integrated Solutions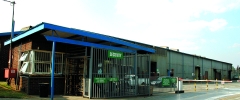 Project scope
350 enrolled employees.
Four buildings on site.
Main function - brake pad manufacturing.
Four Sagem MorphoAcces 200 Readers.
One Sagem MEMS Enrolment and Management System.
Two Full height bi-directional turnstiles.
TimeManager SQL multi-user time and attendance system.
VIP Payroll system.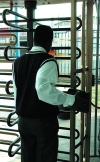 The history
Alfred Teves Brake Systems operates under a technical licensing agreement with Conti Teves in Germany, a world leader in the development of brake systems for motor vehicles.
Ate branded products are supplied to all major original equipment vehicle manufacturers in South Africa, as well as being involved in their export programmes. This ensures that the highest quality accreditations are achieved in supplying this prestigious market. The products are also distributed in the aftermarket through all the major spares outlets.
Facilities include a machine shop with latest technologically advanced equipment, plating and assembly plant, and a brake pad manufacturing plant.
Products supplied by Alfred Teves Brake Systems South Africa (Ate) include brake calipers, discs, master cylinders and boosters, wheel cylinders, brake pads and brake shoes.
A system was required for managing staff hours worked, overtime, lost time, absenteeism, and it needed to interface to the VIP payroll system.
The previous card-based system that was installed was problematic and inconstant.
The card-based system resulted in money and time loss due to fraudulent access and time and attendance transactions.
The change was necessary in order to eliminate fraudulent clockings on site, and in order to enhance security and safety in the production environments, by ensuring that only the correct people are on the site.
The mission was to provide a seamless link between access, attendance and payroll functions. Due to the harsh environment a rugged solution was needed that could withstand use by workers with very dirty fingers.
The solution
Four Sagem MorphoAccess 200 Readers, one Sagem MEMS Enrolment and management system, two bi-directional turnstiles, Time Manager SQL 'multi-user' for time and attendance management. The whole system is integrated and linked to VIP Payroll.
Implementation
We obtained proposals and quotations from several companies, having separated design, specification and implementation. Project was measured by a project plan and professional specifiers provided instructions as to planning and implementation.
The result
The goal was achieved, the Sagem system achieved a 100% enrolment rate where even the most badly damaged fingerprints were successfully enrolled.
A major concern initially was the fine dust generated in the manufacturing of brake pads. This dust adheres to everything and we were concerned about the effect it would have on the fingerprint scanners. To our relief, this has not caused any problems in the operation of the system. The biometric readers have performed above expectations.
Time Manager Sql provides all the management reports and full integration with VIP payroll.
Ate has this advice for any company thinking about changing their access control systems: "Begin enrolment of staff during the system implementation. This means that the system is ready to go live as soon as installation is complete."
Fact file
Key service providers, products and solutions:
System Integrator: Access2000, David Neaves, 011 452 4744, david@access2000.co.za
Sagem Biometric products distributed by Ideco Group, Gary Jones, 011 840 7800, info@ideco.co.za
Ate Brake Pads, Jan Pateman, 011 914 4870, janp@ate.co.za
Further reading:
Integrated transportation security
Guardian Eye AI & Data Analytics Integrated Solutions Logistics (Industry)
HG Travel installs an AI-powered camera system integrated across 115 vehicles throughout a fleet comprising 160 vehicles of different sizes, along with predictive and self-monitoring tools to track tyre condition, fuel consumption and theft, and overall vehicle maintenance.
Read more...
---
Embracing next-generation surveillance for safer cities
Surveillance Integrated Solutions AI & Data Analytics
With the South African government highlighting the importance of building smart cities by integrating advanced technologies to make them more resilient and liveable, the role of next-generation network video and surveillance technologies cannot be ignored.
Read more...
---
Gallagher Security releases Command Centre v9
Gallagher News & Events Access Control & Identity Management Integrated Solutions
Richer features, greater integrations, with the release of Gallagher Security's Command Centre v9 security site management software designed to integrate seamlessly with various systems and hardware.
Read more...
---
Zero Trust in 2024
Mantis Security Integrated Solutions IoT & Automation
The rapid development of artificial intelligence (AI) applications and uses in 2024 will profoundly impact security operations and AI-driven analytics, which can enhance threat detection, anomaly identification and predictive maintenance.
Read more...
---
Integrating farming and security solutions for productivity
Security BIS Agriculture (Industry) Integrated Solutions
Security challenges are a harsh reality in South Africa, particularly for those in remote areas. Sadly, recurring rural crimes like farm attacks and livestock theft are part of the farming community's lives.
Read more...
---
Optimise operations in healthcare
Cathexis Technologies Integrated Solutions
Hospitals can see thousands of people gathering daily to provide medical care, seek help, visit loved ones, or undertake essential support or administrative work. Protecting everyone is critical to maintaining a safe environment.
Read more...
---
Hikvision unveils range of network speakers
Hikvision South Africa Integrated Solutions
Hikvision has recently unveiled its latest audio product line, featuring various advanced network speakers. Each product is designed to meet different application needs, ensuring flexibility and adaptability across numerous environments.
Read more...
---
HDR multi-camera solution for autonomous mobility
IoT & Automation Integrated Solutions
e-con Systems has launched the STURDeCAM31, a small form factor camera that has been engineered to make autonomous mobility safer by ensuring reliable and superior imaging quality even in challenging outdoor lighting conditions.
Read more...
---
Integrating control rooms and response
WatchManager Integrated Solutions Residential Estate (Industry)
Control rooms have become a standard in large estates, and remote control rooms are finding a home even in smaller estates due to cost efficiencies and the increasing reliability of analytics and artificial intelligence.
Read more...
---
The difference between a SOP and a SOP
Residential Estate (Industry) Integrated Solutions Security Services & Risk Management Risk Management & Resilience
SOPs are a touchy issue that need careful attention and automation to ensure they deliver the desired security results. Beyond design and automation, implementation is the ultimate road to success.
Read more...
---