printer friendly version
Linking access, T&A and payroll
October 2005
Integrated Solutions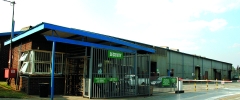 Project scope
350 enrolled employees.
Four buildings on site.
Main function - brake pad manufacturing.
Four Sagem MorphoAcces 200 Readers.
One Sagem MEMS Enrolment and Management System.
Two Full height bi-directional turnstiles.
TimeManager SQL multi-user time and attendance system.
VIP Payroll system.
The history
Alfred Teves Brake Systems operates under a technical licensing agreement with Conti Teves in Germany, a world leader in the development of brake systems for motor vehicles.
Ate branded products are supplied to all major original equipment vehicle manufacturers in South Africa, as well as being involved in their export programmes. This ensures that the highest quality accreditations are achieved in supplying this prestigious market. The products are also distributed in the aftermarket through all the major spares outlets.
Facilities include a machine shop with latest technologically advanced equipment, plating and assembly plant, and a brake pad manufacturing plant.
Products supplied by Alfred Teves Brake Systems South Africa (Ate) include brake calipers, discs, master cylinders and boosters, wheel cylinders, brake pads and brake shoes.
A system was required for managing staff hours worked, overtime, lost time, absenteeism, and it needed to interface to the VIP payroll system.
The previous card-based system that was installed was problematic and inconstant.
The card-based system resulted in money and time loss due to fraudulent access and time and attendance transactions.
The change was necessary in order to eliminate fraudulent clockings on site, and in order to enhance security and safety in the production environments, by ensuring that only the correct people are on the site.
The mission was to provide a seamless link between access, attendance and payroll functions. Due to the harsh environment a rugged solution was needed that could withstand use by workers with very dirty fingers.
The solution
Four Sagem MorphoAccess 200 Readers, one Sagem MEMS Enrolment and management system, two bi-directional turnstiles, Time Manager SQL 'multi-user' for time and attendance management. The whole system is integrated and linked to VIP Payroll.
Implementation
We obtained proposals and quotations from several companies, having separated design, specification and implementation. Project was measured by a project plan and professional specifiers provided instructions as to planning and implementation.
The result
The goal was achieved, the Sagem system achieved a 100% enrolment rate where even the most badly damaged fingerprints were successfully enrolled.
A major concern initially was the fine dust generated in the manufacturing of brake pads. This dust adheres to everything and we were concerned about the effect it would have on the fingerprint scanners. To our relief, this has not caused any problems in the operation of the system. The biometric readers have performed above expectations.
Time Manager Sql provides all the management reports and full integration with VIP payroll.
Ate has this advice for any company thinking about changing their access control systems: "Begin enrolment of staff during the system implementation. This means that the system is ready to go live as soon as installation is complete."
Fact file
Key service providers, products and solutions:
System Integrator: Access2000, David Neaves, 011 452 4744, david@access2000.co.za
Sagem Biometric products distributed by Ideco Group, Gary Jones, 011 840 7800, info@ideco.co.za
Ate Brake Pads, Jan Pateman, 011 914 4870, janp@ate.co.za
Further reading:
A customised solution for backup power
August 2019, Specialised Battery Systems , News, Integrated Solutions
Specialised Battery Systems designed and implemented a bespoke solution for Stallion Security Electronics to deploy at almost any site.
Read more...
---
Augmented security with drones
August 2019, Drone Guards , Editor's Choice, Integrated Solutions
Drone Guards is moving into an untapped market of using drones to secure residential estates and other high-value assets such as mines, farms and commercial properties.
Read more...
---
10 things to consider when shopping for a VMS
August 2019, Genetec , CCTV, Surveillance & Remote Monitoring, Integrated Solutions
Today's video management systems (VMS) provide a wide range of tools and capabilities that help make security personnel more efficient by allowing them to focus on what really matters.
Read more...
---
Residential security – caveat emptor
August 2019, Stafix , Integrated Solutions, Security Services & Risk Management
When it comes to improving your property's security, make sure you take all the options into account as you build a layered approach to keeping people safe and assets secured.
Read more...
---
End-to-end security solutions for residential estates
August 2019, Elvey Security Technologies , Integrated Solutions, Residential Estate (Industry), Products
While there are a multitude of security options available for residential estate body corporates, unfortunately the solutions are not always able to integrate seamlessly, resulting in a hotchpotch of disparate systems.
Read more...
---
Integrated residential estate surveillance
August 2019, Forbatt SA , Integrated Solutions, CCTV, Surveillance & Remote Monitoring, Residential Estate (Industry)
Integrated solutions bring the best-of-breed out of each technology to give personnel all the tools they need for access control management and security.
Read more...
---
From fog to foxes
August 2019, Axis Communications SA , Perimeter Security, Alarms & Intruder Detection, CCTV, Surveillance & Remote Monitoring, Integrated Solutions
What makes radar devices so valuable is the fact that they can provide a high range of accurate data while barely relying on external factors, such as weather or light.
Read more...
---
Communications management within your security platform
August 2019, Genetec , Integrated Solutions, Residential Estate (Industry)
In the physical security industry, communications management systems, such as intercom solutions, are becoming an integral part of developing effective and comprehensive security strategies.
Read more...
---
The hidden claws of proof of concept
August 2019 , Editor's Choice, Integrated Solutions
Proof of concept is a proven methodology for testing new technologies, but it isn't perfect, and it can be more of a hindrance than a help.
Read more...
---
Local manufacturing – challenges and opportunities
August 2019, Centurion Systems, Technoswitch, ZYTEQ Fire , Integrated Solutions
Local companies manufacture a diverse range of products for the security industry, and although they face challenges, there are opportunities out there too.
Read more...
---