printer friendly version
Linking access, T&A and payroll
Access & Identity Management Handbook 2005
Integrated Solutions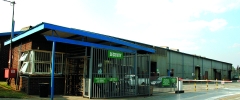 Project scope
350 enrolled employees.
Four buildings on site.
Main function - brake pad manufacturing.
Four Sagem MorphoAcces 200 Readers.
One Sagem MEMS Enrolment and Management System.
Two Full height bi-directional turnstiles.
TimeManager SQL multi-user time and attendance system.
VIP Payroll system.
The history
Alfred Teves Brake Systems operates under a technical licensing agreement with Conti Teves in Germany, a world leader in the development of brake systems for motor vehicles.
Ate branded products are supplied to all major original equipment vehicle manufacturers in South Africa, as well as being involved in their export programmes. This ensures that the highest quality accreditations are achieved in supplying this prestigious market. The products are also distributed in the aftermarket through all the major spares outlets.
Facilities include a machine shop with latest technologically advanced equipment, plating and assembly plant, and a brake pad manufacturing plant.
Products supplied by Alfred Teves Brake Systems South Africa (Ate) include brake calipers, discs, master cylinders and boosters, wheel cylinders, brake pads and brake shoes.
A system was required for managing staff hours worked, overtime, lost time, absenteeism, and it needed to interface to the VIP payroll system.
The previous card-based system that was installed was problematic and inconstant.
The card-based system resulted in money and time loss due to fraudulent access and time and attendance transactions.
The change was necessary in order to eliminate fraudulent clockings on site, and in order to enhance security and safety in the production environments, by ensuring that only the correct people are on the site.
The mission was to provide a seamless link between access, attendance and payroll functions. Due to the harsh environment a rugged solution was needed that could withstand use by workers with very dirty fingers.
The solution
Four Sagem MorphoAccess 200 Readers, one Sagem MEMS Enrolment and management system, two bi-directional turnstiles, Time Manager SQL 'multi-user' for time and attendance management. The whole system is integrated and linked to VIP Payroll.
Implementation
We obtained proposals and quotations from several companies, having separated design, specification and implementation. Project was measured by a project plan and professional specifiers provided instructions as to planning and implementation.
The result
The goal was achieved, the Sagem system achieved a 100% enrolment rate where even the most badly damaged fingerprints were successfully enrolled.
A major concern initially was the fine dust generated in the manufacturing of brake pads. This dust adheres to everything and we were concerned about the effect it would have on the fingerprint scanners. To our relief, this has not caused any problems in the operation of the system. The biometric readers have performed above expectations.
Time Manager Sql provides all the management reports and full integration with VIP payroll.
Ate has this advice for any company thinking about changing their access control systems: "Begin enrolment of staff during the system implementation. This means that the system is ready to go live as soon as installation is complete."
Fact file
Key service providers, products and solutions:
System Integrator: Access2000, David Neaves, 011 452 4744, [email protected]
Sagem Biometric products distributed by Ideco Group, Gary Jones, 011 840 7800, [email protected]
Ate Brake Pads, Jan Pateman, 011 914 4870, [email protected]
Further reading:
Smart car parking solution eases traffic flow
Dahua Technology South Africa CCTV, Surveillance & Remote Monitoring Integrated Solutions Products
Ethiopia's first smart parking lot, designed to improve traffic flow and management efficiency, has been built and installed using Dahua Technology's smart parking solutions.
Read more...
---
VMS 7.2 supports the investigation process and adds cloud capabilities
CCTV, Surveillance & Remote Monitoring Integrated Solutions Products
Qognify has launched the second release of its VMS, including extended support for body-worn video, additional functionalities to support investigations, and a new web client architecture. VMS 7.2 addresses the increasing use of body-worn video (BWV) across many sectors.
Read more...
---
Hytera and KZN Police Service roll out digital call handling system
Government and Parastatal (Industry) Asset Management, EAS, RFID Integrated Solutions
Hytera Communications announced that the municipality of Ray Nkonyeni in the KwaZulu-Natal province of South Africa is now using its digital call handling system for the reporting and recording of crimes.
Read more...
---
Cyber resilience is more than cybersecurity
Technews Publishing Editor's Choice Cyber Security Integrated Solutions IT infrastructure
Hi-Tech Security Solutions held a round-table discussion focusing on cyber resilience and found that while the resilience discipline includes cybersecurity, it also goes much further.
Read more...
---
Johnson Controls releases IQ4
Perimeter Security, Alarms & Intruder Detection Integrated Solutions
New lower cost panel leverages Qolsys IQ Platform targeting residential, SMB, builder, MDU/multi-family and wellness market segments.
Read more...
---
SuperVision biometric access control
Integrated Solutions Access Control & Identity Management Products
SuperVision is a time & attendance (T&A) biometric access control system Fourier IT has been developing and enhancing for 18 years.
Read more...
---
Shift to online driving retail transformation
Retail (Industry) Integrated Solutions
There is a growing demand from retail for an end-to-end solution that helps their digitisation process, integrating finance, procurement, warehouse management, pricing, stock management, point of sale and more.
Read more...
---
AI in video analytics
CCTV, Surveillance & Remote Monitoring Integrated Solutions
AI (artificial intelligence), has been developed and debated ever since the first computers were invented, and while the most revolutionary incarnations are not yet here, AI-based technologies are widely used today.
Read more...
---
Complete solutions, delivering complete protection
Gallagher Access Control & Identity Management Integrated Solutions Commercial (Industry)
The recent release by Gallagher of Command Centre v8.80 and Command Centre Web enables all organisations to make security easier, faster and more efficient.
Read more...
---
Cathexis demonstrates its 'effective innovation'
Cathexis Technologies Technews Publishing Editor's Choice CCTV, Surveillance & Remote Monitoring News Integrated Solutions
Cathexis Africa recently held a roadshow with a stop in Johannesburg where Hi-Tech Security Solutions was invited to attend, along with many of the company's partners and users.
Read more...
---