printer friendly version
PIR detectors explained
Access & Identity Management Handbook 2005
Perimeter Security, Alarms & Intruder Detection
Elvey Security Technologies is a proud distributor of the high performance intruder detectors from Optex. Optex products are most reliable, easy to install and affordable. All Optex detectors are 100% tested before being introduced to the market and with continuous R&D, Optex is constantly improving its existing detectors to meet the needs of the security market.
Elvey Security Technologies, together with Optex, would like to add some insight to the mechanisms behind the Optex detectors.
How do PIR detectors work?
Passive infrared (PIR) detection is achieved by monitoring changes of the far infrared levels in the sensors field of view. All objects emit infrared radiation at or around a wavelength of 10 µm. The sensor activates when a human being moves against a background that is emitting more or less radiation. Effective detectors are able to discriminate between humans and other sources of infrared.

Conventional models
Unique technologies
Using a number of unique technologies, many of which are patented, Optex detectors are able to discriminate between human and other sources of infrared such as moving curtains or blinds, radiators, office equipment, pets, sunlight and reflections. The aim of all the technologies is to reduce the incidence of a false alarm.
Double conductive shielding
Double filtering and conductive metal shielding cover the pyroelectric sensor, blocking and grounding out visible light and radio frequency interference (RFI). Only infrared energy passes through the filter, minimising false alarms from direct or reflected sunlight and car headlights.
Quad zone logic
These create an extremely high vertical zone density; two or three times the size of that in conventional PIRs. These taller zones capture the entire body mass of a person and enable detection of the smallest temperature contrast between them and the background. In addition, the vertical detection density takes into account dead zones created by furniture or partitions.
Quad zone logic
Multifocus technology
Multifocus technology creates zones with high vertical density, optimising detection sensitivity and enabling detection to remain stable even in high temperature conditions.
Temperature compensation
Temperature compensation increases detection capability in high temperature conditions, where the background temperature is similar to that of the human body. It maintains a high level of false alarm protection and helps prevent valid alarms being missed by automatically adjusting sensitivity according to the environmental temperature.
Spherical lens design
Traditional PIR detectors use a flat lens bent into a curve to focus infrared energy onto the pyroelectric sensor. This is not the most accurate method, because the distance between the lens and the pyroelectric sensor (the focal length) varies for each detection zone, creating distortion. The Optex spherical lens design eliminates distortion by providing a uniform focal length for every detection zone. Additionally, the sphere is one of the strongest geometrical structures, making spherical lenses superior both optically and mechanically.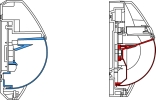 Conventional structure
Sealed optics
With conventional PIR detectors, small inserts and draughts can cause false alarms by getting between the lens and the pyroelectric sensor. This is prevented by 'sealed optics', which make this space separate sealed optical compartment ensuring that it remains empty and undisturbed at all times.

Sealed optics
For more information contact Elvey Security Technologies, 011 401 6700, [email protected], www.elvey.co.za
Credit(s)
Further reading:
Olarm product highlights for 2022
Olarm Perimeter Security, Alarms & Intruder Detection Products
Olarm rapidly expanded its ecosystem in 2022 with several new products, the launch of its training academy, and a presence in Gauteng.
Read more...
---
Smart home security
Olarm Smart Home Automation Perimeter Security, Alarms & Intruder Detection Products
The applied use of smart technology within the Olarm ecosystem, through smart features coupled with existing systems, extends the benefits of technology into different spheres.
Read more...
---
Be cautious when receiving deliveries at home
News Perimeter Security, Alarms & Intruder Detection Security Services & Risk Management
Community reports of residents being held up at their gate when collecting fast food deliveries at home are once again surfacing.
Read more...
---
Banks move to lithium battery technology for intruder systems
Uniross Batteries Perimeter Security, Alarms & Intruder Detection
With advances in battery technology, lithium batteries now include a built-in Battery Management System (BMS) to monitor the battery and shut it down should there be a risk of a failure or overheating.
Read more...
---
Future-proofed intrusion detection for retail
Elvey Security Technologies Retail (Industry) Perimeter Security, Alarms & Intruder Detection Products
One of the ongoing challenges that has faced retailers during their adoption of security technology is the issues caused by non-standardisation of technology.
Read more...
---
Johnson Controls releases IQ4
Perimeter Security, Alarms & Intruder Detection Integrated Solutions
New lower cost panel leverages Qolsys IQ Platform targeting residential, SMB, builder, MDU/multi-family and wellness market segments.
Read more...
---
The false alarm that's costing money
Guardian Eye Perimeter Security, Alarms & Intruder Detection
Property safety is often a litany of false alarms and fake threats that take up time, cost money and test patience, but it doesn't have to be that way thanks to modern technology
Read more...
---
Load shedding, faulty alarm systems and insurance risks
Perimeter Security, Alarms & Intruder Detection
As South Africa continues to experience frequent bouts of load shedding, security systems can be severely compromised due to the lead-acid batteries still used in security systems.
Read more...
---
Successful show for body-worn tech
Elvey Security Technologies Residential Estate (Industry)
Moving beyond products to full cybersecurity service for residential estates.
Read more...
---
Driving reliable wireless security
Elvey Security Technologies Perimeter Security, Alarms & Intruder Detection Industrial (Industry) Products
Ajax wireless technology provides reliable system to provide uncompromising perimeter intruder detection for security at vehicle manufacturing plant.
Read more...
---