printer friendly version
Peace-of-mind through product excellence
October 2005
Perimeter Security, Alarms & Intruder Detection
Elvey Security Technologies, together with Optex, believe that peace-of-mind comes from knowing that when an alarm activates it is a real alarm and not a false alarm. Optex is known to do all it can to design and deliver detectors that will give years of reliable, trouble-free operation and that is why Optex has developed a range of combination detectors.

How do combination detectors work?
Combination detectors use not one, but two, high-quality, independent detection methods to sense human movement - PIR and microwave.
PIR detectors monitor changes in passive infrared energy levels whilst microwave detectors monitor the difference in frequency between transmitted and reflected microwave signals.
The difference of influence by the false alarm factors between PIR and microwave:

Unique Optex PIR technologies
The PIR elements in our combination detectors utilise the following technologies, unique to Optex, which enable them to discriminate between humans and other sources of infrared that frequently cause false alarms, such as moving curtains or blinds, radiators, office equipment and pets.
* Quad zone logic.
* Temperature compensation.
* Spherical lens design.
Unique Optex microwave technologies
These technologies have been developed to overcome the two main problems associated with microwave detection - interference from other microwaves and unwanted detection outside the coverage area.
Anti-crosstalk technology

Optex MX Series
When several microwave detectors are used in the same area, false alarms can occur because microwaves from the detectors interfere with one another. The Optex anti-crosstalk system prevents this interference using a unique new antenna design, which recognises microwaves emanating from other detectors and cancels them out.
Noise reduction
Optex MX and DX Series
If, despite anti-crosstalk technology, some noise does enter the antenna, the noise reduction circuit detects it and cancels it out, preventing false alarms.
Automatic trouble monitoring
OPTEX DX Series
* Anti-PIR Tamper Function.
When PIR detector fails (something near the detector blocking the field of view), a trouble output will generate via the alarm output and LED display.
* Microwave watchdog circuit (self checking function).
When microwave operation fails, DX automatically switch to single PIR operation in enhanced reliability mode avoiding missed alarms.
Microwave area shaping
Optex DX Series
When microwave and PIR detection are used together, the detection areas of each must be the same. Traditionally this can be a problem because, firstly, microwaves are not always limited by objects such as walls, windows and partitions, whereas PIR detection is. Secondly, the distances at which microwaves can detect movement tend to be far greater than those required by internal intruder detection applications.
Microwave area shaping overcomes these problems by matching the microwave detection area to that of the PIR and by limiting it to the room being covered. By doing this, false alarms from beyond the required coverage area or outside the room in question are avoided.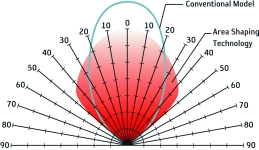 Optex photobeams are the most reliable on the market today. With reliable detection at the heart of any effective intruder alarm system, it does not make sense to compromise when specifying a job. Optex combines innovative design with unsurpassed manufacturing quality to produce detectors that you can rely on every time.
How do photobeams work?
Television and radio signals, visible light, X-rays, sunburn-causing UV light, and IR light are all types of electromagnetic radiation, differentiated by their wavelength. IR light has a wavelength in the range of 0,075 micron to 1 mm, which is longer than the wavelength of visible red light and is invisible to the human eye.
The photobeam operates by sending pulsed beams of infrared light between transmitters and receivers. An object breaking the beams will be monitored and an alarm created if the duration of the break falls within preset levels.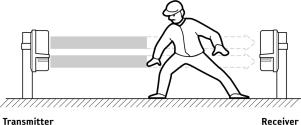 Optex photobeam technologies
Twin beam
All Optex photobeams except AX-350/650DH Series use the twin beam system. Both beam paths need to be blocked simultaneously to generate an alarm and spacing the beams apart results in a dramatic reduction in false alarms caused by birds, animals and blowing debris. Dual beams emit more infrared energy making them more resistant to false activations caused by adverse weather conditions.

The falling leaf blocks only one beam - the other beam still reaches the receiver. This makes twin beams less prone to false alarms than large single beams.
Digital beam
AX-350/650DH Series is a next generation photoelectric detector which utilises the world's first digital technology.
With these technologies, huge packet block information is exchanged between transmitter and receiver and it realises the simplified optical alignment and prevents false alarms caused by crosstalk of beams, outside severe environment, etc.
Stacking applications:
* Up to four sets of multiple installations (AX-350/650DH MKIII only).
Elvey Security Technologies is proudly the sole recognised distributor of Optex equipment in South Africa.
For more information contact Elvey Security Technologies, 011 401 6700, sales@elvey.co.za, www.elvey.co.za
Credit(s)
Further reading:
AI is transforming the security industry
September 2019, Fidelity ADT Security , Home Security, Perimeter Security, Alarms & Intruder Detection
Artificial intelligence (AI) is no longer a futuristic, fictional concept. The truth is we are living the future now.
Read more...
---
Security system for high-end hotel
September 2019, Elvey Security Technologies , CCTV, Surveillance & Remote Monitoring, Integrated Solutions, Entertainment and Hospitality (Industry)
An international hotel group has made a substantial investment in upmarket hotels within a prestigious Northern Suburbs mixed-use precinct.
Read more...
---
Perimeter protection in Ghana
October 2019, AcoustAlert , Mining (Industry), Perimeter Security, Alarms & Intruder Detection
A gold mine in Ghana has erected a dual fence with AcoustAlert PIDS fence detection on both inner and outer fence lines.
Read more...
---
Mallett appointed as Elvey sales director
October 2019, Elvey Security Technologies , News
Ernest Mallett has been appointed as sales director of the Elvey Security Technologies group of companies.
Read more...
---
A committed service provider
October 2019, Elf Rentals - Electronic Security Solutions , Perimeter Security, Alarms & Intruder Detection, Residential Estate (Industry)
The theme Elf promoted through its sponsorship was that it offers clients its own financial commitment and willingness to accept the risk of equipment failure.
Read more...
---
Thermal cameras with artificial intelligence
October 2019, Dahua Technology South Africa , Perimeter Security, Alarms & Intruder Detection, CCTV, Surveillance & Remote Monitoring, Residential Estate (Industry)
Dahua Technology showcased solutions that are important to residential estates, namely perimeter protection.
Read more...
---
Securing estate perimeters
October 2019, Nemtek Electric Fencing Products , Perimeter Security, Alarms & Intruder Detection, Residential Estate (Industry)
Nemtek has a range of products designed to secure the perimeters of estates, however its display at the conference focused on its Network Energizer and its Dual-Action Tension Sensor.
Read more...
---
Integrated solutions add value
October 2019, Elvey Security Technologies , Integrated Solutions, Residential Estate (Industry)
Elvey distributes a broad range of products that are relevant to the estate market and the company's stand incorporated various suppliers' products in integrated solutions.
Read more...
---
Using home security to provide home automation
October 2019, TPA Security Distributors , Perimeter Security, Alarms & Intruder Detection, Products
Making outdoor intrusion detection sensors an integral part of the security/home automation system is a reality with Texecom Connect and Ricochet technology.
Read more...
---
Not just intruder detection systems
October 2019, Elvey Security Technologies , Perimeter Security, Alarms & Intruder Detection, Products
The market is clamouring for the integration of traditional intruder detection systems with home automation, surveillance and access control solutions.
Read more...
---