printer friendly version
Saving lives with CCTV
CCTV Handbook 2005
CCTV, Surveillance & Remote Monitoring

Specialists in security systems were the major contributors to the instalment of observations cameras on the Van Staden's River bridge near Port Elizabeth which has claimed many despondent victims.
The six closed-circuit cameras were put into operation in June this year and so far five lives have been saved.
This is the first time that cameras have been installed for this purpose on any bridge in South Africa and probably also a first for the rest of the world. Even the Golden Gate Bridge, San Fransisco, which is infamous for many suicides, is without a similar system.
The idea to equip the Van Staden's bridge with a high-tech security system originated with journalist Franz Kemp, following the tragic death two years ago of his daughter, 35-year-old Inge Kemp who became the 55th person to jump to her death. Since then five more people have made the fatal plunge.
He was shattered when his daughter died so unnecessarily and prematurely - but instead of losing himself in grief he decided to do something constructive.
A week after Inge's death on 18 May 2003 he was talking to the officer investigating her death at nearby Thornhill Police Station.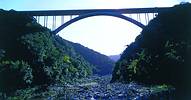 "My daughter has not died in vain," he told Detective Inspector Francois Nell. "We have got to do something to stop these suicides."
Wire fences on the sides of the bridge, razor wire, railings and nets had been discussed over the years but all had been rejected as too costly.
Franz suggested closed-circuit cameras and went out to find sponsors for what would not be a cheap solution. It took two years and plenty of hard work and determination to get through the red tape associated with power supply, poles and piping, regulations and engineers' plans.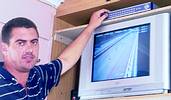 The project, which has cost more than R1 million, is now up and running as Franz's tribute to the daughter who always put others first; a way of making precious memories of her live on.
"Even if we managed to save only one life it would help to ease the heartache and pain," he says.
The cameras were donated by Johan and Wanda Venter of National Observation Equipment (member of the Intisec Corpration) in Bloemfontein with branches countrywide. They were the first to be approached by Kemp and they came on board without hesitation.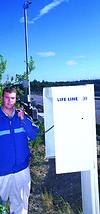 "This is all about saving lives and is a service to the police and local community of Thornhill who have suffered emotionally for many years as a result of the suicides at the bridge," says Venter.
He and his wife donated six high-resolution CCTV cameras with Sony CCD, branded Intisec. The control equipment consists of an embedded digital video recorder with a capability to facilitate 16 cameras, with a 54 cm monitor.
Another key role player is Mike Jefferies of Fibre Management Systems in Johannesburg. He donated a single-mode fibre-optic transmission system imported from the UK. This is the first unit of this type to be installed in South Africa.
Other major contributors to the project were Santam which offered insurance for the cameras and security system, Telkom which provided the optic fibre link and the Nelson Mandela Metropole, which supplies the flow of electricity.
Until recently the police station's only contact with the bridge was via two emergency Lifeline phones that triggered an alarm when someone picked up the handset.
There have been many hoax calls that have wasted police officers' time; and before the metallic phones were painted white, baboons would often lift the handsets to look at their reflections in the shiny surface.
Another irritation for police were tourists picking up the phones because they thought they were there for anyone wanting statistical or historical information on the bridge. Then there were people just trying to be funny.
"Every time someone picked up one of those phones it was like an air-raid siren going off in our ears," says Mornay Bradley who has been counselling on the bridge for the past 13 years. "It is nerve-wracking; you never know what you will find."
He once arrived at the bridge to find a man sitting in his car with a gun on his lap. There was nothing to prevent him shooting the policeman and himself.
Bradley is modest about his gift for talking people off the bridge, which has become something of a calling. He has persuaded about 1000 people that no problem is too big to deal with and thereby probably saved their lives. He managed to persuade them life is worthwhile because of the children, brothers, parents and friends who loved and needed them.
"It upset me terribly," says Bradley, whose devotion to his duties has often stretched an eight-hour shift to 18 hours. He always prays before going to the bridge - and while he is talking to a would-be jumper - because he cannot do it alone.
The longest talk he has ever had with a potential suicide was about nine hours - but it was worth it, he says.
"We need all our energy for talks like this and the cameras now help us to avoid wasting time with hoaxes and keep our fingers on the pulse."
Pedestrians are not allowed on the bridge because it is a national highway so the cameras make it easy for police to spot tourists wandering onto the bridge because they just cannot resist the view.
Fact file
Johan Venter, National Observation Equipment, 051 448 7777.
Mike Jefferies, Fibre Management Systems, 011 679 1594.
Further reading:
Drones and cybersecurity?
October 2019 , CCTV, Surveillance & Remote Monitoring
Hacker drones can eavesdrop electronically on conversations, can perform network attacks, or can create fake wireless access points.
Read more...
---
Body-worn cameras transforming security
October 2019 , CCTV, Surveillance & Remote Monitoring, Security Services & Risk Management
Police Service Northern Ireland now has over 7 000 officers using 2 500 cameras covering approximately 173 000 incidents each year.
Read more...
---
Camera Selection Guide 2019
CCTV Handbook 2019 , CCTV, Surveillance & Remote Monitoring
The Camera Selection Guide 2019 includes a range of IP, analogue, thermal and speciality cameras aimed at a broad range of surveillance functions.
Read more...
---
Intelligent analytics and the brains to match
September 2019, Bosch Building Technologies , CCTV, Surveillance & Remote Monitoring, Integrated Solutions
What if the brains behind our security cameras could be trained to improve their cognitive ability to pay attention, learn, and problem-solve according to specific rules and situations?
Read more...
---
AI-powered autonomous Drone-in-a-Box
September 2019 , CCTV, Surveillance & Remote Monitoring, Integrated Solutions
Organisations in the mining, energy and industrial, oil and gas, ports and terminals sectors can optimise security and business operations, whilst reducing risks and operational costs
Read more...
---
Cybersecurity for video surveillance systems
September 2019 , Cyber Security, CCTV, Surveillance & Remote Monitoring
Video surveillance systems are increasingly accessible over any IP network, which has led to the rise of potential cyberattack.
Read more...
---
A platform approach to innovation and value
CCTV Handbook 2019, Technews Publishing , Editor's Choice, CCTV, Surveillance & Remote Monitoring, Integrated Solutions, IT infrastructure
Moving to the platform model of doing business holds tremendous advantages for end users and smaller developers, but also for the whole technology supply chain.
Read more...
---
Back to manufacturer uniformity?
CCTV Handbook 2019, Dallmeier Electronic Southern Africa , CCTV, Surveillance & Remote Monitoring
Decision makers often have to choose between an all-inclusive, complete solution from one manufacturer and the products and services of several different providers.
Read more...
---
Open does not always mean easy integration
CCTV Handbook 2019, VERACITECH, Technews Publishing , Editor's Choice, CCTV, Surveillance & Remote Monitoring, Integrated Solutions
Customers who opt for best-of-breed solutions will have to rely on their integrators to develop customised integrated solutions for them.
Read more...
---
The impact of AI on the surveillance industry
CCTV Handbook 2019, G4S South Africa, Hikvision South Africa, Myertal Tactical Security, Technews Publishing , Editor's Choice, CCTV, Surveillance & Remote Monitoring
What the impact of AI will be on companies, the services and solutions they supply, as well as on the jobs people do.
Read more...
---