printer friendly version
Guidelines for digital imaging
CCTV Handbook 2005
CCTV, Surveillance & Remote Monitoring
The information below is an extracted section from the UK's Police Scientific Development Branch (PSDB) document, Digital Imaging Procedure (v.1.0). It is reproduced here to provide a general insight into the way digital images are considered and accepted by the police, in the absence of such publicly published guidelines in South Africa.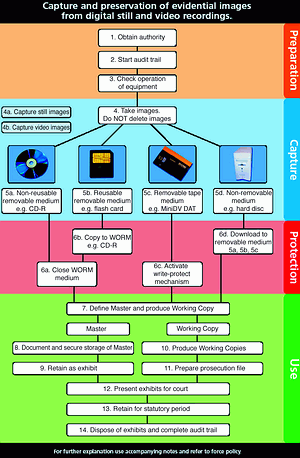 What is evidence?
Evidence, in terms of a still image or video footage, is the presentation of visual facts about the crime or an individual that the prosecution presents to the court in support of its case. The images will be presented either as a hard copy or on a screen. With conventional photography, the negatives are often referred to as the primary or original images and the prints are all made from them. Similarly, with video and analog recording the first tape is sealed as a master once the first copy has been made from it.
A copy of an analog tape is always a degraded version because noise is added at each copying. This is compounded by the physical wear and tear of the tape. However, it is possible to make a bit-for-bit identical copy of a digital image file. In evidential terms there is no distinction of primary or original file because the files are the same and have the same evidential weight. It is not important whether the file is on a standalone or networked-computer, a server, or on any type of storage medium.
This assumes the operation of adequate security against unauthorised and unrecorded access. If no discipline is applied there can be any number of identical files. For evidential purposes it is essential to be able to demonstrate that the images are authentic and have originated from the files captured in the camera and recorded to the first medium. Digital image files can be used in exactly the same way as conventional photography and video with written audit trails. Electronic audit trails if available can augment the written audit trails.
Digital images should not be thought of as replacements for conventional photographs and videos but alternative technologies. It has to be recognised that digital images are not necessarily better than conventional ones, and that images produced with this new technology may appear different to those we are familiar with.
Some lower resolution digital images displayed on a computer screen or as hard copy might not appear very lifelike but then neither do many simulations. The important and overriding factor is that the content of the image should be fit for the purpose and that the quality is adequate. To this end the use of desktop printers for hard copies of stills and low-resolution video footage must not be ruled out. It is not always necessary or feasible to produce the highest quality images to demonstrate the facts required for the evidence.
Is a picture a true representation?
Even in the agreed absence of any deliberate manipulation by anyone, digital images can never be an exact reproduction of the scene. There are two technical points to be appreciated:
* Whilst there are digital cameras which have no integral signal processing and the signal is displayed on the screen without processing in the computer, these are used in very specialised applications and are monochrome. Such cameras are used for scientific applications and the PSDB uses one in its Integrated Rapid Imaging System workstation for fingerprint capture to give extremely high resolution and integrity.
* Most other cameras and all colour cameras use a multitude of complex image processing techniques to combine the signals from the charge-coupled device's (CCD's) pixels into an image of the subject. The image can only ever be somehow 'true' or 'accurate' because the aim of the manufacturer is obviously to produce as 'lifelike' an image as possible within the cost-band of the camera.
However, the image is a representation of the subject in the same way as conventional photographs are. No one questions the chemistry involved in the development of the tiny grains in an emulsion and how the resolution and colour are chemically produced. In video, the images are accepted as being fully electronically processed. Video recordings are admissible as evidence and the digital storage of the images does not alter that.
Source: UK Home Office, www.homeoffice.gov.uk/docs/digimpro.pdf
Further reading:
Drones and cybersecurity?
October 2019 , CCTV, Surveillance & Remote Monitoring
Hacker drones can eavesdrop electronically on conversations, can perform network attacks, or can create fake wireless access points.
Read more...
---
Body-worn cameras transforming security
October 2019 , CCTV, Surveillance & Remote Monitoring, Security Services & Risk Management
Police Service Northern Ireland now has over 7 000 officers using 2 500 cameras covering approximately 173 000 incidents each year.
Read more...
---
Camera Selection Guide 2019
CCTV Handbook 2019 , CCTV, Surveillance & Remote Monitoring
The Camera Selection Guide 2019 includes a range of IP, analogue, thermal and speciality cameras aimed at a broad range of surveillance functions.
Read more...
---
Intelligent analytics and the brains to match
September 2019, Bosch Building Technologies , CCTV, Surveillance & Remote Monitoring, Integrated Solutions
What if the brains behind our security cameras could be trained to improve their cognitive ability to pay attention, learn, and problem-solve according to specific rules and situations?
Read more...
---
AI-powered autonomous Drone-in-a-Box
September 2019 , CCTV, Surveillance & Remote Monitoring, Integrated Solutions
Organisations in the mining, energy and industrial, oil and gas, ports and terminals sectors can optimise security and business operations, whilst reducing risks and operational costs
Read more...
---
Cybersecurity for video surveillance systems
September 2019 , Cyber Security, CCTV, Surveillance & Remote Monitoring
Video surveillance systems are increasingly accessible over any IP network, which has led to the rise of potential cyberattack.
Read more...
---
A platform approach to innovation and value
CCTV Handbook 2019, Technews Publishing , Editor's Choice, CCTV, Surveillance & Remote Monitoring, Integrated Solutions, IT infrastructure
Moving to the platform model of doing business holds tremendous advantages for end users and smaller developers, but also for the whole technology supply chain.
Read more...
---
Back to manufacturer uniformity?
CCTV Handbook 2019, Dallmeier Electronic Southern Africa , CCTV, Surveillance & Remote Monitoring
Decision makers often have to choose between an all-inclusive, complete solution from one manufacturer and the products and services of several different providers.
Read more...
---
Open does not always mean easy integration
CCTV Handbook 2019, VERACITECH, Technews Publishing , Editor's Choice, CCTV, Surveillance & Remote Monitoring, Integrated Solutions
Customers who opt for best-of-breed solutions will have to rely on their integrators to develop customised integrated solutions for them.
Read more...
---
The impact of AI on the surveillance industry
CCTV Handbook 2019, G4S South Africa, Hikvision South Africa, Myertal Tactical Security, Technews Publishing , Editor's Choice, CCTV, Surveillance & Remote Monitoring
What the impact of AI will be on companies, the services and solutions they supply, as well as on the jobs people do.
Read more...
---