printer friendly version
Guidelines for digital imaging
August 2005
CCTV, Surveillance & Remote Monitoring
The information below is an extracted section from the UK's Police Scientific Development Branch (PSDB) document, Digital Imaging Procedure (v.1.0). It is reproduced here to provide a general insight into the way digital images are considered and accepted by the police, in the absence of such publicly published guidelines in South Africa.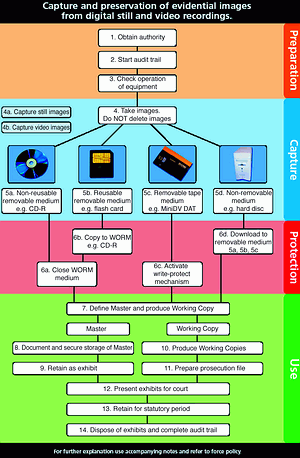 What is evidence?
Evidence, in terms of a still image or video footage, is the presentation of visual facts about the crime or an individual that the prosecution presents to the court in support of its case. The images will be presented either as a hard copy or on a screen. With conventional photography, the negatives are often referred to as the primary or original images and the prints are all made from them. Similarly, with video and analog recording the first tape is sealed as a master once the first copy has been made from it.
A copy of an analog tape is always a degraded version because noise is added at each copying. This is compounded by the physical wear and tear of the tape. However, it is possible to make a bit-for-bit identical copy of a digital image file. In evidential terms there is no distinction of primary or original file because the files are the same and have the same evidential weight. It is not important whether the file is on a standalone or networked-computer, a server, or on any type of storage medium.
This assumes the operation of adequate security against unauthorised and unrecorded access. If no discipline is applied there can be any number of identical files. For evidential purposes it is essential to be able to demonstrate that the images are authentic and have originated from the files captured in the camera and recorded to the first medium. Digital image files can be used in exactly the same way as conventional photography and video with written audit trails. Electronic audit trails if available can augment the written audit trails.
Digital images should not be thought of as replacements for conventional photographs and videos but alternative technologies. It has to be recognised that digital images are not necessarily better than conventional ones, and that images produced with this new technology may appear different to those we are familiar with.
Some lower resolution digital images displayed on a computer screen or as hard copy might not appear very lifelike but then neither do many simulations. The important and overriding factor is that the content of the image should be fit for the purpose and that the quality is adequate. To this end the use of desktop printers for hard copies of stills and low-resolution video footage must not be ruled out. It is not always necessary or feasible to produce the highest quality images to demonstrate the facts required for the evidence.
Is a picture a true representation?
Even in the agreed absence of any deliberate manipulation by anyone, digital images can never be an exact reproduction of the scene. There are two technical points to be appreciated:
* Whilst there are digital cameras which have no integral signal processing and the signal is displayed on the screen without processing in the computer, these are used in very specialised applications and are monochrome. Such cameras are used for scientific applications and the PSDB uses one in its Integrated Rapid Imaging System workstation for fingerprint capture to give extremely high resolution and integrity.
* Most other cameras and all colour cameras use a multitude of complex image processing techniques to combine the signals from the charge-coupled device's (CCD's) pixels into an image of the subject. The image can only ever be somehow 'true' or 'accurate' because the aim of the manufacturer is obviously to produce as 'lifelike' an image as possible within the cost-band of the camera.
However, the image is a representation of the subject in the same way as conventional photographs are. No one questions the chemistry involved in the development of the tiny grains in an emulsion and how the resolution and colour are chemically produced. In video, the images are accepted as being fully electronically processed. Video recordings are admissible as evidence and the digital storage of the images does not alter that.
Source: UK Home Office, www.homeoffice.gov.uk/docs/digimpro.pdf
Further reading:
Why rehearsals and drills for crises and evacuation are so important
August 2019, Leaderware , CCTV, Surveillance & Remote Monitoring, Security Services & Risk Management
The rehearsal of concept (ROC) drill has been used extensively in the military, but is just as important when facing risks in organisations and institutions to protect people on the ground.
Read more...
---
Milestone partners prove their skills
August 2019, Milestone Systems , News, CCTV, Surveillance & Remote Monitoring, Training & Education
Within the span of one week in mid-May, the Milestone Learning & Performance group celebrated important benchmarks: 200 000 course registrations and tutorial views, and 10 000 certifications.
Read more...
---
ONVIF Hosts 20th Developers' Plugfest
August 2019 , News, CCTV, Surveillance & Remote Monitoring
ONVIF, the global standardisation initiative for IP-based physical security products, hosted its twentieth ONVIF Developers' Plugfest in early June in Tokyo.
Read more...
---
Licence plate recognition camera
August 2019 , Products, CCTV, Surveillance & Remote Monitoring
VIVOTEK has introduced a new licence plate recognition camera featuring built-in licence plate recognition software and edge-computing capability.
Read more...
---
Securing Savannah Hills Estate
August 2019, Rhyco Risk Projects , CCTV, Surveillance & Remote Monitoring, Perimeter Security, Alarms & Intruder Detection
Savannah Hills Estate in Midrand planned a security upgrade which was awarded to Rhyco Risk Projects. The project started in March 2019 and was completed in May 2019.
Read more...
---
10 things to consider when shopping for a VMS
August 2019, Genetec , CCTV, Surveillance & Remote Monitoring, Integrated Solutions
Today's video management systems (VMS) provide a wide range of tools and capabilities that help make security personnel more efficient by allowing them to focus on what really matters.
Read more...
---
How far are we really at with artificial intelligence?
August 2019, Axis Communications SA , Editor's Choice, CCTV, Surveillance & Remote Monitoring, IT infrastructure, Residential Estate (Industry)
Justin Ludik unpacks exactly how far AI has come and what it potentially can do for society and more importantly, surveillance.
Read more...
---
Enhancing security with AI
August 2019, Hikvision South Africa , CCTV, Surveillance & Remote Monitoring
Hikvision explains how residential estates can revolutionise their security strategies and outcomes with artificial intelligence.
Read more...
---
More than simply a camera
August 2019, Forbatt SA, Secutel Technologies , CCTV, Surveillance & Remote Monitoring, Residential Estate (Industry)
With the human element being the weakest link in all security solutions, Hi-Tech Security Solutions looks at the pros and cons of using body-worn cameras in estates.
Read more...
---
The importance of effective perimeter security
August 2019, Elf Rentals - Electronic Security Solutions, Stafix , Editor's Choice, CCTV, Surveillance & Remote Monitoring, Residential Estate (Industry)
Protecting the perimeter is critical for any residential estate; how does one go about making sure your perimeter is as secure as possible?
Read more...
---