printer friendly version
IPV is not CCTV
August 2005
CCTV, Surveillance & Remote Monitoring
This article is not about CCTV. It is about surveillance cameras and the solutions that sit behind them. It is about IP video (IPV).
Why do I start with making that point so emphatically? It is because the term CCTV is loosely used to cover all kinds of camera surveillance systems, but the differences between CCTV and IPV are so profound that is very misleading to lump them under one label.
CCTV as we all know is closed circuit television, and the key word is closed. IPV, on the other hand, is transmission of video signals over Internet Protocol (IP). The openness of the Internet is something everyone is familiar with, and indeed that is one of the major differentiators of IPV: video signals can be transmitted as easily to the other side of the planet as to a desk in reception, bandwidth permitting. The pictures can be made available to anyone, anywhere. That is not always desirable of course, but with signal encryption and firewalls, access can be controlled.
Modern businesses, almost without exception, run over IP-based data networks and link to partners and remote offices over the public Internet, and home networks and Internet access are commonplace, so the carrier for IPV is everywhere.
The implications are wide-ranging. A head office can see what is going on in their offices, warehouses and stores around the country or the world; individuals can look in on their homes whilst travelling overseas; parents can monitor their children at playschool; security companies can get automatic feed of video from the premises of their clients as soon as an alarm is triggered; and so on - the openness of the Internet makes myriad applications possible that could not even be thought of with CCTV.
The other big difference between IPV and CCTV has already been mentioned in passing, but needs to be put in clear relief: IPV runs over existing cables and infrastructure. This has positive and negative aspects. On the positive side, it means the physical deployment of IPV is greatly simplified as much of the time the data cabling will already go to or near the points where you want to place your cameras, and the cables themselves are inexpensive. Nearly all networks run over Ethernet as the physical layer, and there is a standard for transmitting power over Ethernet cables known as 802.3af, or more simply, PoE. With PoE, a standard Ethernet cable carries both data and power, making deployment even simpler.
The negative side is that because IPV runs over the existing data networks, the video reticulation has to be designed in conjunction with the IT department as it will affect the network design and will be sharing bandwidth with the existing network traffic. Most modern businesses run 100 Mbps Ethernet, often with 1 Gbps links between hubs. An IPV camera at 5 fps will typically use less than 1 Mbps, but multiple cameras, high resolution or high frame rate requirements, and the fact that not all of the nominal bit-rate of Ethernet is available for use can mean that video has a significant impact on the network. There are many factors that modify this, such as cameras that vary their frame rate depending on motion detected, and different encoding schemes, which need to be understood and borne in mind. There is some learning to be done on the part of the camera installers and the IT departments.
A third difference is that IPV cameras generally have more intelligence in the cameras themselves. For example, a camera can be configured not to send any data back until a trigger occurs, such as motion detection (and perhaps only motion in certain portions of the image), or an input switch from a door or boom contact, whereupon it will send back information for, say, 10 seconds before and 20 seconds after the trigger.
A fourth factor is the always-important bottom line: what does it cost? As a general rule of thumb, the cameras are more expensive because of the technology and intelligence built into them, but the system cost is lower. System cost is reduced by lower installation costs and because the storage and processing of video data uses commodity PC and server hardware, and in particular because standard hard drives are used.
IPV is not CCTV: it is a whole new game with many new possibilities.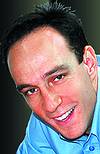 Roy Alves
Roy Alves is the managing director of SCS Distribution, he can be contacted at roy@axisafrica.com
Credit(s)
Further reading:
Why rehearsals and drills for crises and evacuation are so important
August 2019, Leaderware , CCTV, Surveillance & Remote Monitoring, Security Services & Risk Management
The rehearsal of concept (ROC) drill has been used extensively in the military, but is just as important when facing risks in organisations and institutions to protect people on the ground.
Read more...
---
Milestone partners prove their skills
August 2019, Milestone Systems , News, CCTV, Surveillance & Remote Monitoring, Training & Education
Within the span of one week in mid-May, the Milestone Learning & Performance group celebrated important benchmarks: 200 000 course registrations and tutorial views, and 10 000 certifications.
Read more...
---
ONVIF Hosts 20th Developers' Plugfest
August 2019 , News, CCTV, Surveillance & Remote Monitoring
ONVIF, the global standardisation initiative for IP-based physical security products, hosted its twentieth ONVIF Developers' Plugfest in early June in Tokyo.
Read more...
---
Licence plate recognition camera
August 2019 , Products, CCTV, Surveillance & Remote Monitoring
VIVOTEK has introduced a new licence plate recognition camera featuring built-in licence plate recognition software and edge-computing capability.
Read more...
---
Securing Savannah Hills Estate
August 2019, Rhyco Risk Projects , CCTV, Surveillance & Remote Monitoring, Perimeter Security, Alarms & Intruder Detection
Savannah Hills Estate in Midrand planned a security upgrade which was awarded to Rhyco Risk Projects. The project started in March 2019 and was completed in May 2019.
Read more...
---
10 things to consider when shopping for a VMS
August 2019, Genetec , CCTV, Surveillance & Remote Monitoring, Integrated Solutions
Today's video management systems (VMS) provide a wide range of tools and capabilities that help make security personnel more efficient by allowing them to focus on what really matters.
Read more...
---
How far are we really at with artificial intelligence?
August 2019, Axis Communications SA , Editor's Choice, CCTV, Surveillance & Remote Monitoring, IT infrastructure, Residential Estate (Industry)
Justin Ludik unpacks exactly how far AI has come and what it potentially can do for society and more importantly, surveillance.
Read more...
---
Enhancing security with AI
August 2019, Hikvision South Africa , CCTV, Surveillance & Remote Monitoring
Hikvision explains how residential estates can revolutionise their security strategies and outcomes with artificial intelligence.
Read more...
---
More than simply a camera
August 2019, Forbatt SA, Secutel Technologies , CCTV, Surveillance & Remote Monitoring, Residential Estate (Industry)
With the human element being the weakest link in all security solutions, Hi-Tech Security Solutions looks at the pros and cons of using body-worn cameras in estates.
Read more...
---
The importance of effective perimeter security
August 2019, Elf Rentals - Electronic Security Solutions, Stafix , Editor's Choice, CCTV, Surveillance & Remote Monitoring, Residential Estate (Industry)
Protecting the perimeter is critical for any residential estate; how does one go about making sure your perimeter is as secure as possible?
Read more...
---