printer friendly version
IPV is not CCTV
CCTV Handbook 2005
CCTV, Surveillance & Remote Monitoring
This article is not about CCTV. It is about surveillance cameras and the solutions that sit behind them. It is about IP video (IPV).
Why do I start with making that point so emphatically? It is because the term CCTV is loosely used to cover all kinds of camera surveillance systems, but the differences between CCTV and IPV are so profound that is very misleading to lump them under one label.
CCTV as we all know is closed circuit television, and the key word is closed. IPV, on the other hand, is transmission of video signals over Internet Protocol (IP). The openness of the Internet is something everyone is familiar with, and indeed that is one of the major differentiators of IPV: video signals can be transmitted as easily to the other side of the planet as to a desk in reception, bandwidth permitting. The pictures can be made available to anyone, anywhere. That is not always desirable of course, but with signal encryption and firewalls, access can be controlled.
Modern businesses, almost without exception, run over IP-based data networks and link to partners and remote offices over the public Internet, and home networks and Internet access are commonplace, so the carrier for IPV is everywhere.
The implications are wide-ranging. A head office can see what is going on in their offices, warehouses and stores around the country or the world; individuals can look in on their homes whilst travelling overseas; parents can monitor their children at playschool; security companies can get automatic feed of video from the premises of their clients as soon as an alarm is triggered; and so on - the openness of the Internet makes myriad applications possible that could not even be thought of with CCTV.
The other big difference between IPV and CCTV has already been mentioned in passing, but needs to be put in clear relief: IPV runs over existing cables and infrastructure. This has positive and negative aspects. On the positive side, it means the physical deployment of IPV is greatly simplified as much of the time the data cabling will already go to or near the points where you want to place your cameras, and the cables themselves are inexpensive. Nearly all networks run over Ethernet as the physical layer, and there is a standard for transmitting power over Ethernet cables known as 802.3af, or more simply, PoE. With PoE, a standard Ethernet cable carries both data and power, making deployment even simpler.
The negative side is that because IPV runs over the existing data networks, the video reticulation has to be designed in conjunction with the IT department as it will affect the network design and will be sharing bandwidth with the existing network traffic. Most modern businesses run 100 Mbps Ethernet, often with 1 Gbps links between hubs. An IPV camera at 5 fps will typically use less than 1 Mbps, but multiple cameras, high resolution or high frame rate requirements, and the fact that not all of the nominal bit-rate of Ethernet is available for use can mean that video has a significant impact on the network. There are many factors that modify this, such as cameras that vary their frame rate depending on motion detected, and different encoding schemes, which need to be understood and borne in mind. There is some learning to be done on the part of the camera installers and the IT departments.
A third difference is that IPV cameras generally have more intelligence in the cameras themselves. For example, a camera can be configured not to send any data back until a trigger occurs, such as motion detection (and perhaps only motion in certain portions of the image), or an input switch from a door or boom contact, whereupon it will send back information for, say, 10 seconds before and 20 seconds after the trigger.
A fourth factor is the always-important bottom line: what does it cost? As a general rule of thumb, the cameras are more expensive because of the technology and intelligence built into them, but the system cost is lower. System cost is reduced by lower installation costs and because the storage and processing of video data uses commodity PC and server hardware, and in particular because standard hard drives are used.
IPV is not CCTV: it is a whole new game with many new possibilities.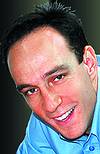 Roy Alves
Roy Alves is the managing director of SCS Distribution, he can be contacted at roy@axisafrica.com
Credit(s)
Further reading:
Securing perimeters of secure locations
November 2019, Axis Communications SA, Modular Communications, Hikvision South Africa, Nemtek Electric Fencing Products, Technews Publishing, Stafix , Government and Parastatal (Industry), Perimeter Security, Alarms & Intruder Detection, Integrated Solutions
Hi-Tech Security Solutions asked a number of companies offering perimeter security solutions for their insights into protecting the boundaries of national key points.
Read more...
---
Drones and cybersecurity?
October 2019 , CCTV, Surveillance & Remote Monitoring
Hacker drones can eavesdrop electronically on conversations, can perform network attacks, or can create fake wireless access points.
Read more...
---
New LPR camera from Axis
October 2019, Axis Communications SA , Products
Dedicated licence plate camera for capturing clear images and easy integration with third-party software.
Read more...
---
Body-worn cameras transforming security
October 2019 , CCTV, Surveillance & Remote Monitoring, Security Services & Risk Management
Police Service Northern Ireland now has over 7 000 officers using 2 500 cameras covering approximately 173 000 incidents each year.
Read more...
---
Camera Selection Guide 2019
CCTV Handbook 2019 , CCTV, Surveillance & Remote Monitoring
The Camera Selection Guide 2019 includes a range of IP, analogue, thermal and speciality cameras aimed at a broad range of surveillance functions.
Read more...
---
Intelligent analytics and the brains to match
September 2019, Bosch Building Technologies , CCTV, Surveillance & Remote Monitoring, Integrated Solutions
What if the brains behind our security cameras could be trained to improve their cognitive ability to pay attention, learn, and problem-solve according to specific rules and situations?
Read more...
---
AI-powered autonomous Drone-in-a-Box
September 2019 , CCTV, Surveillance & Remote Monitoring, Integrated Solutions
Organisations in the mining, energy and industrial, oil and gas, ports and terminals sectors can optimise security and business operations, whilst reducing risks and operational costs
Read more...
---
Cybersecurity for video surveillance systems
September 2019, Mobotix , Cyber Security, CCTV, Surveillance & Remote Monitoring
Video surveillance systems are increasingly accessible over any IP network, which has led to the rise of potential cyberattack.
Read more...
---
What are the cybersecurity issues in video surveillance?
November 2019, Axis Communications SA , Editor's Choice, CCTV, Surveillance & Remote Monitoring, Cyber Security
he importance of the data captured by surveillance cameras – and what can be done with it – has led to a new breed of cybercriminals, looking for insights to steal and sell.
Read more...
---
The safe city and its need for interoperability
November 2019 , Integrated Solutions, CCTV, Surveillance & Remote Monitoring
Interoperability continues to present one of the greatest challenges, particularly with video management systems, video recording devices and cameras.
Read more...
---