printer friendly version
Video-over-IP: a technology with great potential - but beware of that smooth-talking salesperson
August 2005
CCTV, Surveillance & Remote Monitoring
Video-over-IP is a technology with great future potential. However, it is also a great opportunity for the energetic, smooth-talking salesperson to convince customers to buy video-over-IP systems that produce images of half the quality of conventional CCTV systems at many times the price.
A harsh statement? Yes, but it is essentially true for today's market. Video-over-IP does give the salesperson something to enthuse about but the question must also be asked: Does it at this stage help the customer? There is a need to be absolutely sure that the technology will in fact do what the customer wants it to do.
It has to be considered that no two Internet Protocol systems are exactly alike and that Video-over-IP is not the keyword. Rather, the keyword remains picture quality that will lead to suspect identification and arrest and the capability to provide and store visual evidence that will stand up in court.
If the application does not demand images of high quality then undoubtedly video-over-IP technology will in some instances be a perfectly good or even the best solution available. On the other hand there will be applications where it falls far short of being the best solution. The point I am trying to make is that customers should not fall into the trap of getting caught up in the eager salesperson's hype and see just the positives without regard for the negatives.
The pros and cons
There are points for and against the video-over-IP technology. Among the major negatives are:
* Limited bandwidth takes compression to the extreme and results in poor image quality.
* The effect of latency in IP-based systems on PTZ or dome control means that fine control is almost impossible because of the delay in camera response, particularly over high focal lengths.
* Systems based on video-over-IP tend to centralise storage so that the user becomes vulnerable to a single point of failure.
The positives include the ability to use common computer technology, which is reducing in price while increasing in performance, and redundant storage systems such as RAID; a single cable can be used to deal with command, control and feedback; a future advantage could be that it will relieve the industry of the PAL standard. It should improve our ability to move away from PAL to HDTV, which is a huge opportunity; and in applications where high definition detail is not required, video-over-IP could share an existing network LAN or WAN.
There is little doubt that the Internet Protocol is likely to play a major role in CCTV security surveillance systems of the future, especially once improvements to systems have been implemented. But for the time being the use of IP to transmit video images should be exercised with great caution.
Know the limits
Organisations wanting to implement video-over-IP technology now need to bear in mind its limitations. If the user is able to achieve the required picture quality at competitive cost then there is absolutely no reason why the system should not be implemented.
IP is useful in small and relatively non-critical systems but I do not believe it is yet robust enough for critical surveillance solutions. Its use also pre-supposes that CCTV system installers have the ability to install high bandwidth networks. This requires confirmation because CCTV installers are knowledgeable about CCTV and network installers are knowledgeable about data, but right now, the conclusion has to be that neither is yet skilled enough for video-over-IP.
While IP is good for non-realtime transfer of large video files it raises serious concerns for realtime video transmission. Security is another concern as firewalls are adversely affected by multimedia traffic. They cause delays so users either turn firewall ports off or have to install and open many more new ports.
It is likely that there will be many digital advantages in the future, such as digital zooming without loss of fidelity, digital panning and tilting to reduce the cost of lenses and the direct control of cameras leading to increased system sophistication. It is also likely that higher resolution and larger image displays on LCD or OLED will become the norm instead of CRT.
There will also be room for hybrid solutions where IP technology would be advantageous in certain aspects of a total surveillance system application. Video-over-IP will be useful when the system needs to be accessed over a network for remote viewing or to allow remote service calls. For this the system would have to be on IP but not the cameras. While IP is standardised, the systems are not so it does mean that specific software will be needed to address specific cameras.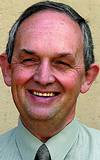 Bennie Coetzer
Dr Bennie Coetzer is joint managing director of Thales Advanced Engineering; he can be contacted on 011 465 4312.
Further reading:
Camera Selection Guide 2019
September 2019 , CCTV, Surveillance & Remote Monitoring
The Camera Selection Guide 2019 includes a range of IP, analogue, thermal and speciality cameras aimed at a broad range of surveillance functions.
Read more...
---
Intelligent analytics and the brains to match
September 2019, Bosch Building Technologies , CCTV, Surveillance & Remote Monitoring, Integrated Solutions
What if the brains behind our security cameras could be trained to improve their cognitive ability to pay attention, learn, and problem-solve according to specific rules and situations?
Read more...
---
AI-powered autonomous Drone-in-a-Box
September 2019 , CCTV, Surveillance & Remote Monitoring, Integrated Solutions
Organisations in the mining, energy and industrial, oil and gas, ports and terminals sectors can optimise security and business operations, whilst reducing risks and operational costs
Read more...
---
Cybersecurity for video surveillance systems
September 2019 , Cyber Security, CCTV, Surveillance & Remote Monitoring
Video surveillance systems are increasingly accessible over any IP network, which has led to the rise of potential cyberattack.
Read more...
---
A platform approach to innovation and value
September 2019, Technews Publishing , Editor's Choice, CCTV, Surveillance & Remote Monitoring, Integrated Solutions, IT infrastructure
Moving to the platform model of doing business holds tremendous advantages for end users and smaller developers, but also for the whole technology supply chain.
Read more...
---
Back to manufacturer uniformity?
September 2019, Dallmeier Electronic Southern Africa , CCTV, Surveillance & Remote Monitoring
Decision makers often have to choose between an all-inclusive, complete solution from one manufacturer and the products and services of several different providers.
Read more...
---
Open does not always mean easy integration
September 2019, VERACITECH, Technews Publishing , Editor's Choice, CCTV, Surveillance & Remote Monitoring, Integrated Solutions
Customers who opt for best-of-breed solutions will have to rely on their integrators to develop customised integrated solutions for them.
Read more...
---
The impact of AI on the surveillance industry
September 2019, G4S South Africa, Hikvision South Africa, Myertal Tactical Security, Technews Publishing , Editor's Choice, CCTV, Surveillance & Remote Monitoring
What the impact of AI will be on companies, the services and solutions they supply, as well as on the jobs people do.
Read more...
---
Video analytics and AI
September 2019, Axis Communications SA, Dallmeier Electronic Southern Africa , Hikvision South Africa, Technews Publishing, Dahua Technology South Africa , Editor's Choice, CCTV, Surveillance & Remote Monitoring, Integrated Solutions
Artificial intelligence has the potential to deliver real benefits in the world of video analytics and many companies are already delivering customer benefits.
Read more...
---
Cloudy with a chance of AI
September 2019 , Editor's Choice, CCTV, Surveillance & Remote Monitoring, Integrated Solutions
One local company has developed an AI solution that can be added to existing surveillance installations, offering 24-hour intelligence.
Read more...
---