printer friendly version
The role of CCTV in solving crimes
CCTV Handbook 2005
CCTV, Surveillance & Remote Monitoring
Welcome to the first IP-CCTV handbook. It is full of information which will be of interest to anyone involved in the design, specification, installation or usage of surveillance solutions. As always I would welcome your feedback if you feel we have missed the point, or erroneously positioned marketing hype as fact.
CCTV has had a profound impact on crime prevention and detection, and is never out of the news for long. However, coverage is often rather stereotyped, and there is a tendency to ignore key issues. The IP-CCTV Handbook seeks to redress the balance by focusing on issues that have a profound effect on vendors and users of surveillance systems.
London 7/7
One thing that is abundantly clear, is that CCTV still plays an intrinsically important role in the combating of crime. In simple terms, surveillance cameras are our 'eyes' when we cannot be everywhere at once. They help us 'see' when our own eyes are closed. And probably, most importantly, they provide us with evidence which support the facts.
Consider the recent London bombings (three explosions on London Tube trains and one on a bus, killed at least 55 people, including the bombers). According to www.BBC.co.uk, the Police (on Sun 17 July) have already released a CCTV image of the four London bombers together as they set off on their deadly mission. The four men were pictured entering Luton rail station at 0720 BST on Thursday 7 July on their way to London.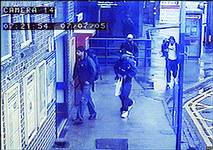 Police confirmed the names of all four bombers: Mohammed Sidique Khan, 30; Shehzad Tanweer, 22; Hasib Mir Hussain, 18 and Germaine Lindsay, 19.
The CCTV picture was released in an attempt to find out more about their final movements. Peter Clarke, head of the Anti-Terrorist Branch, said: "The investigation continues on many fronts, but we have been very grateful for the contribution made by the public in response to our previous appeals. However, we still need to find out more about these four men and their movements, both on the morning of the bombings, and in the days and weeks beforehand."
The collision between security and IT
Probably one of the most interesting articles published in this handbook is the Cisco case study of its own security installation, and which graphically illustrates the complexity of convergence.
According to Deon Chatterton, program manager for the Cisco Security, Technology, and Systems group, the chief lessons learned from the transition to digital CCTV pertain to making the best use of Cisco IT resources. "Physical security and IT security are converging," says Chatterton, "and the two groups need to work more closely than before. When we managed the servers ourselves, a hardware or software problem was a serious issue for the department. Now we just generate a case and IT uses its technical resources and expertise to resolve the issue. We had to shift our culture to let IT do the work and run through its own processes." Chatterton also notes that for a successful partnership, IT has to fully understand and agree with the project goals.
Another lesson learned is that training is essential. "As the use of technology for physical security increases, computer-literacy will become increasingly important," says Lang. "Systems are no better than the competent people who run them. We need to do a good job of training investigative staff to manipulate and understand CCTV over IP." Chatterton and Lang have held training classes for Cisco staff across the United States, Europe, Middle East, and Africa, the Asia-Pacific region, and Japan.
Finally, Bill Jacobs, manager of safety and security, Cisco Systems, notes that the key to a successful CCTV over IP deployment is preplanning. "Make certain that you totally understand your own group's responsibilities and IT's responsibilities," he says. "And make sure that management understands the costs and implementation effort needed to get the project going." At Cisco, for example, IT agreed at the outset to provide the funding for the hardware, but acquiring the funds for installation, maintenance, and monitoring required negotiating. "For a global deployment like ours, it is helpful to work with someone who has authority to approve the project worldwide so that you do not have to negotiate separately with someone in each theatre," says Chatterton.
All parties agree that the culture change required to partner with IT yielded dividends. "The increased reliability, increased accuracy, and reduced manpower requirements of a digital CCTV solution with IT management, completely offset the costs," says Jacobs.
So, enjoy the read. And if you think we have got it right (or wrong), we would love to hear from you.
Sincerely,
Darren Smith
Credit(s)
Further reading:
Leaders in risk and security: As long as there are people, there will be risk
Issue 5 2020, iFacts, Technews Publishing , Editor's Choice
Jenny Reid is a self-made success, focusing on people, the risks they create and the potential they have.
Read more...
---
Mitigating the human risk
Issue 5 2020, Managed Integrity Evaluation, Technews Publishing, iFacts , CCTV, Surveillance & Remote Monitoring
Hi-Tech Security Solutions asked Jennifer Barkhuizen and Jenny Reid for some information around background screening and vetting of potential new hires.
Read more...
---
XProtect available on AWS
Issue 5 2020, Milestone Systems, Technews Publishing , Editor's Choice
Milestone recently announced the availability of XProtect on Amazon Web Services. Hi-Tech Security Solutions asked Keven Marier for more information.
Read more...
---
Adjusting to a new reality
Issue 5 2020, Technews Publishing , Integrated Solutions
COVID-19 to accelerate adoption of technology-enabled smart city resilience approaches: robotics, digital twins, and autonomous freight.
Read more...
---
From the editor's desk: We're back!
Issue 5 2020, Technews Publishing , News
Welcome to the fifth issue of 2020. If years were people, 2020 would have been hung, drawn and quartered...
Read more...
---
From the editor's desk: Sustaining security and sanity
Residential Estate Security Handbook 2020, Technews Publishing , News
Sustainability is a critical component of almost anything in these days of a tanking economy, boosted by COVID-19, which is given further emphasis by the economy being further hammered by the 'cure' for ...
Read more...
---
The COVID test for estate business continuity planning
Residential Estate Security Handbook 2020, Technews Publishing , Editor's Choice
Many estates were caught unaware when the COVID-19 pandemic and subsequent lockdown hit. Helderberg Village was ready for the challenge.
Read more...
---
Teaching old cameras new tricks
Residential Estate Security Handbook 2020, Deep Data , CCTV, Surveillance & Remote Monitoring
Dr Jasper Horrell and Mark Smuts from DeepAlert reveal how estates can upgrade their existing surveillance infrastructure to include the latest AI-enhanced analytics, without buying new hardware.
Read more...
---
More efficient guarding through the effective use of technology
Residential Estate Security Handbook 2020, Technews Publishing, OnGuard, Stallion Security, Active Track , Security Services & Risk Management
Technology in its many forms can be used to optimise the efficiency and performance of on-site guarding.
Read more...
---
Focus on touchless biometrics
Residential Estate Security Handbook 2020, Hikvision South Africa, Saflec, IDEMIA , Suprema, Technews Publishing , Access Control & Identity Management
The coronavirus has made touchless biometrics an important consideration for access control installations in estates and for industries globally.
Read more...
---