printer friendly version
Vision Catcher
April 2005
CCTV, Surveillance & Remote Monitoring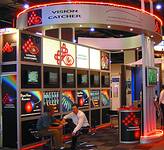 Securex 2005 proved to be a rewarding and successful exhibition for Vision Catcher. With a prime stand location the company saw a great number of visitors coming to the stand and discovering the advances, improvements and new releases within its product range. Vision Catcher has expanded its product range to include two new exciting IT-based products: ObjectVideo and SentryScope.
The move towards Internet Protocol (IP) based products has seen a plethora of new products launched making it very difficult for the end-user to know what is best. IP products are the rage at the moment but the concerns of bandwidth are still a major factor. Some distributors have commented how end-users are requesting IP regardless of the added costs over and above alternative solutions. What is of concern is the lack of understanding of what impact an MPEG 4 image streaming over IP will have on a network, especially bearing in mind that a standard 100 Mbit network can only realistically handle approx 30% of available bandwidth for video. Now if you consider that 100 Mbits is only 125 KB and 30% equates to under 40 KB per second; when you have an IP image at say 5 KB your likely effective available frame rate is only 8 frames per second - how many cameras did you want on the network? The solution is to ask the questions and look for possible alternatives. Vision Catcher has already covered this problem by providing IP options on all of its main products including the well known Vision Catcher DVR. In this case you can choose to allocate a camera input as an IP input or an analog input giving you the best of both worlds with total remote control.
ObjectVideo received a lot of interest. This clever threat analysis software system has been identified by those consultants, engineers and end-users who are very aware of the high numbers of false alarms in mission-critical environments. It is with this in mind that a sizeable number of visitors wanted further information and were delighted to see the potential of this product. Vision Catcher is now following up on a good number of requirements within Africa and the company already expects to see its first installation going in within months of the launch of the product; an excellent result.

With World Cup 2010 just around the corner there were many visitors intrigued and interested in the capabilities of SentryScope. This high-resolution monochrome camera, offering around 21 million pixels per image, certainly stirred the imagination. The ability to continue recording a total field of view while being able to zoom in on any key area of interest or a number of areas of interest grabbed visitors' attention. Providing a solution for stadia, parking areas, open mines and many other venues taking away the requirement for highly skilled operators who need to be focused 100% of the time on what is going on, resulted in a lot of questions being asked. Vision Catcher is now following up on all of these enquiries and will be reporting on its successes over the coming months.
Credit(s)
Further reading:
Antarctic surveillance
Dahua Technology South Africa CCTV, Surveillance & Remote Monitoring
Dahua Technology donated 15 security cameras to different scientific bases in the Argentine region of Antarctica; the cameras were especially developed to handle the harsh climate and extreme weather conditions in the area.
Read more...
---
Deep learning engine set to supercharge end-to-end solutions
CCTV, Surveillance & Remote Monitoring
IDIS, manufacturer of South Korean-made video technology, will be displaying an exciting line-up of end-to-end video solutions that include the latest advances in AI-powered video analytics for businesses of any size, at this year's Intersec.
Read more...
---
Realistic image quality even in dark environments
Dahua Technology South Africa CCTV, Surveillance & Remote Monitoring
The 4K video surveillance market size is expected to grow at 9 percent CAGR (compound annual growth rate), which is primarily driven by the increasing demand for public safety and security services.
Read more...
---
Cloud-based forensic video searching
CCTV, Surveillance & Remote Monitoring
Arcules introduces Forensic Video Search to empower rapid event identification within its video cloud service, providing a critical tool to help businesses identify specific objects or events in seconds.
Read more...
---
Minimising fire risks in automotive logistics
Hikvision South Africa CCTV, Surveillance & Remote Monitoring Products Logistics (Industry)
Automotive logistics company uses thermal imaging solution from Hikvision to ensure its stores of lithium batteries for electric vehicles never overheat and cause a fire.
Read more...
---
Axis launches P3265-LVE dome camera
Axis Communications SA Products CCTV, Surveillance & Remote Monitoring
Based on ARTPEC-8 — the latest Axis system-on-chip (SoC) — Axis' latest dome high-performance camera includes a deep learning processing unit (DLPU), and cybersecurity features.
Read more...
---
Smart car parking solution eases traffic flow
Dahua Technology South Africa CCTV, Surveillance & Remote Monitoring Integrated Solutions Products
Ethiopia's first smart parking lot, designed to improve traffic flow and management efficiency, has been built and installed using Dahua Technology's smart parking solutions.
Read more...
---
VMS 7.2 supports the investigation process and adds cloud capabilities
CCTV, Surveillance & Remote Monitoring Integrated Solutions Products
Qognify has launched the second release of its VMS, including extended support for body-worn video, additional functionalities to support investigations, and a new web client architecture. VMS 7.2 addresses the increasing use of body-worn video (BWV) across many sectors.
Read more...
---
The future of AIoT
Hikvision South Africa News CCTV, Surveillance & Remote Monitoring
Hikvision hosted its 2022 Shaping Intelligence Summit in Bali, Indonesia, on 29-30 November, where the company, its customers, and technology and solution partners, looked into the future of AIoT and explored paths to shared success.
Read more...
---
A comprehensive video solution for retail
LD Africa Retail (Industry) CCTV, Surveillance & Remote Monitoring Products
Retail Intellect is a comprehensive, flexible solution for retailers that matches technologies to ensure point-of-sale safety and security with video analytics.
Read more...
---