printer friendly version
Vision Catcher
April 2005
CCTV, Surveillance & Remote Monitoring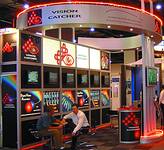 Securex 2005 proved to be a rewarding and successful exhibition for Vision Catcher. With a prime stand location the company saw a great number of visitors coming to the stand and discovering the advances, improvements and new releases within its product range. Vision Catcher has expanded its product range to include two new exciting IT-based products: ObjectVideo and SentryScope.
The move towards Internet Protocol (IP) based products has seen a plethora of new products launched making it very difficult for the end-user to know what is best. IP products are the rage at the moment but the concerns of bandwidth are still a major factor. Some distributors have commented how end-users are requesting IP regardless of the added costs over and above alternative solutions. What is of concern is the lack of understanding of what impact an MPEG 4 image streaming over IP will have on a network, especially bearing in mind that a standard 100 Mbit network can only realistically handle approx 30% of available bandwidth for video. Now if you consider that 100 Mbits is only 125 KB and 30% equates to under 40 KB per second; when you have an IP image at say 5 KB your likely effective available frame rate is only 8 frames per second - how many cameras did you want on the network? The solution is to ask the questions and look for possible alternatives. Vision Catcher has already covered this problem by providing IP options on all of its main products including the well known Vision Catcher DVR. In this case you can choose to allocate a camera input as an IP input or an analog input giving you the best of both worlds with total remote control.
ObjectVideo received a lot of interest. This clever threat analysis software system has been identified by those consultants, engineers and end-users who are very aware of the high numbers of false alarms in mission-critical environments. It is with this in mind that a sizeable number of visitors wanted further information and were delighted to see the potential of this product. Vision Catcher is now following up on a good number of requirements within Africa and the company already expects to see its first installation going in within months of the launch of the product; an excellent result.

With World Cup 2010 just around the corner there were many visitors intrigued and interested in the capabilities of SentryScope. This high-resolution monochrome camera, offering around 21 million pixels per image, certainly stirred the imagination. The ability to continue recording a total field of view while being able to zoom in on any key area of interest or a number of areas of interest grabbed visitors' attention. Providing a solution for stadia, parking areas, open mines and many other venues taking away the requirement for highly skilled operators who need to be focused 100% of the time on what is going on, resulted in a lot of questions being asked. Vision Catcher is now following up on all of these enquiries and will be reporting on its successes over the coming months.
Credit(s)
Further reading:
Turkish university installs IDIS surveillance
CCTV, Surveillance & Remote Monitoring Products
IDIS video streamlines complex surveillance systems for learning institution, upgrading a 350-camera system with 24/7 control room monitoring to transform security for Social Sciences University of Ankara (ASBU).
Read more...
---
Brighter, greener, and smarter
Dahua Technology South Africa Products CCTV, Surveillance & Remote Monitoring
Dahua Technology released its new Dahua CH II Series Indoor Fine Pixel Pitch LED display, providing visual clarity and promoting energy efficiency and sustainability.
Read more...
---
Smart water management
Axis Communications SA CCTV, Surveillance & Remote Monitoring Integrated Solutions
South Africa is currently facing a water crisis, with scarcity and inefficient water management posing significant challenges to sustainable, consistent access to water. Smart technology and powerful partnerships may offer a proactive solution to SA's water crisis.
Read more...
---
Helping retailers optimise monitoring and security
Guardian Eye Retail (Industry) CCTV, Surveillance & Remote Monitoring
From a smart retail perspective, it is crucial to understand that monitoring stock and other assets through camera surveillance and a variety of Internet of Things (IoT) sensors stretches further than the stores themselves.
Read more...
---
Empowering Istanbul's public transportation
Dahua Technology South Africa CCTV, Surveillance & Remote Monitoring Integrated Solutions
Dahua's intelligent transportation solution, using technologies like DSM and AI-based passenger flow counting, has facilitated an intelligent system upgrade for nearly 6 400 minibuses and electric buses in Istanbul.
Read more...
---
Smart manufacturing redefined
Hikvision South Africa CCTV, Surveillance & Remote Monitoring Industrial (Industry)
AI and intuitive visualisation technology allows managers to monitor manufacturing sites, production, and operational processes, and to respond in real time in the event of an issue – helping to drive efficiency and productivity.
Read more...
---
AI is getting smarter, and critical infrastructure is set to benefit
Axis Communications SA CCTV, Surveillance & Remote Monitoring
With technology advancing at an astonishing pace, AI has emerged as a defining trend in today's business arena. Enterprises across all sectors are prioritising this technology, embracing its transformative potential to drive change and growth.
Read more...
---
Collaboration delivers integrated and holistic security
Guardian Eye CCTV, Surveillance & Remote Monitoring News Integrated Solutions
Guardian Eye and Lytehouse have partnered to integrate their speciality solutions and provide a holistic security offering that overcomes the fragmentation of security systems and services.
Read more...
---
Manage security systems remotely
Hikvision South Africa CCTV, Surveillance & Remote Monitoring IT infrastructure Products
Hikvision launched a new generation of smart managed switches that, in conjunction with the Hik-Partner Pro mobile app, enable installers to remotely deploy and configure security systems with comprehensive operation and maintenance capabilities.
Read more...
---
Synology enhances functions for advanced surveillance integration
Technews Publishing CCTV, Surveillance & Remote Monitoring IT infrastructure Products
With the capability to function as both an API client and server, Surveillance Station offers a versatile platform for integration, whether it's embedding video streams into other platforms or overlaying external data onto recorded video.
Read more...
---