printer friendly version
21st Century Arms
April 2005
Security Services & Risk Management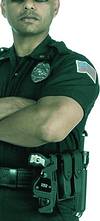 21st Century Arms used Securex 2005 to introduce the Advanced M-Series and X26-series Taser to the South African market.
The Advanced Taser has recently been approved by the United States Congress to be used on all domestic and international airlines to subdue aggressive occupants, and more importantly, protect the cockpit from terrorist attack.
The original Taser was developed in the 1970s as a 7 W system. Today, the Advanced Taser M26 is 26 W, nearly four times the power of any electronic weapon system in the past. The use of the product on a suspect does not hurt or kill yet has an extremely powerful, effective rate for instant incapacitation. The Advanced Taser M26 is currently being used on an ever increasing basis by over 6500 law-enforcement agencies (over 1500 at 'full deployment', one Taser per officer) in the USA, Canada, Germany and Australia. In addition, there are many other countries in the process of deploying the Advanced Taser M26 from North and South America, Europe and Asia.

The Advanced Taser M26 and the new, smaller, more effective X26 are ideal for law-enforcement to effect non-lethal force against aggressive, non-compliant suspects or prisoners, or to disable suicidal individuals and hostage-takers.
Advanced 18 W M-18L series Home Defence System Tasers are available for civilian purchase, while the 26 W M26 and X26 are restricted items for government, military, law-enforcement, security agencies and personnel, and for emergency services (first responders) and commercial airlines.


For more information contact Bryan de Klerk, 21st Century Arms, 011 768 1313, [email protected]
Further reading:
Key timelines to ensure compliance
Security Services & Risk Management
Regulations to the Occupational Health and Safety Act that apply to major hazard installations require that certain actions be taken to manage health and safety risks – some with timelines for compliance that must be monitored.
Read more...
---
Best practice tips for strengthening data privacy system
Security Services & Risk Management Cyber Security
International cybercriminals are increasingly targeting South African organizations, making data privacy more difficult to maintain. A standardization expert offers insight to help combat this threat.
Read more...
---
Is AI the game-changer for streamlining anti-money laundering compliance?
Financial (Industry) Security Services & Risk Management
In the aftermath of South Africa's recent grey listing, companies are now confronted with the imperative to address eight identified strategic deficiencies, while simultaneously reducing their financial crime risk through anti-money laundering compliance processes.
Read more...
---
Five ways to reduce your cyber insurance premiums
Security Services & Risk Management News
With the global costs of cybercrime expected to soar to $13 trillion within the next five years, cyber insurance is booming as organisations try to mitigate the risk of financial losses.
Read more...
---
Client satisfaction boosted by 85% at Thungela Mine
Thorburn Security Solutions News Security Services & Risk Management Mining (Industry)
Thorburn Security, a division of Tsebo Solutions Group, has announced its recent collaboration with Kwa-Zulu Natal security company, Ithuba Protection Services, as part of its Enterprise Supplier Development (ESD) initiatives across Africa.
Read more...
---
Migrating to the cloud? Beware the many hurdles
IT infrastructure Security Services & Risk Management
While there are undoubtedly many benefits, there are also numerous hurdles to cloud adoption. Some of the biggest challenges revolve around managing cloud spend, understanding the cost components of cloud infrastructure, and how those costs can scale.
Read more...
---
Key strategies for businesses in the face of cyber threats
Cyber Security Security Services & Risk Management
Businesses face severe financial and reputational consequences due to data breaches and daily website hacks, and not all organisations are adequately prepared to combat these escalating threats.
Read more...
---
Planning for the worst is key to success
Technews Publishing Security Services & Risk Management
Planning for the worst is key to success when disaster strikes. Amidst frequent load shedding and often unpredictable stages of power outages, many businesses are concerned about the possibility of a total blackout.
Read more...
---
Protecting South African systems through XDR cybersecurity
Cyber Security Security Services & Risk Management
Carlo Bolzonello, Country Lead for Trellix South Africa, discusses how the country can protect its valuable digital assets through the artificial intelligence-enabled Extended Detection and Response (XDR) cybersecurity approach.
Read more...
---
[Sponsored] Protecting Against Ransomware Attacks: Lessons from Recent POPIA Fine
Cyber Security Security Services & Risk Management
According to Sophos' most recent ransomware report, an alarming 78% of the South African organisations that Sophos surveyed experienced ransomware attacks in the past year.
Read more...
---