printer friendly version
21st Century Arms
April 2005
Security Services & Risk Management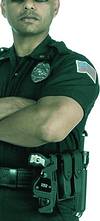 21st Century Arms used Securex 2005 to introduce the Advanced M-Series and X26-series Taser to the South African market.
The Advanced Taser has recently been approved by the United States Congress to be used on all domestic and international airlines to subdue aggressive occupants, and more importantly, protect the cockpit from terrorist attack.
The original Taser was developed in the 1970s as a 7 W system. Today, the Advanced Taser M26 is 26 W, nearly four times the power of any electronic weapon system in the past. The use of the product on a suspect does not hurt or kill yet has an extremely powerful, effective rate for instant incapacitation. The Advanced Taser M26 is currently being used on an ever increasing basis by over 6500 law-enforcement agencies (over 1500 at 'full deployment', one Taser per officer) in the USA, Canada, Germany and Australia. In addition, there are many other countries in the process of deploying the Advanced Taser M26 from North and South America, Europe and Asia.

The Advanced Taser M26 and the new, smaller, more effective X26 are ideal for law-enforcement to effect non-lethal force against aggressive, non-compliant suspects or prisoners, or to disable suicidal individuals and hostage-takers.
Advanced 18 W M-18L series Home Defence System Tasers are available for civilian purchase, while the 26 W M26 and X26 are restricted items for government, military, law-enforcement, security agencies and personnel, and for emergency services (first responders) and commercial airlines.


For more information contact Bryan de Klerk, 21st Century Arms, 011 768 1313, [email protected]
Further reading:
Numerous challenges for transport and logistics
Transport (Industry) CCTV, Surveillance & Remote Monitoring Security Services & Risk Management Logistics (Industry)
Operators are making significant investments in automation and digitalisation in order to address security concerns, improve loss prevention as well as efficiency, and reduce unit order costs.
Read more...
---
Defining the resilience of cybersecurity
Cyber Security Security Services & Risk Management
Cyber resilience is less buzzword and more critical business strategy as the cybercrime landscape grows in intent and intensity.
Read more...
---
Technology and the future of security installation in South Africa
Editor's Choice Integrated Solutions Security Services & Risk Management
What are the technologies and trends shaping installation, service and maintenance teams globally, and how will they shape South African businesses today and in the future?
Read more...
---
The technology wave implications for staff mismatches in control rooms
Leaderware Editor's Choice Security Services & Risk Management
An industry habit of looking at control rooms through a physical security lens has increasingly left clients and staff at a disadvantage in keeping up with control room technology and demands.
Read more...
---
Streamlining processes, integrating operations
Security Services & Risk Management Integrated Solutions Transport (Industry) Logistics (Industry)
With Trackforce Valiant, Airbus now has one single platform that connects its security guards, supervisors and management across its organisation.
Read more...
---
Smollan partners with FleetDomain
Logistics (Industry) Asset Management, EAS, RFID Security Services & Risk Management Transport (Industry)
Smollan has been using FleetDomain to manage its fleet of around 2000 vehicles in South Africa, enabling it to contain costs and manage its fleet much more effectively.
Read more...
---
Smarter parking services
Security Services & Risk Management Transport (Industry) Logistics (Industry)
Smart technologies are changing the face of parking services and helping property owners realise their commercial objectives.
Read more...
---
Adopting a cyber-secure mindset
Security Services & Risk Management Cyber Security
Adopting a cybersecure mindset is the key to mitigating the risk of falling victim to the growing cybercrime pandemic.
Read more...
---
SAFPS warns against advance-fee scam
News Security Services & Risk Management
The Southern African Fraud Prevention Service (SAFPS) has warned consumers of an advance-fee scam where the perpetrator is falsely presenting themself as a representative of the SAFPS.
Read more...
---
Fire prevention in your home or business?
Fidelity Services Group Fire & Safety Security Services & Risk Management
A recent fire at a nightclub in Boksburg has once again highlighted the importance of fire safety for both homes and businesses. When a fire breaks out, the consequences can be devastating.
Read more...
---