printer friendly version
Changing Tides Security
April 2005
Perimeter Security, Alarms & Intruder Detection
Changing Tides Security launched four new products at Securex 2005, the shock padlock, the portable guard monitor, the fake gunshot box and the flip hammer de-mining system.
The shock padlock is the first of its kind in South Africa. It is a padlock that can be used to lock gates, safes, shops, workshops and other areas that need secure padlocks. It works like a normal padlock which is armed with an electronic key switch. It reacts to vibrations from a hacksaw, hammer, Jawbreaker and gate shaking. A starter gun blank cartridge makes a terrifying explosive echo in its aluminium shell, terrifying a thief into fleeing and also alerting people in the area to the attempted break-in.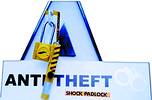 Shock padlock
The fake gunshot box allows you to protect yourself when an intruder is inside your house or business. At the push of a button this product scares off or generates considerable apprehension in a trespassing criminal by setting off a loud sound resembling that of a powerful firing gun. It is a safer means of defence when compared to the use of live ammunition or worse still, physically combating criminals.

Fake gunshot box
The sleeping guard sound blaster (or foot pedal wake up system). A sleeping guard is not only in violation of a security contract, but a beacon to intelligent and active danger. When standing or seated, a foot pedal system indicates for the guard to press on it within a 30 minute period. A computer print-out further monitors time between foot pedal pulse intervals. The new revolutionary system makes any attempt to exploit the silence of the night for a sleep to be automatically punished by a screeching siren.

Sleeping guard soundblaster
The flip hammer de-mining system is a mechanical on-the-spot anti-personnel landmine detonator that is safe, affordable and can be used again and again, with minimal supervision. It is triggered remotely with the flick of a switch and on activation impacts the embedded landmine to detonate. We are currently negotiating an extension of a research project with SADC on humanitarian de-mining technology. This is a machine that saves lives.

Flip hammer de-mining system
A noticeable trend is the greater integration of CCTV into software programs and communication systems. The fake gun shot box easily applies itself to CCTV application or solution. Since, not only can CCTV show you the crime taking place, but the criminal can be scared away by pressing a button that triggers a gun shot charge in a hidden place.
New products the company has in development include the production of element burglar bars. These burglar bars heat up to 200°C when a criminal tries to break them. This makes it impossible for the criminal to gain access, even with gloves. When a burglary is taking place, the burglar bars and even the door handles will heat up to 200°C like a stove element. This is called thermal handling, and this is the next pro-active weapon against crime. The company's aim is to create systems that are not dangerous but aggressive and intimidating.
For more information contact Tinashe Hove, Changing Tides Security, 011 803 1955, [email protected], www.ctsecurity.co.za
Further reading:
June Coetzer joins Olarm as Partner Manager
News Perimeter Security, Alarms & Intruder Detection
Armed with a solid background in sales and business development, June Coetzer recently joined Olarm as an additional Partner Manager covering Gauteng and the surrounding areas.
Read more...
---
No missed alarms and reduced false alarms
Perimeter Security, Alarms & Intruder Detection Products
Remote sites have always been more vulnerable to opportunistic intrusion, but over the last two years in particular, sites such as solar farms or industrial parks have become more common targets for criminals.
Read more...
---
Olarm launches Olarm LINK
Olarm News Perimeter Security, Alarms & Intruder Detection Products
Olarm LINK extends the Olarm PRO communicators smart control with additional sensing and control, allowing multiple users to control a wide range of devices, including gate access, garage motors, boom gates, water pumps and more.
Read more...
---
Olarm launches the Olarm LINK
Olarm Perimeter Security, Alarms & Intruder Detection News Products
Building on the success of smart-enabling, monitoring and controlling alarm panels and electric fences, Olarm has a new solution for customers to integrate gates, garage doors, pumps and other electrical products with the Olarm APP and Olarm PRO communicator.
Read more...
---
Ultimate smart monitoring and reliability
Olarm Perimeter Security, Alarms & Intruder Detection News Products
Olarm is gearing up to unveil its latest product, the Olarm MAX, set to be available in late 2023, which will redefine smart monitoring by offering unparalleled connectivity options and functionality.
Read more...
---
New distributed acoustic sensors in EMEA
Perimeter Security, Alarms & Intruder Detection Products
OPTEX introduces new EchoPoint Distributed Acoustic Sensors (DAS) for advanced point location intrusion detection, using intelligent detection algorithms to provide point detection of +/- 6 m in a range of up to 100 km.
Read more...
---
Matt De Araujo joins Ajax Systems
Ajax Systems News Perimeter Security, Alarms & Intruder Detection
Matt De Araujo has joined Ajax Systems as Head of Sales in sub-Saharan Africa with a goal to strengthen the local team and exceed expectations.
Read more...
---
RDC expands its production capabilities
Radio Data Communications Perimeter Security, Alarms & Intruder Detection Products
Local electronics manufacturer, RDC, recently acquired a new SMT (surface mount technology) machine to boost its manufacturing output and meet the needs of its global customer base.
Read more...
---
Invisible connection and tangible protection via cloud
Dahua Technology South Africa Perimeter Security, Alarms & Intruder Detection CCTV, Surveillance & Remote Monitoring Products
Dahua Technology has launched its AirShield security solution that uses advanced, stable and reliable RF communication technology and cloud services, integrating alarm hubs, various detectors and accessories, with several software apps.
Read more...
---
Protecting perimeters and open spaces
XtraVision Perimeter Security, Alarms & Intruder Detection
XtraVision provides some insight into the use of drone technology with the SAMM Fotas fibre detection systems to secure perimeters and other remote assets and locations.
Read more...
---