printer friendly version
Changing Tides Security
April 2005
Perimeter Security, Alarms & Intruder Detection
Changing Tides Security launched four new products at Securex 2005, the shock padlock, the portable guard monitor, the fake gunshot box and the flip hammer de-mining system.
The shock padlock is the first of its kind in South Africa. It is a padlock that can be used to lock gates, safes, shops, workshops and other areas that need secure padlocks. It works like a normal padlock which is armed with an electronic key switch. It reacts to vibrations from a hacksaw, hammer, Jawbreaker and gate shaking. A starter gun blank cartridge makes a terrifying explosive echo in its aluminium shell, terrifying a thief into fleeing and also alerting people in the area to the attempted break-in.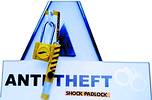 Shock padlock
The fake gunshot box allows you to protect yourself when an intruder is inside your house or business. At the push of a button this product scares off or generates considerable apprehension in a trespassing criminal by setting off a loud sound resembling that of a powerful firing gun. It is a safer means of defence when compared to the use of live ammunition or worse still, physically combating criminals.

Fake gunshot box
The sleeping guard sound blaster (or foot pedal wake up system). A sleeping guard is not only in violation of a security contract, but a beacon to intelligent and active danger. When standing or seated, a foot pedal system indicates for the guard to press on it within a 30 minute period. A computer print-out further monitors time between foot pedal pulse intervals. The new revolutionary system makes any attempt to exploit the silence of the night for a sleep to be automatically punished by a screeching siren.

Sleeping guard soundblaster
The flip hammer de-mining system is a mechanical on-the-spot anti-personnel landmine detonator that is safe, affordable and can be used again and again, with minimal supervision. It is triggered remotely with the flick of a switch and on activation impacts the embedded landmine to detonate. We are currently negotiating an extension of a research project with SADC on humanitarian de-mining technology. This is a machine that saves lives.

Flip hammer de-mining system
A noticeable trend is the greater integration of CCTV into software programs and communication systems. The fake gun shot box easily applies itself to CCTV application or solution. Since, not only can CCTV show you the crime taking place, but the criminal can be scared away by pressing a button that triggers a gun shot charge in a hidden place.
New products the company has in development include the production of element burglar bars. These burglar bars heat up to 200°C when a criminal tries to break them. This makes it impossible for the criminal to gain access, even with gloves. When a burglary is taking place, the burglar bars and even the door handles will heat up to 200°C like a stove element. This is called thermal handling, and this is the next pro-active weapon against crime. The company's aim is to create systems that are not dangerous but aggressive and intimidating.
For more information contact Tinashe Hove, Changing Tides Security, 011 803 1955, [email protected], www.ctsecurity.co.za
Further reading:
Olarm launches PRO 4G communicator
Olarm News Perimeter Security, Alarms & Intruder Detection Products
Olarm has announced an additional 4G/LTE version of its Olarm PRO smart communicator. It is aimed at areas suffering from poor connectivity by providing support for 4G, 2G and Wi-Fi networks.
Read more...
---
Jaco van Wyk joins Olarm in Johannesburg
Olarm News Perimeter Security, Alarms & Intruder Detection
Jaco van Wyk has joined Olarm as its partner manager in Gauteng; he has strong technical security and client service experience in the South African market.
Read more...
---
GJD launches new range of white-light floodlights
Perimeter Security, Alarms & Intruder Detection Products
GJD has announced the launch of its new range of floodlights, combining high-quality LED technology with a modern and aesthetically pleasing design suitable for all outdoor lighting applications.
Read more...
---
Fotech and C3SS launch technology partnership
C3 Shared Services News Perimeter Security, Alarms & Intruder Detection
Fotech has signed a non-exclusive MOU with C3SS, a South Africa-based perimeter and infrastructure security company, to target specific African markets.
Read more...
---
FlipX: new indoor detectors
Perimeter Security, Alarms & Intruder Detection Products
Installers and end-users in EMEA can now take advantage of FlipX, a new range of flexible indoor sensors from OPTEX that feature a bespoke pyroelectric sensor for increased performance.
Read more...
---
JVA Perimeter Patrol 6 monitoring software
Stafix Perimeter Security, Alarms & Intruder Detection
Stafix Electric Fence and Security Centres now provides the latest JVA Perimeter Patrol 6 package for standalone and piggyback electric security fence solutions.
Read more...
---
360° perimeter intruder detection
Technews Publishing Perimeter Security, Alarms & Intruder Detection Residential Estate (Industry) Products
Radar is becoming a more common solution for estates with large open areas and long perimeters to protect, as intruders can be automatically detected and tracked.
Read more...
---
Gallagher launches Tech Talk
Gallagher News Access Control & Identity Management Perimeter Security, Alarms & Intruder Detection
Gallagher has announced the launch of its new Security in Focus podcast series called Tech Talk, hosted by chief technology officer Steve Bell.
Read more...
---
Preventing theft wirelessly
Elvey Security Technologies Perimeter Security, Alarms & Intruder Detection
One hundred MotionCam Outdoor cameras, four HUB2 Plus units and the Desktop Pro 3.0 from Ajax protect a large outdoor environment from theft and vandalism.
Read more...
---
Ajax solves security communication range issues
Elvey Security Technologies Perimeter Security, Alarms & Intruder Detection
A large casino situated in Polokwane required an upgrade of its security system to cater to the needs of the multi-storey building, including reliable wireless communications.
Read more...
---