printer friendly version
Installers' basic reference table to access control
October 2004
Access Control & Identity Management

All relevant safety requirements should be considered prior to commencement of work.
Electrical installation methods are to comply with current national and site regulations.
Installation staff should be trained on the equipment they are to install.
Specifications
* Design the system specification to address the perceived risks.
* Select products to meet the system specification.
* Encompass any special features that the customer has requested.
* The design should allow for future enhancements and expansion if it is felt that the client will need this in the future.
* Consider ongoing support and maintenance when selecting the appropriate products to meet the specification.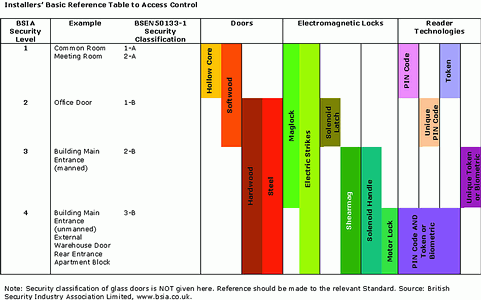 Hardware
* Ensure all doors, locks, glass and other system components are appropriate to the level of security required. Use only products that are fit for the purpose and conform to system design specifications.
* Install all products in accordance with manufacturers' instructions.
Power supplies
* Power supplies should be of sufficient capacity to meet the requirements of associated components working at full load under normal operating conditions.
* Should be located within the secure area.
* Should ideally be local to the control relay to remove the problem of voltage drop for locks, etc.
Electrical cabling
* Ensure that chosen cabling conforms to current regulations and meets the access control manufacturers' specification exactly.
* Offer sufficient protection to cables, particularly in non-secure areas.
* Select appropriate cables, considering the effects of cable length on both voltage and signal loss.
* Ensure that cable screens are connected at the end(s) specified by the access control manufacturer.
* Allow for the possible future expansion of the access control system when designing cable layout.
Safety features
* Observe all aspects of health and safety when designing the system layout, ie, emergency exits and fire regulations.
* Have measures in place to overcome the loss of mains power?
* Are access points correctly specified, either fail locked or fail unlocked?
Maintenance
* Inform the user of any inspection and servicing routines necessary to maintain the serviceability of the access control system.
* Assist the customer to formulate a satisfactory maintenance agreement.
System integrity
* Provide sufficient training to enable the customer to use the access control system effectively in order to achieve the desired level of security.
* Ensure the customer is provided with well defined written system management procedures.
* Inform the customer of the possible need for compliance with any relevant data protection or information privacy legislation.
Documentation
* On successful installation of the access control system, ensure that the customer receives all necessary literature in a language previously agreed. The documentation should include:
- The operating manual.
- A description of the installed system.
- Location of system equipment.
- Cable routing and system interconnection drawings.
- Inspection routines and maintenance instructions if appropriate.
Training qualification options
* Ensure that only trained personnel carry out the survey, installation or maintenance. The current training available is:
- Manufacturer specific training.
- Formal qualifications for access control - Technikon technical diploma; POLSEC SETA NFQ accredited training (if and where such training exists).
The outcome of the risk assessment of the premises will determine the level of security required and in turn influence the choice of access control system to be used.
Source: British Security Industry Association, www.bsia.co.uk.
Further reading:
How to specify the right turnstile finish
September 2019, Turnstar Systems , Access Control & Identity Management
Purchasing a turnstile gives you a large amount of flexibility when it comes to choosing the right finish.
Read more...
---
Enhanced biometric technology for mines
September 2019, ZKTeco , Mining (Industry), Access Control & Identity Management
Biometric identification and authentication are currently used at various mines in South Africa and in the SADC region.
Read more...
---
Improving access in mines
October 2019, Astra Fasteners , Mining (Industry), Access Control & Identity Management, Products
The VP1 controller provides full access control and remote monitoring of intelligent locks without having to wire into a network or install, manage and maintain software.
Read more...
---
Invixium and Pyro-Tech partner in South Africa
October 2019 , News, Access Control & Identity Management
Invixium, a manufacturer of IP-based biometric solutions and Pyro-Tech Security Suppliers have announced a new distribution partnership.
Read more...
---
Suprema receives FBI PIV/FAP30 certification
October 2019, Suprema , News, Access Control & Identity Management
Suprema has announced that the company's BioMini Slim 3 has received FBI PIV (Personal Identity Verification) and Mobile ID FAP30 certification.
Read more...
---
Frictionless access with a wave
October 2019, IDEMIA , Access Control & Identity Management, Residential Estate (Industry)
IDEMIA was the Platinum Sponsor for the Residential Estate Security Conference 2019 and set up its MorphoWave Compact frictionless fingerprint biometric scanner at the entrance to the conference.
Read more...
---
Streamlined access and reporting
October 2019, Comb Communications , Access Control & Identity Management, Residential Estate (Industry)
The main focus of the Comb stand was its practical demonstration of the MK II Lite intercom system with third-party integrated products.
Read more...
---
Customised and integrated solutions
October 2019, Suprema , Access Control & Identity Management, Residential Estate (Industry)
iVisit offers both high-end and low-end residential complexes a cost-effective visitor management solution that is fully integrated into Suprema's offerings.
Read more...
---
Access solutions for every estate
October 2019, Impro Technologies , Access Control & Identity Management, Residential Estate (Industry)
Impro's flagship Access Portal solution comprises one of the most user-friendly software solutions on the market.
Read more...
---
Managing staff effectively
September 2019, dormakaba South Africa, iPulse Systems , Integrated Solutions, Access Control & Identity Management
Workforce management solutions allow organisations to track the relationship between productivity and the cost of employment, incorporating issues such as health and safety, T&A, rostering and more.
Read more...
---