printer friendly version
Installers' basic reference table to access control
Access & Identity Management Handbook 2004
Access Control & Identity Management

All relevant safety requirements should be considered prior to commencement of work.
Electrical installation methods are to comply with current national and site regulations.
Installation staff should be trained on the equipment they are to install.
Specifications
* Design the system specification to address the perceived risks.
* Select products to meet the system specification.
* Encompass any special features that the customer has requested.
* The design should allow for future enhancements and expansion if it is felt that the client will need this in the future.
* Consider ongoing support and maintenance when selecting the appropriate products to meet the specification.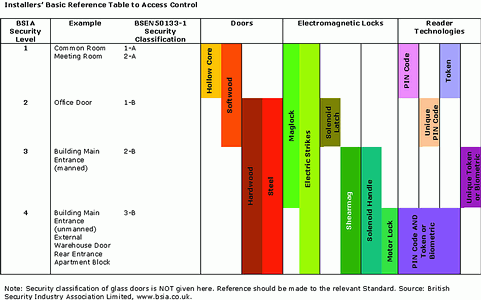 Hardware
* Ensure all doors, locks, glass and other system components are appropriate to the level of security required. Use only products that are fit for the purpose and conform to system design specifications.
* Install all products in accordance with manufacturers' instructions.
Power supplies
* Power supplies should be of sufficient capacity to meet the requirements of associated components working at full load under normal operating conditions.
* Should be located within the secure area.
* Should ideally be local to the control relay to remove the problem of voltage drop for locks, etc.
Electrical cabling
* Ensure that chosen cabling conforms to current regulations and meets the access control manufacturers' specification exactly.
* Offer sufficient protection to cables, particularly in non-secure areas.
* Select appropriate cables, considering the effects of cable length on both voltage and signal loss.
* Ensure that cable screens are connected at the end(s) specified by the access control manufacturer.
* Allow for the possible future expansion of the access control system when designing cable layout.
Safety features
* Observe all aspects of health and safety when designing the system layout, ie, emergency exits and fire regulations.
* Have measures in place to overcome the loss of mains power?
* Are access points correctly specified, either fail locked or fail unlocked?
Maintenance
* Inform the user of any inspection and servicing routines necessary to maintain the serviceability of the access control system.
* Assist the customer to formulate a satisfactory maintenance agreement.
System integrity
* Provide sufficient training to enable the customer to use the access control system effectively in order to achieve the desired level of security.
* Ensure the customer is provided with well defined written system management procedures.
* Inform the customer of the possible need for compliance with any relevant data protection or information privacy legislation.
Documentation
* On successful installation of the access control system, ensure that the customer receives all necessary literature in a language previously agreed. The documentation should include:
- The operating manual.
- A description of the installed system.
- Location of system equipment.
- Cable routing and system interconnection drawings.
- Inspection routines and maintenance instructions if appropriate.
Training qualification options
* Ensure that only trained personnel carry out the survey, installation or maintenance. The current training available is:
- Manufacturer specific training.
- Formal qualifications for access control - Technikon technical diploma; POLSEC SETA NFQ accredited training (if and where such training exists).
The outcome of the risk assessment of the premises will determine the level of security required and in turn influence the choice of access control system to be used.
Source: British Security Industry Association, www.bsia.co.uk.
Further reading:
Smart parking management platform
Access Control & Identity Management Asset Management, EAS, RFID
Parket builds a seamless bridge between supply and the ever-increasing, but fluid – and often temporary – demand for parking bays.
Read more...
---
Visible-light facial recognition terminal
ZKTeco Access Control & Identity Management Products
The SpeedFace-V5L [P] is a visible-light facial recognition terminal using intelligently engineered facial recognition algorithms and the latest computer vision technology.
Read more...
---
Facial and palm verification
ZKTeco Access Control & Identity Management Products
The ProFace X [P] supports both facial and palm verification, with a large capacity and rapid recognition.
Read more...
---
Glide Master High Security 90° Sliding Gate
BoomGate Systems Access Control & Identity Management Products
Boomgate Systems was asked to make a sliding gate that can turn 90 degrees. The gate had to offer high security and be vandal-proof.
Read more...
---
Informing, entertaining and communicating across your landscape
Evolving Management Solutions Access Control & Identity Management
For the first time, the attraction of large shopping malls with many stores, entertainment and food courts no longer offers enough appeal to attract customers.
Read more...
---
Suprema's new BioStation 3
Suprema Access Control & Identity Management Products
The brand new BioStation 3 is not only Suprema's smallest face recognition device to date, but it also comes packed with the largest variety of features.
Read more...
---
Suprema renews international privacy and security standard certifications
Suprema News Access Control & Identity Management
Suprema has simultaneously renewed two important international standard certifications regarding information security management (ISO/IEC 27001) and privacy information management (ISO/IEC 27701).
Read more...
---
SuperVision biometric access control
Integrated Solutions Access Control & Identity Management Products
SuperVision is a time & attendance (T&A) biometric access control system Fourier IT has been developing and enhancing for 18 years.
Read more...
---
Manage energy usage with Paxton access control
Paxton Access Control & Identity Management Products
Paxton provides access control systems that can integrate with existing infrastructure and manage a building's energy-consuming activities to save energy and costs.
Read more...
---
Why Multi-Factor Authentication, universal ZTNA and Zero Trust matter
Access Control & Identity Management Cyber Security
Malicious cyber actors are experimenting with new attack vectors and increasing the frequency of zero-day and other attacks, according to Fortinet's 1H 2022 FortiGuard Labs Threat Landscape report.
Read more...
---