printer friendly version
Market leader for more than 50 years
Access & Identity Management Handbook 2004
News & Events

Blick South Africa is a turnkey solution provider of time management, access control and data collection systems. Blick SA is a wholly owned subsidiary of Stanley Security Solutions, a global security company with an annual turnover of US$3,1 billion.
Blick SA has been active in the South African access control market for 55 years. It provides tailored solutions based on products developed and manufactured locally within Stanley Security Solutions and through strategic partnerships with key suppliers internationally. This enables Blick to offer a complete, integrated product range, backed up by comprehensive installation, service and support packages. Its Blue Line and Impro ranges are locally designed and manufactured to suit the rigours and complexity of the African market.

With an installed base at more than 16 000 sites throughout the country, Blick SA is the largest access control and time management specialist in South Africa. Its customers range from top 100 corporations to micro industries. Blick offers a full range of systems, from standalone single site systems to multisite, networked systems.
With its head office situated in Johannesburg and branches in Durban, Port Elizabeth and Cape Town as well as a network of accredited distributors, it renders support and service nationally. A 24-hour call centre ensures quick response to customer requests.
The company's technical offering is strongly supported by a commitment to quality and customer satisfaction, to ensure maximum value to the end user long after the initial sale. Its focus is on providing exemplary service. One of the ways it ensures this is through its direct service team of more than 150 Blick engineering staff throughout Africa dedicated to supporting its customers and making it a long-term service provider of choice.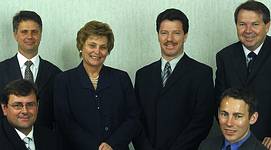 Blick's EXCO team. Standing L–R: Robin Payne, Ninon Murray-Smith, Stefan Oberholtzer, Sean Dunstan. Sitting L–R: Mike Lotter and David King
Access control product range
Access control is a complex environment with far-reaching implications. The traditional door or gate control no longer satisfies the needs of the modern business. To fulfil the requirement of its clients, it offers two world-class solutions in Impro and Blue Line. Blick South Africa is the largest distributor of Impro products and the sole distributor of the company's own locally developed and manufactured Blue Line range.

Impro access control readers
Both Impro and Blue Line systems have advanced access control features that provide flexibility and a secure environment. The products have unrivalled access control features such as logical sequencing, anti-pass back, multiple access zones and layered security clearance as standard.
Impro and Blue Line can be integrated with multiple access control devices such as turnstiles, vehicle booms, cubicles and biometric recognition devices. Integrating access control and building management systems using the company's products can result in substantial improvements in infrastructure management.
Research and development focused on proximity reader technology had led to Impro's extensive range of security solutions for domestic, commercial, mining, institutional and agricultural applications. Products range from single-door access units using passive transponders to active, long-range scanners and asset management and identification units.
To comply with international approval standards, Impro products meet the SABS and European CE standards as well as recognised British, European, American and German manufacturing marks.
The Blue Line access control system can be linked to the most common reader technologies, allowing the user the choice of proximity, bar code, magnetic strip or smartcard badges. In conjunction with a badge system, additional security can be obtained by integrating biometric readers, occular scanners or a range of advanced recognition devices.

A blue line reader
Seamless integration of access control, time management and data collection using a single database, places the Blue Line series in a class of its own.
Installations and rental option
Installations of all Blick South Africa's products are done with a focus on minimum interruptions for the client. All installations are pre-planned with the client and a full project plan for the installation and training is drawn up. This ensures total satisfaction with the client and minimum interruptions at the most convenient time.
Blick South Africa offers an in-house rental option on all its products. This rental option includes a full maintenance and service contract. The company offers up to seven years' rental, which shows its faith in its product as a long-term solution.
For more information contact Michael Lotter, Blick South Africa, 011 844 3200, fax: 011 844 3500, mikel@blick.co.za, www.blick.co.za
Further reading:
Pentagon appointed as Milestone distributor
Elvey Security Technologies News & Events Surveillance
Milestone Systems appointed Pentagon Distribution (an Elvey Group company within the Hudaco Group of Companies) as a distributor. XProtect's open architecture means no lock-in and the ability to customise the connected video solution that will accomplish the job.
Read more...
---
Re-introduction of the booking system
PSiRA (Private Security Ind. Regulatory Authority) News & Events
[Sponsored] PSiRA is reintroducing the booking system for branch visits. Effective Monday, 4 December 2023, clients will be required to book a slot to visit any PSiRA branch.
Read more...
---
From the editor's desk: A sad but exciting goodbye
Technews Publishing News & Events
Welcome to the final monthly issue of SMART Security Solutions. This is the last issue of the year and the last monthly issue we will print. The SMART Security Solutions team wishes all our readers and advertisers a relaxing festive season and a peaceful and prosperous 2024.
Read more...
---
Regal celebrates successful golf day
Regal Distributors SA News & Events
Regal Distributors held its first official Regal Golf Day on 18 October at the Glendower Golf Course in Johannesburg. SMART Security Solutions was there on a hot summer's day to meet many players and sponsors around the course.
Read more...
---
Gallagher Security releases Command Centre v9
Gallagher News & Events Access Control & Identity Management Integrated Solutions
Richer features, greater integrations, with the release of Gallagher Security's Command Centre v9 security site management software designed to integrate seamlessly with various systems and hardware.
Read more...
---
Regal launches direct-to-branch WhatsApp communication
Regal Distributors SA News & Events
With a quick scan of a QR code and a few taps on your phone, installers, integrators, technicians or even end-users can chat directly with the team at their preferred Regal branch via WhatsApp
Read more...
---
FM Expo highlights industry trends and challenges
Securex South Africa News & Events Facilities & Building Management
Keeping tabs on what is happening within the building/facilities management arena can be frustrating, however, a quick way to find out what current trends, challenges, and solutions are available can be found at the Facilities Management Expo.
Read more...
---
South Africa shows a 1200% increase in deepfake fraud
News & Events Risk Management & Resilience
Sumsub released its third annual Identity Fraud Report of the year, analysing identity fraud across industries and regions based on millions of verification checks across 28 industries and over 2 million fraud cases.
Read more...
---
Projections for 2024's Advanced Threats Landscape
News & Events Information Security
Kaspersky Global Research and Analysis Team (GReAT) experts offer insights and projections for 2024 in the Kaspersky Security Bulletin, with a focus on the evolution of Advanced Persistent Threats (APT).
Read more...
---
Helping South African university students and staff to stay safe
News & Events
Buzzer is a free mobile app that allows users to quickly and easily report incidents of crime, violence, or harassment to campus security and other relevant authorities.
Read more...
---