printer friendly version
Bosch Security Systems
August 2004
News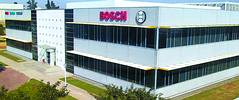 Focused on becoming a world leader in security and communication electronic solutions. Your safety in our hands.
Bosch Security Systems, a division of the Robert Bosch Group, is represented in all major trading regions of the world, with production factories spread over America, Asia and Europe. There are over 5300 employees worldwide with sales and support offices in 38 countries, including South Africa, on five continents.
Bosch is a global technology innovator with more than 120 years experience of innovation. It has been responsible for many new developments (and patents) in areas ranging from automotive and automation to power tools and domestic appliances.
The company is well known for its extensive investment in research and development, and its commitment to improving the quality of people's lives through innovation and technological advance.
Motorists have known it for a long time: Bosch means safety. Whether it is the anti-lock braking system (ABS) or the electronic stability program (ESP), our innovations have already prevented many potential accidents and thus saved lives.
But, more than ever, Bosch is also becoming a name for a very different kind of safety/security technology with products and systems for:
* CCTV video surveillance and recording both analog and digital as well as network-based solutions.
* Access control.
* Congress and conference.
* Public address.
* Digital evacuation.
* On-site paging.
* Intrusion alarm.
* Fire detection.
* Building management systems.
"We are significantly strengthening our position in world markets in these areas. In 1999 we acquired the American company Detection Systems of Fairport, NY (DS) and with the acquisition in 2002 of Philips Communication, Security and Imaging (CSI), the leading specialist in congress, public address and video surveillance systems, Bosch Security Systems has now become one of the 'top five' security solution providers in the world, truly offering a 'one stop shop' for security and communication systems and products," says Uwe Glock, CEO.
"And with our further objectives of continuing growth and development of our services and products we have acquired in January 2004 ST Micos GmbH (Würselen, Germany) and in July 2004, Video Communication Systems (VCS) (Nuremberg/Germany)," says Allan Antoncich, general manager, South Africa.
Micos GmbH develops and produces complex access control and management systems, focusing on airports and power plants. Micos is predominantly active in the German market. The acquisition of Micos means a further step in the worldwide expansion of Bosch's business and in its competence of electronic security systems. Bosch is expanding its development competence in the business of access control equipment and is therefore advancing noticeably further in the completion of its product portfolio.
Video Communication Systems (VCS) is one of the leaders in the field of network-based closed circuit TV. The product range includes video servers, digital video recorders (DVR), network-based video recorders (NVR) and video management systems. Bosch Security Systems enhanced its market and technology position in video surveillance systems with this acquisition.
"The South African operation is responsible for sales and marketing in South Africa, Sub-Saharan Africa, Mauritius and neighbouring Indian Ocean countries with partners currently in 25 countries and expanding.
"We can now offer full turnkey product solutions to any business application from the outset of a project. This increased range means we can also offer our current customer base more business potential in entering markets in which they were previously not active as well as increase our customer base. We are always on the look-out for new partners to assist us in our growth plans," says Antoncich.
With CCTV systems for video surveillance, Bosch offers solutions for banks, supermarkets, railway stations, airports, industrial complexes and communal purposes.
In the business area communications systems, Bosch has activities in the segments public address, on-site paging and congress and conference products and systems. The range of products is now further enhanced with digital evacuation systems.
With access control systems, Bosch offers flexible control of access to corporate sites, buildings and offices. Access control systems protect an organisation's staff from uninvited guests, unauthorised entry to the premises and unauthorised accessing of internal information.
"We also develop the finest quality fire detection systems with which fire is detected and reported in its early stages of development," says Antoncich. "Whether in an administrative building, production facility, computer centre, other part of the company or areas of particular value, which need to be protected against fire.
"Intrusion alarm systems are a significant security factor and protect you and your employees from uninvited guests, unauthorised access and the consequential damage and their illegal access to confidential information."
Credit(s)
Further reading:
StorONE eliminates capacity-based pricing, offers per-drive pricing model
News
StorONE announced a new pricing model that enables customers to scale for free, driven by a significant software update to the StorONE Storage Engine.
Read more...
---
Schneider Electric launches training course
Training & Education News
Schneider Electric launches training course through Trace Academia app with the aim of reaching millions of African youths.
Read more...
---
Axis sets science-based targets for reducing emissions
Axis Communications SA News
Axis Communications has committed to set company-wide emissions reduction targets in line with the Science Based Targets initiative (SBTi), which aims to drive ambitious climate action across the private sector globally.
Read more...
---
Cybereason expands presence across sub-Saharan Africa
News Cyber Security
Cybereason has appointed Chantél Hamman as its new channel director focused on growing the company's presence across sub-Saharan Africa.
Read more...
---
Duxbury awarded Axis SA Distributor of the Year
Duxbury Networking News CCTV, Surveillance & Remote Monitoring
Axis Communications held its Annual Partner Awards on 1 July 2022 to celebrate and acknowledge the efforts of Axis' partners by awarding them for key projects and achievements throughout the year.
Read more...
---
inq. acquires Enea Edge IP for edge orchestration capability
News
inq., a global edge solutions provider, announced an agreement with Enea AB to license the Enea Edge intellectual property through a perpetual software development licence.
Read more...
---
Add a mobile punch to payroll
News
Econz Wireless has appointed 4Sight Holdings as a distributor of its products throughout the Middle East, Central Europe and Africa regions.
Read more...
---
How deepfakes attack business and how to combat them
News
The FBI recently announced that more companies have been reporting people applying for jobs using deepfaked, video, images, recordings and stolen identities pretending to be someone else to get a remote IT position.
Read more...
---
Liquid launches Africa's first Cyber Security Fusion Centre
News
Liquid Cyber Security, a business of Cassava Technologies, recently launched the first of its matrix of Cyber Security Fusion Centres in Johannesburg, South Africa.
Read more...
---
Cybersecure surveillance cameras
HiTek Security Distributors News CCTV, Surveillance & Remote Monitoring Cyber Security
Provision-ISR builds customer trust and opens up new opportunities with Check Point Quantum IoT Protect Firmware built into Provision-ISR cameras.
Read more...
---