printer friendly version
Fanie de Villiers and Gray Security Services 'Adopta school' project
November '99
News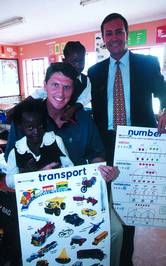 Gray Security Services (North) began a 12 month campaign with Fanie de Villiers to brighten up the classrooms and lives of local learners. Each month a chosen school receives 50 educational wall charts to place in classrooms.
The start of Gray's commitment to the project was at Mahlasedi-Masana Primary School in Mamelodi. Fanie de Villiers was on hand to place his seal of approval on the occasion."We believe education needs should be addressed at a grass roots level. By contributing to the 'Adopt a school' project, learners are exposed to colourful aids from the start of their educational career," said Faan du Toit, MD of Gray Security Services (North).
"What better way to encourage children to learn than to use the wall charts to emphasise important facts during lessons, and to enhance the learning environment as a whole," said du Toit.
Fanie de Villiers committed himself to the 'Adopt a school' project when he saw the lack of educational aids at schools he visited during cricket development workshops.
Fanie was a teacher before his career as a professional cricketer, and education ranks very high on his list of social responsibility projects deserving of support.
Further reading:
Quantum secret sharing
Issue 6 2020 , News
Wits researchers have demonstrated a new quantum approach for sharing a secret amongst many parties, setting a new record for the highest dimensions and parties to date.
Read more...
---
Three cash-in-transit heists in half an hour
Issue 6 2020, Fidelity Security Group , News
Over the past six weeks the cash-in-transit industry has experienced a spike in the number of heists across the country.
Read more...
---
Programme to assist smaller MSSPs
Issue 6 2020 , News
Networks Unlimited launches new MSSP partnership with SentinelOne to make endpoint defence more accessible.
Read more...
---
Fake uniforms and using falsely branded security vehicle
Issue 6 2020 , News
On Monday 10 August, six to ten armed suspects driving what appeared to be a branded Fidelity ADT vehicle and wearing security uniforms entered a business park.
Read more...
---
From the editor's desk: Covid consolidation
Issue 6 2020, Technews Publishing , News
The global security industry has seen quite a few high-profile mergers and acquisitions over the past year or two, with an even greater number of smaller companies that don't get the headlines also merging, ...
Read more...
---
ONVIF adopts open source development
Issue 6 2020 , News
ONVIF announced it is open sourcing its network interface specifications for physical security technology.
Read more...
---
Hored networking solutions now in South Africa
Issue 6 2020, LD Africa , News
LD Africa is the sole South African distributor for Hored smart networks and smart transmission solutions.
Read more...
---
Suprema wins SIA award
Issue 6 2020, Suprema , News
Suprema Airfob Patch wins Judges' Choice Award from SIA New Product Showcase.
Read more...
---
Digitisation during COVID-19
Issue 6 2020, PSIRA (Private Security Ind. Regulatory Authority) , News
The COVID-19 pandemic has forever changed how business is conducted globally and PSIRA adapted to serve its community.
Read more...
---
Datacentrix boosts security portfolio
Issue 6 2020 , News
Datacentrix has joined the Tenable Assure Partner Programme, strengthening its security portfolio with cyber exposure solutions from Tenable.
Read more...
---